2020 Best Online Master's in School Counseling Programs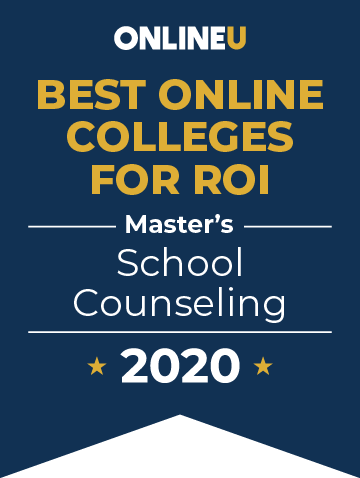 Students seeking an online master's program in school counseling will find that these 24 colleges offer the best value based on affordability and alumni salaries. Graduates of the #1-ranked school, Texas A&M University-College Station, earn a median salary of $120,308 after earning their Master of Education in Educational Psychology - School Counseling. Seton Hall University, ranked #2 on the list overall, offers an annual tuition of only $30,240.
Alumni salaries were provided by PayScale. View our methodology for more details or learn more about OnlineU.
Salary data provided by

2020 Online Colleges Offering School Counseling Degrees - Ranking Details
Online Master's in School Counseling Overview
School counseling graduate programs require applicants to hold a bachelor's degree from an accredited institution. Some universities will also require letters of recommendation from professionals who can assess the applicant's eligibility for an education in counseling as well as an admissions essay written by the applicant.
Students who are enrolled in school counseling master's programs will typically complete 72 credit hours of coursework over the course of two years. Graduates will be well prepared to assist K-12 students by gaining the skills to make significant contributions to their well being as well as their educational and social needs. These specific skills are gained through courses such as Survey of Research in Human Development, Life Planning and Career Development, Counseling and Advocacy with Diverse Populations, Contemporary Issues in School Counseling, Crisis Intervention and Emergency Management, and school counseling internships. Graduates from a master's program often go on to work as counselors at the elementary, middle, and high school level, or become student life counselors, guidance counselors, and school counseling coordinators.
This website offers school details to prospective students as an informational resource. The appearance of a school listing on this website should not be interpreted as an endorsement of the school by this site.