2023 Most Affordable Online Education Degrees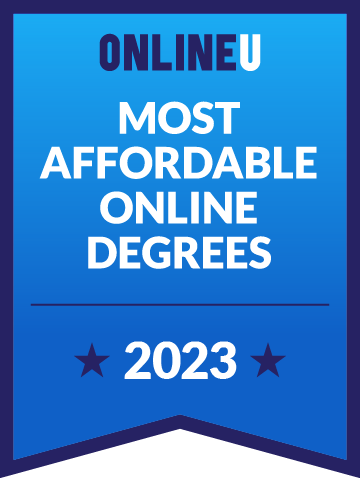 Students interested in careers in education have a wide range of degrees to choose from, so it's important to select the right degree for your career goals. While a teaching degree prepares graduates to work as classroom teachers, a degree in education may give you more options. You can work directly with young students as an educator, or you can work behind the scenes in an education-related role outside the classroom.
With the appropriate level of education and licensure, you'll be qualified to assume one of the hundreds of thousands of jobs in education. According to the Bureau of Labor Statistics (BLS), the median annual wage for education professionals is $57,220, and demand is expected to grow by 7% — more than 900,000 new jobs — every year through 2031.
Explore our top picks for affordable online bachelor's degrees below or review our list of the best online bachelor's degrees in education for more inspiration. View our methodology for more details about rankings or learn more about us.
All tuition numbers were manually collected and verified
| Rank | School | Locations | Annual Tuition |
| --- | --- | --- | --- |
| # 1 | North Seattle College | Seattle (WA) | $3,938 |
| # 2 | University of North Carolina at Pembroke | Pembroke (NC) | $5,074 |
| # 3 | Georgia Southwestern State University | Americus (GA) | $5,249 |
| # 4 | University of the Cumberlands | Williamsburg (KY) | $5,970 |
| # 5 | Eastern New Mexico University - Main Campus | Portales (NM) | $6,624 |
| # 6 | Fort Hays State University | Hays (KS) | $6,806 |
| # 7 | Wichita State University | Wichita (KS) | $6,843 |
| # 8 | Western Carolina University | Cullowhee (NC) | $6,974 |
| # 9 | Athens State University | Athens (AL) | $6,975 |
| # 10 | Southern Utah University | Cedar City (UT) | $7,200 |
Overview of Online Education Degrees
Online bachelor's degrees in education provide comprehensive training for individuals who want to step into various educational roles. When you enroll in one of these programs, you'll develop technical skills such as lesson planning, curriculum development, and program management. You'll also cultivate soft skills critical to any role in the education field, including effective communication, problem-solving, critical thinking, and empathy.
Education degree programs usually fall into two categories — licensure and nonlicensure tracks. In a licensure-track program, the focus is on preparing students to teach K-12 classes. Courses usually emphasize competencies like lesson planning, assessing student progress, and classroom management. Nonlicensure-track programs cover a broader range of topics within education, such as educational leadership, instructional design, and education policy.
Regardless of which track you pursue, the coursework in an education program often blends theory and practice, encouraging you to apply what you learn to real-world educational situations. You may be asked to develop lesson plans, conduct case studies on educational philosophies, or carry out educational research projects. Many programs also include a practicum or internship, offering hands-on experience under the supervision of an experienced educator.
Some bachelor's programs also allow you to concentrate on a particular aspect of education. For example, licensure-track students may want to specialize in working with pre-K children, elementary or secondary students, or special education students. Nonlicensure track specializations include instructional design, health education, and educational leadership.
Common Courses
Like most bachelor's degrees, an online degree in education usually requires 120-124 credit hours. Graduation requirements often include some type of field experience, such as on-site classroom observation for non-teachers or a semester of student teaching for future teachers. Most students can complete these degree requirements in four or five years if they study full time, but part-time students may need an additional year or so.
The courses in an education curriculum vary by school, track, and area of concentration. However, the following classes are commonly found in education bachelor's degree programs.
Typically one of the first courses in an education program, this course explores the historical, sociological, and philosophical foundations of education. Students learn about various educational philosophies and how they shape current practices in the education field.
Instructional Strategies and Classroom Management
In this course, students learn techniques for creating an effective learning environment. It covers lesson planning, instructional methods, and classroom management strategies.
This course delves into the principles of human learning and motivation. Students learn how to apply psychological theories to foster positive learning experiences for diverse student populations.
Assessment and Evaluation
Students in this course learn how to develop, administer, and interpret various types of educational assessments. They also learn how to use assessment data to guide instruction and improve student learning outcomes.
In this course, students explore how technology can be effectively integrated into classroom instruction. Topics include digital learning tools, online learning platforms, and the ethical implications of technology use in education.
Funding an Education Degree
Pursuing a degree in education online can be a cost-effective alternative to traditional on-campus programs. However, it's still a significant investment that requires planning and budgeting. You may need to draw upon some combination of savings, income, loans, grants, and scholarships to fund your education.
As you develop your budget for earning a college degree, consider some ways to save money in college, such as these possibilities:
Earn your degree online. Online degree programs may save you money in a number of ways. Many colleges — including the most affordable education degrees listed above — charge slightly reduced tuition rates for online learners or at least charge in-state tuition rates for all online students. Also, online students don't have to pay for on-campus room and board or transportation to and from school.

Attend a public university instead of a private one. The National Center for Education Statistics provides data from the 2020-21 school year that shows that the average tuition and fees were $9,375 for in-state students attending public schools but a much higher $32,825 for students attending private schools. Sticking with the lower-priced options, like those listed above, could reduce the cost of your degree by thousands of dollars.

Complete your lower-division courses at a community college first. The first two years of a bachelor's program are mostly devoted to lower-division courses in general subjects like English, math, and science. By taking these early courses at a community college, which is probably less expensive, you can fulfill these requirements at a lower price. Later, you can transfer your earned credits to a four-year university and finish your bachelor's degree.

Pick an affordable place to live. For most people, choosing to earn a degree online doesn't eliminate all living expenses. You'll probably still need to pay for housing, food, and transportation. However, you can reduce these costs while you're in college by moving to the most affordable place you can find.

Work part time or full time while you're attending school. If you're willing to work while you go to school, you could use your income to help pay for college. You might need to take a smaller course load each semester to maintain a healthy work-school balance, but taking an extra year or so to graduate with less debt may be worth the effort.
Financial Aid
Depending on your personal circumstances, you may be able to minimize the cost of a college education by obtaining financial aid. Funding from the federal and state government is often awarded to students based on financial need. However, there are also many school-sponsored and private scholarships that are awarded based on a student's financial need, academic performance, or other criteria, such as your chosen subject of study.
Ideally, you'll qualify for grants and scholarships, which don't have to be repaid. However, if you don't qualify for sufficient grant or scholarship funding to cover all of your college expenses, you may need to take out a student loan.
Although a federal or private student loan may be your best or only option, loan interest can dramatically increase the cost of a college degree. Before accepting a student loan, use a student loan repayment calculator to tally the total cost of the loan.
As long as you're enrolled in an accredited online degree program, you can apply for financial aid by submitting the Free Application for Federal Student Aid (FAFSA). After your application is reviewed, you'll receive a letter from each school you've applied to — or the school you're currently attending — indicating how much aid you're being offered.
Grants and Scholarships
Due to the importance of educators, the government, as well as private organizations, encourage students to go into education by sponsoring grants and scholarships, a few of which are listed below:
TEACH Grant: This federal grant offers up to $4,000 per year to students who commit to teaching in a high-need field in a low-income area.
Robert Noyce Teacher Scholarship: This scholarship encourages talented STEM students to become K-12 teachers. It offers a significant stipend in exchange for teaching in high-need school districts.
What Can You Do With an Education Degree?
An online bachelor's degree in education is a versatile choice that can serve as the foundation for many different career options.
Many graduates of online education degree programs go into teaching. You may be interested in working with elementary school children or with middle school and high school students, occupations with median annual salaries around $61,500. You could also specialize as a teacher in special education, physical education, or English as a second language.
Additionally, an education bachelor's degree also qualifies you for careers outside of the traditional classroom but still working with young students, adults, or the public. For example, you could pursue jobs in education policymaking and advocacy, community education, and other areas.
Licensure for Educators
In general, most states require anyone who works directly with children to hold a state-issued license or credential. Each state has its own licensure requirements in terms of education, prior work experience, and exams. However, your state will likely require you to have a degree from an accredited program, which is why our list of the most affordable education degrees only contains institutionally accredited programs.
Before you enroll in an online education program, you may want to check with your state's education board to establish all of the qualifications you'll need to meet in order to obtain a license to practice your chosen occupation. Also, be sure to choose an online program that will prepare you to meet the licensing criteria of the state where you plan to work, not the requirements for the state where your school is located.
Further Education
Many educators who've earned a bachelor's degree go on to pursue an affordable master's degree in education. For licensed teachers, it's an ideal way to enhance their teaching skills or develop expertise in a specialized area. For example, master's programs are available with concentrations in elementary teacher education, special education, education technology, literacy, education leadership, education administration, and adult education.
Although students need to carefully manage their budget to accommodate an advanced degree, earning a master's degree may allow teachers to command higher salaries. It may also be required to qualify for other roles in education, such as an instructional coordinator or school principal.
Some educators continue their education even further by pursuing one of several types of doctoral degrees. The Doctor of Education (EdD) in Education or Educational Leadership prepares graduates for high-level roles in education administration or policy. A Doctor of Philosophy (PhD) in Education trains graduates to conduct research into the process of learning. Most PhDs work in academia, where they also teach future educators.
FAQs About Online Education Degrees
How Do I Choose an Online Education Degree?
---
When you're reviewing your options for an online education degree, you'll want to take several key factors into consideration. The program details are important because you'll want to choose a program that offers the track and concentration that aligns with your career goals. Cost, faculty, online format, and student services may also be influential factors, depending on your priorities.
You'll also want to be sure to enroll in an accredited school. Accreditation means that a school's programs, faculty, facilities, and services have been proven to meet high standards. Enrollment in an accredited program is required for you to be eligible for financial aid, and it will likely be needed to transfer credits to another school or to be accepted into graduate school. To determine if the school you're considering is accredited, search the U.S. Department of Education and the Council for Higher Education Accreditation databases.
Are Education Majors In Demand?
---
Yes, according to the BLS, job growth in the overall education sector is expected to grow by 7% through 2031. Additionally, a 2022 study sponsored by the Brookings Institution found that 75% of school district leaders are predicting at least some degree of shortages for teachers in the near future, which may further increase demand.
Is an Online Education Degree Worth the Cost?
Earning a bachelor's degree in this field can open the door to a fulfilling career in education, whether it's inside or outside the classroom. You'll have the satisfaction of knowing you're making a positive impact on the lives of children of all ages.
Additionally, pursuing a degree in the broader field of education may allow you to transition between teaching, instructional design, and leadership roles over the long run, which may make for a more diversified and stable career.
However, the BLS notes that the median annual salary for teaching and training occupations is $57,220. In light of the cost of earning a college degree — and especially if your career goals include a master's degree — this choice may not offer the highest return on your investment.
Nevertheless, if you're sure this is the right career path for you, there are ways to reduce the cost of your education, including choosing an affordable online program and requesting financial aid. With careful planning, an online education degree can be worth it.
Related Articles
2023 Most Affordable Online Colleges & Degrees
Explore the top affordable online colleges of 2023. Find cheap online associate, bachelors, master's, and doctoral degrees.
2023 Most Affordable Online Master's Programs
Explore the most affordable online master's degree programs in 2023 and choose the one that's right for you.