Best Online Master's in School Counseling Programs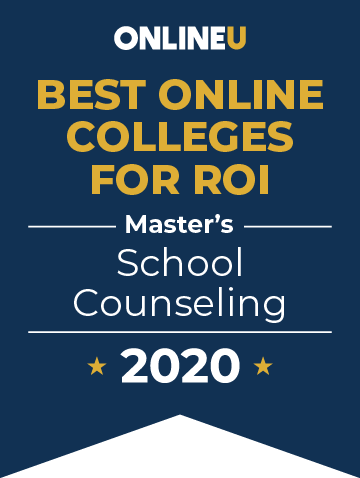 Students seeking an online master's program in school counseling will find that these 23 colleges offer the best value based on affordability and alumni salaries. Graduates of the #1-ranked school, Texas A&M University-College Station, earn a median salary of $120,308 after earning their Master of Education in Educational Psychology - School Counseling. Seton Hall University, ranked #2 on the list overall, offers an annual tuition of only $30,240.
Alumni salaries were provided by PayScale. View our methodology for more details or learn more about OnlineU.
| Rank | School | Annual Tuition | Mid-Career Salary |
| --- | --- | --- | --- |
| # 1 | Texas A&M University-College Station | $17,064 | $120,308 |
| # 2 | Seton Hall University | $30,240 | $120,504 |
| # 3 | North Carolina State University | $20,185 | $115,059 |
| # 4 | Kansas State University | $8,613 | $104,640 |
| # 5 | The University of Texas at Tyler | $19,104 | $105,613 |
| # 6 | University of Massachusetts-Boston | $18,975 | $104,700 |
| # 7 | University of North Dakota | $11,136 | $98,496 |
| # 8 | University of Missouri | $6,562 | $96,083 |
| # 9 | Lamar University | $6,600 | $88,700 |
| # 10 | Concordia University - Irvine | $10,260 | $89,500 |
| # 11 | Creighton University | $10,386 | $86,800 |
| # 12 | University of Louisiana-Monroe | $7,500 | $85,600 |
| # 13 | New York University | $57,440 | $104,870 |
| # 14 | Mercy College | $21,528 | $89,850 |
| # 15 | College of William and Mary | $13,300 | $83,500 |
| # 16 | Vanderbilt University | $46,512 | $95,029 |
| # 17 | West Texas A&M University | $5,667 | $74,914 |
| # 18 | Albany State University | $5,400 | $73,200 |
| # 19 | Lubbock Christian University | $8,424 | $73,100 |
| # 20 | Gwynedd Mercy University | $18,000 | $76,700 |
| # 21 | Liberty University | $8,300 | $71,865 |
| # 22 | Southeastern Oklahoma State University | $11,130 | $70,900 |
| # 23 | Missouri Baptist University | $10,829 | $68,900 |
Salary data provided by

2020 Online Colleges Offering School Counseling Degrees - Ranking Details
Online Master's in School Counseling Overview
School counseling graduate programs require applicants to hold a bachelor's degree from an accredited institution. Some universities will also require letters of recommendation from professionals who can assess the applicant's eligibility for an education in counseling as well as an admissions essay written by the applicant.
Students who are enrolled in school counseling master's programs will typically complete 72 credit hours of coursework over the course of two years. Graduates will be well prepared to assist K-12 students by gaining the skills to make significant contributions to their well being as well as their educational and social needs. These specific skills are gained through courses such as Survey of Research in Human Development, Life Planning and Career Development, Counseling and Advocacy with Diverse Populations, Contemporary Issues in School Counseling, Crisis Intervention and Emergency Management, and school counseling internships. Graduates from a master's program often go on to work as counselors at the elementary, middle, and high school level, or become student life counselors, guidance counselors, and school counseling coordinators.
The Importance of an Accredited Online Degree in School Counseling
Before an applicant enrolls in a program at any institution of higher education it is important to research the school's accreditation. Accreditation is important because it measures the standards and quality of the institution. It is also always important to factor in the possibility of having to transfer credits in future academic plans. Accreditation can make the transferring process faster and easier for students interested in moving on to different schools or programs. This can also play a role in job searching post graduation, as many employers require degrees from accredited schools. The Council for Accreditation of Counseling & Related Educational Programs (CACREP) is an organization that accredits masters and doctoral degree programs in counseling offered by both national and international colleges and universities. CACREP is dedicated to setting a standard for counselors and counselor educators that will ensure that students receive exceptional educational experiences. CACREP standards are organized into six sections including The Learning Environment, Professional Counseling Identity, Professional Practice, Evaluation in the Program, Entry-Level Specialty Areas, and Doctoral Standards for Counselor Education. School counseling programs and institutions are evaluated in each of these areas to ensure the highest of standards are being kept before being accredited by CACREP.
State Licensure and Certification for School Counselors
All states have different requirements for obtaining certification as a school counselor. Some require that school counselors pass a test in order to become certified, while others require a certain number of hours in an internship or practicum setting. Many states require that school counselors have a license, although licensure is not always necessary for positions outside of the K-12 school system. The American School Counselor Association provides more information about each state's specific requirements. States may also provide higher salaries or additional stipends to counselors who receive certification from the National Board for Certified Counselors and Affiliates Inc. (NBCC) or the National Board for Professional Teaching Standards (NBPTS).
School Counselor Jobs
There are a variety of different career options within the school counseling field. Key job titles include guidance counselor and school psychologist. Guidance counseling is needed at the elementary level as well as the junior/high school level. The primary function of a school guidance counselor is to provide students with counseling based on their learning, social, personal, career, and vocational needs. Some day-to-day tasks that a guidance counselor will perform are: scheduling students in appropriate courses, conducting career and educational planning activities, advocating on behalf of students and taking reasonable precautions to protect them, assisting students with college entrance as well as scholarship and financial aid applications, and submiting all required reports on time and with accuracy. Applicants for guidance counselor positions must possess a master's degree in school counseling as well as a current license based on the state requirements for the state they are applying in. Most employers also expect a minimum of three years experience in teaching or counseling.
This website offers school details to prospective students as an informational resource. The appearance of a school listing on this website should not be interpreted as an endorsement of the school by this site.
Related Articles
2022 Best Online Master's in Counseling Degrees
View rankings of the best online master's degrees in counseling based on alumni salaries. Read on to learn about coursework, career options, and more.
Guide to Online Master's in School Counseling Programs
Use this guide to online master's in school counseling programs to learn about degree requirements, accreditation, careers, and salary and job outlook.