Best Master's in Special Education Online Programs
By Jordan Beliles | Updated 8/15/2022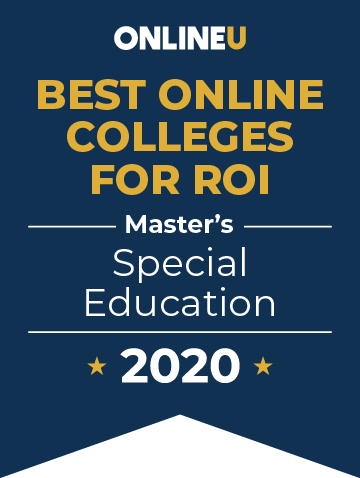 The 24 schools on this list are the best value options for obtaining an online master's program in special education based on alumni salaries and low tuition rates. The George Washington University is ranked #1, offering an MA in Education and Human Development in Special Education for Culturally and Linguistically Diverse Learners for $14,875 per year. Graduates of the school reported a median salary of $91,400. At #2, Purdue University has a median reported salary of $89,200 for alumni and an annual tuition rate of $11,200 for its MS in Education in Special Education.
Alumni salaries were provided by PayScale. View our methodology for more details or learn more about OnlineU.
| Rank | School | Annual Tuition | Mid-Career Salary |
| --- | --- | --- | --- |
| # 1 | The George Washington University | $14,875 | $91,400 |
| # 2 | Purdue University - Main Campus | $11,200 | $89,200 |
| # 3 | Mercy College | $21,528 | $89,000 |
| # 4 | California State University - Fullerton | $13,374 | $80,100 |
| # 5 | Western Governors University | $7,080 | $76,900 |
| # 6 | Hofstra University | $22,368 | $80,100 |
| # 7 | Portland State University | $9,982 | $73,300 |
| # 8 | National University | $10,166 | $73,200 |
| # 9 | Central Michigan University | $12,740 | $69,000 |
| # 10 | University of South Florida Online | $13,131 | $67,300 |
| # 11 | University of Houston | $14,771 | $67,000 |
| # 12 | University of Virginia | $8,115 | $63,900 |
| # 13 | University of Memphis | $10,455 | $64,700 |
| # 14 | University of Louisville | $8,595 | $63,600 |
| # 15 | Ball State University | $9,765 | $63,900 |
| # 16 | Arizona State University | $8,512 | $63,100 |
| # 17 | University of North Texas | $18,219 | $66,900 |
| # 18 | University of St. Thomas | $9,900 | $63,000 |
| # 19 | Lesley University | $11,050 | $62,800 |
| # 20 | Indiana University - Bloomington | $9,273 | $61,000 |
| # 21 | Xavier University | $11,400 | $60,500 |
| # 22 | Liberty University | $9,960 | $59,800 |
| # 23 | University of Florida | $9,457 | $59,200 |
| # 24 | Stephen F. Austin State University | $6,060 | $57,000 |
Salary data provided by

2020 Online Colleges Offering Special Education Degrees - Ranking Details
Overview of a Master's in Special Education
An online master's in special education is a graduate-level program, which covers the delicate and increasingly important skill of educating young students with disabilities. During this degree program, you'll learn about the nature of various physical and emotional disabilities, along with the techniques used to teach these students in a classroom environment. You'll also design coursework based on the ethical standards of special ed teaching and take a deeper look at various support methodologies.
You can enroll in a master's in special education online program if you have already completed a bachelor's degree in teaching, psychology, or a similar field. Some programs may require you to have practical teaching experience and, therefore, a teaching license. Once accepted, it will likely take one to two years to graduate, as most programs require a master's thesis, project, or final exam before awarding a degree.
Can You Get an Online Master's Degree in Special Education?
Yes, you can earn an online master's special education degree from a remote environment. The coursework for online programs will take place using a learning management system (LMS), such as Blackboard or Canvas.
Special education master's programs online often include practicums or in-person experiences, which require you to go into the field and work directly with special ed students.
In some cases, you'll be able to take courses at your own pace, while working on the side. Online programs are especially beneficial for teaching degrees because many employers will ask that you have practical experience before joining the workforce. Furthermore, special education master's programs online often include practicums or in-person experiences, which require you to go into the field and work directly with special ed students. These field-based internships allow you to work under the tutelage of an experienced teacher.
Accreditation
As you begin to apply for school and prepare for your entrance exam, it's important to consider accreditation. This is the process by which schools are vetted to meet the standards of the U.S. Department of Education or other regional accreditation organizations.
Are Online Degrees Valid?
It's also important to note that online degrees are respected. Modern-day hiring managers generally don't look at online degrees as less legitimate than on-campus programs. In fact, most degrees won't even mention that the courses were taken online.
Common Courses in a Special Education Master's Program
A master's in this field generally includes either mild or intensive intervention courses. This designation relates to the severity of the disabilities you'll be studying.
Intensive intervention courses mean you'll be working with smaller groups of students, sometimes in a one-on-one scenario, where you'll create customized curricula to meet the needs of students with significant cognitive disabilities. These courses may also include learning how to operate special tools and machines that are required for the student's well-being.
Mild intervention courses teach methods and practices for larger groups of students, who generally have less debilitating symptoms related to emotion or communication.
Below are some of the core courses you'll come across in your studies:
Literacy Curricula for Learners with Exceptionalities
This course looks at the different ways classroom lessons and materials can be adjusted to meet the needs of students with disabilities. It will also explore specialty literacy programs for students with communication issues.
Applied Behavior Analysis in School Settings
Behavior intervention is an important aspect of classroom teaching for students with disabilities. This course teaches you how to motivate and reinforce positive learning techniques in students with behavioral complications.
Family and Interprofessional Collaboration in Special Education
As a special education teacher, you'll not only work with students but also their families and fellow professionals in the field. This course teaches you the skills needed to effectively and appropriately communicate with these individuals by focusing on the students' best interests.
Social, Legal, and Ethical Issues Across the Lifespan
This course takes a historical and modern look at teaching students with exceptionalities, alongside the foundations of their education and the latest research in the field. You'll also explore the ethical guidelines surrounding special education.
Transition Education and Services
Transition services are crucial for disabled students who have ambitions of seeking education opportunities into adulthood. Here you'll look at the resources, strategies, and techniques used to guide them into postsecondary and adult education.
Furthermore, practicums are often required to complete special education online programs. These will include in-person field learning, which most often takes place in an actual classroom with students who have a range of disabilities.
What Can You Do With a Special Education Master's?
There are options for graduates of an online masters degree in special education that go beyond becoming a teacher. The coursework helps prepare students to work with young people in various settings, even outside of the classroom. For example, you may find work in government agencies that handle child services or administrative work for larger institutes.
Below are some typical career paths you can achieve with a master's in special education; however, it's important to note that most of these roles don't require a master's degree to get started.
Certification and Licensure
If you plan to teach at a school, college, or university, you will be required to obtain a teaching license. Furthermore, special education teachers may require an additional license allowing them to work with children with disabilities and special needs. Some states, such as Indiana, allow you to add a special education license to your existing teaching license by taking a short 18-credit program from a local university.
Many universities that offer special education master's degrees include licensure within their track. You can complete mild or intense intervention courses in order to teach students with these specific calibers of exceptionalities.
Financial Aid and Scholarships for Online Students
College degrees — especially those at the graduate level — can be very expensive. Applying for financial aid and student loans can help remove the pressure of paying for your degree upfront and allow you to enter a program that might normally be out of reach financially.
Additionally, scholarships are particularly beneficial because students don't have to repay them, and this free money is generally awarded based on academic achievements.
Is a Master's Degree in Special Education Worth It?
Earning a master's degree is an expensive commitment but one that will allow you to meet the demands of the education market. As of 2018, 49.2% of public school teachers hold a master's degree — making the field even more competitive at higher levels. Above all else, you'll be making a tangible difference in the lives of young students while earning the respect of your peers.
Let's take a look some pros and cons of earning a master's degree in special education:
Potential Benefits
Earning a master's degree in education will put you in line with a growing number of qualified candidates. According to the National Center for Education Statistics (NCES), public school teachers with a post-baccalaureate degree rose by 11% from 2000 to 2018.
Master's degree holders in education earn a higher salary than bachelor's degree holders. The Bureau of Labor Statistics states that education administrators with a master's degree earn $23,000 more per year than those with a bachelor's in the previous decade.
You'll learn leadership skills that you can apply inside the classroom and beyond. These attributes will help you gain employment in upper-level positions as directors or administrators.
Potential Drawbacks
Your salary is largely dependent on your years of experience. According to the NCES, teachers with a master's degree and 5 years of experience make $53,970. Compare this to those with a master's degree and 20 years of experience, who earn a salary of $77,630.
Most teaching roles do not require a master's degree. Hiring managers in education are generally more concerned with practical experience and years spent working within special education classrooms.
Special education teachers may experience burnout. Teaching young students with disabilities can be quite challenging, as you must learn to navigate each individual's emotional and physical needs.
FAQs About a Special Education Master's
Is a Masters in Education the Same as a Masters in Teaching?
---
A master's degree in education takes a more general look at education as a whole, including education policy, leadership skills for administrators, as well as curriculum and instruction design. A master's in teaching narrows in on the subjects you'll teach as well as the classroom management techniques, methodologies, and styles.
So, is an MA in special education equal to an MEd? In a way, yes. They are both graduate-level programs, and a master's in education can include a special education concentration.
How Many Years Is a Master's Degree in Education?
---
In general, master's programs take about two years to complete. Some degrees can be earned in a shorter period of time through accelerated programs or courses; however, this may leave less time for you to work while you study. As mentioned above, gaining real work experience is especially important when it comes to obtaining a position in special education teaching.
What Is the Abbreviation for Masters in Special Education?
---
The appropriate abbreviation for a master's in special education is MEd in Special Ed. This is the designation you'll use on your resume when applying for jobs or after you sign your name on relevant documents. This distinguishes you as a person who has dedicated a significant portion of their life to learning how to teach students with a disability.
Bottom Line
This specialized degree can set you apart from other candidates. By earning a master's degree in special education, you become a more qualified candidate when entering the job market and rise to the level of the nearly 50% of public school teachers in the U.S. who hold master's degrees.
In general, teachers aren't required to hold a graduate degree. But, teaching students with exceptionalities is a delicate responsibility that requires a great deal of understanding, which a master's degree can help nourish.
Related Articles
2022 Best Online Master's in Physical Education
Explore the best online master's degrees in physical education from our list of accredited schools. Our rankings are based on alumni salary from each program.
Best Online Master's Programs
A master's program can greatly expand your employment options and earning power. Here are the best online master's programs, ranked based on alumni salaries and debt.