2020 Best Online Teaching Degrees
Online teaching degrees, including those that lead to licensure, are available in all fifty states and are offered by a wide variety of colleges. The best online schools offering teaching degrees with licensure are highlighted below. They were ranked based on tuition costs and alumni salaries provided by PayScale. We also offer information about teaching degrees at the bachelor's, master's, and certificate levels. Earning a teaching degree can be a first step toward a career in education; in all US states, public school teachers must have at least a bachelor's degree, as well as a valid teaching license.
Many states require teachers to have a degree that has been accredited by the Council for the Accreditation of Educator Preparation (CAEP).
2020 Online Schools Offering Teaching Degrees with Licensure
Much like lawyers and medical practitioners, aspiring teachers must acquire a professional license to be able to practice in a given area. The following schools offer state-recognized online degrees that qualify students to apply for licensure. While most online schools on this list prepare students for licensure exams in the state in which the campus is located, Western Governors University helps students prepare for licensure in any of the 50 states. Read more about licensing requirements below.
| School | Annual Tuition | Licensure State |
| --- | --- | --- |
| Biola University | $40,488 | California |
| Campbellsville University | $25,400 | Kentucky |
| Colorado State University Global | $9,000 | Colorado |
| Columbus State University | $16,920 | Georgia |
| Drexel University | $53,244 | Pennsylvania |
| Eastern New Mexico University-Main Campus | $8,247 | New Mexico |
| Georgia State University | $23,971 | Georgia |
| Grand Canyon University | $17,050 | Arizona |
| Huntington University | $26,158 | Indiana |
| Indiana State University | $19,836 | Indiana |
| Indiana Wesleyan University Online | $9,816 | Indiana, Ohio |
| Jackson State University | $19,279 | Mississippi |
| Lesley University | $27,975 | Massachusetts |
| LeTourneau University | $30,210 | Texas |
| Liberty University | $11,700 | Virginia |
| Minnesota State University at Mankato | $16,235 | Minnesota |
| Mississippi State University | $23,250 | Mississippi |
| New York University | $51,828 | New York |
| North Carolina A&T State University | $19,822 | North Carolina |
| North Carolina State University | $28,444 | North Carolina |
| Northwestern State University of Louisiana | $18,710 | Louisiana |
| Nova Southeastern University | $30,900 | Florida, Nevada |
| Old Dominion University | $29,460 | Virginia |
| Regis University | $36,810 | Colorado |
| Saint Joseph's University | $44,974 | Pennsylvania |
| Saint Mary-of-the-Woods College | $29,960 | Indiana |
| Saint Xavier University | $33,880 | Illinois |
| Southern Arkansas University | $12,866 | Arkansas |
| St. John's University | $41,760 | New York |
| Stephen F. Austin State University | $18,276 | Texas |
| University of Central Florida | $22,467 | Florida |
| University of Central Missouri | $14,442 | Missouri |
| University of Colorado Denver | $25,771 | Colorado |
| University of Dayton | $42,900 | Ohio |
| University of Florida | $28,659 | Florida |
| University of Houston | $21,273 | Texas |
| University of Maryland Global Campus | $12,336 | Maryland |
| University of Memphis | $21,029 | Tennessee |
| University of Minnesota Online | $20,946 | Minnesota |
| University of Minnesota-Twin Cities | $30,438 | Minnesota |
| University of North Carolina at Wilmington | $21,156 | North Carolina |
| University of North Texas | $20,812 | Texas |
| University of Phoenix | $9,552 | Arizona |
| University of Southern California | $56,225 | California |
| The University of Tennessee - Martin | $15,552 | Tennessee |
| The University of Texas at Tyler | $21,282 | Texas |
| The University of West Florida | $19,241 | Florida |
| Upper Iowa University | $30,450 | Iowa |
| Valdosta State University | $17,196 | Georgia |
| Walden University | Not Provided | Minnesota |
| West Texas A & M University | $9,304 | Texas |
| West Virginia University | $24,950 | West Virginia |
| Western Carolina University | $7,926 | North Carolina |
| Western Governors University | $6,670 | All |
| Western Kentucky University | $26,280 | Kentucky |
| Western Michigan University | $15,373 | Michigan |
| Wheeling University | $29,290 | West Virginia |
2020 Best Online Colleges Offering Master's in Teaching Programs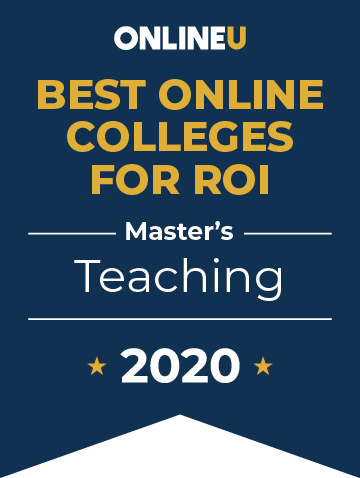 The following 25 schools offer the best online master's in teaching programs, based on their low tuition rates and high mid-career salary potentials. Graduates of the #1 school, the University of Massachusetts - Amherst, report earning a median salary of $92,200. The University of Illinois Urbana - Champaign ranks #2, with a median salary of $91,600 and an annual tuition rate of $7,712.
Alumni salaries were provided by PayScale. View our methodology for more details or learn more about OnlineU.
Rank
School

Annual Tuition

Mid-Career Salary

#

1

University of Massachusetts - Amherst

$7,650

$92,200
#

2

University of Illinois Urbana - Champaign

$7,712

$91,600
#

3

Mercy College

$13,455

$89,000
#

4

Johns Hopkins University

$13,481

$88,200
#

5

California State University-Fullerton

$13,374

$80,100
#

6

Western Governors University

$6,480

$76,900
#

7

Saint Xavier University

$6,900

$75,800
#

8

Central Michigan University

$9,555

$69,000
#

9

Kansas State University

$9,187

$68,600
#

10

University at Buffalo

$9,605

$67,100
#

11

Wayne State University

$22,046

$72,000
#

12

University of North Texas

$12,146

$66,900
#

13

University of Virginia

$8,115

$63,900
#

14

University of Memphis

$10,455

$64,700
#

15

Ball State University

$9,765

$63,900
#

16

Arizona State University

$8,512

$63,100
#

17

University of Louisville

$10,314

$63,600
#

18

National Louis University

$10,960

$62,800
#

19

Lesley University

$11,050

$62,800
#

20

University of New Mexico

$4,583

$58,600
#

21

Texas A&M University-College Station

$12,496

$61,200
#

22

Troy University

$7,904

$59,100
#

23

University of Alabama

$6,300

$58,400
#

24

Liberty University

$9,960

$59,800
#

25

New York University

$53,850

$77,000
Salary data provided by

2020 Online Colleges Offering Teaching Degrees - Ranking Details
Online Teaching Degree Overview & Career Information
Online associate degrees in teaching are best for students who want to begin their education at a community college before transferring to a four-year university. Students will take general education courses, such as math, composition, and English, as well as basic teaching courses in curriculum, instruction, and evaluation. Students earning online bachelor's degrees will take similar classes, but the curriculum will be more in-depth. Course options may include technology, teaching students of diverse populations, working with students who have learning disabilities, and developing creative teaching techniques. Many online undergraduate students are required to study a foreign language.
Online teaching graduate degrees give students the chance to pursue a specialization of their choice. Online master's degrees in teaching can feature subject-specific specializations (such as mathematics), age-specific specializations (such as middle school education), and areas like technology or educational leadership. To begin most master's degree programs, students are required to submit undergraduate transcripts and letters of recommendation. Some master's in teaching programs also require applicants to have professional classroom experience and Praxis exam scores. Online doctoral degree programs in teaching are intended for people who want to master a specific area of education, like special education, and write a dissertation on the topic.
Online Associate Degrees in Teaching
Online associate degrees in teaching are intended to provide students with an introduction to the teaching profession, and they can be a first step in the process of becoming a professional educator. Although the minimum requirement to become a teacher is usually a state-recognized bachelor's or master's degree program, an online associate degree can be a good introduction for students who aren't ready to commit to a four-year degree or who would like to complete the general education requirements at a community college and then transfer to a bachelor's degree program.
Program Requirements
Admission to an online associate degree program requires a high school diploma or GED. Applicants are often required to submit transcripts from high school and any other colleges they may have attended. Most online associate degrees require about 60 semester hours, the equivalent of about two years of schooling.
Curriculum
An online associate degree in teaching introduces students to a number of foundational courses, such as English composition, math, history, and social sciences. The program may also offer classes in the humanities and fine arts. Introductory exposure to these liberal arts courses helps students build professional skills, such as critical thinking and problem solving. Once the core general education courses have been completed, students may choose electives in areas such as early childhood education, English Language Learners (ELL), special education, or physical education.
Online Bachelor's Degrees in Teaching
Online bachelor's degrees in teaching are excellent choices for students interested in pursuing careers in the field of education. Some of these online programs can provide the necessary coursework and classroom experience for students to apply for teaching licensure. Non-licensure programs are also available and provide a good educational foundation in teaching concepts for students who want to pursue a higher degree or who want to work in education but not as a teacher.
Program Requirements
Applicants to bachelor's teaching programs must have a high school diploma or GED. Students will be expected to submit high school transcripts and some schools may also require SAT or ACT scores. For teacher licensure programs, students may also need to complete a criminal background check as part of the application process. Online bachelor's degrees in teaching typically take four years to complete when students are enrolled full time.
Curriculum
Online teacher education bachelor's degrees combine training in education methods, teaching theory, social science, and the instructional content area. For example, an elementary education major would take classes in early childhood development, instructional techniques for young children, and the history of elementary education in the United States. They would also take content area classes in the instruction of multiple subjects, like social studies, math, science, and reading. Specific teaching courses cover topics like curriculum development, lesson planning, student evaluation, and classroom management.
Teaching majors in middle school or high school education have a slightly different type of training during the bachelor's program. While they also take classes in psychology, sociology, and education theory, they concentrate in one subject area rather than taking classes in multiple subjects. For example, a student who wanted to instruct math at the secondary school level would take upper-division math classes like college algebra and ordinary differential equations. They would also take several classes in math instruction.
Some bachelor's in teaching programs have certification options. Students complete a student-teaching apprenticeship and take any exams required in their state to earn their licenses at the same time they graduate with a bachelor's degree. This option may require additional coursework, as well. Prospective teachers should consult their state's certification requirements before pursuing a degree program, as some states require graduate training for secondary school teachers. In these states, the bachelor's may only be sufficient for instruction at the K-6th grade level. Prospective distance education students should also pay close attention to which online teaching degrees are state-approved for those seeking licensure.
Online Master's Degrees in Teaching
Some online master's programs lead to teaching certification. Graduates of these programs may go on to gain employment in preschool, elementary, middle, and secondary private and public institutions. There are also other master's level programs for teachers who are already certified but who wish to continue their education in order to be eligible for post-secondary teaching opportunities or in order to specialize in areas like literacy or curriculum and instruction.
Program Requirements
Applicants to an online master's in teaching program will need to have a bachelor's degree from an accredited institution and will need to submit their undergraduate transcripts. Some schools will require GRE scores, personal statements, and/or letters of recommendation, as well. Programs leading to licensure may also require a criminal background check. Master's degrees for licensed teachers will require proof of teaching credentials prior to admission.
Curriculum
The curriculum in the online teaching master's combines courses in education theory and psychology with a firm understanding of instructional approaches. The required classes in these programs will depend on the student's teaching specialization area; students choose a particular grade level and focus within that grade level. For example, an elementary education major with a focus in literacy would take courses in childhood development, language acquisition, and reading curriculum design. A secondary education major with a focus in math would take courses in methods for teaching algebra, geometry, and calculus.
Besides online graduate courses for teachers, all accredited education degrees have student teaching requirements, which can account for up to 50 percent of the work in the program. This fieldwork places teaching students in real classrooms so that they can practice the teaching techniques they have learned in the degree program. Students typically complete several fieldwork experiences. In early practicums, student teachers observe experienced teachers and their instructional skills. In later practicums, student teachers actually instruct courses. Experienced teachers offer critiques and advice to student teachers on improving their teaching style.
Online Doctoral Degrees in Teaching
Online doctoral degrees in teaching are designed for educators interested in pursuing a career in academic leadership. There are two degree options for those who wish to study instructional planning and teaching at this level: a Doctor of Philosophy (PhD), which is an option suited for people interested in curriculum design and research, and a Doctor of Education (EdD), which is the option tailored for people who prefer to work as school staff members and administrators.
Program Requirements
Admission requirements for online doctoral programs in teaching vary by school. Most schools require applicants to have an undergraduate degree, teaching credentials, and GRE scores; some schools may also require applicants to have a master's degree. The length of teaching doctoral degree programs can also vary significantly. Online teaching PhD and EdD programs can require between 50 to 90 credit hours of study and take three to five years to complete.
Curriculum
Whether you choose to pursue a PhD in teaching or an EdD, as a doctoral degree student in education you can expect to take courses in subjects like literacy education, instructional styles, and research methodology. Students in PhD programs might also take coursework in statistics. As part of a doctoral program, you will initiate research projects and complete a paper known as a dissertation on a topic of interest. EdD students might also find that their online schools will place them in a fellowship at a traditional university in order to put their research into practice.
Students who complete PhD programs in teaching are likely to pursue careers at colleges and universities, where they can educate future teachers and find resources to further their research. EdD graduates often find their path in elementary and secondary school administration, where they can directly influence an educational setting.
Online Certificates in Teaching
Students may choose to pursue an online graduate teaching certificate to fulfill the state requirements to sit for the teacher licensing exam. Postbaccalaureate teacher certification is designed to train future teachers in educational theory, curriculum design, and instructional skills to teach in K-12 settings. Successful graduates may enter K-12 teaching roles in both public and private schools.
Postbaccalaureate teaching certificates are available through traditional and online coursework. Most programs are administered by the college's department of education. The following are the main requirements for admission:
An undergraduate degree with a GPA of 3.0
Undergraduate courses in areas such as math, communication, reading, and critical thinking
Schools may have additional requirements, depending on your subject area. Some programs require the Praxis I exam. This exam tests basic reading, writing, and math skills.
Online certificates require 10 to 20 courses and hands-on teaching practicums. These programs generally take one to two years to complete, depending on the applicant's previous education coursework. Applicants for primary education certificates need an accredited bachelor's degree in any discipline, while secondary education certificates generally require the bachelor's degree to be in the particular subject area in which the student plans to teach.
The curriculum in the teaching certificate is designed to cover state standards for teaching in the public school system. The particular classes required will depend on the student's desired teaching area, whether that be becoming a kindergarten teacher, or pursuing a career in elementary, middle, secondary, or special education. Foundational courses in most programs discuss topics like childhood development, history of the education system, and strategies for teaching students from diverse cultural backgrounds. The following are common core classes in the certificate:
Childhood literacy
Context of education
Educational technology
Instructional skills
Student evaluation
Teaching mathematics in elementary schools
Besides the general social science and education theory topics, students also study instructional skills for their particular educational area. Future elementary education teachers learn instruction and curriculum development for all subject areas, while secondary education majors learn the skills for teaching a particular subject, such as chemistry, world history, or economics. All online teacher certification programs require that students participate in on-site supervised teaching practicums in a real school setting.
When selecting a postbaccalaureate certification program, it is important to keep in mind your state's requirements and program accreditation. In addition, students should be mindful of whether the program is offered in an online-only or hybrid format. Some schools will also require students to set up their own student-teaching experience, while others have pre-existing partnerships with certain schools.
Licensing and Certification Requirements for Teachers
Professional licensure requirements for teachers may vary per state, however most will require that you complete a Teaching Preparation Program (TPP) before applying for a license. There are three basic kinds of licensure available; temporary, initial, and professional.
A temporary teaching license is valid for a short period of time and cannot be renewed, while an initial license is valid for period of five years and may be renewed a limited number of times. A professional license is valid for five years and is renewable every five years thereafter. To acquire a professional license, it is commonly required that you first possess an initial license for more than three years. 
On top of having a teaching license, aspiring teachers may also have to get teaching endorsements. While a license refers to your authorization to teach in a given area, an endorsement refers to the area or subject you will be teaching (special education, elementary math, secondary English, etc.). Having a teaching endorsement assures the school you are applying to teach in that you are equipped with up-to-date knowledge and the right skills set to teach a specific subject. 
A bachelor's degree is typically required for you to be able to apply for licensure. While most colleges and universities from across the country offer online teaching degrees, only accredited programs lead to licensure. If you wish to pursue a career in education but cannot acquire a bachelor's degree, you can opt for an online associates degree that leads to a fulfilling career as a teaching assistant or childcare specialist. 
Many states require a final exam before candidates can earn their teaching licenses. This may be the Praxis II test, or an exam developed by your state. The certification board may also require a criminal background check and drug test. Visit Teach.org and the National Education Association to learn more about specific state requirements for becoming a teacher.
Students looking for online teaching degrees that will enable them to apply for licensure should look at our list of colleges and universities offering teacher licensure preparation programs. Each school on this list offers at least one online teaching degree that can lead to licensure. These programs generally lead to licensure in one specific state so prospective students should pay close attention to the licensure state when deciding which program to attend.
The Importance of Choosing an Accredited Teaching Program
In order to have the best opportunities for success in the teaching profession, it's in a student's best interest to attend a degree program that has been carefully evaluated and vetted by an accreditation agency. To ensure that educators have received an adequate education themselves, most states require teaching license applicants to have an accredited bachelor's or master's degree. Most teaching degree programs are regionally accredited by one of six accrediting boards. Students can check the accreditation status of any school by visiting the national US Department of Education website.
There is also a national accrediting board that specifically evaluates and advocates for teacher training programs called the Council for the Accreditation of Educator Preparation (CAEP). CAEP is a consolidation of two previous teaching program accreditation agencies, the Teacher Education Accreditation Council (TEAC) and the National Council for Accreditation of Teacher Education (NCATE). Check out your state's teacher licensing board to make sure that any degree program you are considering meets their requirements.
Can You Get A Teaching Degree Online?
It is possible to become a teacher entirely online, including fulfilling student teaching requirements. The road to becoming a certified elementary, middle school or high school teacher, begins with deciding on what grade level you would like to teach as this will inform which certifications you will need. A bachelor's degree is a requirement for anyone who wants to teach, and individuals planning for a career teaching in public schools must also complete the teacher licensure requirements specified by the state where they plan to work.
Generally speaking, teacher education requirements include coursework in education philosophy and methods, developmental psychology and a semester of supervised student teaching. Many teachers begin their journey by earning a bachelor's in education, but there are many online teacher certification programs that prepare individuals with a bachelor's degree in another field to meet state teacher licensure requirements. A master's in education will prepare you even more for licensure and should be considered as a viable option.
As you research the various types of teacher education programs, it's important to remember that teacher education requirements vary from state to state. The ideal program for you should prepare you to meet all of the teacher education requirements for your state, regardless of degree level.
Teacher Certification Programs by Degree Level
A bachelor's degree in education. For students who don't already have a college degree, this may be the most convenient route to certification because the bachelor's degree includes all of the coursework required to meet state licensure for the grade school level of choice.
A master's degree in teaching or education. Students who already have an undergraduate degree in a different field can meet teacher licensure requirements through a master's program designed for those coming from a non-education related background.
An Alternative Certification Program (ACP). ACPs are designed for adults with undergraduate degrees in other fields who are ready to make a quick transition into full-time teaching. Note that many ACPs don't offer teacher certification tracks for individuals who want to teach in areas such as early childhood education or special education as these areas require additional coursework not covered in alternative certification training.
ACP Programs
Texas Teachers of Tomorrow is an online program that offers training that allows individuals to complete their Texas teacher certification in a year while they work as school teachers. The program includes teacher education courses and career guidance advice.
The Intensive Pedagogical Training Institute (IPTI) at Ohio State University prepares students for the Ohio Alternative Resident Educator license. The online program is self-paced and takes about four months to complete.
The Michigan Teachers of Tomorrow program offers online teacher training that prepares students for an Interim Teaching Certificate. The school also helps students get their first full-time teaching job. Students complete the rest of their teacher education online and qualify for a standard Michigan license in three years.
The Career Switcher program in Virginia can be trained for the classroom through a number of Virginia colleges like Old Dominion University, Regent University, Shenandoah University, and in the Virginia Community College System.
The Lateral Entry program in North Carolina allows qualified potential teachers to teach immediately while they are obtaining their license. Teachers are given 3-year provisional licenses in their specific area.
How to Become a Teacher
Getting a teaching degree online can be a great alternative for those with tight schedules or who prefer learning in an online medium. There are numerous programs that allow you to obtain your teaching degree online, whether you are becoming a teacher for the first time or are pursuing continuing education as a current educator. This page covers programs that lead to teaching licensure, with programs that satisfy state requirements such as student teaching.
Obtaining a degree in teaching can be the start of a secure career, as educators are often in high demand. According to the National Center for Education Statistics, degrees in education-related fields are among the most popular programs in the nation. Approximately 92,000 undergraduate degrees, 147,000 master's degrees and 40,000 doctoral degrees in education-related programs were earned in the 2014-2015 academic year. It's an ever-growing field.
Online universities offer all stages of education: associate's, bachelor's, master's and even doctoral programs. While not all education careers require a degree, the vast majority do. In fact, every state requires at least a bachelor's degree in order to teach at a public school; meanwhile, privately-funded schools may not require a degree but having one is preferred. Many online universities offer both accredited programs and access to classrooms to fulfill the requirement of in-person student teaching for licensure.
There are two types of teaching degrees that can be obtained online:
Degrees that lead to state licensure
If you want to become a teacher, this is the degree for you. These degree programs lead to teaching licensure and access to resources to fulfill other state requirements such as entrance exams and subject-matter mastery tests. Through this exhaustive list of digital degree programs, you can find online universities that offer licensure for teaching in your specific state.
Degrees that do not lead to licensure
If you are already teaching and want to pursue continuing education, this is the degree for you. An ideal candidate would be teachers who are already licensed seeking to further their teaching careers, or those who wish to obtain a teaching degree without also pursuing licensure. These degrees can be used as leverage to negotiate for higher pay or apply for leadership positions.
Financial Aid for Teachers
When it comes to getting a degree, one of the main concerns is affordability. It might seem impossible for some students, but there are many options to help with associated education costs. The two most common are scholarships and grants.
Scholarships
Scholarships are the more ubiquitous option. The primary criteria for scholarships are merit-based whether its artistic, athletic or academic talent; however, there are countless options. They are offered by many private and nonprofit organizations from local churches to Fortune 500 companies. According to the National Center for Education Statistics, more than 750,000 scholarships are available for students every academic school year.
Grants
Grants are another gift aid option for students. Unlike scholarships, grants tend to be based on a needs-based standard such as the Federal Pell Grant which is awarded to students with an annual family income of $50,000 or less. Grants are often awarded by the government, whether state or federal, and the institutions to help economically disadvantaged students.
Financial Assistance Specific to Teachers
While grants and scholarships are the main options to help students mitigate the costs of higher education, teachers have another one: the Teacher Loan Forgiveness Program. Designed by the Department of Education to encourage people to continue in the teaching profession, the program has a strict set of criteria. To qualify, a teacher must teach full-time for five consecutive academic terms in a Title 1 school or education facility. Teachers that qualify can have upward of $17,500 forgiven from federal subsidized and unsubsidized loans including Stafford Loans. In some cases, Direct and Federal Consolidation Loans may be eligible for forgiveness if they were used to repay one of the subsidized or unsubsidized loan options.
Education should be an option for everyone, and with these gift aid options and loan forgiveness programs students can less time worrying about ever-growing education costs.
This website offers school details to prospective students as an informational resource. The appearance of a school listing on this website should not be interpreted as an endorsement of the school by this site.