2023 Most Affordable Online Master's Degrees in Education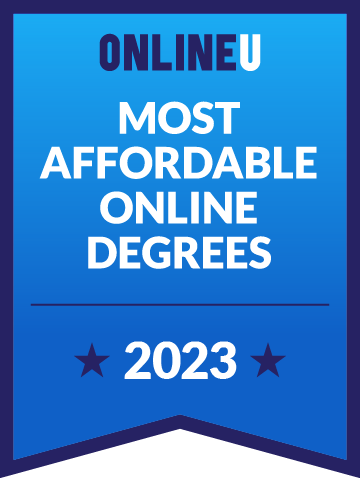 Educators, curriculum developers, and anyone delivering quality instructional content to students of various ages and learning abilities may pursue an affordable online master's degree in education. The programs we identify below aim to help graduate students develop advanced, up-to-date skills in instructional technology, educational policy and law, and educational leadership and aid career advancement.
Additionally, our most affordable online master's degrees in elementary education or educational leadership may interest those unclear about which path to take. Our list of affordable online doctoral degrees in education can help students interested in a PhD or doctorate plan ahead. View our methodology for details about rankings or learn more about us. You can also check out our overall list of the most affordable online degrees for more inspiration.
All tuition numbers were manually collected and verified
Rank
School

Locations

Annual Tuition

# 1
Midway University
Midway (KY)

$3,750

# 2
The University of Texas at Arlington

Arlington (TX)

$4,100

# 3
Southwest Baptist University
Bolivar (MO)

$4,185

# 4
Georgia College & State University
Milledgeville (GA)

$4,320

# 5
Fort Hays State University
Hays (KS)

$4,478

# 6
Evangel University
Springfield (MO)

$4,500

# 7
Northeastern State University
Tahlequah (OK)

$4,575

# 8
Wichita State University
Wichita (KS)

$4,620

# 9

(tie)

Athens State University
Athens (AL)

$4,875

# 9

(tie)

California Coast University
Santa Ana (CA)

$4,875
Getting an Online Master's in Education
---
The Importance of Accreditation
When selecting a college or university for an online education, it's important to choose one that has been accredited. Accreditation means that a school's programs, faculty, and student services have been examined and evaluated by an independent agency, and that this agency has determined that the school meets established standards of quality and accountability. All students who want to remain eligible for financial aid, transfer credits from one institution to another, or earn certification or licensure as a teacher must attend an accredited college or university. Students who plan to become educators also need to be enrolled in programs that are recognized by the board of education in the state where they intend to teach.
Online degree programs may be accredited by any one of several different approved agencies. A program may be accredited by one of six authorized regional accrediting boards, by an accrediting board specializing in education programs, or by the Distance Education Accrediting Commission. For example, agencies that specialize in accrediting education programs include the Council for the Accreditation of Educator Preparation (CAEP) and the Commission on English Language Program Accreditation (CEA). For a complete list of accrediting agencies and accredited colleges and universities, visit the U.S. Department of Education or the Council for Higher Education Accreditation (CHEA) websites.
---
Common Courses in Online Master's in Education Programs
The following is a list of online courses that master's in education students might be required to take in their graduate programs. The course titles vary from school to school, but the core topics remain consistent.
Assessment in the Classroom: This course explores tools and methods that fall into the six categories of assessment: diagnostic, formative, summative, ipsative, norm-referenced, and criterion-referenced. Educators learn how to develop, implement, and score various assessments to evaluate students' levels of learning and comprehension. They will also gain an understanding of the larger role of assessment in determining individual students' progress as well as shaping the curriculum.
Creating a Positive Learning Environment: Contemporary educators have developed many practical skills and effective strategies for creating a classroom where students can thrive. This course shows educators how to demonstrate leadership in the classroom by implementing healthy, high-impact methods for helping students feel safe, supported, and connected. Specific strategies are designed to meet students' needs, help them feel heard and understood, and build trust among students, while allowing teachers to maintain a sense of order, focus, and control.
Curriculum Design: The curriculum for any given course is made up of the content, interactive activities, exercises, and assessment strategies that help students meet the learning objectives for the class. In a course on curriculum design, future teachers learn how to develop an effective curriculum that is appropriate and engaging for their students. They will study the many types, sources, and models of curriculum development, and discover how to map out their chosen curriculum.
Educational Policy and Law: Federal, state, and local governments have established laws and policies that govern all levels of education. Teachers and administrators alike need to understand this legislation in order to implement and comply with it. Educators in this course will learn about current policies and laws related to equal education opportunity, gender discrimination, "no child left behind," charter schools and voucher programs, desegregation, religious conflicts, free speech, and more.
Multicultural Studies: One of the primary objectives of today's classrooms is to eliminate prejudice and engender respect for all people and cultures. This course teaches educators how to create an inclusive environment in the classroom by incorporating content—such as literature and music—from diverse cultures. Course materials also help teachers learn how to build a sense of civic and social responsibility among students.
Trends and Issues in Education: Educational researchers and practitioners are continually discovering improvements to methods and practices used in the classroom. Current trends include self-care, blended learning, digital citizenship, and bite-size learning. A course on trends will introduce future educators to the most current thinking in the field and how to apply it in their work. The course is also designed to keep educators abreast of any changes in legislation that could affect their practice.
Using Technology to Enhance Learning: From computers to hand-held devices, technology has been shown to increase student engagement and enhance the learning process. Using technology for classroom activities and homework also helps students develop valuable skills. Educators in this hands-on course will discover the many technology resources available to them and how to integrate them effectively into course curriculum.
---
Cost of an Online Degree
---
Funding an Online Master's in Education Program
All Online Graduate Students: Distance learning students pursuing master's degrees have a variety of options when it comes to funding their online education. The preferred choices are financial aid sources that don't have to be paid back, such as scholarships, grants, and fellowships. Some online students may also be able to land teaching assistantships or other work-study programs at the college or university they attend or at affiliated locations. Graduate students have the option of obtaining federally funded loans or private loans from banks, although these must be paid back with interest over time. To determine what type of aid is available, students should begin by filling out and submitting a Free Application for Federal Student Aid (FAFSA) form.
Master's in Education Students: There are also many opportunities expressly designed for master's in education students. Some are available to all teachers, while others may be designated specifically for teachers who are working with a particular age group or subject matter, such as biology, art, or English. For example, the federal TEACH grant provides up to $4,000 per year for students planning to teach high school students in low-income areas, while the Nancy Larson Foundation funds students who plan to become elementary school teachers. Additionally, some school districts provide full or partial tuition reimbursement for credentialed teachers who want to go back for a graduate degree in education. (Teachers can contact their school districts directly for more information on tuition reimbursement for graduate degrees.)
Related Articles
2023 Most Affordable Online Master's Programs
Explore the most affordable online master's degree programs in 2023 and choose the one that's right for you.
2023 Most Affordable Online Master's Degrees in Teaching
Find the colleges in 2023 offering the most affordable online master's degrees in teaching. We manually collect the tuition so you don't have to!