2023 Most Affordable Online MSN Programs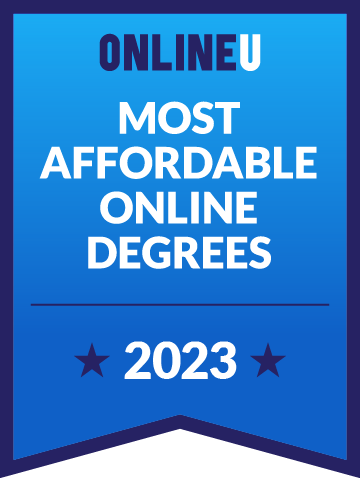 Registered nurses (RNs) provide vital patient care in various clinical settings and play an integral role in healthcare teams. An online master's in nursing can help mid-career RNs fulfill career advancement goals. It can help RNs develop the skills to treat targeted populations, educate nursing students, or lead teams and organizations.
Those interested in public service may alternatively seek an online master's degree in public health to acquire the skills necessary to work within communities delivering health education and programs that help others stay healthy. Also, our list of the most affordable online degrees can help students stay within budget and minimize student debt. View our methodology for details about rankings or learn more about us.
All tuition numbers were manually collected and verified
| Rank | School | Locations | Annual Tuition |
| --- | --- | --- | --- |
| # 1 | Middle Georgia State University | Macon (GA) | $3,825 |
| # 2 | Fort Hays State University | Hays (KS) | $4,478 |
| # 3 | Wichita State University | Wichita (KS) | $4,620 |
| # 4 | University of Wisconsin - Oshkosh | Oshkosh (WI) | $4,633 |
| # 5 | Fitchburg State University | Fitchburg (MA) | $4,934 |
| # 6 | Georgia Southern University | Statesboro (GA) | $4,986 |
| # 7 | Missouri State University | Springfield (MO) | $5,415 |
| # 8 | Youngstown State University | Youngstown (OH) | $5,577 |
| # 9 | Kennesaw State University | Kennesaw (GA) | $5,745 |
| # 10 | University of Central Missouri | Warrensburg (MO) | $5,910 |
Why Accreditation is Important
Before enrolling in an online MSN program, students should determine that the school is recognized by the Council for Higher Education Accreditation (CHEA). Nursing programs that have passed more rigorous reviews of standards and quality are accredited by the Commission on Collegiate Nursing Education (CCNE) or the Accreditation Commission for Education in Nursing (ACEN). Accreditation is important to ensure that students can find employment after graduation and be eligible sit for advanced certification exams, such as the Family Nurse Practitioner Certification (FNP), Adult-Gerontology Primary Care Nurse Practitioner Certification (A-GNP), or Emergency Nurse Practitioner Certification (ENP).
Common Online MSN Courses
An online MSN program will typically include a core curriculum and nursing specialization courses. Below is a list of standard MSN core courses and a description of what students will learn in each class:
Advanced Health Assessment: Students learn how to conduct comprehensive health assessments on patients across their lifespan. Other topics covered include health promotion strategies, risk assessment, and diagnostic reasoning. Students may also be required to complete a clinical practicum in this course.
Advanced Pathophysiology: This course examines advanced concepts in how the body responds to disease. Students explore various conditions and how organ systems function. Students also learn how to diagnose and develop treatment plans for patients.
Advanced Pharmacology: Students learn the principles of drug therapy in response to various diseases. This course also covers how to prescribe pharmaceutical treatments to patients in a clinical setting. Other topics covered include adverse drug reactions, ethical implications, and patient education.
Organizational/Nursing Leadership: This course emphasizes leadership and communication strategies within the healthcare environment. Students will learn how to build collaborative teams to facilitate better patient outcomes. They will also develop skills in listening, training, and motivating, other employees.
Evidence-Based Practice in Nursing: Students learn how to apply best practices in patient care and make informed decisions based on evidence. In this course, students will analyze and evaluate current nursing knowledge for scientific merit. Students will also explore the ethical and cultural issues or barriers in evidence-based research.
Funding an Online MSN Degree
Once accepted into an MSN program, students should submit a FAFSA application for federal financial aid. Most students who apply receive some form of financial award, ranging from federal loans to grants. Beyond the FAFSA, some healthcare employers may offer tuition benefits to RNs pursuing graduate degrees in the field. Students may also be eligible for loans, programs, or scholarships to help offset the cost of an online MSN program:
Nursing Student Loans (NSL): The Health Resources & Service Administration (HRSA) offers long-term and low-interest loans to nursing students enrolled full-time in a graduate program.
Nurse Corps Scholarship Program: This scholarship program is offered by the HRSA to students in graduate-level nurse practitioner programs or bridge programs. In exchange for receiving funding, graduates must complete a two-year service commitment in a critical shortage facility.
Scholarships: Students should contact their university to determine whether any graduate scholarship opportunities are available. Professional nursing organizations also offer scholarships to MSN students in various specialties. For example, the American Association of Nurse Practitioners (AANP) has a scholarship for students in a nurse practitioner program. The Oncology Nursing Foundation also offers master's degree scholarships for students at an accredited nursing school interested in oncology.
Related Articles
2023 Most Affordable Online Master's Programs
Explore the most affordable online master's degree programs in 2023 and choose the one that's right for you.
2023 Most Affordable Online Master's Degrees in Healthcare Management
Curious to learn about the most affordable colleges for online master's degrees in healthcare management? Explore our 2023 list.