2020 Best Healthcare Administration Degrees Online
Although there is some overlap between general business administration and healthcare administration classes, hiring managers in the healthcare field often prefer to hire candidates who have focused their education and work experience on managing hospitals, medical practices, and other healthcare facilities. Graduates with this specialized, advanced knowledge can expect to earn an annual salary of just over $100,000, on average. The following is a ranked list of online bachelor's programs, which aspiring healthcare administrators can use to find a program that fits their needs. Keep reading to learn more about degree levels, accreditation, and the overall job outlook for healthcare administration professionals.
2020 Best Online Colleges Offering Bachelor's in Healthcare Administration Degrees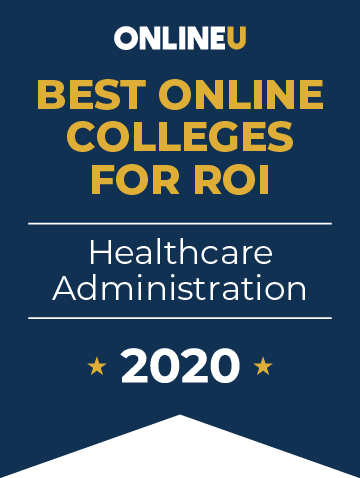 Students seeking an online bachelor's degree in healthcare administration will find that these 25 colleges offer the best value based on affordability and alumni salaries. At #1, Florida International University charges $10,376 per year for their Bachelor of Health Services Administration. Charter Oak State College offers distance learners a Bachelor of Science in Health Care Administration for $12,570 per year. Alumni reported a mid-career salary of $78,200.
Alumni salaries were provided by PayScale. View our methodology for more details or learn more about OnlineU.
Salary data provided by

2020 Online Colleges Offering Healthcare Administration Degrees - Ranking Details
Online Healthcare Administration Degree Overview & Career Information
Online undergraduate certificates and associate degrees are available specifically in healthcare administration as well as in related fields such as medical transcription, medical office administration, and healthcare informatics. These types of programs teach the skills necessary for managing the large amount of information, record keeping, and communication that is common in the healthcare environment. It's wise to look for a program that emphasizes technological proficiency, since information technology is growing in importance in healthcare settings.
Bachelor's degrees in healthcare administration are available in healthcare management, healthcare informatics, and public health. These programs typically delve deeper into the history and structure of the healthcare system and its repercussions on patient care. Programs that focus on management include courses that discuss the business aspects of healthcare settings, such as healthcare finance, staffing, and marketing.
Online master's degrees and graduate certificates are great preparation for entering management and administrative roles in care settings. These programs build on undergraduate work and are often aimed at individuals with a year or more of professional experience in healthcare. Courses cover topics like organizational behavior, managed care, personnel administration, and quantitative methods. Graduate programs often include an internship or fieldwork requirement, where students work in a healthcare setting.
Doctorates may focus on specific aspects of healthcare administration, such as healthcare policy, leadership, or business. These programs typically require that applicants have significant experience in roles such as a clinical care professional, administrator, or policy professional. These programs require a lengthy project, thesis, or fieldwork assignment that allows graduates to function at the highest level in their particular healthcare administration area.
Online Associate Degrees in Healthcare Administration
Professionals in healthcare administration work to provide organizational support in the medical industry. Individuals who earn online associate degrees in healthcare administration may be eligible for jobs as medical transcriptionists, medical records technicians, and medical administrative assistants. They work in a variety of settings, such as hospitals, outpatient facilities, physicians' offices, adult residential centers, and rehabilitation centers. Those who want to advance into careers as medical and health services managers should pursue a bachelor's degree.
Program Requirements
Applicants to an online associate degree will need a high school diploma or GED and may need to submit transcripts from high school and/or any college coursework they previously completed. Students in online associate degree programs will need to complete at least 60 credit hours and commit to two years of full-time study or four years of part-time study. A high school diploma or GED is necessary to enroll as well.
Curriculum
The coursework in online healthcare administration associate degree programs focuses on providing students with foundational concepts in the medical profession. Individuals learn about the rewards and challenges of working in the healthcare field, as well as their role in offering assistance to other staff members. Many schools require the selection of specialties in medical records, pharmacy practice, or billing and coding. The associate program curriculum typically involves classes in information technology, patient records, claims preparation, billing procedures, health language, medical law, management principles, health communication skills, medical terminology, and medical ethics.
Online Bachelor's Degrees in Healthcare Administration
Bachelor's degrees in healthcare administration cover the healthcare policy knowledge and unique business skills required for leadership in healthcare settings.
Program Requirements
These four-year online degrees require roughly 120 credit hours of work. Applicants need a high school diploma or GED and will need to provide high school transcripts. Some schools will also require standardized test scores and may have minimum GPA requirements for new students.
Curriculum
The curriculum in the healthcare administration bachelor's program teaches students how to ethically and efficiently manage a hospital, skilled nursing facility, outpatient care center, or another healthcare setting. Core administrative classes discuss healthcare finance, human resources and personnel management, healthcare IT, and marketing for health services. Other classes provide a legal and ethical framework for the sensitive business of managing a healthcare facility.
Along with courses focused on the administrative and business aspects of healthcare, students also study the history of the healthcare system, healthcare policy, and relevant social science topics. Many online healthcare administration bachelor's programs also require a hands-on practicum experience in a hospital, physicians' office, or another healthcare setting in the student's local community.
A bachelor's in healthcare administration is the minimum educational requirement for most entry-level jobs in medical and health services management. About 40 percent of healthcare administrators are employed in hospitals. Doctors' offices, home health services, nursing care facilities, and outpatient care centers are also large employers. Graduates interested in advancing in the healthcare administration field may want to consider getting a master's degree.
Online Master's Degrees in Healthcare Administration
Online MHA programs are great choices for individuals hoping to begin careers as a medical or health services manager. Students can complete these online degrees in roughly two years, taking coursework in business, management, information technology, healthcare policy, and healthcare law and ethics. Applicants should have an accredited bachelor's degree and, depending upon the program, may need a few years of experience working in the field. Online MHA graduates may go on to work as managers of hospital departments and clinics or as health services managers, among many other career possibilities. Prospective online MHA students will find affordable and academically rigorous options on our best online colleges offering master's degrees in healthcare administration.
Online Doctoral Degrees in Healthcare Administration
The doctorate is the highest degree level available within healthcare administration, and therefore can open up many career opportunities. Common career paths for those with a PhD in healthcare administration include hospital administrators or directors, hospital CEOs or CFOs, and hospital vice presidents.
Program Requirements
In order to be eligible for a doctoral degree program in healthcare administration, students will need to have already earned a bachelor's and a master's degree from an accredited college or university. Some programs require that the master's degree be in healthcare administration or a related field. As part of the application process, students will need to submit their transcripts from their bachelor's and master's degree programs and may need to also provide a personal statement, letters of recommendation, and/or a resume. Full-time students can expect to complete an online healthcare administration doctoral program in about four years.
Curriculum
Doctoral programs in healthcare administration will include courses such as healthcare systems, research, human services, human resources, healthcare marketing, risk assessment and management, critical thinking, leadership, strategic planning, organizational change, law, and health systems analysis and evaluation. In addition to coursework, all doctoral students will need to complete a dissertation, which includes individual research, a written report, and a presentation.
Online Certificates in Healthcare Administration
Individuals who wish to enhance their skills and knowledge regarding specific themes and procedures in the field of healthcare administration should consider getting an online graduate certificate. These programs typically take between 12 and 18 months to complete and tend to consist of around 15 credits. Admissions requirements for online certificate programs may include the submission of undergraduate transcripts, letters of recommendation, and a statement of purpose. In some cases, a resume that documents relevant work experience is mandatory as well.
Graduate certificate programs in healthcare administration are designed to build upon the skills and knowledge of individuals who've already initiated their postsecondary studies with bachelor's degree programs in a related field. Students learn about healthcare policies, as well as business management concepts. Topics covered include national health insurance, introduction to healthcare systems, healthcare ethics, quality and information management systems, healthcare trends in the United States, and strategic planning and marketing. Students also explore a variety of issues that impact the healthcare system and develop strategic approaches to performing their duties.
Undergraduate certificates are also available in the field and focus on specific administrative roles such as medical billers and coders, medical administrative assistants, and medical insurance clerks. Once completing these undergraduate certificates, individuals may go on to work in administrative roles in practitioners' offices, medical clinics, outpatient centers, or rehabilitation facilities.
The Importance of an Accredited Online Healthcare Administration Degree
Before applying to online healthcare administration degree programs, prospective students should verify that the schools they are considering are regionally accredited. Accreditation is an important designation granted to schools that meet national educational standards for academic programs, faculty members, current research programs, and other resources. While attending an accredited program isn't a requirement for employment, having an accredited degree on your resume may increase your chances of being hired. In addition, only students attending accredited institutions are eligible for federal financial aid. Transferring credits is also much easier and, in some cases, only possible if you have earned those credits at an accredited school. The US Department of Education and the Council for Higher Education Accreditation each offer a free database of recognized schools, programs, and accrediting agencies.
In addition to regional accreditation, schools can receive programmatic accreditation for specific degree programs they offer. The predominant programmatic accrediting agencies for healthcare administration-related degree programs include the Commission on Accreditation of Healthcare Management Education (CAHME), the Accrediting Bureau of Health Education Schools (ABHES), and the Council on Education for Public Health (CEPH). Degree programs that have received programmatic accreditation from one of these organizations have met industry standards for education that will help ensure students are prepared for careers in the field.
For more information about the benefits of accreditation, please visit our comprehensive accreditation hub.
Licensure and Certification for Healthcare Administrators
Licensing is not a requirement for individuals seeking to practice in the field of medical and health services management. The exceptions to this are for nursing facility administrators, who must be licensed in all US states, and assisted-living facility administrators, who must be licensed in some US states. Because licensing requirements for these administrators aren't uniform across all states, it's best to inquire about details from the department of health in the state where you wish to practice.
Careers in Healthcare Administration
Graduates of online healthcare administration degrees go on to work in a wide range of industries and workplaces including healthcare clinics, health insurance companies, nursing homes, and rehabilitation centers. Some may also work at public health organizations, universities, or research institutions.
Jobs in the healthcare administration field can take a variety of forms; people may end up working directly with people or working on more macro-level issues in a planning capacity. Some common job titles for graduates of healthcare administration programs include administrator, assistant administrator, clinical manager, and information manager. Some titles may include the terms "medical" or "health services." With experience and education, healthcare professionals can move into executive positions within hospitals, health management systems, or a related facility.
Frequently Asked Questions About Healthcare Administration Degrees
How much can I expect to earn with an online degree in healthcare administration?
The median annual salary for medical and health services managers with bachelor's degrees is $100,980 as of May 2019, according to the Bureau of Labor Statistics. Healthcare administration professionals are in high demand, as the number of jobs in the healthcare sector is expected to increase by 18% over the next decade.
What kind of degree do I need for a career in healthcare administration?
Where do healthcare administrators work?
More than one-third of healthcare administrators work in hospitals. Other professionals find employment in outpatient care centers, medical practices, nursing homes, and rehabilitation facilities. A growing trend in the healthcare field is to allow medical and health services managers to work from home for some or all of their work weeks.
This website offers school details to prospective students as an informational resource. The appearance of a school listing on this website should not be interpreted as an endorsement of the school by this site.