2020 Best Online Bachelor's in Early Childhood Education
In today's society, many parents work full- or part-time. This means there are hundreds of thousands of preschoolers, kindergarteners, and grade-school-aged children who need to be cared for and educated while their parents work. This creates tremendous job opportunities for people who enjoy working with young children of all ages. Preschool teachers and caregivers with associate degrees earn about $30,000 a year, while elementary school teachers with bachelor's degrees earn closer to $60,000 annually. The following is a list of the best schools for online bachelor's degrees in early childhood education. Keep reading for more details about common online courses, accreditation, relevant licensure, and career paths.
2020 Best Online Colleges Offering Bachelor's in Early Childhood Education Degrees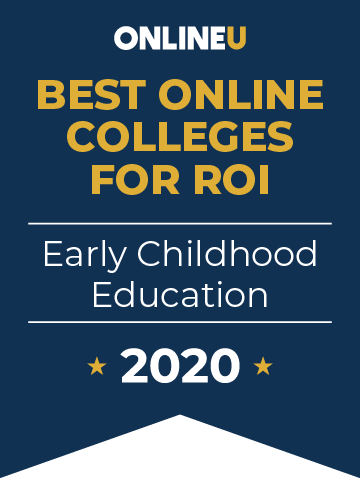 With low tuition rates and high average alumni salaries, the following 25 schools offer the best online bachelor's in early childhood education degrees. South Dakota State University is ranked #1, offering a Bachelor of Science in Early Education and Care for $10,537 per year. Graduates of the school reported a median salary of $96,100. Kansas State University offers distance learners a Bachelor of Science in Early Childhood Education with a Unified Teaching License for $14,742 per year. Alumni reported a mid-career salary of $81,100.
Alumni salaries were provided by PayScale. View our methodology for more details or learn more about OnlineU.
Salary data provided by

2020 Online Colleges Offering Early Childhood Education Degrees - Ranking Details
Online Early Childhood Education Degree Overview & Career Information
An online associate degree or undergraduate certificate in early childhood education can prepare graduates to earn respected professional credentials, such as the Child Development Associate (CDA) credential offered by the Council for Professional Recognition. The core of these programs is made up of classes that discuss the cognitive and physical changes that children undergo in their earliest years. Courses cover childhood nutrition, communication, and teaching children with special needs, as well as general education classes in college math, English, and natural science.
The online bachelor's degree in early childhood development is one way to begin a career in education as a Head Start teacher or preschool teacher in a public school setting. These degree programs discuss the skills needed for instructing young children in a variety of subjects, such as language arts, creative arts, and math and science. The length of the bachelor's program also affords students the opportunity to spend a significant amount of time in the classroom, observing students and experienced teachers and practicing teaching skills.
An online master's in early childhood education is an excellent way for those experienced in the field to gain the credentials necessary to enter positions in public policy, administrate early childhood education programs, or open their own schools for young children. Master's programs may prepare graduates to earn a teaching credential in one or several early childhood education areas; this credential is necessary to teach in some public school systems.
Undergraduate programs in early childhood education may require experience working with children, a high school diploma, standardized test scores, letters of recommendation, and a personal statement. Graduate programs may be entry-level, or they may require a bachelor's degree in a relevant area with a minimum GPA, as well as standardized test scores and letters of recommendation. Most early childhood education programs require applicants to pass a background test and have necessary immunizations.
Online Bachelor's Degrees in Early Childhood Education
The bachelor's program in early childhood education prepares graduates to teach and nurture children from birth through age 8. These degrees typically take four years to complete and require about 120 credit hours of work. Applicants need a high school diploma or GED certificate, as well as a clear criminal background check.
The coursework in the early childhood education bachelor's program discusses the social and behavioral science concepts, education theory, and teaching strategies necessary to be an effective instructor of young children. Courses in topics like principles of early childhood development, educational psychology, and teaching exceptional children discuss the cognitive and social growth of young children. Classes in teaching methodology cover the instructional skills necessary for teaching math, science, language arts, health, and physical education. Teaching practicums place students in an actual classroom setting, where they practice teaching under the guidance of an experienced instructor.
Graduates of the early childhood education bachelor's degree go on to teach in preschools, Head Start programs, and elementary schools. Depending on the program, students may need to seek out an additional credential after graduation to teach in a public school setting. Other graduates can work as special education teachers for young children. Others go on to work in child care and day care settings.
Common Online Courses in Early Childhood Education
Early childhood education programs prepare graduates for roles in the child care and child education professions. Upon graduating, you will have an understanding of developmentally appropriate practices, as well as techniques for behavior guidance and classroom management. You will also know how to plan and implement curricula and establish and maintain a safe environment. The following classes are often included in an ECE degree program:
Child Development: Child development courses are essential for any early childhood education professional, as they help students become familiar with the ways in which children learn, process thoughts and emotions, and deal with challenges.
Culturally Responsive Teaching in Multicultural and Multilingual Settings: Students learn about the necessity of being culturally sensitive to children of varying backgrounds.
Early Childhood Reading and Literacy Instruction: This class focuses on strategies for teaching young children of varying ability levels how to read.
Exceptional Children in the Early Childhood Setting: This course teaches students ways to challenge intellectually advanced children while also integrating them with the rest of the classroom.
Family Engagement: This course helps future educators and caregivers learn how to work with parents to help children reach their full potential.
Health and Safety: Students learn how to talk to young children about the importance of being healthy and maintaining a safe learning environment.
Special Education: Special education courses focus on the best ways to engage children who have special needs, developmental delays, or learning disabilities.
Standards-Based Curriculum, Instruction and Assessment: This course prepares future teachers to develop lesson plans as part of broader curricula and assess the lesson's' strengths and weaknesses.
The Early Childhood Learning Environment: Students learn how to create an environment where children can feel comfortable and reach their full learning potential.
Accreditation for Online Early Childhood Education Degrees
Accreditation is granted to schools and degree programs that meet the standards established by independent, authoritative agencies. These agencies provide comprehensive evaluations in order to verify the quality of the curricula being offered, the qualifications of the faculty members, and the availability of research programs and student resources. Accrediting agencies should be recognized by the US Department of Education or the Council for Higher Education Accreditation.
Choosing an accredited degree program can help students feel confident in their education and help them meet eligibility requirements to transfer credits to other schools or apply for federal financial aid. It's always best to verify the precise accreditation requirements necessary for your future education and career plans with the proper regulation boards in your state.
The National Association for the Education of Young Children (NAEYC) sets the national standard for higher education programs for early childhood degrees. NAEYC's Commission on Early Childhood Associate Degree Programs accredits associate degree programs, and NAEYC works with the Council for the Accreditation of Educator Preparation (a consolidation of the former National Council for Accreditation of Teacher Education and the Teacher Education Accreditation Council) to accredit baccalaureate and graduate programs.
To learn more about accreditation, please visit OnlineU's accreditation hub.
Certification & Licensure for Early Childhood Education
Prospective early childhood educators and caregivers will need to abide by their state's legal requirements before they can seek employment. Each state has its own rules and regulations for individuals who wish to teach or care for young children. Some may simply require a high school diploma and experience, while other states require a bachelor's degree in a relevant subject.
Professional certification for early childhood educators and caregivers is a wise investment for those who wish to advance in their career, and it may also be a requirement for employment in some settings. Earning a recognized certificate lets families and employers know that you are competent, knowledgeable, and dedicated to the profession. One of the most popular forms of professional certification for this field is the Child Development Associate Credential (CDA), which is offered by the Council for Professional Recognition. The CDA is available for professionals who work in preschool or infant and toddler settings, or provide family child care or home visits. Students can earn this designation by completing a certain number of hours of professional education and work experience.
Another professional agency that issues certification for early childhood educators is the National Early Childhood Program Accreditation. This organization issues the Certified Childcare Professional credential to those who have a high school diploma and work experience in this field, and who have enrolled in continuing education courses. Several options for continuing education can be pursued via distance education; students can enroll in formal classes or seminars to receive credit hours.
Students who plan to teach in public preschools must fulfill state licensure requirements, which can vary widely. Most US states require public preschool instructors to pass a national examination, as well as procure continuing education units. Some of these areas require instructors to complete a teacher training program; those who have majored in early childhood education development can usually skip this requirement. Prospective preschool educators should verify their individual state's requirements prior to enrolling in a degree or certificate program.
Early Childhood Education Career Paths
A career in early childhood education can be very rewarding, as educators play an important role in the lives of children at a time when they are learning so much and discovering who they are. The term "early childhood education" is quite broad, and it encompasses a variety of careers and education levels. The following list represents some of the career opportunities available for graduates of ECE programs:
Caregiver: Caregivers work with young children in a wide range of public and private day care settings. Their main responsibilities are to provide supervision and a safe place for children to play, learn, and socialize while they are away from home. Sometimes caregivers work with parents and provide collaborative care, while others act as the primary caregiver without parent involvement.
Teacher: Teaching is a common career choice for graduates of early childhood education programs. Preschool and kindergarten teachers provide developmentally appropriate activities and exercises to help young children learn about academic subjects and the world around them. Additional courses, such as child development or communications, be beneficial to your role in the classroom. In addition to a degree, teachers also need to obtain a state teaching license.
Teaching Assistant: Many people begin their career in early childhood education as a teaching assistant. Teaching assistants work under the guidance of teachers and provide valuable support for individual students or small groups of students who need extra encouragement, tutoring, or supervision. Teaching assistants who do not yet have a bachelor's degree can gain valuable classroom experience before committing to a four-year degree.
Program Director: Program directors have the flexibility of working in schools or in private child care or education settings. Many programs that offer childhood development and learning opportunities exist outside of the school system; the programs often specialize in one subject or age range and can be tailored to children with special needs.
Frequently Asked Questions About Early Childhood Education Degrees
Do I need a degree to work with young children?
Although some states will license people without degrees to work as preschool teachers or non-teaching childcare workers, many states require an associate degree before issuing a license. Students who earn online bachelor's degrees in early childhood education enjoy even more career options. They are eligible to teach in preschools, Head Start programs, and elementary schools, or to become special education teachers in elementary schools. All of these positions require licensure, and in some states an additional teaching credential may be required.
How much can I earn with an online degree in early childhood education?
What kind of degree do I need to teach children online?
An emerging growth opportunity for people interested in early childhood education is teaching elementary school online. The number of children acquiring their education through homeschooling and by taking classes online is growing. Most online education providers require their teachers to hold master's degrees in early childhood education, education, or another subject. Teaching credentials and certification aren't always required because the curriculum and lesson plans are carefully prescribed by the provider.
This website offers school details to prospective students as an informational resource. The appearance of a school listing on this website should not be interpreted as an endorsement of the school by this site.