2021 Best Online Associate Degrees
Online Associate Degrees with the Highest Return on Investment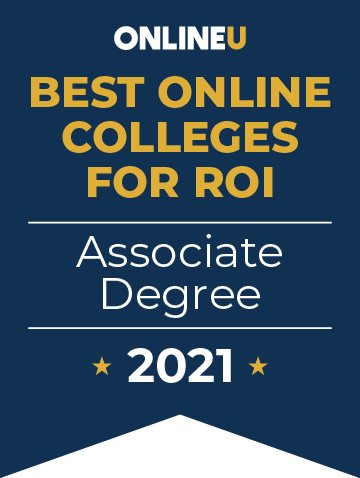 Our rankings are the first to source graduate salaries and student debt amounts from government databases in order to identify the colleges and universities that offer the best return on investment (ROI) for their online associate degrees. To develop this list, we calculated a 10-year ROI value for every online associate degree program, then compared each value against those for similar programs to calculate an ROI percentile. For each school that offers online associate degrees in at least two subject areas, we then calculated an average ROI percentile and ranked the schools by this value.
View our methodology for more details. We've also published an appendix that lists all of the program salaries and debt figures for these ranked schools.
Rank
School

Annual Tuition

ROI Score

#

1

Excelsior College

$15,300

99.3%
#

2

Weber State University

$8,340

98.9%
#

3

Southern New Hampshire University Online

$9,600

98.2%
#

4

Thomas Edison State University

$9,278

97.7%
#

5

(tie)

Columbia Southern University

$7,050

95.9%
#

5

(tie)

Quinsigamond Community College

$12,741

95.9%
#

7

Indiana Wesleyan University Online

$8,970

95.6%
#

8

Columbia College

$11,250

94.8%
#

9

American Public University System

$8,550

94.7%
#

10

Northland Community and Technical College

$5,970

92.3%
#

11

Minnesota State Community and Technical College

$5,968

92.0%
#

12

Rochester Community and Technical College

$5,817

91.3%
#

13

St Cloud Technical and Community College

$6,333

90.8%
#

14

Saint Paul College

$5,598

90.6%
#

15

Anne Arundel Community College

$12,240

90.2%
#

16

Dakota County Technical College

$5,670

89.5%
#

17

Bismarck State College

$7,224

89.2%
#

18

Middlesex Community College - MA

$13,206

89.0%
#

19

Austin Community College District

$10,590

88.6%
#

20

McHenry County College

$3,791

86.6%
#

21

Inver Hills Community College

$5,212

86.5%
#

22

Lake Superior College

$5,653

85.3%
#

23

University of Phoenix

$11,940

84.7%
#

24

Front Range Community College

$12,037

83.1%
#

25

Northern Virginia Community College

$10,789

81.3%
Best Online Associate Degrees Highlights
Frequently Asked Questions About Associate Degrees
How long does it take to complete an online associate degree?
Students can complete an associate degree in two years if they are enrolled full-time. Prospective students must have a high school diploma or equivalent to meet the admission requirement. Notably, the college credits that students earn while pursuing an associate degree can be applied to the final two years of a four-year bachelor's degree program.
How much does an associate degree cost?
According to the National Center for Education Statistics, from 2017-2018, the average cost of tuition for all two-year institutions was $10,704. For public colleges, the cost is $10,281 per year, while students attending private or for-profit colleges can expect to pay much higher tuition rates of about $25,296 per year.
Should I get an associate degree or bachelor's degree?
Deciding whether to pursue an associate or bachelor's degree depends on a variety of factors, including an individual's career goals and financial circumstances. A bachelor's degree will require a greater commitment in terms of time and financial resources; however, a more advanced degree typically increases an individual's earnings. The Bureau of Labor Statistics (BLS) notes that those with an associate degree typically made $874 in median weekly earnings in 2019, compared to $1,281 for bachelor's degree holders. Individuals who are unsure about which degree level to pursue may consider first earning an associate degree and then completing a bachelor's degree further on in their career.
What can I do with an associate degree?
Associate degree holders are qualified for career paths in a range of industries, including financial services, medical, dental, veterinary, and information technology. Some position titles available to those with an associate degree include bookkeeper, veterinary assistant, computer network support specialist, radiologic technologist, web designer, and civil/architectural drafter.
What are the highest earning jobs that require associate degrees?
While the median annual salary for associate-degree holders was $46,124 in 2019, there are several jobs in the medical and technology fields that received higher salaries that year. For example, in 2019, dental hygienists earned the highest median annual salary of $76,220 and the field is projected to grow 6%, which is faster than average. Web developers and sonographers also received high salaries of $73,760 and $68,750, respectively. These positions have a strong job outlook and are expected to grow much faster than average for all occupations.
This website offers school details to prospective students as an informational resource. The appearance of a school listing on this website should not be interpreted as an endorsement of the school by this site.