Best Online Associate Degrees
Online Associate Degrees with the Highest Return on Investment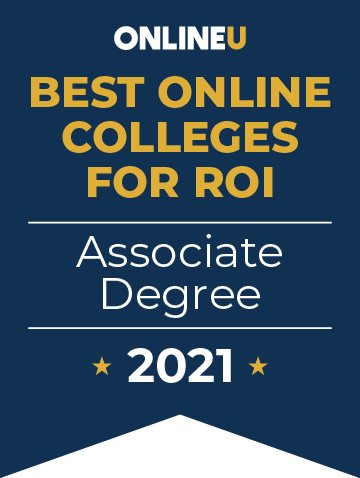 Depending on your career goals, an online associate degree may be the right educational path for you. Many associate degree programs are designed to prepare graduates for specific vocations in a wide range of fields, such as technology, business, and healthcare. Associate degrees offer other benefits as well: They are often quite affordable, and because they typically take only two years to complete, you'll be able to enter the workforce sooner.
To develop our list of the best online associate degrees, we calculated a 10-year return on investment (ROI) value for every online associate degree program, then compared each value against those for similar programs to calculate an ROI percentile. For each school that offers online associate degrees in at least two subject areas, we then calculated an average ROI percentile and ranked the schools by this value. View our methodology for more details. We've also published an appendix that lists all of the program salaries and debt figures for these ranked schools.
Following this list, we provide more information on online associate degrees. We discuss costs, financial aid opportunities, transferring to bachelor's programs, and careers for associate degree holders.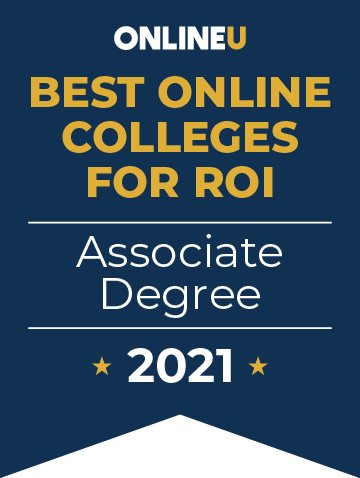 Rank
School

Annual Tuition

ROI Score

# 1

Excelsior College

$15,300

99.3%
# 2

Weber State University

$8,340

98.9%
# 3

Southern New Hampshire University Online

$9,600

98.2%
# 4

Thomas Edison State University

$9,278

97.7%
# 5

(tie)

Columbia Southern University

$7,050

95.9%
# 5

(tie)

Quinsigamond Community College

$12,741

95.9%
# 7

Indiana Wesleyan University Online

$8,970

95.6%
# 8

Columbia College

$11,250

94.8%
# 9

American Public University System

$8,550

94.7%
# 10

Northland Community and Technical College

$5,970

92.3%
# 11

Minnesota State Community and Technical College

$5,968

92.0%
# 12

Rochester Community and Technical College

$5,817

91.3%
# 13

St Cloud Technical and Community College

$6,333

90.8%
# 14

Saint Paul College

$5,598

90.6%
# 15

Anne Arundel Community College

$12,240

90.2%
# 16

Dakota County Technical College

$5,670

89.5%
# 17

Bismarck State College

$7,224

89.2%
# 18

Middlesex Community College - MA

$13,206

89.0%
# 19

Austin Community College District

$10,590

88.6%
# 20

McHenry County College

$3,791

86.6%
# 21

Inver Hills Community College

$5,212

86.5%
# 22

Lake Superior College

$5,653

85.3%
# 23

University of Phoenix

$11,940

84.7%
# 24

Front Range Community College

$12,037

83.1%
# 25

Northern Virginia Community College

$10,789

81.3%
Best Online Associate Degrees Highlights
Overview of Online Associate Degrees
Can You Earn an Associate Degree Online?
Yes, you can earn an associate degree online at 197 accredited institutions, which includes both two-year community colleges and four-year universities. Associate of Arts and Associate of Science degree programs provide students with a broad education in the humanities, social sciences, and natural sciences, as well as specific courses related to their chosen major and specialization.
You can earn an associate degree online at 197 accredited institutions.
There are also Associate of Applied Science and Associate of Applied Business programs. These are often more vocational in nature, still providing a broad educational foundation but with a heavier emphasis on skill development.
Any of these degrees can be considered terminal degrees that prepare students to move into the workplace, or they can be the foundation for further higher education, such as a bachelor's degree.
How Long Does It Take to Earn an Online Associate Degree?
Associate degrees typically require the completion of 60 credits. At many colleges and universities, students fulfill these requirements over the course of two years of full-time study. However, a few of the predominantly or exclusively online schools offer accelerated programs involving condensed courses taught in shorter, 6- to 10-week terms. Depending on the subject you want to study and the amount of time you have, you may be able to earn an associate degree in as little as 12 months.
Associate Degree Quick Facts
Typical time to completion: 2 years
Typical credits needed: 60
Accreditation
Accreditation is the process used to independently evaluate a college or university. By attending an accredited institution, you help ensure that you are getting a quality education at a school that meets high standards. It is also required if you intend to apply for financial aid or to transfer to another college in the future.
Two-year colleges will most likely be accredited by the Accrediting Commission for Community and Junior Colleges (ACCJC). Four-year universities will most likely be accredited by one of six regional agencies or by the Distance Education Accrediting Commission (DEAC). To determine if a school is accredited, use the search tools on the U.S. Department of Education website or the Council for Higher Education Accreditation website.
Cost of an Online Associate Degree
The average cost per credit hour for an online associate degree is $353.83, and the average annual tuition for each year of a two-year program is $11,921.93, according to data we've collected from 687 schools offering online associate programs. Another important factor is the cost of books and supplies, which averages $1,460 per year.
Average cost per credit: $353.83
Average annual tuition: $11,921.93
Average cost of books and supplies, per year: $1,460
The remaining items that contribute to the overall cost of a college degree, such as housing, food, and other living expenses, can vary depending on your personal circumstances. If you're attending school online, you may not have any transportation expenses. However, if the online program you're enrolled in involves in-person training—such as a nursing practicum—you may have to allow for transportation expenses in your budget.
Financial Aid for Online Students
According to government data, 86% of all students receive some form of financial aid. Whether they're studying online or on-campus, students can apply for aid by submitting a Free Application for Federal Student Aid (FAFSA) form. By applying, you'll discover if you're eligible for some of the $242 billion given out in financial aid each year, which could include grants and scholarships that do not have to be paid back. You may also be offered a student loan, but keep in mind that loans must be repaid with interest.
Because so many associate degree programs are designed to prepare students for specific vocations, which leads to a skilled workforce, a number of state and local governments provide additional financial support for these programs.
Online students who are eligible for some federal, state, or school-sponsored aid may also qualify for a state or local "promise" scholarship that covers any remaining tuition costs not covered by other forms of aid.
Examples of Promise Programs for Associate Degree Students
Future Ready Iowa
California College Promise Grant
Hawai'i Promise
(Louisiana) Taylor Opportunity Program for Students Honors Award
Some promise programs are need-based, while others are both need- and merit-based.
Outcomes of an Online Associate Degree
Students pursue associate degrees for a variety of reasons, but two common objectives include:
Enrolling in a bachelor's program after completing an associate degree
Entering the workforce and earning more than professionals who don't have a two-year degree
We explore each of these options below.
Transferring Credits From an AA Degree to a Bachelor's Program
After earning an associate degree, you have the option of transferring to a four-year university to complete the remaining requirements for a bachelor's degree, which should take approximately two years. There are a few potential advantages of doing this.
One major motivator in earning an associate degree before enrolling in a bachelor's program is the potential cost savings. You can often earn an associate degree at a more affordable price than a bachelor's degree, and doing so reduces the amount of time you'll be enrolled in a bachelor's program. Your cost could be further reduced with financial aid for your associate degree, as the average award of combined grant and scholarship aid for students attending two-year schools—an average of about $5,470—may exceed your school's tuition fees. These financial advantages may be one reason that 31% of college students earn a cost-effective associate degree first before moving on to a bachelor's degree.
One major motivator in earning an associate degree before enrolling in a bachelor's program is the potential cost savings.
Another benefit is extra time to explore your field. The curriculum for an associate program includes many general education courses that are also required in a bachelor's program. This will give you enough experience with your major to decide whether you want to continue to study that subject or pivot to something else.
With these potential advantages in mind, you should be aware that some of your credits earned for an associate degree may not be applied to the fulfillment of your bachelor's degree requirements. For example, a course you took in English literature may have met a requirement for your A.A., but it might not meet any of the requirements for your B.A. Thus, the sooner you decide if and where you want to earn a bachelor's degree, the sooner you can start preparing for this transition. Be sure to check the transfer policies at the four-year school where you intend to enroll, and then select courses at your two-year school that will be applicable to your long-term goals. If a transfer guide is not readily available on the university's website, contact the admissions office to be connected with an academic advisor. You may also want to seek advice from your two-year school's academic counselors to ensure a smooth transition.
Careers for Associate Degree Holders
An associate degree can prepare you for a wide range of career paths and may make you a more competitive candidate for professional positions. On average, associate degree holders earn $7,280 more per year than individuals with high school diplomas. There are several jobs where associate degree-holders can earn more than this average, many of which are in the medical and technology fields. For example, dental hygienist, web developer, and sonographer all have average salaries above $70,000 and demand for these positions is expected to grow faster than the average for all occupations.
You are typically eligible for entry-level positions whether you earn your associate degree online or on campus, since a growing number of hiring managers attribute the same value to online degrees as they do to traditional degrees. Some of the occupations you can qualify for with an associate degree are shown below, along with median annual salary data from the Bureau of Labor Statistics (BLS).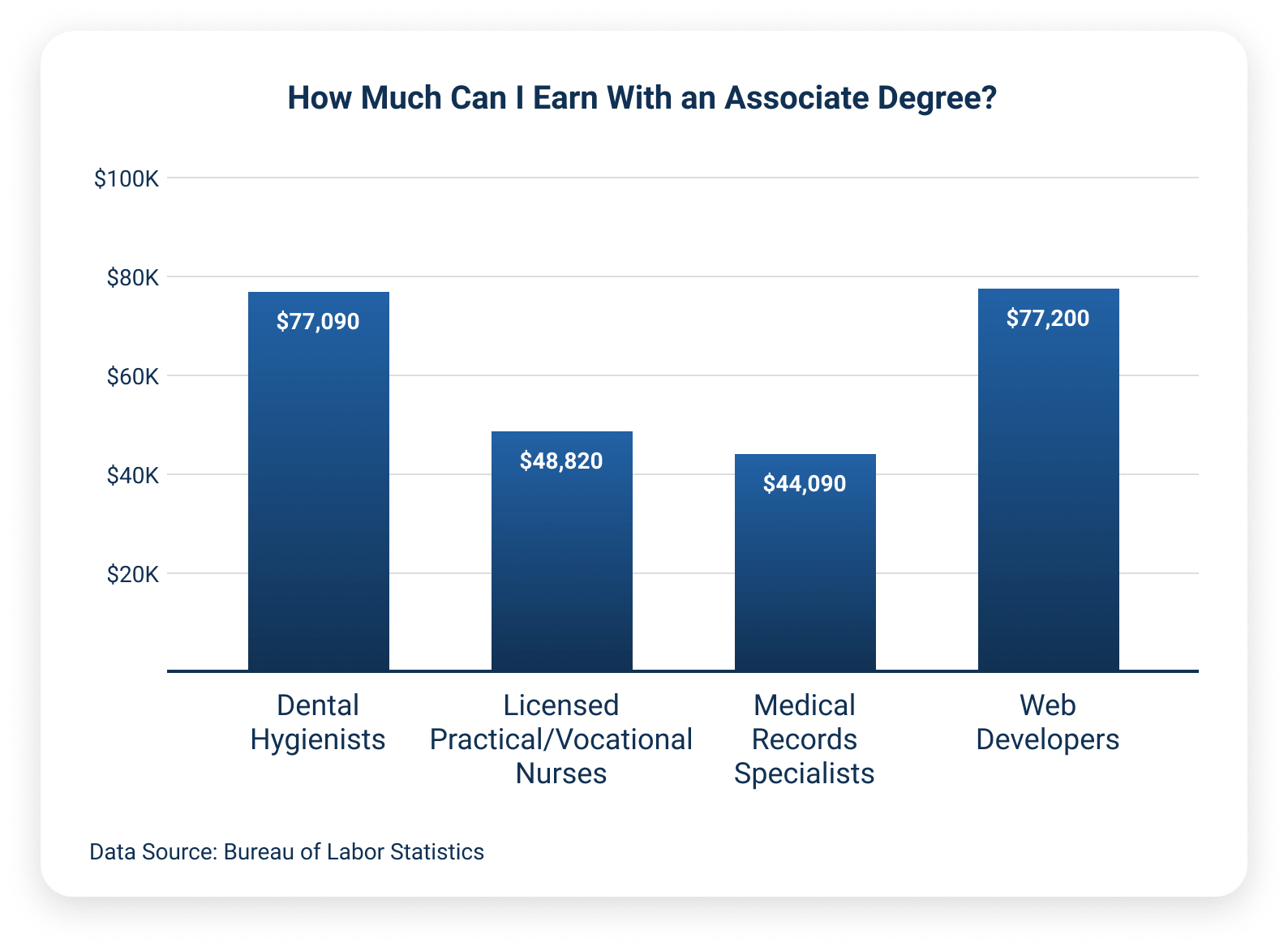 Dental Hygienists: People are often surprised to learn that it's possible to become a dental hygienist online, but there are quite a few associate degree programs available. Dental hygienists earn median annual wages of $77,090, and the need for professionals is projected to grow by 6% throughout the next decade.
Licensed Practical Nurse and Licensed Vocational Nurses: Those who are interested in healthcare can prepare for a career in nursing by earning an associate degree. Licensed practical and vocational nurses, who must obtain licensure to provide basic nursing care in many types of work environments, earn median annual wages of $48,820.
Medical Records Specialists: One way to train to become a medical records and health information specialist is to earn an associate degree in medical records technology. An associate degree is not required to enter this growth field, which is projected to expand by 8% over the next 10 years, but it could increase your marketability and earning potential. Medical records specialists earn a median annual salary of $44,090.
Web Developers: Another high-growth occupation is web developer, with an expected increase of 8% in job openings through 2029. Web developers and digital designers, who design and maintain websites, earn a median annual salary of $77,200.
This website offers school details to prospective students as an informational resource. The appearance of a school listing on this website should not be interpreted as an endorsement of the school by this site.
Related Articles
Accredited Non-Profit Online Colleges & Schools
View all of the non-profit colleges with online programs. Non-profit schools may offer lower tuition because their focus is on education, rather than profit.
Nine Associate Degrees That Lead to High-Paying Jobs
Interested in building a lucrative career without long-term debt? Consider these promising career options that require only a two-year associate degree.