First-Generation Student Guide
College may come with unique challenges when you're the first in your family to attend it. Here's how you can succeed
A first-generation college student is a student whose parents haven't completed a four-year college degree. According to an analysis published by the National Association of Student Personnel Administrators (NASPA) in 2018, first-generation students make up a third of all college students.
Being the first in your immediate family to go to college is something to be proud of. However, it also comes with unique challenges. Your college experience may differ from that of your peers, but that doesn't mean you can't reach your full academic potential.
If you're a first-generation student, this guide will help you identify the issues you might face — and find solutions to overcome them.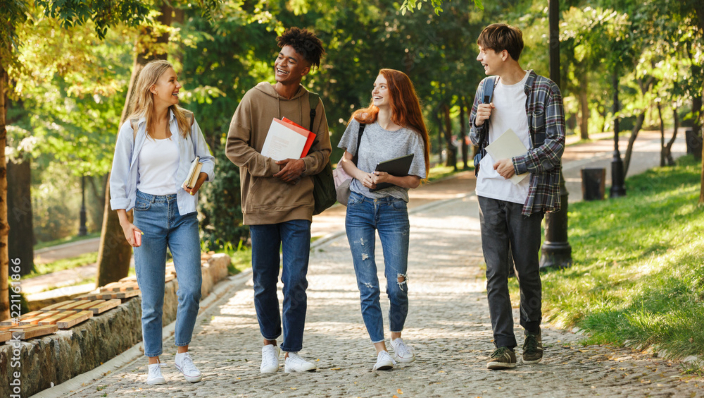 Challenges First-Generation Students Face
As a first-generation student, you may find that your experience differs from your peers whose parents have finished college. Besides emotional stress and lack of guidance, you may be dealing with financial struggles, the intricacies of the college application process, and more — all while juggling other responsibilities.
Here's a closer look at the challenges first-generation college students often face.
Lack of Support
College can be stressful. This is especially true when no one in your family has experienced it, and they can't always offer the support you need. Whether you're trying to figure out the jargon in college forms or choosing a major, you may feel you only have yourself to rely on.
Emotions about being the first in your family to go to college can also be overwhelming. You might feel a significant pressure to succeed, or imposter syndrome might make it seem like you don't belong in college. Support is crucial in such moments, but you might not have a person to talk through these feelings with you.
Financial Barriers
It's often the case that first-generation college students come from low-income families. Data from 2020 showed that households led by a person over 25 years old with a high school diploma had a median income of $47,405. Meanwhile, the median income for households led by an individual with a bachelor's degree or higher was $106,936. That's a 126% difference.
It's no wonder that first-generation college graduates are more likely to incur student debt and have greater amounts of outstanding education debt.
Dealing with financial challenges may deter students from completing their degree or harm their financial well-being further down the line.

Navigating the College Application Process
The college admissions process can seem like a maze. From choosing a college to filling out the paperwork, it can be a lot to navigate alone.
You might also not be aware of all the resources available simply because no one has shared this information with you or you're not sure where to look. As a result, it's easy to miss out on valuable opportunities, whether it's a pre-college program, a scholarship, or support from a local organization.
Immigration Status
Many first-generation students come from immigrant families and might not have legal citizenship or residency. Being an undocumented student presents its own set of unique challenges. These may include limited college options, paying for education without federal financial aid, legal concerns, and more.
Additional Obligations
More than half of first-generation students attend school part-time and typically take longer to finish their degree, according to data from the NASPA.
This may have a lot to do with the fact that 66% of first-generation students work while in school. Moreover, 30% of first-generation students have dependents, versus 16% of continuing-generation students.
Juggling school, work, and family is no easy feat and can sometimes become an obstacle to completing a degree.
Succeeding as a First-Generation College Student
Don't let all the barriers stop you from reaching your academic goals. While your experience may differ from that of your schoolmates, and you may face unique challenges, you can be as successful in your college pursuits as your peers.
Here are some tips on succeeding in college as a first-generation student.
Fill Out the FAFSA
If you're a U.S. citizen or legal permanent resident ("green card" holder), you should fill out the FAFSA to qualify for financial aid from federal and state governments and your school.
If you have DACA and a Social Security Number, you can also complete the FAFSA form. Undocumented applicants aren't eligible for federal aid, but you'll get a Student Aid Report (SAR) which colleges use to award state or institutional aid.
It's also a good idea to look into grants and scholarships to help you fund your education. Taking out a student loan might also be necessary, but be sure to exhaust all other sources of aid first.
Apply for Scholarships
The following are scholarships designed specifically for first-generation college students. Remember that there's no limit to the number of scholarships you can apply for.
Note that there are also many local, high school, and university scholarships available for first-generation college students. Do your research to ensure you're using every opportunity to bring down the cost of your education.
Consider an Online Degree
If you're juggling additional responsibilities, such as work and family, earning a degree online can be an excellent solution. This way, you'll be able to do your coursework on a flexible schedule that fits in with your other obligations.
Having access to schools around the country also means that you can potentially save on your education. Some colleges provide the same tuition rate to all online students, regardless of where they reside. Plus, you'll save on expenses associated with on-campus learning, such as campus housing, commuting, and others.
Create a Support Network
Even the biggest obstacles seem easier to overcome when you don't feel like you go it alone. College provides an opportunity to meet and interact with a diverse group of people. Use it and connect with others to build a support network. It may be especially helpful to create connections with other first-generation students as they're likely to understand your experiences and may help guide you.
Look for clubs or mentorship programs on campus or in your local community. Mentor programs are a great way to get extra support. These programs pair you with a mentor who can help guide you through the different processes, connect you with resources, and answer any questions you might have.
If you know of any professors or staff who are also first-generation, it may be a good idea to reach out to them too. This person can become an invaluable resource and mentor for you.
Give Yourself Credit
Finally, don't forget to give yourself a pat on the back every once in a while. College can be challenging, stressful, and exciting in equal measure — especially if you're the first in your family to go through this experience. You can be proud of yourself and the path you're taking.
Embracing your first-generation student identity can go a long way in helping you reach your full academic potential. If you have questions, don't be afraid to ask them. If you need help, don't hesitate to use the resources that have been set up to support students just like you. There's nothing wrong with seeking support. You've worked hard to get into college — make it work for you, too.
Related Articles
College Guide for Indigenous and Native American Students
Our guide will help Native American students choose a college, find scholarships, and navigate the most common barriers in higher education.
Financial Aid Letters: Why they're so confusing, and how to read them
Financial aid can be notoriously confusing for students trying to make informed college decisions. We talked with experts about why that is and how you can demystify the process.