2021 Best Online Colleges for Doctoral Programs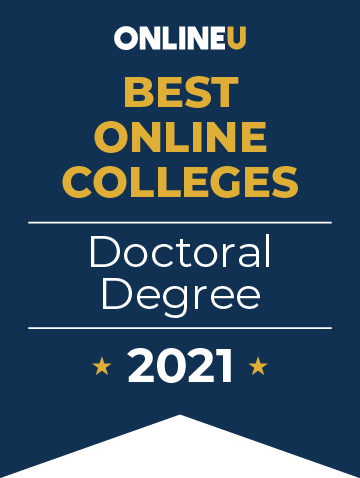 A doctorate is the highest degree awarded by a graduate school. Today, many schools offer online doctoral degrees. Our ranking list of the best online doctoral programs represents the universities that have the highest research expenditures and the lowest student-faculty ratios. Twenty-four of the 25 schools devote at least $100 million to research each year and every school has a student-to-faculty ratio of 20 or less. To be eligible for these rankings, schools must offer at least three fully online doctoral programs that cover at least two subject areas. Read more about our methodology to learn how we calculated rankings.
On this page, we also provide an overview of online doctoral programs, in addition to information about accreditation, how much your program will cost, and whether this degree will be worth it for you.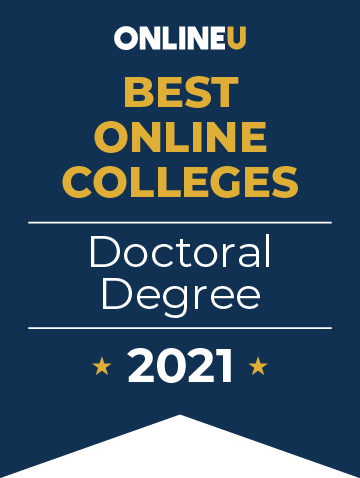 | Rank | School | Annual Tuition | R&D Expenditure |
| --- | --- | --- | --- |
| # 1 | Johns Hopkins University | $49,768 | $3,016 million |
| # 2 | University of Pittsburgh-Pittsburgh Campus | $33,660 | $752 million |
| # 3 | University of Southern California | $33,915 | $447 million |
| # 4 | University of Wisconsin - Madison | $13,800 | $1,053 million |
| # 5 | Rush University | $13,062 | $162 million |
| # 6 | Colorado State University-Fort Collins | $16,275 | $254 million |
| # 7 | University of Florida | $31,385 | $743 million |
| # 8 | Drexel University | $21,934 | $132 million |
| # 9 | Medical University of South Carolina | $14,250 | $235 million |
| # 10 | The University of Tennessee - Knoxville | $10,710 | $294 million |
| # 11 | University of Kansas | $4,884 | $313 million |
| # 12 | The George Washington University | $23,325 | $206 million |
| # 13 | Texas A&M University-College Station | $15,014 | $763 million |
| # 14 | IUPUI | $21,000 | $221 million |
| # 15 | University of Illinois Urbana - Champaign | $7,350 | $537 million |
| # 16 | University of Colorado Denver | $8,189 | $338 million |
| # 17 | Northeastern University | $15,249 | $155 million |
| # 18 | University of Kentucky | $16,632 | $311 million |
| # 19 | Virginia Commonwealth University | $10,500 | $205 million |
| # 20 | University of Oklahoma Health Sciences Center | $22,673 | $71 million |
| # 21 | Texas Tech University | $13,518 | $190 million |
| # 22 | Kansas State University | $7,432 | $211 million |
| # 23 | University of Arkansas | $6,029 | $163 million |
| # 24 | Mississippi State University | $7,335 | $175 million |
| # 25 | University of South Carolina-Columbia | $29,760 | $148 million |
Best Online Doctoral Program Highlights
Understanding Our Online Doctoral Program Rankings
Our 2021 rankings for the best online programs for doctoral degrees were ranked using methodology that focused on five factors: number of full-time faculty members, student-faculty ratio, total research expenditure, percentage of total expenditure dedicated to research, and research expenditure per full-time student.
Student-to-Faculty Ratio
A college or university's student-to-faculty ratio reflects the average number of students for every instructor. This measurement is usually expressed as a numeric ratio, such as 18:1 or 12:1. The lower the first number, the fewer the number of students per teacher. Although this ratio is important at every level, it becomes a crucial factor at the doctoral level because Ph.D. candidates need a great deal of personalized attention and support from professors and other faculty members. A low ratio also indicates better opportunities for doctoral students to get to know their professors well. These relationships can prove to be essential to future networking and job placement.
The Importance of Research Expenditure
Of the more than 4,000 colleges, universities, and other higher education institutions in the U.S., about 250 are designated as research universities. Many of them are familiar names, such as Harvard and Stanford, while others are smaller schools specializing in a limited number of subjects. What makes these institutions research universities is the funding they receive from the government and private sector in order to conduct research. University-led research projects have been the source of many discoveries and innovations in technology, medicine, and beyond.
With this additional monetary support, research universities can offer more research opportunities for doctoral students, so they generally have more extensive Ph.D. programs. In general, the schools that qualify as R1 and R2 research universities under the Carnegie Classification of Institutions of Higher Education typically confer at least 20 research doctoral degrees per year and report $5 million or more in annual research expenditures.
Full-Time Faculty Members
The faculty of every college or university will be a mix of full-time professors and part-time, or adjunct, professors. Full-time faculty work at least 40 hours per week. In addition to the time they spend teaching, they are required to offer in-person or online office hours for students, attend meetings, participate in developing the school's curriculum and programs, conduct research, write scholarly articles and papers, and represent the school at on-campus and off-campus events.
By contrast, adjunct faculty are hired to teach one or two classes per term and provide assistance to their students who need help. There are strong arguments for and against the use of adjunct professors, but they often bring a wealth of current, real-world experience to their classes.
Doctoral programs that involve a significant amount of scientific research are more likely to be taught by full-time professors. However, there will probably be a combination of full-time and part-time faculty in other programs, which offers doctoral candidates the benefits of scholarly rigor and practical experience.
Overview of Online Doctoral Degrees
Colleges capitalized on the internet boom of the 1990s to begin offering distance education online. Today, students can earn everything from certificates to doctoral degrees online. Doctoral students can choose from 2,437 different degrees across 585 schools. Many programs feature exclusively online courses with no in-person class requirements, while others are hybrid programs with a mix of online and on-campus coursework.
Notably, some doctorates with no campus components still require that students complete an internship, clinical or lab hours, or another field experience at a designated location. This is more common with professional doctorates that prepare students to practice a vocation, such as the Doctor of Nursing Practice (D.N.P.) or Doctor of Psychology (Psy.D.). Academic doctorates usually require a dissertation as the culminating experience, and they may or may not have an in-person field component. Most of these programs confer a Doctor of Philosophy (Ph.D.) degree on graduates.
Doctoral Degree Types
Professional Doctorates: Prepare students to practice a vocation. Examples include the D.N.P. and Psy.D.
Academic Doctorates: Usually require a dissertation as the culminating experience, and typically confer a Doctor of Philosophy (Ph.D.) degree.
Choosing a Program
Earning a doctorate takes years of intensive study, so it's important for potential applicants to choose the right subject, school, and format for them. When researching options, it may be helpful to ask yourself a few key questions:
How much time and effort can I commit to this degree? A doctorate typically takes 3-8 years to complete. Professional doctorates tend to take less time to complete than research-focused academic doctorates, because students take courses and complete a field experience on a set schedule. By contrast, most Ph.D. students take several years to complete a dissertation once they finish coursework. Among Ph.D. programs, STEM students often take less time to complete their degree than humanities students.
What are my career goals? You may already know that you want to pursue one of the most in-demand careers for doctoral graduates, such as data scientist or nurse practitioner. But depending on your chosen field, it may make sense to start working with a bachelor's or master's degree before deciding on a doctorate. Review the educational requirements for your field to find out whether a doctorate is necessary or even desirable.
How challenging do I want a program to be? The most selective programs are generally the most academically challenging, because faculty at selective schools expect more from high-level graduate students. Review the acceptance rates for particular doctoral programs on a school's website, as well as graduation rates. Keep in mind that 50% of all doctoral students never finish their degree for various reasons, and it's difficult to determine exact causes for a program's graduation rate. A high dropout rate may indicate a program's difficulty or a lack of faculty attention and helpful student services, but this isn't necessarily the case.
Applying to an Online Doctoral Program
Most doctoral programs admit only a handful of new students each year, so competition can be fierce. These programs have largely similar admissions requirements, which are typically the same whether you enroll in an online or in-person program. Although some schools will accept less competitive prospective students, they tend to favor candidates who meet all of the following requirements:
A completed bachelor's degree, or a master's in some cases. Some programs require doctoral students to have completed master's degrees in the same or a related field. Others welcome students who have completed bachelor's degrees or unrelated master's degrees and intend to complete their master's and doctoral coursework concurrently.
A GPA of 3.0 or higher in all previous degrees. Schools want to train scholars who are serious about advancing their field of study, so the academic standards are usually higher than for other degrees. It's sometimes possible for admissions officers to be flexible on GPA if an applicant is passionate and strong in other areas.
Competitive entrance exam scores, with thresholds that vary by school. A program may require the Graduate Record Examination (GRE), Graduate Management Admissions Test (GMAT), or another exam.
Positive letters of recommendation from professors, managers, and other authority figures. These letters should speak to the student's academic and personal merit and likelihood of their success in the particular program.
An insightful personal essay. Admissions officers are typically looking to understand why an applicant wants to earn the degree and how they intend to contribute to their chosen field.
In addition to these standard requirements, some disciplines require professional work experience or language proficiency. For example, students pursuing online doctoral degrees in nursing may need a minimum number of clinical hours or years of full-time employment in the field, and applicants to Ph.D. programs in classics must be able to read Latin or ancient Greek.
How Long Will It Take To Earn My Degree?
Most online doctoral degree programs are designed to be completed in three to eight years. It is important to note that some schools place a time limit on the number of years students have to complete their doctoral coursework and present and defend their dissertations or capstone projects.
The number of years needed to complete a degree varies between programs. The main determining factor are:
The number of required credit hours,
the number of transfer credits a student may apply towards their program,
whether the Ph.D. candidate is attending school full- or part-time,
and how long it takes to complete their dissertation or capstone project.
How Demanding Is a Ph.D.?
Without a doubt, completing a doctoral degree is challenging. Although statistics vary among individual schools and programs, in general, less than half of Ph.D. students complete their degrees within ten years of enrolling.
A 2019 survey of 6,300 recent Ph.D. graduates conducted worldwide by the research journal Nature identified some critical issues. For instance, 36% of respondents said they sought help for anxiety or depression because of their Ph.D. studies. When asked to specify the sources of this anxiety, the two most common factors were uncertainty about future job prospects after graduation and work-life balance. Long hours, a perceived lack of support from advisors, and conflict with colleagues all contributed to a sense of dissatisfaction for some, especially in the latter stages of the programs.
We've put together a mental health guide for students that includes information about the signs and symptoms of mental illnesses and disorders in addition to hotlines and resources. The following may also be helpful for students:
Make sure you have a support network: Ph.D. programs can be quite competitive. Especially in the latter stages of a program, there may be years when a doctoral candidate is working primarily alone. It's essential to establish a circle of family members, friends, and other colleagues to turn to for support along the way.
Remind yourself of your worth: Many Ph.D. candidates report feelings of self-doubt, otherwise known as "imposter syndrome". This is the time for a Ph.D. student to remember that they were selected from hundreds of other candidates because others believed in their ability to succeed.
Set realistic expectations: Ph.D. candidates describe a wide range of challenges—including feeling alone and frustrated by difficulties in communicating with team members. Prospective students should go into the process knowing that there may be problems that arise.
Keep your eyes on the prize: Ph.D. candidates often describe the process of obtaining their degree as a marathon, not a sprint. Thus, it's important for those enrolled in online doctoral programs to continuously remind themselves of the benefits they hope to gain and the specific ways a doctorate will help them realize their career goals.
Accreditation
Accreditation is an assertion from a recognized agency that a college has passed an independent quality review. Prospective doctoral students should first research schools that are regionally accredited — regional accreditation is more rigorous and prestigious than the national accreditation that trade and technical schools tend to pursue.
Regional and national accreditation ensure that doctoral students can apply for federal financial aid through their school. Regional accreditation also helps the credit-transferring process for students who decide to change schools, because regionally accredited institutions usually accept credits only from institutions that have undergone the same review.To find whether a school is regionally accredited, review its website or check one of the organizations recognized by the Council on Higher Education (CHEA). You might also consider accreditation through the Distance Education Accrediting Commission (DEAC), which reviews colleges that offer more than half of their programs online.
Accreditation is an assertion from a recognized agency that a college has passed an independent quality review.
Finally, some professional organizations accredit individual programs in their subject area, such as the Commission on Collegiate Nursing Education (CCNE) for nursing. Program accreditation doesn't affect financial aid or credit transfer, but it gives a program an extra stamp of approval from professionals in the field and may be required or recommended for professional licensure in some fields. For example, applicants for a psychologist license in Washington need to provide extra assurances to the Department of Health if their doctoral program isn't certified by the American Psychological Association (APA). (And the APA does not accredit any online psychology programs.) Prospective graduate students should research the licensure requirements in their field to ensure that a particular program will help them meet their professional goals.
Legitimacy of Online Programs
Online degrees are legitimate if they're granted by an accredited institution of higher education. Employers and other schools usually weigh a college's accreditation more heavily than how it delivers courses. In fact, much of the work associated with doctoral programs happens outside of the classroom. Students pursuing academic doctorates write and conduct research in various settings, and field work for professional doctorates can happen off campus.
Still, online learning isn't completely free of the stigma attached to it from its early days. Evidence suggests that this perception is changing among employers and HR specialists, but individuals may still associate online learning with low-quality diploma mills. To weed out illegitimate programs, review each school's web site for accreditation claims and cross-check its accreditation status with an accrediting body recognized by CHEA or the Department of Education (DOE).
How Much Will My Online Doctorate Cost?
You might be wondering what you can expect to pay for your program, and whether you can save by pursuing your degree online. According to our manually researched data, the median annual tuition for an online doctoral degree is $14,925, which is slightly higher than the cost of an online master's degree. Individual doctorates ranged from $3,770 to $61,346 a year among our sample of 378 colleges.
According to our manually researched data, the median annual tuition for an online doctoral degree is $14,925.
Although tuition is the most significant portion of a degree's cost, it's not the only expense. Students also need to consider additional fees, housing and meals, and transportation. These factors typically differ for online and in-person students. For example, online students commonly pay a technology fee each term, but they can subtract housing and transportation from their calculations. They will also need a computer and reliable high-speed internet access, books and other materials, and sometimes specific software.
To help fund all of these costs, many traditional doctoral students earn a tuition waiver and living stipend in exchange for service as teaching or research assistants. However, such arrangements are rare for online doctoral students, who must find other forms of financial aid to help fund their education.
Financial Aid
Most doctoral students receive at least one form of financial aid to help fund their degree. The most common types of funding are:
Fellowships that award a tuition waiver and stipend to students who work as teaching or research assistants, and
Grants and scholarships based on need, merit, gender and ethnicity, or research focus. Students who complete the degree don't need to pay back any of this money.
Among the 49,500 U.S. doctorate recipients in 2019, two-thirds received a fellowship or scholarship and about 18% received a grant to fund their dissertation research. Notably, more than two-thirds received either a teaching or research assistantship, a type of funding that's generally unavailable to distance-learning students. For this reason, online students should apply to all possible grants and scholarships to help reduce their future debt. We've listed a few of these here, but note that different scholarships and grants are available depending on the student's school and field of doctoral study.
Careers
Doctoral alumni earn some of the highest wages in the U.S. and face the lowest levels of unemployment. However, relatively few careers actually require a doctorate for entry; candidates should carefully research their field to determine the prospects for doctoral graduates. Below are a few jobs where a doctorate is required or can help someone reach the highest level of their profession, including median salaries and career prospects from the Bureau of Labor Statistics (BLS).
Doctoral alumni earn some of the highest wages in the U.S. and face the lowest levels of unemployment.
Professor: As experts in their chosen subject, professors instruct students and conduct original research to advance their field. Their median annual salary is $81,000 a year. The 9% projected job growth through 2029 looks promising, but this percentage includes part-time adjunct positions without benefits. The market for tenure-track positions that offer job security has been contracting for years, although this can vary by field of study.
Nurse Practitioner: Nurse practitioners serve as primary-care providers, diagnose illness, and prescribe medication, helping to fill gaps left by the declining population of doctors. They earn a median $112,000 per year, and the number of open positions is expected to grow a staggering 45% by 2030.
Psychologist: Psychology features several career paths. Clinical psychologists diagnose and treat patients for mental and behavior problems, industrial-organizational psychologists create efficient and organized workplaces for their clients, and forensic psychologists consult with law enforcement and legal agencies on criminal cases. As a group, psychologists earn a median $82,000 a year, and the BLS expects 3% job growth through 2029.
Healthcare Managers: Healthcare is a complex field that needs administrative managers to process patient records, manage payment accounts, and direct business strategy. These jobs are growing very fast, with 32% more positions projected through 2029. Health services managers earn median wages of $104,000 annually.
Is a Master's Enough, or Should I Continue on for a Ph.D.?
Some professions simply demand a doctoral degree. For example, to become a licensed lawyer, veterinarian, psychologist, or doctor, a person must earn a doctorate or an equivalent professional degree. Whether it's primarily as a lecturer or as a researcher, a long-term career in academia generally requires a Ph.D. as well.
However, there are other careers in which professionals can be equally successful with a master's degree, including executive-level business management, education administration, environmental science, and several healthcare specialties. Prospective students can consult professional organizations or online resources, such as the Occupational Outlook Handbook, to determine what degree level is appropriate for the occupations they have in mind.
Is an Online Doctorate Worth It?
Whether an online doctorate will be worth the cost depends, in part, on your personal circumstances, including your career goals, family and job responsibilities, finances, and learning style. If you love to research, write, and teach, then a doctorate may be worth the effort because it might lead to a job where you're paid to do these things. However, the return on investment is likely lower for graduates who want to be professors than for those who want to work outside academia.
Employment
Many occupations that feature online professional doctorates have strong job prospects, including nurse practitioners and health services managers. However, not all of these fields require a doctorate for entry. For example, nurse practitioners currently need a master's degree alongside licensure and work experience, and healthcare managers can land most positions with a bachelor's or master's degree. The increasing professionalization of these and other careers often leads to credential inflation, so earning a terminal doctorate is one way to stay marketable — in fact, a D.N.P. may soon be required for new nurse practitioners.
The outlook for academic doctoral candidates is less promising. In most subjects, the number of Ph.D.s graduating each year outpaces the available tenure-track jobs, so many graduates take adjunct positions without benefits or job security. It's generally easier for STEM Ph.D.s to find private-sector or government jobs than it is for humanities graduates, whose subject matter knowledge may not translate to business or government as fluidly. However, humanities and social studies Ph.D graduates still have strong research skills that can help them secure jobs in consulting, think tanks or nonprofits, or government.
In most subjects, the number of Ph.D.s graduating each year outpaces the available tenure-track jobs.
Downsides of Online Learning
There are some potential downsides to studying online. Some research indicates that graduation rates are lower for online than on-campus students. The reason for this isn't obvious, but it's possible that distance learners have a harder time accessing support services than campus students.
Another downside is specific to doctoral programs: by studying online, students usually forgo the fellowships and assistantships that are important sources of financial aid for most doctoral candidates. Online students may be able to make up the difference with other sources of aid, but it's possible that they'll accrue more debt than in-person students in the same program.
Finally, prospective psychology students might first consider on-campus doctoral programs that are accredited by the APA. The association currently accredits only in-person degrees, and this accreditation may prove crucial to future licensure as a psychologist.
This website offers school details to prospective students as an informational resource. The appearance of a school listing on this website should not be interpreted as an endorsement of the school by this site.