2021 Best Online Colleges for Doctoral Programs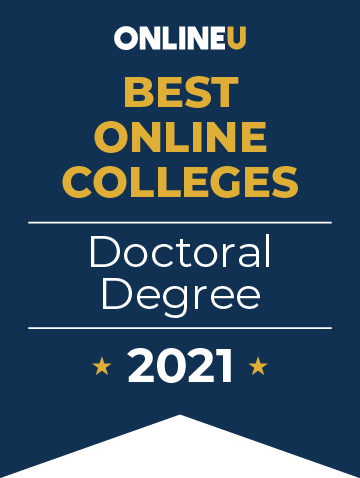 Our ranking list of the best online doctoral programs represents the universities that have the highest research expenditures and the lowest student-faculty ratios. Twenty-four of the 25 schools devote at least $100 million to research each year and every school has a student-to-faculty ratio of 20 or less. To be eligible for these rankings, schools must offer at least three fully online doctoral programs that cover at least two subject areas. Read more about our methodology to learn how we calculated rankings.
Rank
School

Annual Tuition

R&D Expenditure

#

1

Johns Hopkins University

$49,768

$3,016 million
#

2

University of Pittsburgh-Pittsburgh Campus

$33,660

$752 million
#

3

University of Southern California

$33,915

$447 million
#

4

University of Wisconsin - Madison

$13,800

$1,053 million
#

5

Rush University

$13,062

$162 million
#

6

Colorado State University-Fort Collins

$16,275

$254 million
#

7

University of Florida

$31,385

$743 million
#

8

Drexel University

$21,934

$132 million
#

9

Medical University of South Carolina

$14,250

$235 million
#

10

The University of Tennessee - Knoxville

$10,710

$294 million
#

11

University of Kansas

$4,884

$313 million
#

12

The George Washington University

$23,325

$206 million
#

13

Texas A&M University-College Station

$15,014

$763 million
#

14

IUPUI

$21,000

$221 million
#

15

University of Illinois Urbana - Champaign

$7,350

$537 million
#

16

University of Colorado Denver

$8,189

$338 million
#

17

Northeastern University

$15,249

$155 million
#

18

University of Kentucky

$16,632

$311 million
#

19

Virginia Commonwealth University

$10,500

$205 million
#

20

University of Oklahoma Health Sciences Center

$22,673

$71 million
#

21

Texas Tech University

$13,518

$190 million
#

22

Kansas State University

$7,432

$211 million
#

23

University of Arkansas

$6,029

$163 million
#

24

Mississippi State University

$7,335

$175 million
#

25

University of South Carolina-Columbia

$29,760

$148 million
Best Online Doctoral Program Highlights
Understanding Our Online Doctoral Program Rankings
Our 2021 rankings for the best online programs for doctoral degrees were ranked using methodology that focused on five factors: number of full-time faculty members, student-faculty ratio, total research expenditure, percentage of total expenditure dedicated to research, and research expenditure per full-time student. Read on to learn more about these factors.
Student-to-Faculty Ratio
A college or university's student-to-faculty ratio reflects the average number of students for every instructor. This measurement is usually expressed as a numeric ratio, such as 18:1 or 12:1. The lower the first number, the fewer the number of students per teacher. Although this ratio is important at every level, it becomes a crucial factor at the doctoral level because PhD candidates need a great deal of personalized attention and support from professors and other faculty members. A low ratio also indicates better opportunities for doctoral students to get to know their professors well. These relationships can prove to be essential to future networking and job placement.
The Importance of Research Expenditure
Of the more than 4,000 colleges, universities, and other higher education institutions in the U.S., about 250 are designated as research universities. Many of them are familiar names, such as Harvard, Stanford, and Texas A&M, while others are smaller schools specializing in a limited number of subjects. What makes these institutions research universities is the funding they receive from the government and private sector in order to conduct research. University-led research projects have been the source of many discoveries and innovations in technology, medicine, and beyond.
With this additional monetary support, research universities can offer more research opportunities for doctoral students, so they generally have more extensive PhD programs. In general, the schools that qualify as R1 and R2 research universities under the Carnegie Classification of Institutions of Higher Education typically confer at least 20 research doctoral degrees per year and report $5 million or more in annual research expenditures.
Full-Time Faculty Members
The faculty of every college or university will be a mix of full-time professors and part-time, or adjunct, professors. Full-time faculty work at least 40 hours per week. In addition to the time they spend teaching, they are required to offer in-person or online office hours for students, attend meetings, participate in developing the school's curriculum and programs, conduct research, write scholarly articles and papers, and represent the school at on-campus and off-campus events.
By contrast, adjunct faculty are hired to teach one or two classes per term and provide assistance to their students who need help. There are strong arguments for and against the use of adjunct professors, but they often bring a wealth of current, real-world experience to their classes.
Doctoral programs that involve a significant amount of scientific research are more likely to be taught by full-time professors. However, there will probably be a combination of full-time and part-time faculty in other programs, which offers doctoral candidates the benefits of scholarly rigor and practical experience.
Frequently Asked Questions About Doctoral Degrees
A doctorate is the highest degree awarded by a graduate school. Examples of doctoral degrees include Doctor of Philosophy (PhD) and Doctor of Medicine (MD). A doctoral degree is an indication that a graduate has the highest level of expertise in a field.
Today, many schools offer online doctoral degrees, with popular online offerings including Doctor of Physical Therapy (DPT), Doctor of Nursing Practice (DNP) and Doctor of Education (EdD) programs. Students will also find online postgraduate programs in mechanical engineering, music, education, genetics, and even plant breeding. Continue reading to learn about PhD admission requirements, benefits, tips for success, and more.
What qualifications do I need to be accepted into a PhD program?
Most online doctoral programs have similar admissions requirements. Nearly all require the completion of a bachelor's degree, a GPA of 3.0 or higher, competitive GRE or other entrance exam scores, positive letters of recommendation and meaningful personal essays.
Depending on the discipline, some professional work experience may also be required. For example, students pursuing online doctoral degrees in behavioral therapy or nursing may need a minimum number of clinical hours or years of full-time employment in the field. In some cases, there may be some additional requirements. For example, applicants to either of the University of Florida's two online PhD programs in the Classics must be fluent in German, French, Italian, or modern Greek.
However, perhaps the most important admission requirement is the applicant's level of education completed, which can vary between doctoral programs. Some require doctoral students to have completed master's degrees in the same or a related field. In contrast, others welcome students who have completed bachelor's degrees or unrelated master's degrees and intend to complete their master's and doctoral coursework concurrently.
Competition for coveted PhD slots is admittedly fierce. Most programs admit only a handful of new students each year. Although some schools will accept applications from prospective students who don't fully meet the requirements, they all favor fully qualified candidates who have relevant educational and work experience, high GPAs, and competitive GRE or other exam scores.
How long are PhD programs?
The number of years needed to complete an online doctoral degree varies between programs. The main determining factor is the number of required credit hours, ranging from 36 to 120 credits. Another consideration is the number of transfer credits a student may apply towards their program, usually from having earned a prior master's degree. Other factors include whether the PhD candidate is attending school full- or part-time and how long it takes to complete their dissertation or capstone project.
In general, however, most online doctoral degree programs are designed to be completed in three to eight years. It is important to note that some schools place a time limit on the number of years students have to complete their doctoral coursework and present and defend their dissertations or capstone projects.
How do I know if my program is accredited?
Accreditation occurs when a college or university voluntarily invites an independent agency to confirm that it meets a specific set of academic standards for rigor and quality. These agencies conduct a thorough evaluation and review of the school's programs, faculty, services, and other resources. Regional accreditation is the most prestigious form of recognition, but programs may also be accredited by national agencies or other agencies that focus on specific academic disciplines or institutions. Some schools and programs are accredited by more than one type of agency.
Prospective doctoral students should confirm that their intended programs have been accredited by reputable agencies or accrediting bodies to ensure that they receive a high-quality education. If a school's website does not readily provide this information, students should check with the admissions office.
Is a master's enough, or should I continue on for a PhD?
Deciding whether to pursue a master's or doctorate (which will either require a master's as a prerequisite or include the equivalent of master's coursework in the graduation requirements) is a complex undertaking that involves the consideration of many factors. Students interested in an online doctoral program need to carefully weigh whether the tremendous investment of time and money will enable them to achieve their professional and personal goals.
Some professions simply demand a doctoral degree. For example, to become a licensed lawyer, veterinarian, psychologist, pharmacist, dentist, surgeon, or doctor, a person must earn a doctorate or an equivalent professional degree. Whether it's primarily as a lecturer or as a researcher, a long-term career in academia generally requires a PhD as well.
However, there are other careers in which professionals can be equally successful with a master's degree, including executive-level business management, education administration, environmental science, physical therapy, mental health counseling, and several other healthcare specialties. Prospective students can consult professional organizations or online resources, such as the Occupational Outlook Handbook, to determine what degree level is appropriate for the occupations they have in mind.
What are the benefits of a doctoral degree?
The completion of an online doctoral degree offers many benefits. Of course, the most obvious is that a doctorate will typically open doors to fulfilling and high-paying careers. In those instances where a doctoral degree holder is competing against a master's degree holder for a particular job, the candidate with the PhD may be more competitive because of their advanced knowledge and skills.
Beyond the obvious factors, there are additional benefits that are harder to quantify yet are equally important. In earning a PhD, most students hone essential interpersonal and communication skills that can serve them well throughout their lifetime. Doctoral students also have the opportunity to build relationships and establish valuable personal and professional networks in academic circles and beyond. Finally, there is a tremendous sense of satisfaction and personal achievement from having completed such a demanding goal.
Will I be able to work while earning my PhD?
A PhD candidate's ability to hold down a full-time or part-time job while pursuing an online doctoral degree depends on several factors, including important work-life balance considerations such as spending time with a significant other and caring for children.
It can also depend on what stage the candidate falls into within the program. In the early stages of most doctoral programs, when candidates are taking classes, PhD students may devote as many as 50 hours a week to completing coursework and fulfilling other requirements, which leaves little time for paid work. Later on, when the student is more focused on writing a dissertation or completing a capstone project, the amount of time available for a paying job may depend on how quickly the student wants to complete the program.
Another aspect of this issue is funding. Some PhD programs offer some compensation, such as paid tuition and/or a stipend. However, this opportunity is generally reserved for on-campus students who are engaged in research projects. Funding is less common for online doctoral programs and PhD programs in the social sciences and humanities. However, a PhD student may not need to work if funding or some other type of financial support is available through the college or university.
How demanding is a PhD?
Without a doubt, completing a doctoral degree is challenging. Although statistics vary among individual schools and programs, in general, less than half of PhD students complete their degrees within ten years of enrolling.
A 2019 survey of 6,300 recent PhD graduates conducted worldwide by the research journal Nature identified some critical issues. For instance, 36% of respondents said they sought help for anxiety or depression because of their PhD studies. When asked to specify the sources of this anxiety, the two most common factors were uncertainty about future job prospects after graduation and work-life balance. Long hours, a perceived lack of support from advisors, and conflict with colleagues all contributed to a sense of dissatisfaction for some, especially in the latter stages of the programs.
Those who've completed doctoral programs offer these words of wisdom for combating the "PhD blues:"
Set realistic expectations: PhD candidates describe a wide range of challenges—including feeling alone and frustrated by difficulties in communicating with team members. Prospective students should go into the process knowing that the journey will be filled with many problems to solve and life lessons to learn.
Keep your eyes on the prize: PhD candidates often describe the process of obtaining their degree as a marathon, not a sprint. Thus, it's important for those enrolled in online doctoral programs to continuously remind themselves of the benefits they hope to gain and the specific ways a doctorate will help them realize their career goals.
Make sure you have a support network: PhD programs can be quite competitive. Especially in the latter stages of a program, there may be years when a doctoral candidate is working primarily alone. It's essential to establish a circle of family members, friends, and other colleagues to turn to for support along the way.
Remind yourself of your worth: When the going gets tough, many PhD candidates report feelings of self-doubt, otherwise known as "imposter syndrome." This is the time for a PhD student to remember that they were selected from hundreds of other candidates because others believed in their ability to succeed.
This website offers school details to prospective students as an informational resource. The appearance of a school listing on this website should not be interpreted as an endorsement of the school by this site.