2023 Best Online Colleges for PhD Programs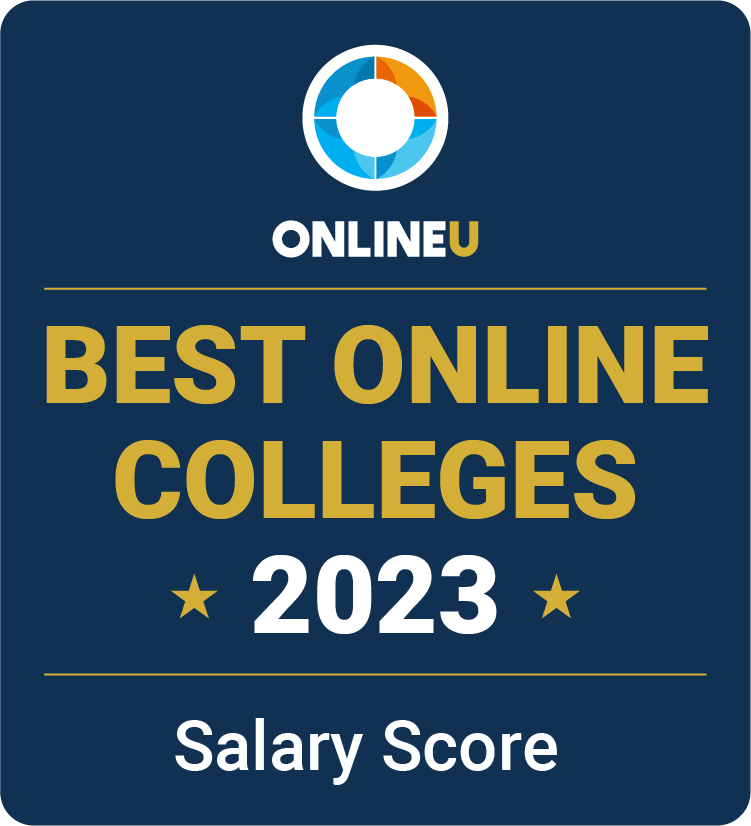 The highest level of education college students can achieve is a doctoral degree, also known as a terminal degree. Prospective students can expect the same rigorous, high-quality education and career opportunities from an online PhD program as they would from an in-person experience. Some doctoral degrees, especially PhDs, require students to engage in high-level research within a specific discipline, while other types of doctorates teach students to use research to solve real-world problems.
View our methodology for more details about our list, or learn about OnlineU.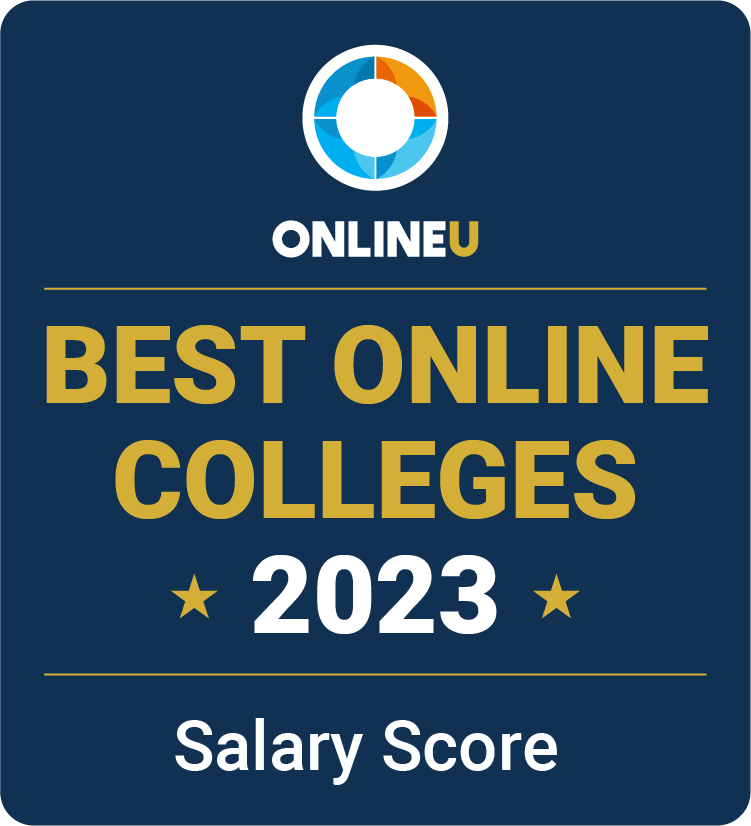 ADVERTISEMENT
Online Programs You May Be Interested In


Annual Tuition: $8,475
114 Programs (view all)

Annual Tuition: Not Provided
4 Programs (view all)
---
Types of Doctoral Degrees
| b | Online Schools | Programs | Alumni Salary |
| --- | --- | --- | --- |
| | 56 | 261 | $121,600 |
| c | Online Schools | Programs | Alumni Salary |
| | 7 | 23 | $67,190 |
| | 33 | 86 | $45,430 |
| d | Online Schools | Programs | Alumni Salary |
| | 230 | 582 | $123,460 |
| e | Online Schools | Programs | Alumni Salary |
| | 262 | 839 | $75,590 |
| | 204 | 431 | $87,000 |
| h | Online Schools | Programs | Alumni Salary |
| | 92 | 227 | $72,430 |
| | 47 | 83 | $86,930 |
| m | Online Schools | Programs | Alumni Salary |
| | 63 | 204 | $122,550 |
| o | Online Schools | Programs | Alumni Salary |
| | 44 | 75 | $71,110 |
| p | Online Schools | Programs | Alumni Salary |
| | 11 | 17 | $98,560 |
| | 15 | 21 | $71,110 |
| | 28 | 175 | $67,400 |
Overview of Online PhDs
One of the oldest academic degrees in existence, a doctorate degree is a postsecondary credential that is awarded to students who have achieved the highest level of education or training in a given area of study. Doctoral programs train students to create, apply, and research original knowledge. They take multiple years of graduate study to earn, with students completing a varying mix of coursework, exams, and practicums.
The challenging nature of these requirements is perhaps the reason why a large number of doctoral students — roughly 50% — drop out. However, those who achieve their degree are equipped with expert-level knowledge in a given subject area as well as transferable research, writing, and communication skills. These qualifications typically prepare doctoral degree holders for advanced positions in academia, government, or vocational settings where professionals require specific expertise.
While they are primarily offered on-campus, many colleges and universities include the option to pursue a doctoral degree online. Prospective doctoral students can choose from programs offering exclusively online courses as well as hybrid models with a mix of distanced and on-campus learning.
Types of Doctorates
Not all types of doctoral degrees serve the same purpose. Many prospective students may be thinking of a PhD — also known as a Doctor of Philosophy — when referring to a doctorate. While correct, a PhD is a research doctorate in which the primary goal is to advance new knowledge. For instance, individuals who pursue a PhD degree in physics conduct original research, typically with the goal of working in academia.
By contrast, professional doctorate programs prepare students to practice a vocation. Examples include the Doctor of Nursing Practice (DNP), Doctor of Psychology (PhD), Doctor of Medicine (MD), Doctor of Business Administration (DBA), Doctor of Education (EdD), or Juris Doctor (JD). These degree holders are trained to apply field-specific knowledge in settings such as hospitals or courtrooms.
How Long Does It Take to Earn An Online Doctoral Degree?
Depending on individual program requirements and the type of degree, most doctoral degree programs can be completed in 3-8 years, though it may take over 10 years in some circumstances. The average time to completion is 7.5 years, and accelerated or online programs are designed to be completed in 3-5 years. It is important to note that schools may place a time limit on the number of years students have to complete their doctoral coursework and defend their dissertations or capstone projects.
What Will You Learn in an Online PhD Program?
Like their on-campus peers, students enrolled in an online doctoral program typically spend the first several years completing advanced coursework. Doctoral-level courses involve research, writing, and data analysis that allow students to extend or apply existing knowledge in their chosen discipline.
Without question, such advanced study is challenging. However, pursuing a terminal degree can be an intrinsically valuable endeavor that leads to self-development.
Popular Subjects
Many of the most popular online doctoral programs involve health-related fields, including clinical psychology and counseling. Additional examples include the following:
Doctor of Nursing Practice
Nurses who hold a bachelor's or master's degree may want to pursue a Doctor of Nursing Practice (DNP) to advance their career. A DNP enables a nurse to become an advanced practice registered nurse (APRN), possibly with an area of specialization. An APRN's scope of practice varies by state, but they can often diagnose illnesses, prescribe medications, and develop patient care plans.
Doctor of Physical Therapy
To become a licensed physical therapist, you must first earn a Doctor of Physical Therapy (DPT). The advanced coursework teaches you how to assess a patient's condition, develop a plan for improving their mobility and managing pain with exercise, and educating patients about ways to restore their health.
Doctor of Occupational Therapy
Occupational therapists who want to conduct research in the field or to educate aspiring occupational therapists may be interested in earning a Doctor of Occupational Therapy (DOT). Although you only need a master's degree to become an occupational therapist, a doctorate may open up additional career opportunities..
PhDs in STEM subjects, such as computer engineering, physics, and statistics, are also common. It is also possible to earn an online doctorate in educational leadership, law, history, or business.
Choosing an Online Phd Program
Prospective online doctoral students should practice their due diligence when choosing the best online PhD program. Beyond exploring program specifics and student services, students will want to select a school that has earned institutional accreditation. This means that the school has been reviewed by an independent agency and proven to meet nationally accepted standards. To determine whether the institution you're considering is accredited, visit the Database of Accredited Postsecondary Institutions and Programs.
Earning a doctorate takes years of intensive study in graduate school, so it's important for potential applicants to choose the right subject, school, and format. When researching options, it may be helpful to ask these key questions:
What are my career goals?
First, determine whether a doctorate is necessary or desirable in a given field. For example, aspiring professors, lawyers, veterinarians, psychologists, or doctors must earn a doctorate. However, those who aim to work in areas such as business or tech typically don't require this level of education. In these cases, it may be best to earn a bachelor's or master's degree.
Do I want a professional or academic doctorate?
Different doctoral degrees serve different purposes. Students primarily interested in conducting research, advancing original knowledge, or working in academia should opt for an academic doctorate. By contrast, a professional doctorate is better suited to those who hope to practice professions such as law or medicine in real-world settings.
Applying to a Doctoral Program
Doctoral programs typically admit only a handful of new students each year, so competition for spots can be fierce. While admission requirements vary by school, most have similar requirements and these remain constant across online and in-person degree options. Prospective students typically need to meet the following requirements to get accepted into a doctoral program:
A completed college degree. Some graduate programs require doctoral students to have completed a master's in the same or a related field, while others accept students with a bachelor's or an unrelated master's degree.

A GPA of 3.0 or higher in all previous degrees. Schools want to train scholars who are serious about advancing their field of study, so the academic standards are usually higher than for other degrees.

Competitive entrance exam scores, with thresholds that vary by school, in the Graduate Record Examination or Graduate Management Admissions Test.

Letters of recommendation from professors, coaches, or mentors that speak to the student's academic and personal merit and likelihood of success in the particular program.

A personal essay that expresses the student's reasons, motivation, and desire to complete a high-level degree in their chosen field.
In addition to these standard requirements, some disciplines require professional work experience or language proficiency. For example, students pursuing online doctoral studies in nursing may need a minimum number of clinical hours or years of full-time employment. By contrast, applicants to PhD programs in classics may need to demonstrate some familiarity with Latin or Ancient Greek.
Careers and Job Outlook
An online doctorate can lead to career opportunities that may otherwise be unavailable to bachelor's and even master's degree holders. For instance, according to the Bureau of Labor Statistics (BLS), a JD is typically required to become a practicing attorney, and doctorates are needed to become a physician, dentist, or psychologist.
A PhD is essential for those who want to conduct research in almost any field, either in an academic setting or an advanced research facility.
Aside from expanding job opportunities in specific areas, an online doctorate also offers general career advantages. Students who successfully earn this degree typically gain considerable experience with relevant skills for government organizations, nonprofits, and startups. In particular, their ability to interpret different kinds of data, translate complex problems for wide audiences, identify unique funding opportunities, and evaluate multiple sources of information can make graduates valuable assets for employers in these industries.
Overall, the BLS projects that a doctoral degree comes with better pay and a favorable job outlook through 2030, particularly in the education, healthcare, and law sectors.
Benefits of Earning a PhD
It's clear that doctoral degrees may open doors to higher-paying career opportunities. Nevertheless, earning a doctorate is an expensive, demanding, and time-consuming process. Before enrolling in an online PhD program, it's worth examining the pros and cons. Below are some of the benefits:
Doctoral students may gain a set of practical and life skills — such as effective financial management, future career planning, and self-motivation — in addition to in-depth professional knowledge.
Given that doctoral degree holders are rare, they are typically recognized as experts or leaders in their field of study.
Those who value constant learning, personal growth, and career advancement may find advanced study to be personally enriching.
So, Is an Online Doctorate Worth It?
Like any educational investment, the worth of an online doctorate depends, in part, on personal circumstances, career goals, familial responsibilities, finances, and learning style. However, as a highly specialized and advanced degree, a doctorate comes with distinctive benefits and challenges of its own.
There are a limited number of professions that require a doctorate. However, those that do, such as doctors or lawyers, tend to be well compensated, so pursuing a doctoral program in these fields may yield a high return on investment. By contrast, the outlook for academic doctoral candidates is less promising with both salaries and the number of full-time positions decreasing for individuals who want to work in academia. But a PhD may still be worth it for those who love conducting academic research, writing, and teaching.
Additionally, students who enroll in an online doctorate may benefit from accelerated learning models and complete their degree in as little as three years — considerably sooner than traditional programs. However, online learning may not always offer adequate support. Furthermore, by studying online, students may forgo important sources of financial aid such as research and teaching assistantships.
FAQs on PhD and Doctoral Programs
What Is the Difference Between PhDs and Professional Doctorates?
---
Both PhDs and professional doctorates are terminal degrees: they are both types of doctoral degree programs.
Although there are variations within advanced degrees, a PhD is generally considered a research degree program that trains students to produce original research, advance knowledge in their field, and prepare for careers in academia or scientific research. By contrast, in a professional doctorate program, students learn to apply their knowledge to real-world situations while studying advanced concepts in disciplines such as medicine, business, or law.
Can You Earn a Doctorate Online?
---
Yes, you can earn a doctorate online. Over the last couple of decades, many universities have begun to offer PhD programs online, and there are now hundreds of PhD and professional doctorate online programs for you to choose from. Many accredited online PhD programs are fully remote, allowing students to take online courses and meet other degree requirements at their own pace. Other programs — particularly in the STEM fields — may require occasional campus visits to complete labs or meet faculty.
How Demanding Is a PhD?
---
It can be extremely challenging to complete a PhD program. Many doctoral students find the advanced coursework to be mentally demanding, and they often face financial and emotional stressors, resulting in anxiety or depression. A strong support network, realistic expectations, and clear goals may help doctoral candidates retain a positive outlook during their higher education journey.
For more information on coping with mental and emotional challenges while earning a degree, see our mental health guide for college students.
Which Doctorate Is the Highest In Demand?
---
Can I Earn My Doctorate Without a Master's?
---
Yes, depending on the type of degree and subject, you can earn a doctorate without first earning a master's degree. In fact, many PhD programs incorporate all of the master's-level and doctoral-level coursework into one program, allowing bachelor's degree holders to enter directly into a doctoral program.
Why Trust Us?
60,000 Degrees Researched Annually
20,000 Hours Spent on Research Annually
Launching Rankings Since 2009
Meet our team
Related Articles
2023 Best Online Master's Degrees
A master's program can expand your employment options and earning power. Explore our list of the best online master's programs based on alumni salaries.
2023 Most Affordable Online Doctorates in Education
Our 2023 list reveals the most affordable colleges for online doctoral degrees in education. Explore our list of accredited online schools.