2023 Most Affordable Bachelor's in Substance Abuse Counseling Online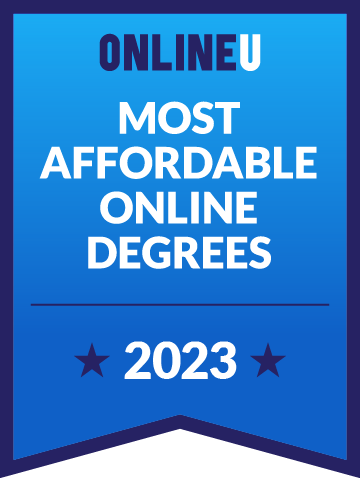 An online bachelor's degree in substance abuse counseling sets the foundation for a career in addiction counseling or a related profession. These programs teach students who are interested in helping those struggling with addiction receive the care and support they need to recover. Prospective students can expect to take courses covering human behavior, psychology, case management, and addiction counseling. In addition, many programs may allow students to sit for addiction counseling licenses in their respective states before graduation. Other potential career opportunities with an online bachelor's degree in substance abuse counseling include a substance abuse counselor, mental health counselor, case manager, support advocate, and certified peer specialist. After obtaining a bachelor's in this field, some graduates go on to earn an affordable online master's in substance abuse counseling.
View our methodology for more details about rankings or learn more about us.
All tuition numbers were manually collected and verified
Rank
School

Locations

Annual Tuition

# 1
Fort Hays State University
Hays (KS)

$6,806

# 2
Union College - KY
Barbourville (KY)

$7,425

# 3
City Vision University
Kansas City (MO)

$7,500

# 4
SUNY Empire State University
Saratoga Springs (NY)

$8,480

# 5
University of Central Arkansas
Conway (AR)

$8,550

# 6

(tie)

Northwestern State University of Louisiana
Natchitoches (LA)

$9,600

# 6

(tie)

Southern New Hampshire University Online

Manchester (NH)

$9,600

# 8
University of Maine at Augusta
Augusta (ME)

$9,862

# 9
University of South Dakota
Vermillion (SD)

$10,643

# 10

(tie)

Rivier University
Nashua (NH)

$10,950

# 10

(tie)

University of New Hampshire College of Professional Studies
Concord (NH)

$10,950
Overview of an Affordable Online Bachelor's Degree in Substance Use Counseling
Substance use counselors work one-on-one and in groups to help clients understand and address their chemical dependencies. As of 2020, addiction counselors earn a median annual income of $47,660, according to the Bureau of Labor Statistics. While a bachelor's degree can land applicants an entry-level job, a master's degree, a significant number of clinical hours, and licensure are required in some states and for working at a private practice.
To gain skills in this field, students need to receive training in addiction counseling, which covers subjects such as psychology, addiction theory, human services, human development, and interventions for clients in recovery. While bachelor's degrees in addiction counseling are available both online and in-person, many schools prefer to offer a specialization in substance abuse counseling through psychology or mental health degrees instead.
Pursuing an addiction counseling degree online is a legitimate option with many available programs. Although the majority are designed to be completed in four years or less by full-time students, part-time students may choose to finish the degree more slowly, taking up to six years in some cases. Overall, earning a bachelor's degree requires students to complete 120-126 credit hours.
Many online programs require students to complete a specific number of practical experience hours in substance use counseling. Depending on the program, students can achieve this through an internship or by taking a practicum at an approved clinic. Before students enroll they should determine whether their chosen online program arranges experience hours in their state of residence. If not, students can contact their state's certification board or licensure agency to determine how to meet this requirement.
---
Proper Terminology Within This Field
Language is constantly evolving, and terms specific to this field of study are no exception. To reflect growing trends, a combination of familiar and newer terms are utilized throughout this page. The word "abuse" has been steadily shifting toward alternatives — from "use" to "misuse" — that are less accusatory and judgment-laden. Although some institutions continue offering degree programs in substance abuse counseling, others are offering programs in substance use counseling. Meanwhile, practitioners that specialize in addiction are overwhelmingly advocating for terminology updates that help lessen the stigma around mental health issues, including those associated with chemical dependencies.
Practitioners that specialize in addiction are overwhelmingly advocating for terminology updates that help lessen the stigma around mental health issues.
---
Funding an Online Substance Abuse Counseling Program
Financial aid comes in many forms for students planning to earn an online bachelor's degree in substance abuse counseling.
---
| | |
| --- | --- |
| | As long as students attend an accredited online program, they should be eligible for the same types of aid as on-campus students. |
---
The financial aid process typically begins when a student submits a Free Application for Student Financial Aid (FAFSA) form. The information provided determines what types of aid and the amount that each student may receive. Then, the schools notify students regarding how much financial aid they are willing to offer.
Although students must repay their loans with interest, federal student loans typically offer more favorable terms than private loans. Overall, students prefer scholarships and grants because they don't have to repay them at all. To further reduce costs, they may also consider applying for financial assistance programs if they have special circumstances. For example, veterans and active-duty military personnel are often eligible for tuition discounts. Similarly, some schools have set up partnerships with various organizations, so if students are employees or members, they may be eligible for tuition assistance.
Due to a growing need for substance use and addiction counselors, several non-profits provide additional scholarships and grants.
Due to a growing need for substance use and addiction counselors, several non-profits provide additional scholarships and grants for individuals preparing to enter this profession: the Substance Abuse and Mental Health Services Association, the National Institutes of Health, and the Pride Foundation.
Below are some scholarships for undergraduates studying substance use and misuse:
The National Association for Alcoholism and Drug Abuse Counselors (NAADAC) awards one undergraduate $1,000 every year. Applicants must be current NAADAC members and have a GPA between 2.7-3.0 or higher. They must also have at least one full year of coursework remaining in addiction studies or an addiction-related field.
For additional information, students can check out our resources about paying for a college degree, which include details about the popular college savings plans, the student debt crisis, and more.
---
Accreditation
Students should ensure that their chosen online school and/or program are accredited. An accredited school has been evaluated by national or regional authorities to meet the nationally accepted standard of education. Specifically, this means that a school has the appropriate faculty, resources, and other facilities to implement quality academic programs.
---
| | |
| --- | --- |
| | This stamp of approval signals a degree's credibility to potential employers. Furthermore, accreditation is often a requirement to receive financial aid and transfer credits. |
---
Students should check if their school's accreditation is recognized by the U.S. Department of Education or the Council of Higher Education Accreditation. Additionally, some third parties specialize in evaluating specific academic programs rather than entire institutions. The National Addiction Studies Accreditation Commission accredits bachelor's degrees in substance use counseling — including online programs.
---
Common Substance Use Counseling Courses
An online bachelor's degree in substance abuse counseling provides students with an in-depth understanding of the negative impacts that substance use and misuse has on individuals, their loved ones, and society. By studying the coursework, students learn about the psychology behind addiction and how drugs and alcohol affect the body. They also gain hands-on experience treating and supporting people with substance use disorder and co-occurring mental health issues during and after recovery.
Addiction and the Family: Students learn how to provide substance use and misuse counseling for families, couples, and other close relationships. The courses often cover family counseling theories and the role of family during recovery, treatment, and prevention.
Ethics in Addictions Counseling: This class explores the ethical and legal issues counselors may encounter during their clients' substance use treatment. Class topics may include ethical decision-making, confidentiality, informed consent, and diversity issues.
Group Counseling for Substance Abuse: Group therapy is often a technique practitioners use in substance use treatment, especially inpatient treatment. This course establishes the process and theoretical framework behind group therapy, covering addiction, facilitation skills, and effective methods for group counseling.
Psychology of Addiction: This class gives an overview of substance use and misuse disorder's clinical diagnosis and treatment. Students also learn about how addiction occurs in the brain and the psychological factors that impact it.
Psychopharmacology and Addiction: In this course, faculty discuss different drug classifications and how each type affects the brain. Courses cover psychoactive properties, neurochemical effects, and withdrawal symptoms for various classes of drugs and alcohol. Students also learn about prescription medications for treating substance use disorder and co-occurring psychological disorders.
---
Is an Online Degree in Substance Abuse Counseling Worth It?
Since everyone's circumstances differ, nobody can answer this question without considering their familial responsibilities, career goals, and financial situation. But if you're passionate about helping people overcome addiction, then a bachelor's degree in this field might be worth the investment of time and money.
Potential Benefits
The addiction studies field is expected to grow at a rapid rate of 23% through 2030.
To obtain licensure, some states require a specific degree. So, rather than merely relying on a specialization, earning a bachelor's degree in substance abuse counseling may be an important step to getting licensed. This degree also demonstrates a student's strong dedication to the field. If a student plans to obtain a master's degree next, having such a specific focus could make their application more attractive to schools, especially at this higher level of schooling when a thesis is often required.
Many programs require internships that offer practical experience in the field, which students can draw on in their applications as they enter the job market after graduation.
Graduates with bachelor's degrees are eligible for various jobs in their field of study, such as a psychologist's aide or state agency caseworker. They may choose to work in these roles until they earn their master's degree and counseling license.
Potential Drawbacks
A bachelor's degree may not be sufficient to specialize in a particular area of substance abuse counseling, and may therefore limit earning potential in this field. Additionally, employment in the private sector requires licensure, so a bachelor's degree alone may limit job prospects.
Many counseling jobs require schedules that fall outside of traditional business hours. Not only are counselors often expected to work evenings and weekends, but they also experience heavy caseloads early in their careers. It may be challenging for some to find a suitable work-life balance.
Perhaps exacerbated by excessive patient dropout rates, professionals in this field may face high levels of professional burnout due to job-related stress. Some counselors report leaving the field due to the cumulative toll of helping people in emotional and physical distress, while others grow frustrated with the complexities of bureaucracy and insurance.
Earning a bachelor's in substance abuse counseling through an online program has advantages as well as drawbacks that students should consider. The online learning option allows students to complete work on a flexible schedule and study from any location without having to uproot their lives in order to move closer to a school. However, students may miss out on some informal networking opportunities that could benefit their careers. Importantly, colleges don't always provide an adequate level of support to online students, and some distance learners have found it difficult to complete their degree, especially compared to their on-campus counterparts.
Related Articles
2023 Most Affordable Online Bachelor's Degrees
Find the most affordable online bachelor's degree programs in the country for 2023. We highlight cheap online colleges with high alumni salaries.