2023 Most Affordable Military-Friendly Online Colleges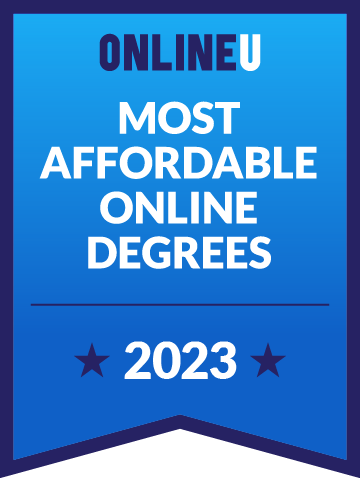 Attending an online military-friendly college offers many benefits for students who are also service members. For undergraduate students in particular, these online colleges provide opportunities for flexibility and various support systems while they earn a bachelor's degree online. These benefits often include more relaxed policies for absences or deadlines, dedicated staff that understand the needs of military students, and financial assistance to help lower the cost of tuition.
The schools on this list offer the best combination of affordability and accessibility to active-duty service members and veterans. View our methodology for details about rankings or learn more about us. You can also check out our overall list of the most affordable online degrees for further inspiration.
All tuition numbers were manually collected and verified
| Rank | School | Locations | Annual Tuition |
| --- | --- | --- | --- |
| # 1 | Fort Hays State University | Hays (KS) | $6,806 |
| # 2 | Columbia Southern University | Orange Beach (AL) | $7,050 |
| # 3 | Southern New Hampshire University Online | Manchester (NH) | $9,600 |
| # 4 | American Public University System | Charles Town (WV) | $11,150 |
| # 5 | Columbia College | Columbia (MO) | $11,250 |
| # 6 | Saint Leo University Online | St. Leo (FL) | $11,400 |
| # 7 | Troy University | Troy (AL) | $11,640 |
| # 8 | Wilmington University | New Castle (DE) | $11,700 |
| # 9 | Franklin University | Columbus (OH) | $12,338 |
| # 10 | Regent University Online | Virginia Beach (VA) | $13,150 |
Overview of Military-Friendly Online Colleges
A 2020 report by the National Center for Education Statistics (NCES) revealed that almost 1.2 million U.S. military personnel studied for an undergraduate degree in 2015-2016. This number includes 293,000 active-duty personnel, 29,200 National Guard or Reserves members, and 870,500 military veterans. About 22% of these military-affiliated students were enrolled in a fully online undergraduate program in this academic year, or about 262,000 total.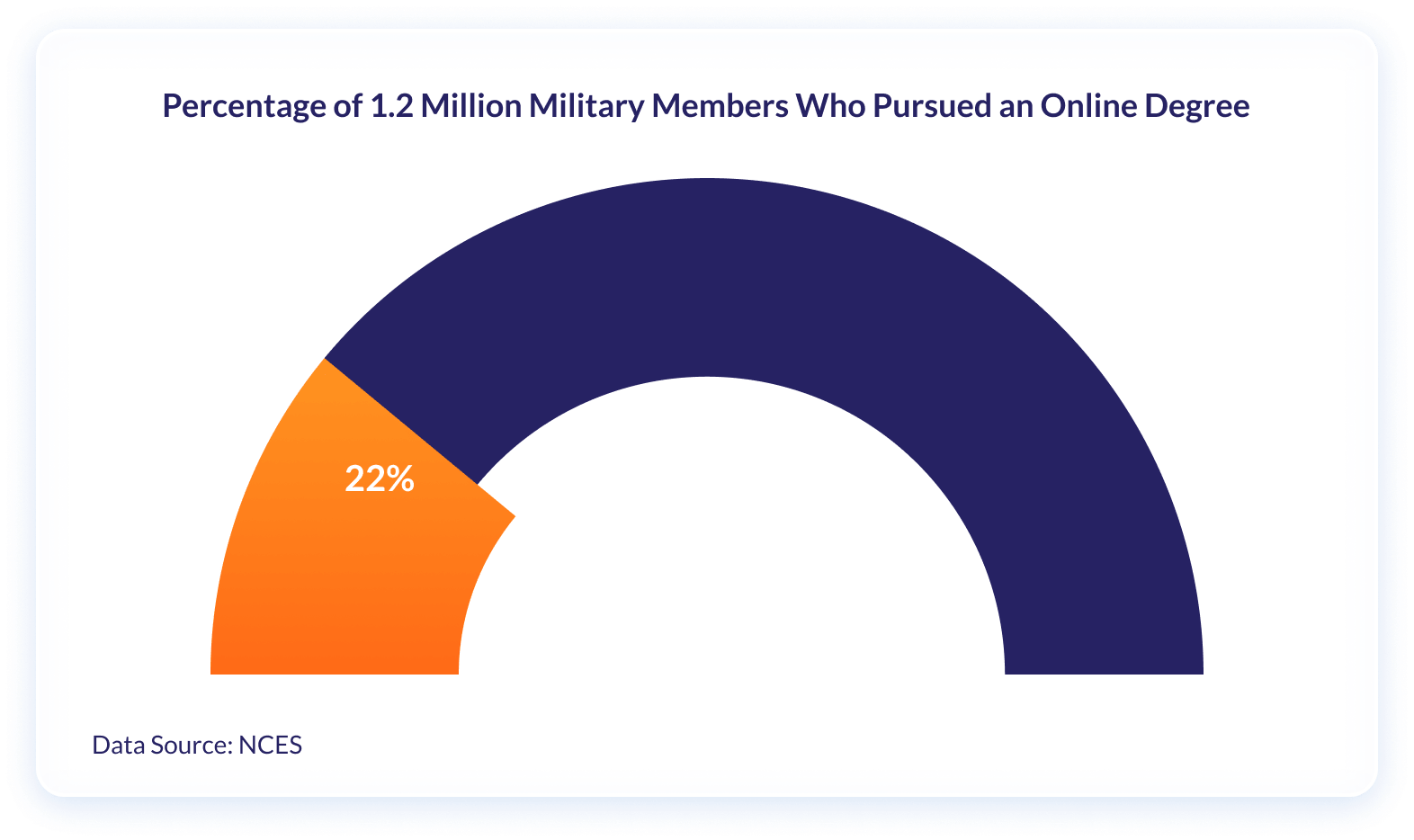 Support From Online Colleges for Military-Affiliated Online Students
Because of the unique demands of their careers, military service members and their families need special support from their colleges. This includes employees who understand the intricacies of short- and long-term deployments, the complexities of the Post-9/11 GI Bill®, and the roles of Educational Services Officers (ESOs). In fact, one of our ranking considerations is the presence of dedicated staff who are available to answer questions and provide academic support to military students. Schools that provide this kind of support typically make it easy for military students to get in touch with these employees through easy-to-find contact information. Thomas Edison State University is an example of a school on our list that does this.
One of our ranking considerations is the presence of dedicated staff who are available to answer questions and provide academic support to military students.
Military-friendly colleges also have policies to help students navigate unexpected situations, such as sudden temporary additional duty orders (TDYs). Many schools waive penalties for late assignments or discussion posts that a student misses while on a TDY. Colleges earn greater Military Friendly Scores if their staff and faculty are experienced at working with students' ESOs to schedule make-up work.
Another consideration is a school's prior-learning and transfer policies. Many service members accrue valuable knowledge and skills through non-academic training, and colleges often recognize this by applying these military experiences toward academic credits. Advisers may work with the student to receive and evaluate their official service transcript. All of these factors — dedicated staff, caring leave policies, and generous credit transfers — are crucial to calculating a college's Military Friendly Score.
Financial Assistance at Military-Friendly Online Colleges
The cost of a college degree can be a considerable investment for students, and may deter some from pursuing higher education. Of the military-friendly online colleges on our list, the median annual tuition rate is $11,556. This is a bit lower than the median annual tuition for online bachelor's degrees, which is $13,919.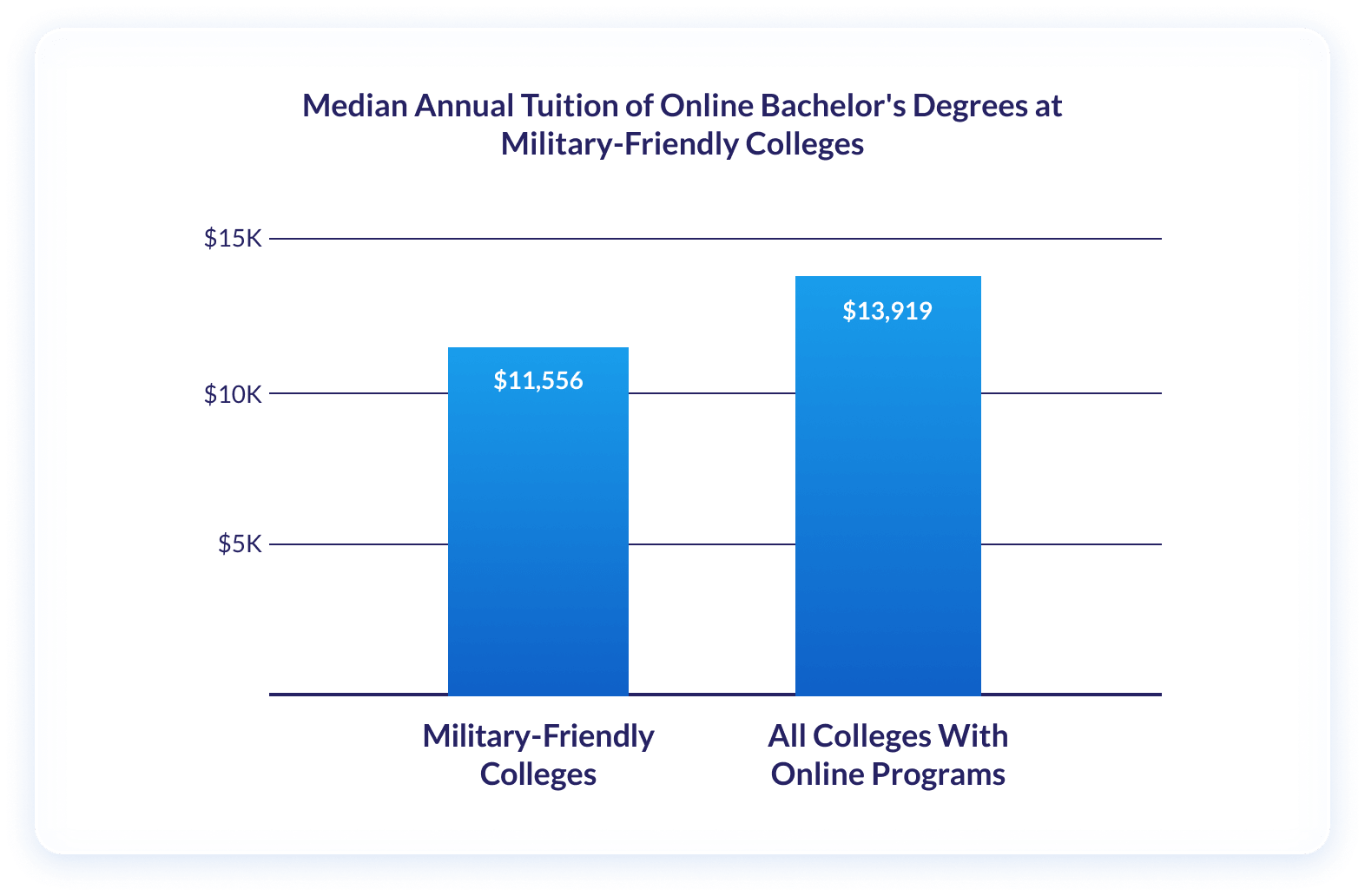 Online programs can cost less than comparable in-person versions, so it makes sense for cost-conscious applicants to consider distance learning. Even so, military students may wonder whether they will be eligible for financial assistance that can further reduce these costs.
The large majority of college students receive financial aid to help them attend school. Below we detail some financial considerations for military students, including college discounts, the possibility of free degrees, and the GI Bill®.
Do Colleges Give Military Discounts for Online Students?
While most financial aid for military students comes from the government, some colleges also offer discounts for online military students. Schools may provide reduced tuition rates for service members, military spouses, and dependent children, or they may waive certain fees for these same students. The most common tuition discount is a per-credit cap of $250 for active-duty service members, much lower than the median per-credit cost of $449 for online bachelor's degrees. Columbia Southern University is an example of a college from our list that offers a tuition cap and also waives application and library fees for military students and their family members.
Other schools offer military scholarships intended to cover any gaps left by military aid programs. These colleges usually consider military students for these scholarships automatically as part of their financial aid applications. Students will generally need to complete a Free Application for Federal Student Aid (FAFSA) and enroll in the federal Tuition Assistance program to provide their service history.
Are There Free Online Colleges for Military Students and Veterans?
Veteran students may be able to earn a tuition-free online degree if they enroll in schools that participate in the Yellow Ribbon program or in public schools in select states. Yellow Ribbon schools agree to cover funding gaps left by the Post-9/11 GI Bill® for a prescribed number of service members and veterans each year. These students may receive a complete tuition waiver, and some schools also cover some or all fees.
Yellow Ribbon Qualifications
Veterans can qualify for Yellow Ribbon benefits if they either served for three years in the period after September 11, 2001 or served at least 30 days during this period and received an honorary disability-related discharge. The Department of Veterans Affairs (DVA) maintains a searchable catalog of participating colleges.
Some states also offer discounts to veterans through their public university systems, which may allow them to attend college without paying tuition. States usually detail such waivers on the websites for their state departments of veterans affairs. Prospective students should review each state they're interested in, because eligibility rules vary. For example, Illinois offers the Illinois Veterans' Grant to veterans who lived in the state before enlisting and who returned there within six months after discharge, whereas Washington only requires that the student maintain a fixed and permanent home in the state while attending college.
GI Bill®
Since 1944, the federal government has provided education benefits to active-duty service members and honorably discharged veterans. Currently, students may be covered under the Montgomery GI Bill® or the Post-9/11 GI Bill®, which both allow for at least some coverage for college tuition, books, and fees for 36 months.
In general, military personnel can qualify for the Montgomery GI Bill® if they've served at least two years and can qualify for the Post-9/11 GI Bill® if they've served at least three years after September 11, 2001. Students who qualify for maximum coverage can get in-state public college tuition completely covered, or up to about $25,000 at private schools. The eligibility requirements and coverage options for each bill are complex and full of exceptions, so it's best to check with a qualified ESO or DVA benefits advisor to determine the best path.
Is an Online Degree Worth It for Military Personnel?
An accredited online degree is worth the cost and effort for many service members and veterans, because these students receive special financial incentives to attend college and can enjoy great career benefits. A civilian degree might help active-duty military personnel climb the ranks; each service looks favorably on civilian degrees during promotion reviews, and service members can pitch their education as a strength when pursuing special assignments. A degree is also required for enlisted personnel who are seeking an officer's commission.
A civilian degree might help active-duty military personnel climb the ranks.
About 250,000 military personnel leave the service each year, and a college education is just as useful for their post-military career as it is for civilians. A bachelor's degree usually leads to a median $26,000 more each year than professionals earn with a high school diploma. College graduates also enjoy an unemployment rate that's 1.5% lower. Military students can choose a major with an eye on some of the most promising career paths for veterans, which include fast-growing fields such as healthcare administration and information technology.
Online degrees provide flexibility for military students who can't be sure that they'll be living in the same area for more than two years at a time. Service members studying on campus may be forced to transfer credits if they receive new duty orders, which can be disruptive to their education. Online learning provides continuity by allowing students to complete coursework from anywhere with an internet connection.
Online degrees carry potential downsides as well. The greater flexibility comes at the cost of human interaction, and students forego potential networking opportunities they might experience on campus. Further, military-affiliated students should be wary of aggressive courting from for-profit schools, who have historically been able to earn more money from the government if they accept a certain number of students using the GI Bill®. Although Congress fixed this technicality in 2021, it's always helpful to research real student experiences at a given school and review GPAs and graduation rates of military students where available. Ultimately, prospective students must decide for themselves whether the online format is right for them, but it's an option worth considering.
Related Articles
2023 Most Affordable Online Colleges & Degrees
Explore the top affordable online colleges of 2023. Find cheap online associate, bachelors, master's, and doctoral degrees.
2023 Most Affordable Online Associate Degrees
In 2023, we've ranked the most affordable online associate degrees. Read about each college to find the cheapest online programs with high alumni salaries.