2023 Most Affordable Online Master's in Data Science Programs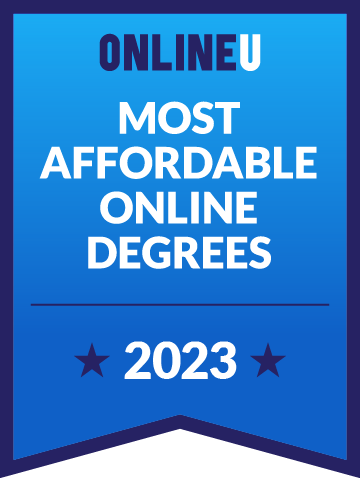 An online master's degree in data science may help students learn creative ways to collect, analyze, and present data. Online learners practice sought-after skills in statistical modeling, machine learning, visualization, and data mining. At some schools, they can choose an optional concentration — such as business modeling or health analytics — to help tailor their studies to fit their career goals. Data science master's degree graduates might pursue positions as data scientists, management analysts, operations research analysts, or survey researchers.
You may prefer an affordable online MBA program with a concentration in data science if you want a business-focused degree that covers some of the same topics.
View our methodology for details about rankings or learn more about us. You can also check out our overall list of the most affordable online degrees for some inspiration.
All tuition numbers were manually collected and verified
| Rank | School | Locations | Annual Tuition |
| --- | --- | --- | --- |
| # 1 | Middle Georgia State University | Macon (GA) | $3,825 |
| # 2 | The University of West Florida | Pensacola (FL) | $4,250 |
| # 3 | Fort Hays State University | Hays (KS) | $4,478 |
| # 4 | Georgia Institute of Technology | Atlanta (GA) | $4,950 |
| # 5 | Ohio University - Main Campus | Athens (OH) | $6,324 |
| # 6 | University of Southern Indiana | Evansville (IN) | $6,333 |
| # 7 | The University of Texas at Austin | Austin (TX) | $6,667 |
| # 8 | University of South Dakota | Vermillion (SD) | $7,057 |
| # 9 | Southern Arkansas University | Magnolia (AR) | $7,395 |
| # 10 | Colorado State University Global | Greenwood Village (CO) | $7,500 |
Overview of Online Master's in Data Science Degrees
An online master's in data science is designed to teach students how to process and analyze large data sets and use them to make data-driven decisions. Data science is an interdisciplinary field of study that combines aspects of computer science and programming and statistics which are often used to help make decisions in business to increase efficiency and revenue.
Graduate-level data science degree programs typically include classes on data mining and analytics, machine learning, natural language processing, statistical methods, big data processing, data visualization, predictive modeling, and computer programming with languages such as R and Python.
Some programs offer specializations for students who want to tailor their education to their specific career goals. Depending on what they plan to do with their degree, students might look for concentrations in areas such as applied data science, business analytics, artificial intelligence, data engineering, spatial analytics, cybersecurity, machine learning, bioinformatics, or big data analytics.
Online programs usually offer more flexibility for students than enrolling on-campus, especially those who need to fit classes in around work, family, and other responsibilities. Working adults with busy schedules might prefer asynchronous classes where they can complete classwork when it's convenient for them rather than logging in at a set time. Students who need more structure or face-to-face interactions might benefit from synchronous classes, where students meet with their class on a set schedule.
Admissions Requirements
Students applying to a master's in data science program will need a bachelor's degree, often in a related field such as computer science, statistics, or mathematics. While it's not necessary to have a bachelor's degree in a STEM field, students may need to take prerequisites or gain some programming experience through online courses or a bootcamp before they enroll.
Colleges will likely expect students to have experience with calculus, linear algebra, and programming before they start their program. Some schools may also require GRE or GMAT scores, letters of recommendation, a statement of purpose, or a resume.
How To Pay for a Master's In Data Science
Most students use financial aid to help pay for their college degree. For graduate students, the most common types of financial aid are grants and scholarships, graduate assistantships, student loans, and employer tuition assistance programs. Most schools offer payment plans, and many online students work through college or use personal savings to cover costs and reduce the amount they need to borrow.
Financial Aid
The first step in getting funding to help pay for college is to fill out the Free Application for Federal Student Aid (FAFSA). When you fill out the FAFSA, you send your financial aid application to any college you're interested in attending. They assess your financial need and typically award you any grants, scholarships, assistantships, and student loans you qualify for. Once you get your financial aid award, talk with each school you're interested in to see if there are other scholarships or funding opportunities you can apply for separately.
Grants and Scholarships
Grants and scholarships are one of the best ways to pay for school because it's money for college that doesn't need to be repaid. Grants and scholarships come from federal and state governments, colleges, nonprofits, businesses, and other organizations. Your school might also offer you an assistantship, where you work as a research assistant, a teaching assistant, or another position in exchange for a stipend and sometimes a tuition discount.
There are many scholarships available for students in data science and analytics programs, especially for women and students of color who are underrepresented in the technology industry. Once you receive your financial aid offer from your school, look for additional scholarships from nonprofits, trade and professional associations, businesses, and other organizations to help bridge the gap.
Employer-Funded Tuition Assistance Programs
Using employer-funded tuition benefits is a common way for graduate students to pay for a master's degree, and nearly half of employers in the U.S. offer tuition assistance, according to data from the Society for Human Resource Management. For many companies, the benefit of having more highly educated employees is worth the investment in their education, especially for professionals going to graduate school in business and tech-related fields such as data science. There are a wide range of companies that will pay for graduate school, including Boeing, T-Mobile, Discover, and Chipotle.
Student Loans
Once you've exhausted all other financial aid options, you can use student loans to bridge the gap between aid and cost of attendance. In general, federal student loans are a better option than private loans.
Graduate students are only eligible for direct unsubsidized loans or graduate PLUS loans from the federal government. Direct unsubsidized loans tend to be the more affordable option because they offer lower interest rates and origination fees than PLUS loans. The best way to keep student loan debt down is to only borrow what you need to pay for school, even if you're offered more money. Our student loan guide can help you borrow responsibly and answer common questions about student loans.
What Can You Do With a Master's in Data Science?
A master's in data science programs can open the door to a variety of careers, including roles in data science, data analytics, machine learning engineering, data engineering, business intelligence analytics, and research. Most careers open to graduates of master's in data science programs tend to be in the tech and business fields and often net high salaries.
Data Science Careers
Graduates of data science programs might pursue careers in a wide variety of fields such as business, healthcare, education, and social services. The following are a few career options for data science professionals, based on data from the Bureau of Labor Statistics:
Is an Online Master's in Data Science Worth It?
Whether or not an online master's in data science will be worth it depends on your strengths as a student, your career goals, and other personal circumstances. Generally speaking, a master's in data science will likely be financially worth the investment. Many students enroll online to save time and money on their degree, and the jobs you can get with a master's in data science tend to net high salaries compared to other master's degrees.
That being said, many students find STEM degrees to be challenging, and may struggle to learn science and math concepts in an online environment. It also will likely be difficult to balance work and school for those who plan on working during their education.
Students who enjoy the combination of math, science, and business concepts will likely enjoy the career paths available to them after their program and find a master's in data science is worth it. While many of the data science jobs available to graduates after their program will be focused on maximizing profits for businesses, there are also careers available at nonprofits, healthcare companies, and in research for those who don't want to work in business.
Students can maximize their investment in higher education and get the most bang for their buck by choosing more affordable degrees like the ones on this list, fast-tracking their degree through accelerated programs, and finding other ways to save money in college.
Related Articles
2023 Most Affordable Online Master's Programs
Explore the most affordable online master's degree programs in 2023 and choose the one that's right for you.
2023 Most Affordable Online Master's Degrees in Information Technology
Learn about the most affordable online master's degrees in information technology from our listed of accredited online schools.