Best AACSB Accredited Online MBA Programs
Online MBA programs are available in a variety of specialties including finance, accounting, human resources, and executive MBAs designed for professionals with significant experience in the field. It's difficult to say exactly how much an online MBA will increase an individual's earning potential and job prospects, as many factors contribute to a person's salary. Nevertheless, experts say that across the board, earning an MBA increases lifetime earnings, and there are many ways to obtain an MBA, especially online. The following is information about the top online MBA programs, as well as lists of online accelerated MBA programs and online executive MBA programs. This MBA guide also includes information about accreditation, online MBA programs by state, and answers to frequently asked questions about MBA degrees.
2020 Best Online Colleges Offering MBA Programs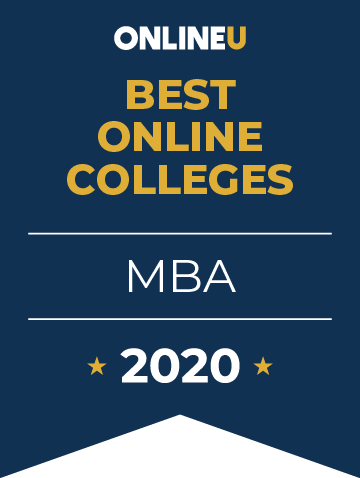 This list contains the 25 best online MBA programs accredited by the AACSB. These schools have impressive GMAT scores. The University of Southern California is ranked #1 with a strong average GMAT score of 708. Its MBA program costs $51,480 per year. Students in the MBA program at #2-ranked University of North Carolina at Chapel Hill had an average GMAT score of 697.
View our methodology for more details or learn more about OnlineU.
Overview of Online MBA Programs with AACSB Accreditation
The standard online MBA takes two years to complete, though there are also accelerated online MBA programs you can finish in under two years. In an accelerated MBA program, you spend the first year completing general business classes and the second taking electives in your area of interest and specialization. For example, you may focus on an area, such as organizational leadership, to ensure you are competitive in the job market after graduation.
The best online MBA programs are accredited by the Association to Advance Collegiate Schools of Business (AACSB) and emphasize communication and the ability to network through group projects, case competitions, and group presentations.
The best online MBA programs are accredited by the Association to Advance Collegiate Schools of Business (AACSB) and emphasize communication and the ability to network through group projects, case competitions, and group presentations. These activities can help you develop interpersonal and writing skills, which can prove beneficial to your career as the ability to write and speak concisely yet comprehensively is highly coveted by prospective employers. Assignments also provide opportunities to develop your leadership abilities and confidence by introducing management techniques that can enhance your analytical and decision-making skills.
View Online MBA Programs by Specialization
MBA Program Curriculum
MBA program curriculum is designed to help you learn general business fundamentals and familiarize you with business's primary functions. This broad core curriculum includes finance, operations, marketing, and accounting classes. You'll also take courses in areas in which you'd like to specialize and hone your skills, such as investment banking, mergers and acquisitions, growth strategies, and strategic brand management. MBA programs that have earned AACSB accreditation have demonstrated that their curriculum meets established quality standards and prepares students for the workforce.
Online MBA Program Format
Online MBA programs offer convenience and affordability while delivering the same high quality of education as those on-campus. Classes are often taught by the same instructors and industry professionals as those instructing students on campus. In addition, online courses are usually asynchronous, meaning you can participate as your schedule allows, and are conducted over a learning management system (LMS), such as Canvas or Blackboard, to ensure security and privacy.
View Online MBA Programs by State
MBA Program Admission Requirements
Applying to college for an MBA program is similar to applying for admission to any graduate degree program and typically includes:
A bachelor's degree
A GPA of 3.0 or higher
Entrance exam scores, including the GMAT or GRE
A completed application and fee of approximately $50
Undergraduate transcripts
A letter or essay of intent
Two or more letters of recommendation
A resume or CV
An interview
Common MBA Program Courses
Common courses across MBA programs support a curriculum that builds strong leadership, effective communication, and comprehensive management skills. While course titles may vary across programs, content is similar to ensure comparable student outcomes no matter where you graduate with your degree.
Lessons are designed to teach group and team behavior theory and processes. This knowledge about the dynamics of teams can help you successfully manage groups and work within various team settings.
This course surveys the role of culture and corporate governance as a way to maximize a business' value. Discussions may include the composition of corporate boards, director roles, shareholder rights, executive compensation, and the difficulties of balancing the demands of managers, shareholders, and other stakeholders.
Instruction intends to provide you with the analytical skills and tools necessary to assess the competitive landscape, build capabilities, and implement business models to create a successful business strategy and sustain competitive advantage.
Negotiations for Managers
Course content aims to give you a competitive edge in negotiations as a manager in a way that reinforces positive work relationships. In addition, opportunities to practice deal-making and conflict resolution can help you understand and apply negotiation theories and concepts.
Sustainable Operations Management
The goal of this course is to familiarize you with the language, concepts, and tools of operations and supply chain management by demonstrating principles and methods of integrating sustainability into an organization. You may analyze real-world models of sustainability for context to observe the relationship between sustainable supply chains and local and global economies in relation to environmental impact and social contribution.
MBA Degree Accreditation
A business school should be institutionally accredited if it has met or surpassed rigorous academic requirements set by a reputable evaluating agency. Additionally, an MBA program may be programmatically accredited, denoting its quality, legitimacy, and trustworthiness. If you enroll in an accredited MBA program, you should receive a quality education that adheres to the highest standards of professional practice.
AACSB Accreditation
The AACSB evaluates business degree programs based on the quality of faculty, curriculum, and academic research innovation it provides to graduate highly qualified business professionals. With approximately 950 accredited members, the AACSB represents the top 5 percent of the world's business degree programs. Companies are aware of AACSB's rigorous accreditation process, and many choose only to hire candidates who have attended a business program accredited by the AACSB.
Companies are aware of AACSB's rigorous accreditation process, and many choose only to hire candidates who have attended a business program accredited by the AACSB.
The Council for Higher Education Accreditation (CHEA) can verify accreditation status, and we've also included a list of AACSB-accredited MBA programs below.
Comprehensive List of AACSB Accredited MBA Programs
School

Annual Tuition

Recommend Rate

Abilene Christian University

$22,356

100% (1

review)

Adelphi University

$43,420

Add Review
American University

$31,113

100% (2

reviews)

American University - MBA

$31,113

Add Review
Anderson University - SC

$10,751

100% (1

review)

Appalachian State University

$21,408

100% (2

reviews)

Arizona State University

$16,820

64% (112

reviews)

Arkansas State University

$11,408

75% (4

reviews)

Auburn University

$31,160

100% (2

reviews)

Auburn University at Montgomery

$17,308

Add Review
Augusta University

$20,712

100% (2

reviews)

Babson College

$89,550

Add Review
Ball State University

$22,616

100% (5

reviews)

Barry University

$17,910

Add Review
Baylor University

$35,514

Add Review
Bentley University

$39,180

Add Review
Boise State University

$26,566

100% (1

review)

Boston University

$55,502

75% (4

reviews)

Bowling Green State University - Main Campus

$15,823

33% (3

reviews)

California State University - Chico

$18,744

Add Review
California State University-San Bernardino

$17,890

0% (1

review)

Canisius College

$15,480

100% (2

reviews)

Carnegie Mellon University

$45,909

100% (1

review)

Central Michigan University

$17,150

50% (4

reviews)

Clarion University

$13,862

75% (4

reviews)
How to Choose an Online MBA Program
While choosing an MBA program, remember to keep your career goals, learning style, and work-life balance in mind to pick the best option.
In general, the following criteria can help you evaluate online MBA programs you are considering:
MBA programs can vary significantly in price. Shop around and make sure that you consider applicable fees, enrollment costs, and tuition.
Course Structure and Delivery
Part-time or full-time? Asynchronous or synchronous online classes? Traditional semesters or accelerated courses? All options are available online, but only you can decide which one suits your lifestyle and learning style.
If it is unavailable on the school's website, ask the admissions office for information about graduate job placement. For example, you can inquire about the percentage of students who were able to find work in their chosen field within three to six months after they graduated.
GMAT and GRE Requirements
Many of the best MBA programs require either the GMAT or GRE, so be sure to prepare for and take the necessary exams for admission to your chosen school.
Institutional and Programmatic Accreditation
It is essential to choose an accredited institution and preferably an MBA program recognized by the premier accrediting agency for business degrees, AACSB.
Other Factors To Consider When Choosing an MBA Program
Other factors you may want to consider when choosing an MBA degree program are the school, program culture, and internship opportunities. You can check student reviews or connect with alums through a platform such as LinkedIn to gain insight into the program culture to determine if it suits your nature — just like the workplace, it needs to be a good fit for you. In addition, a program advisor should be able to tell you where they typically place interns for experiential learning experiences. Learning this information is important because you'll want to make sure those are places where you'd be interested in working, and that align with your goals.
Careers for MBA Graduates
An MBA can increase your marketability and chances of meeting your professional goals and prepare you for management roles. Careers for MBA graduates span numerous industries and organizations — any place where a highly-trained skill set in leadership, strategy, change management, and analytics is in need.
The Bureau of Labor Statistics (BLS) predicts 8% job growth in management occupations through 2031, which is above average for all occupations combined. The median annual salary for management jobs is $102,450 as of 2021, the highest out of all major occupational groups. Top executives with an MBA — including chief executive officers and general and operations managers — earn an annual median salary of$98,980 and expect to experience 6% job growth.
FAQs About Online MBA Programs
Related Articles
Online MBA in Marketing Programs
Find AACSB and ACBSP-accredited online MBA marketing programs. We provide tuition data and student reviews to help you find the best online MBA program for your career goals.
Online MBA in Finance Programs
Find AACSB and ACBSP-accredited online MBA finance programs. We provide tuition data and student reviews to help you find the best online MBA program for your career goals.