Best AACSB Accredited Online MBA Programs
Online MBA programs are available in a variety of specialties including finance, accounting, human resources, and executive MBAs designed for professionals with significant experience in the field. It's difficult to say exactly how much an online MBA will increase an individual's earning potential and job prospects, as many factors contribute to a person's salary. Nevertheless, experts say that across the board, earning an MBA increases lifetime earnings, and there are many ways to obtain an MBA, especially online. The following is information about the top online MBA programs, as well as lists of online accelerated MBA programs and online executive MBA programs. This MBA guide also includes information about accreditation, online MBA programs by state, and answers to frequently asked questions about MBA degrees.
View Online MBA Programs by Specialization
2020 Best Online Colleges Offering MBA Programs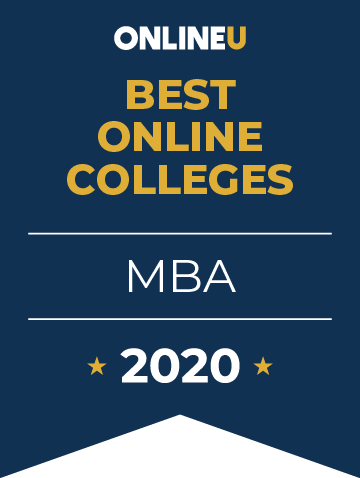 This list contains the 25 best online MBA programs accredited by the AACSB. These schools have impressive GMAT scores. The University of Southern California is ranked #1 with a strong average GMAT score of 708. Its MBA program costs $51,480 per year. Students in the MBA program at #2-ranked University of North Carolina at Chapel Hill had an average GMAT score of 697.
View our methodology for more details or learn more about OnlineU.
AACSB-Accredited Online MBA NO GMAT Requirement
This list of online schools do not require students to submit GMAT scores in order to apply. Instead, students can apply if they meet the program's minimum undergraduate GPA or minimum work experience.
Why are online MBA programs waiving the GMAT requirement?
Many online MBA programs are waiving the requirement for some students to submit their GMAT scores for several reasons. One integral factor is that research has continuously shown how standardized tests do not accurately reflect students' aptitudes and abilities to perform well in the multifaceted MBA environment. Another reason is that many students have years of professional business experience outside of their academic careers. Universities believe that this hands-on knowledge is a better indicator of these students' competencies than the GMAT and are reconfiguring their application requirements to reflect this. Finally, many schools are now offering online MBA programs, which are specifically designed for working students and therefore these universities would rather focus on students with current professional experience.
Who is qualified for a GMAT waiver?
Potential applicants who are considering whether or not to apply without a GMAT score should carefully check each school's requirements because many differ on what they stipulate. For instance, Boise State University will waive the GMAT in cases where students have already graduated from a master's or doctoral program or if they have a cumulative 3.0 GPA from a bachelor's program and extensive experience in business management. Auburn's MBA program, on the other hand, will only waive the GMAT for students who have previously received a J.D. or a Ph.D. Syracuse University has more explicit requirements regarding their GMAT waivers. Syracuse will waive the GMAT if applicants have 5+ years military experience or 5+ years of professional corporate experience.
Overview of Online MBA Degrees
The standard online MBA takes two years to complete. Students spend the first year completing general business classes and the second year taking electives in their interest area. Examples of general courses may include organizational behavior, principles of accounting, management information systems, principles of finance, or strategic management. Top MBA programs emphasize communication and the ability to network, so students will participate in group projects, case competitions, and group presentations in order to gain interpersonal skills and writing skills. The ability to write and speak concisely yet comprehensively is a highly coveted skill. Students also learn how to develop their leadership abilities through techniques that enhance their analytical and decision-making skills.
In addition to the standard two year MBA, there are 145 schools offering accelerated online MBA programs that can be completed in under two years. Impressively, West Chester University of Pennsylvania offers an online MBA that full-time students can complete in as little as nine months. Those interested in a specialized program will be pleased with Tennessee Tech University, which offers 6 different MBA degree concentrations.
In addition to acquiring general business skills, students in MBA programs typically focus on one particular aspect of business. This is an important part of the MBA, since many students already have an idea of their strengths and interests before applying to graduate school. Instead of trying to master all forms of business administration, MBA programs have found it beneficial for students to specialize in one form of business, such as organizational leadership, in order to ensure their graduates are competitive in the job market after graduation.
Pursuing an MBA is an important career and life decision, so it's important to take the time to adequately prepare before you begin a program. Be sure to get a financial plan together, and consider your funding options such as scholarships, loans, and savings. Identify your long-term goals, and choose a school that best coincides with your goals, aspirations, and interests. Many of the best MBA programs require either the GMAT or GRE, so be sure to prepare for and take the exams that are necessary for admission to your chosen school.
What is MBA Accreditation?
An accredited business school has met or surpassed rigorous academic requirements set by a reputable evaluating agency. The designation—which is earned after a thorough, independent review of the business school, its programs, courses, faculty, and services—serves as an acknowledgment of quality and credibility. Accreditation adds value to the business school, its MBA program, and its other graduate and undergraduate programs. Accredited online MBA programs are offered by business schools that have undergone this stringent independent assessment to earn the designation, which must be renewed regularly by the accrediting agency. Business students enrolled in accredited MBA programs receive a quality education that adheres to the highest standards of professional practice.
Most colleges and universities are accredited by one of six regional accrediting bodies recognized by the U.S. Department of Education. This form of accreditation is based on where the institution of higher learning is located in the U.S.—the northeast, middle states, southeast, north-central, northwest, or west. Because business schools are typically part of a larger college or university system, they automatically benefit from this method of accreditation. Additionally, business schools typically seek programmatic accreditation, a professional accreditation designed for specialized departments, programs, schools, or colleges within an accredited college or university, to denote its quality, legitimacy, and trustworthiness.
A business school initiates the programmatic accreditation process by reaching out to the evaluating agency, filing an eligibility application, and paying the agency to conduct an independent review of the MBA program. This review includes an evaluation of the program's curriculum and coursework, its faculty qualifications, and peer and committee reviews.
The Association to Advance Collegiate Schools of Business (AACSB), the Accreditation Council for Business Schools and Programs (ACBSP), and the International Accreditation Council for Business Education (IACBE) are the three accrediting agencies for college and university business programs in the U.S.
Founded in 1916 and widely regarded as the premier accrediting agency for bachelor's and graduate degree programs in business administration, the AACSB confers its accreditation to business schools that emphasize business management research. AACSB-accredited business schools follow a teaching-and-training framework that examines the political, legal, regulatory, social, and technological aspects of global organizations as well as theories in finance, organizational management, and evidence-based decision-making. ACBSP-accredited schools emphasize knowledge and training in finance, accounting, marketing, and management. They also look at the economic, legal, ethical, and global dimensions of business strategy. IACBE-accredited schools place a greater emphasis on student outcomes and how business knowledge is applied in the workplace.
AACSB Accreditation
The Association to Advance Collegiate Schools of Business, or AACSB, is the premier accrediting organization for business degrees at the bachelor's, master's and doctorate level. With approximately 820 accredited members (as of 2018), representing the top 5 percent of the world's business degree programs, attending an AACSB-accredited program ensures that students receive a business education of the highest caliber. AACSB evaluates business degree programs based on the quality of the faculty, the depth and breadth of the curriculum, the level of innovation involved in its academic research, and its ability to graduate highly qualified business professionals. AACSB has the most stringent requirements for both learning environments and learning outcomes. Companies are aware of AACSB's rigorous accreditation process, and many choose to only hire candidates who have attended a business program that has been accredited by the AACSB.
Choosing a Reputable Online MBA Program
The MBA is an excellent degree for professionals to have, whether you're an engineer moving into a supervisory role or an entrepreneurially-minded college grad looking to start your own business. While researching the top MBA programs, remember to keep your career goals, learning style, and work-life balance in mind, in order to pick the best option for you.
In general, the following criteria can help you evaluate online MBA programs you are considering:
Costs and Financial Aid: MBA programs can vary greatly in price. Shop around and make sure that you consider applicable fees and enrollment costs, as well as tuition.
Course Structure and Delivery: Part time or full time? Asynchronous or synchronous online classes? Traditional semesters or accelerated classes? All options are available online, but only you can decide which one suits your life and learning style.
Graduate Placement: If it is not available on the school's website, ask the admissions office for information about graduate job placement. Inquire about the percentage of students who were able to find work in their chosen field within three to six months after they graduated.
Institutional and Programmatic Accreditation: It is important to choose an accredited MBA. To get accredited, a school or program is evaluated by an impartial accrediting organization. Schools that achieve accreditation have met important quality standards. Institutional accreditation applies to an entire college, while programmatic accreditation applies to individual programs. Anyone considering an MBA degree should focus on schools programatically accredited by the AACSB, which is the premier accrediting agency for business degrees.
Comprehensive List of AACSB Accredited MBA Programs
School

Annual Tuition

Recommend Rate

Abilene Christian University

$22,356

100% (1

review)

Adelphi University

$43,420

Add Review
American University

$31,113

100% (2

reviews)

American University - MBA

$31,113

Add Review
Anderson University - SC

$10,751

100% (1

review)

Appalachian State University

$21,408

100% (2

reviews)

Arizona State University

$16,820

65% (110

reviews)

Arkansas State University

$11,408

75% (4

reviews)

Auburn University

$31,160

100% (2

reviews)

Auburn University at Montgomery

$17,308

Add Review
Augusta University

$20,712

100% (2

reviews)

Babson College

$89,550

Add Review
Ball State University

$22,616

100% (5

reviews)

Barry University

$17,910

Add Review
Baylor University

$35,514

Add Review
Bentley University

$39,180

Add Review
Boise State University

$26,566

100% (1

review)

Boston University

$55,502

75% (4

reviews)

Bowling Green State University-Main Campus

$15,823

33% (3

reviews)

California State University-Chico

$18,744

Add Review
California State University-San Bernardino

$17,890

0% (1

review)

Canisius College

$15,480

100% (2

reviews)

Carnegie Mellon University

$45,909

100% (1

review)

Central Michigan University

$17,150

50% (4

reviews)

Clarion University

$13,862

75% (4

reviews)
MBA Programs by State
Frequently Asked Questions About MBA Degrees
How much will I earn with an MBA?
Do I have to take the GMAT to apply for an MBA program?
Many schools and universities offering MBA programs, especially online MBA degree programs, have decided to waive the GMAT requirement for some applicants. They recognize that this standardized test is not always a good indicator of a student's ability to succeed in an MBA program. Instead, they believe that prior work experience may be a more appropriate prerequisite that better reflects a candidate's skills and abilities. However, every program has its own unique set of requirements, so students should check with the schools they're interested in to determine whether they'll need to take the GMAT before submitting an application.
This website offers school details to prospective students as an informational resource. The appearance of a school listing on this website should not be interpreted as an endorsement of the school by this site.
Related Articles
Online MBA in Human Resources Programs
Find AACSB and ACBSP-accredited online human resources MBA programs. We provide tuition data and student reviews to help you find the best online MBA program for your career goals.
Accredited Accelerated Online MBA Programs
Find accelerated online MBA programs accredited by AACSB and ACBSP. Program lengths range from one year to 22 months.