List of Accredited Online Degree Programs
For decades, the number of people earning college degrees has been steadily increasing. College graduates typically enjoy many benefits, including higher wages, lower unemployment, and access to better jobs. One notable development in higher education over the past 20 years has been the rise of online learning. Today, prospective college students have more options than ever to earn online associate, bachelor's, master's, and doctoral degrees, along with certificates, in a wide array of fields.
Online degrees are available in 137 popular subjects, with 37,068 unique programs offered at online schools. Notably, every school on our website is accredited by an organization recognized by the Department of Education. On this page, we provide a list of the number of online colleges offering degrees in every subject as well as any program-specific accreditation students should pay attention to and average salary statistics.
In this comprehensive online degrees guide, we also dive into various degree levels and programs, how to complete your degree quickly, and the most important things to know about accreditation. We also provide information about the cost of an online degree and career options for online college graduates.
a
Online Schools
Programs
Annual Salary
Accreditation
Accounting

288

865

$112,431

AACSB

ACBSP

Aerospace Engineering

32

103

$119,876

ABET

Agriculture

47

233

Not reported

Institutional

Anthropology

22

50

$80,856

Institutional

Architecture

11

19

$65,166

NAAB

Art & Design

64

163

$69,322

NASAD

Art History

10

21

Not reported

Institutional

Aviation

29

80

$99,153

AABI

b
Online Schools
Programs
Annual Salary
Accreditation
Biology

78

187

$106,693

Institutional

Business

537

5,549

$99,619

AACSB

ACBSP

IACBE

c
Online Schools
Programs
Annual Salary
Accreditation
CAD/Computer Aided Drafting

4

5

$94,602

Institutional

Chemical Engineering

19

44

$129,352

ABET

Child Development

100

214

$82,942

APA

Christian Counseling

27

81

$52,630

ACPE

Civil Engineering

52

211

$110,225

ABET

Communications

262

1,025

$90,698

ACEJMC

Computer Engineering

56

181

$113,296

ABET

Computer Science

187

708

$110,849

ABET

Conflict Resolution

44

88

$86,646

Institutional

Construction Management

54

99

$96,238

ACCE

ATMAE

Counseling

216

765

$79,403

AAMFT

CACREP

Counseling Psychology

68

124

Not reported

Institutional

Creative Writing

42

93

Not reported

Institutional

Criminal Justice

289

1,101

$77,350

Institutional

Criminology

76

140

Not reported

Institutional

Cybersecurity

222

714

$77,369

Institutional

d
Online Schools
Programs
Annual Salary
Accreditation
Data Science

158

400

Not reported

Institutional

Dental Assistant

4

4

$84,666

CODA

Dental Hygiene

23

40

Not reported

Institutional

DNP

137

467

Not reported

Institutional

e
Online Schools
Programs
Annual Salary
Accreditation
Early Childhood Education

193

551

$59,381

CAEP

MACTE

NAEYC

NCATE

Economics

87

184

$128,967

AACSB

Education

519

7,894

$66,247

CAEP

CEA

MACTE

NCATE

Educational Leadership

340

1,553

$69,181

NCATE

Electrical Engineering

70

278

$128,208

ABET

Elementary Education

179

504

$55,838

CAEP

MACTE

NCATE

TEAC

Emergency Management

118

348

Not reported

Institutional

Engineering

262

2,334

$119,022

ABET

Engineering Management

94

244

Not reported

Institutional

English

170

396

$85,136

Institutional

Environmental Science

155

661

$97,964

Institutional

ESL

169

342

$59,875

CEA

Exercise Science

50

134

Not reported

Institutional

f
Online Schools
Programs
Annual Salary
Accreditation
Fashion

14

41

$80,491

Institutional

Finance

278

700

$126,596

AACSB

Fire Science

27

72

$77,369

FESHE

Forensic Accounting

35

52

Not reported

Institutional

Forensic Psychology

25

85

$61,166

APA

Forensic Science

71

208

$77,369

AAFS

g
Online Schools
Programs
Annual Salary
Accreditation
Geographic Information Systems

70

179

$85,942

Institutional

Graphic Design

37

56

$67,240

NASAD

Gunsmithing

2

2

$60,744

Institutional

h
Online Schools
Programs
Annual Salary
Accreditation
Health Education

142

254

Not reported

Institutional

Healthcare Administration

326

1,024

$86,240

CAHME

Healthcare Informatics

170

429

$74,931

CAHIIM

CAHME

Healthcare Management

300

858

Not reported

CAHME

History

110

270

$95,526

Institutional

Holistic Medicine

10

17

$82,343

ACAOM

CNME

Homeland Security

121

481

$77,369

Institutional

Hospitality Management

88

207

$91,358

ACPHA

Human Resources

244

689

$91,774

AACSB

ACBSP

Human Services

218

838

$67,692

Institutional

HVAC

5

7

$84,066

Institutional

i
Online Schools
Programs
Annual Salary
Accreditation
Industrial Engineering

51

137

$112,807

ABET

Information Technology

282

1,472

Not reported

ABET

Interior Design

13

21

$66,682

CIDA

NASAD

j
Online Schools
Programs
Annual Salary
Accreditation
Journalism

88

185

Not reported

ACEJMC

l
Online Schools
Programs
Annual Salary
Accreditation
Landscape Design

2

2

Not reported

LAAB

Law

104

377

$89,971

ABA

ABA

Law Enforcement

82

153

$77,369

Institutional

Legal Nurse Consulting

2

2

Not reported

ABHES

Liberal Studies

365

1,467

$86,591

Institutional

Library Science

83

265

Not reported

ALA

m
Online Schools
Programs
Annual Salary
Accreditation
Management

548

5,484

$94,995

AACSB

Marketing

325

857

$92,411

AACSB

Marriage & Family Therapy

42

155

$74,137

AAMFT

COAMFTE

Mathematics

134

295

$113,354

Institutional

MBA

413

2,417

Not reported

AACSB

ACBSP

IACBE

Mechanical Engineering

48

150

$122,137

ABET

Medical Assistant

14

21

$84,666

ABHES

Medical Billing & Coding

30

55

$89,943

ABHES

Medical Office Administration

22

37

$89,943

ABHES

MFA

13

30

Not reported

Institutional

MPA

99

284

Not reported

Institutional

MSW

77

197

Not reported

CSWE

Music

71

155

$66,798

NASM

NASM

n
Online Schools
Programs
Annual Salary
Accreditation
Network Administration

51

80

$75,586

ABET

Nurse Practitioner (NP)

157

725

Not reported

ACEN

ACEN

CCNE

NPWH

Nursing

390

2,787

$90,592

AANA

ACEN

ACEN

ACME

CCNE

Nutrition

97

205

$73,147

ACEND

o
Online Schools
Programs
Annual Salary
Accreditation
Occupational Safety

31

78

Not reported

ABET

Occupational Therapy

28

43

Not reported

Institutional

Organizational Leadership

407

1,870

$96,261

AACSB

p
Online Schools
Programs
Annual Salary
Accreditation
Paralegal

39

98

$77,557

Institutional

Personal Training

5

11

Not reported

Institutional

Pharmacy

42

114

$110,792

ACPE

Pharmacy Technician

11

15

$74,931

ACPE

ASHP

Philosophy

33

42

$84,036

Institutional

Phlebotomy

1

1

$91,591

NAACLS

Photography

5

8

$68,086

Institutional

Physical Education

63

125

$71,709

NCATE

Physical Therapy

24

31

$78,795

APTA

Physician Assistant

3

5

$91,591

ARC-PA

Physics

26

64

$114,871

CAMPEP

Political Science

87

216

$106,103

Institutional

Project Management

168

459

$96,115

AACSB

PMI-GAC

Psychology

300

1,148

$83,099

APA

Public Administration

269

1,212

$70,172

NASPAA

Public Health

182

657

$79,403

CEPH

Public Relations

82

128

Not reported

Institutional

r
Online Schools
Programs
Annual Salary
Accreditation
Radiology

32

73

Not reported

JRCERT

JRCNMT

Real Estate

28

51

$96,145

Institutional

Religious Studies

121

1,145

$73,387

ACPE

Respiratory Therapy

26

43

$89,299

CoARC

RN to BSN

274

297

Not reported

ACEN

RN to MSN

52

114

Not reported

Institutional

s
Online Schools
Programs
Annual Salary
Accreditation
School Counseling

73

121

$49,684

CACREP

Secondary Education

146

519

$63,327

CAEP

NCATE

TEAC

Social Work

133

353

$65,795

CSWE

Sociology

97

195

$65,166

Institutional

Software Engineering

78

176

$111,462

ABET

Sonography

6

9

Not reported

Institutional

Spanish

39

64

Not reported

Institutional

Special Education

281

1,211

$62,128

CAA

CAEP

Speech Pathology

21

24

Not reported

CAA

Sports Management

164

396

$69,257

Institutional

Statistics

35

77

Not reported

Institutional

Substance Abuse Counseling

69

130

$74,137

CACREP

Supply Chain Management

151

327

Not reported

Institutional

Systems Engineering

68

232

$113,932

ABET

t
Online Schools
Programs
Annual Salary
Accreditation
Teaching

359

2,013

$66,225

CAEP

MACTE

NCATE

TEAC

Theology

51

198

Not reported

CAATS

v
Online Schools
Programs
Annual Salary
Accreditation
Veterinary Technician

5

8

$74,931

AVMA COE

Video Game Design

25

44

Not reported

Institutional

Vocational

30

88

$91,833

PABCTE

w
Online Schools
Programs
Annual Salary
Accreditation
Web Design

46

72

$85,460

Institutional

Web Development

63

118

$75,586

Institutional
Overview of Online College Degrees
Online education, also referred to as virtual learning, is the process of taking educational courses remotely. As of 2018, 14% of undergraduate college students and 30.7% of graduate students were earning their degrees exclusively online. Many students are attracted to online education because of its convenience and self-directed nature, and in some cases, because of its lower cost when all factors are taken into consideration.
Is It Possible to Get a Degree Entirely Online?
Although many students are aware they can take select classes online, some wonder if they can earn their entire degree online. The answer is yes. Hundreds of highly regarded colleges and universities offer 100% online degree programs that enable students to take every class online. Programs are available from traditional schools, research institutions, and specialty schools, such as religious colleges. The curriculum and coursework for these degrees are comparable to those of on-campus degrees, and the courses are often taught by the same instructors. If you think you might prefer virtual learning, you might consider earning one of the most popular online bachelor's degrees, such as business, nursing, health science, history, psychology, biology, and communications.
Hundreds of highly regarded colleges and universities offer 100% online degree programs that enable students to take every class online.
There are a few majors—such as nursing and social work—that require students to engage in experiential learning activities under the supervision of a professional. In these instances, online students are usually able to complete this requirement at an approved facility near their home.
In rare instances, a school may require online students to come to campus for brief periods of two to 10 days for orientation or other types of in-person learning events. This requirement is usually stated on the program pages of school websites.
Fully Online Bachelor's Programs
There are numerous 100% online bachelor's degree programs to choose from at a wide range of prices. A 2020 report on online education revealed that, of online bachelor's programs, 57% are fully online, rather than hybrid.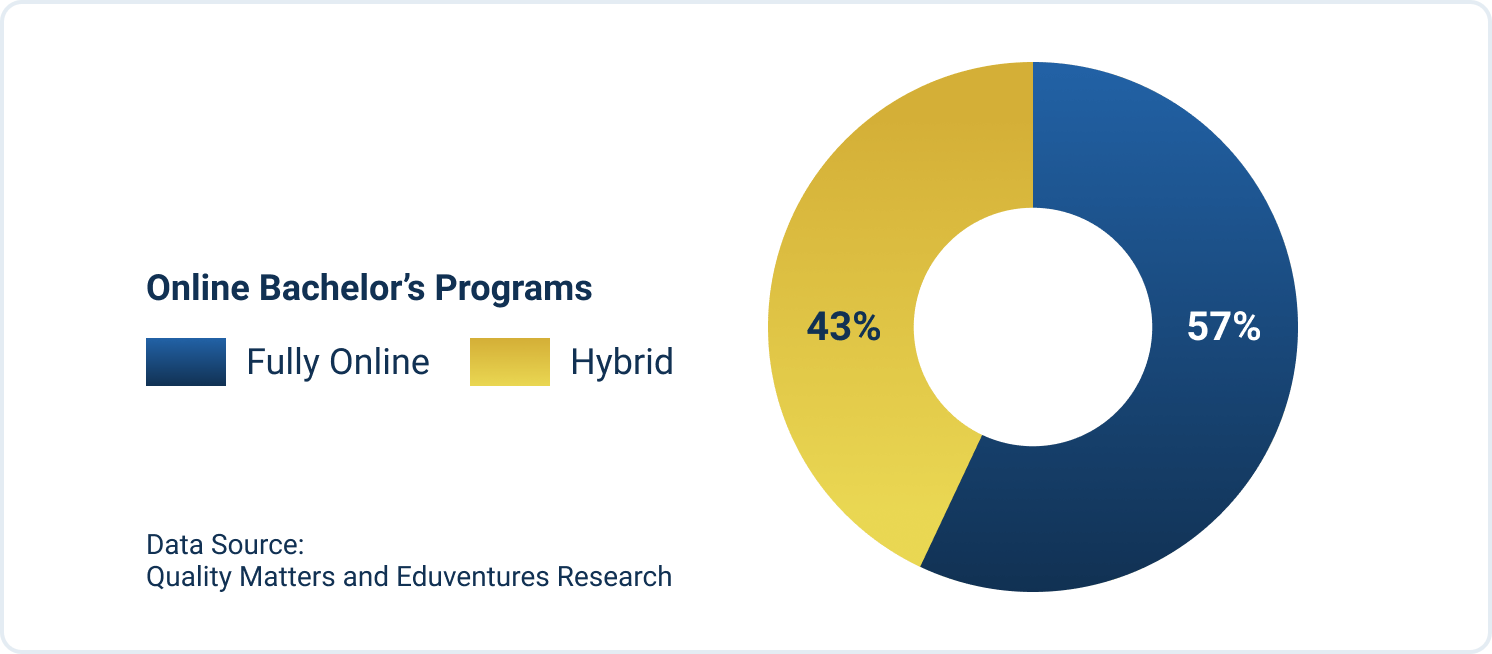 Just like earning an on-campus degree, the first couple of years of your online program will provide you with a broad education in a number of essential subjects, such as math, social sciences, language arts, and natural sciences. You'll also take several introductory courses in your major. During the last couple of years of your four-year degree program, you'll take upper-level courses and electives related to your major and possibly a minor, if you wish. Throughout it all, you'll have ample opportunities to interact with your instructors and network with peers via the school's online learning system.
Fully Online Master's Programs
With relatively few exceptions—such as music performance, anthropology, or studio fine art—there is an online master's degree program for nearly any subject you might want to study. According to The Changing Landscape of Online Education, 2020 report, close to 75% of online master's degree programs are fully online, rather than hybrid. In addition, many colleges are planning to add between three and six new online master's programs each year. The same report notes that about 40% of students enrolled in master's programs are earning their degrees entirely online.The self-paced classes and flexible schedules of online programs appeal to many master's students, who are often working adults with full-time jobs and other commitments.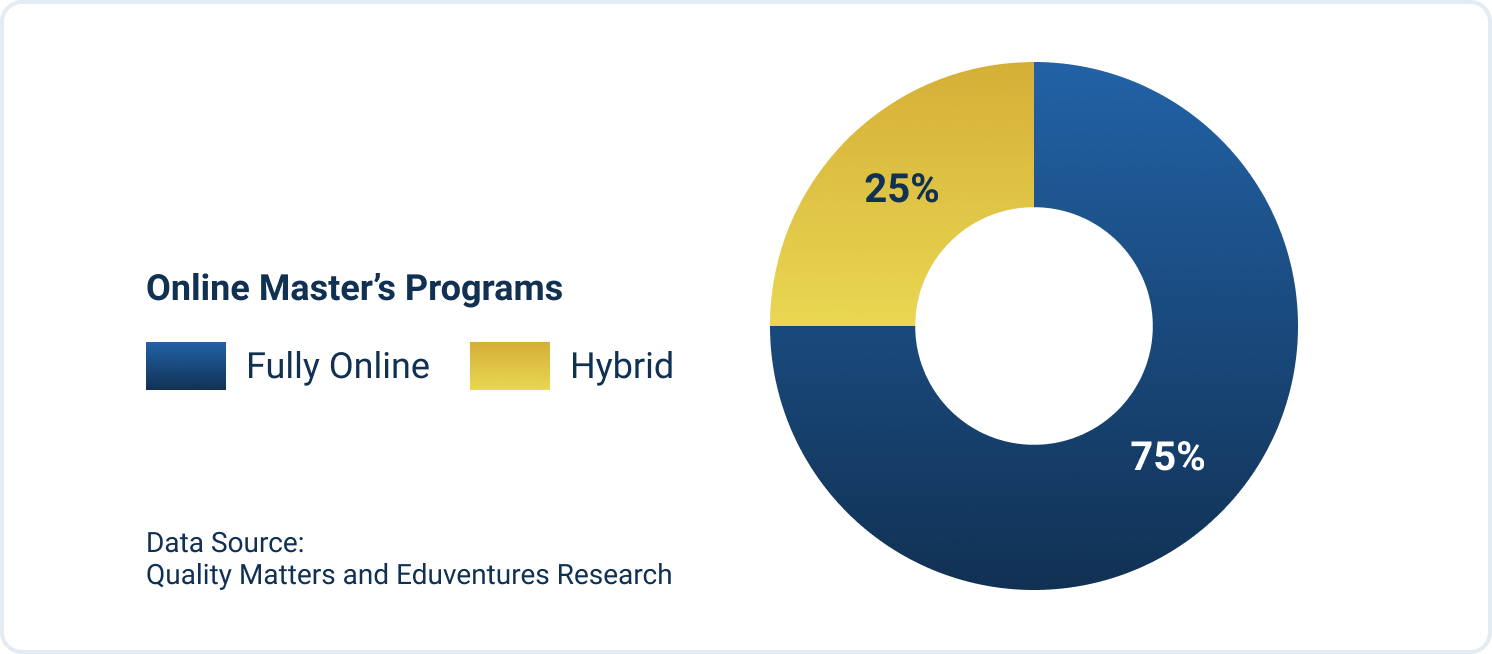 There are various types of schools where you can pursue an online or in-person degree, including:
At these two-year colleges, students can earn associate degrees or certificates or complete many general education requirements before transferring to a four-year university. Community colleges are generally operated by the local or state government, and they typically accept all students and charge low tuition fees.
Unique to the virtual learning landscape, there are some online schools that enable students to earn bachelor's degrees in as little as two years through accelerated programs.
Public colleges and universities vary dramatically in size and scope. They typically offer bachelor's degrees in a wide range of subjects, as well as master's degrees and doctorates. Because public schools get funding from the states that operate them, they are generally able to charge lower tuition rates.
Similar to their state-run counterparts, private colleges and universities offer degree programs at all levels: bachelor's, master's, and doctorates. These schools are funded by student tuition, alumni gifts, and endowments, and may be more expensive to attend than many public colleges. Private colleges can be further categorized:
Non-Profit: As non-profit organizations, non-profit private schools are required to reinvest any profits back into the school. Funds are often used to enhance facilities, hire additional instructors and staff, and expand the number of programs offered by the school.
For-Profit: For-profit private colleges operate like any other for-profit businesses, with profits going back to investors. There are many types of for-profit universities, career colleges, and technical schools, and many of them exclusively offer online programs.
What is the Easiest Degree to Get Online?
What is easy for one student may be challenging for another and vice versa, which is why no one particular degree can be considered easier than others. However, for many students, earning a degree online can be easier than taking the traditional route due to flexible schedules, self-paced learning, and the availability of online student resources, such as tutoring and academic advising. Virtual learners may also find it easier to identify the best program to fit their needs because there are so many online programs to choose from without having to leave home.
What is a Good Degree to Get Online?
There are many good degrees to get online, and they are available at all levels, from associate to doctoral degrees. When choosing one, you might want to factor in your personal learning style and strengths. Online courses are often asynchronous, which means you'll most likely do a great deal of reading and writing and have somewhat less direct contact with your instructor. If, for example, you're the type of student who needs interactive explanation and demonstration to understand a certain topic—such as mathematical calculations—you may find it challenging to earn an online degree in a math-heavy subject like finance or accounting. On the other hand, you might excel at online research and writing, in which case you might do well in an online degree program for human resources or communications. If technology is already a strength, you might be well suited to earn an online degree in data science or information technology.
Online Degree Level Overviews
With thousands of possibilities at five different degree levels to choose from — associate, bachelor's, master's, and doctorate, plus certificates — selecting an online degree can seem overwhelming at first. There are various factors students consider when choosing an online program. These factors relate to career goals, finances, coursework, and transfer credits. This page is designed to help prospective students explore their many options and make the right choice in their online program.
Popular Areas of Online Study
There are many areas of study that an online student might focus on, and deciding which subject to study in college can be a challenge. Students may select a major based on future career goals, interest or skill, or expected salary in a given field. Some of the most popular online degree programs among students include business, criminal justice, art and design, education, liberal studies, engineering, healthcare, computer science, English, information technology, and public health. Read on for more information about these areas of study.
Choosing and Applying to an Online Program
Once you've determined the subject and degree you would like to pursue, you'll need to decide which online program to enroll in. There are several important factors to consider when selecting the specific program that will best meet your needs, such as the reputation of the school for teaching that subject, any options for adding a concentration or area of emphasis, and the degree to which you can customize your program through the choice of electives. Another important factor is your return on investment, meaning the cost of the program as compared to your increased earning potential over the course of your career. On OnlineU.com, we rank schools by ROI, making it easier for you to use this factor as one of your decision criteria.
As you conduct your school search, you might also want to investigate the school's virtual learning environment before making your final choice. Some useful questions to ask are:
Are the courses entirely asynchronous, allowing you to complete work on your own time, or are elements of the courses synchronous, requiring you to be online with the instructor at specific days and times?
Does the school require you to come to campus for any live learning events, and will you have the time and resources to attend these sessions?
Will you be able to meet the expected demands of the courses in addition to your other time commitments?
Will you have access to financial aid and student support services if enrolled online?
Once you've settled on one or more programs, you're ready to apply. Prospective students use the same process to apply for online programs as they do for traditional programs, and they must meet the same admissions standards. To submit an application for an online degree program, start by visiting the school's website. You may be directed to submit an online application directly to the school, or you may be asked to submit your application through one of the communal college application portals, such as the Common App.
If you are applying to an associate or bachelor's degree program, you will probably also be asked for:
Transcripts from your high school or GED program
One to three letters of recommendation
A personal essay or statement
Some schools may also request test scores from college entrance exams, such as the SAT or ACT. If you are a transfer student continuing with a bachelor's program or applying to an online master's or doctoral program, you will most likely be asked for additional materials, such as transcripts of your previous college coursework and a resume or curriculum vitae.
Online College Accreditation
One of the most important factors in choosing an online degree program is ensuring it has been accredited by an approved, independent agency. Accreditation means that the college or university has undergone a thorough evaluation. In this process, coursework, faculty, and student resources have been determined to meet high standards for quality and value. All of the schools listed on our website have been accredited. Visit our accreditation page to learn more about specific types of accreditation and how they impact transfer credits and financial assistance. These are important considerations for online students when choosing a specific higher education program or school.
Frequently Asked Questions About Accreditation
Are Online Degrees Legitimate?
The vast majority of online degrees are legitimate, coming from accredited colleges and universities. Accreditation is the most important indicator that a school—its programs, staff, facilities, and services—have been thoroughly reviewed and found to meet accepted standards of quality and academic rigor set by the U.S. Department of Education. The best online college degrees will be regionally accredited, but there are also many reputable online programs available from nationally accredited schools.
What all students should avoid is enrolling in a "diploma mill," meaning a business that is awarding degrees that are not legitimate and have no value. Some diploma mills openly sell fictitious degrees, while others try to disguise themselves as legitimate educational institutions. When conducting a school search for online accredited programs, examine each school's website carefully. Some warning signs to look for are:
Promises of quick and easy degrees, achievable in only a few weeks or months
The absence of any information on accreditation, or claims to be accredited by an agency that is not approved by the U.S. Department of Education
Flat fees instead of fee schedules for tuition costs and other related expenses
Limited information on the programs, curricula, or faculty
A lack of financial aid information
Are Online Master's Degrees Legitimate?
Yes, in today's educational landscape, many reputable colleges and universities are offering legitimate degrees through online-only master's programs. As long as your master's degree is from an accredited school, it has the potential to carry the same level of respect as a traditionally earned degree. An online master's degree from an accredited institution shows that you have studied the same curricula, completed the same graduate-level coursework, and demonstrated your mastery of the course materials and skills through assessments and examinations.
Which Online Schools Are Nationally Accredited?
Historically, there have been two types of accreditation: regional and national. While many schools are regionally accredited, some—often technical colleges, trade schools, and for-profit online universities—are nationally accredited.
Which Accreditation is Best for Online Degree Programs?
Regional accreditation is generally considered to be the more prestigious, indicating the highest academic standards. It is generally best to choose a school with regional accreditation if you are seeking an online degree in an academic subject, intend to apply for financial aid, plan to enter a field that requires licensure or a credential, or think you may want to pursue a higher level degree in the future. On the other hand, if your goals involve attending an online career school or trade school, you may want to consider both regionally and nationally accredited schools.
How Do I Get My Online Classes Accredited?
Students do not have to take any steps to get their online classes or online degrees accredited. If the school you attend is accredited, your classes and your degree will automatically be accredited.
FAQs About Length of Online Degree Programs
What is the Fastest Online Bachelor's Degree?
If you're hoping to earn a bachelor's degree quickly and you have not yet accumulated any college credits, your best option is to choose a 100% online accelerated degree program at an accredited online college. Accelerated programs usually feature up to 12 short (four-, six-, or eight-week) terms scheduled consecutively year-round, which allows you to complete all of your graduation requirements in about two years. You'll find that there are accelerated programs available in many fields, including business, marketing, and health, so you can choose among many subjects to study.
Are There Any One Year Degrees?
Depending on your history, you may be able to earn a bachelor's degree in one year. There are several schools that offer accelerated, one-year degree programs online, but you will need to have some prior college, work, or military experience, and you may need to score well on placement exams to "test out" of some courses. Using this same approach, there are also online master's, associate, and certificate programs that can be completed in one year.
What Degree Can You Get in Six Months?
There are a number of master's, associate, and certificate programs that can be completed in six months through accelerated online programs. However, unless you have completed a fair amount of coursework already and/or have significant military service or work experience, you're unlikely to be able to get a bachelor's degree in six months. Even with transfer credits and "earned" credits for life experience, it will probably take at least one year to complete your bachelor's degree online.
Can You Get a Four-Year Degree Online?
Yes, you can easily get a four-year degree online. Many colleges and universities offer bachelor's degree programs through distance education in a wide range of subjects, including sociology, project management, early childhood education, and more. The degrees are the equal of traditional, on-campus degrees, and they typically do not state that they were earned online.
Cost of Online Degrees
At each college degree level—associate, bachelor's, master's, and doctoral—there are programs available at a wide range of prices. The most expensive component of any online college degree is tuition. One way to compare tuition across schools is to multiply each school's per-credit tuition rate by the number of credits you'll need to earn to graduate. When checking school websites for these data points, be sure to locate the correct tuition rate for the level of degree you're pursuing. Some schools charge different rates for on-campus and online students or different rates for in-state and out-of-state residents. Notably, however, many online schools charge out-of-state students the same rate as in-state students, which can cut down the cost when compared to on-campus programs.
However, all prospective students need to factor in a number of other expenses when calculating the potential cost of an online degree. Some items to consider include books and supplies, annual and one-time-only fees charged by the school, interest on student loans, childcare costs, and transportation costs related to on-site learning activities.
How Much Does a Four-Year Online Degree Cost?
The cost of an online four-year degree can vary dramatically, mainly due to the wide range of tuition rates among the schools offering bachelor's degrees. Of the best online bachelor's degrees with the highest return on investment, annual tuition rates range from $6,450 to $47,740. Multiplied out by four years, total tuition costs range from $25,800 to $190,960.
Are There Free Online Colleges?
Although there are a few online school programs that tout tuition-free degrees, these programs are not really free, as they charge enrollment and testing fees that, when added up, can be comparable to the tuition at some online schools. However, many states, community colleges, and four-year universities offer "last-dollar" scholarships for students whose federal and state aid don't cover the full cost of tuition.
Financial Aid Considerations and Resources for Online Students
At most schools, online students are eligible for financial aid packages, just like their on-campus counterparts. The most desirable forms of financial aid are grants, scholarships, fellowships, and work-study programs, generally provided by the federal or state government or by the schools themselves. Aid from these sources does not have to be paid back. Some students may also be eligible for other types of financial assistance. For instance, active duty military and veterans, along with their dependents, are often entitled to tuition discounts. Some schools also have partnerships with organizations, and members or employees of these organizations may gain access to tuition assistance. Federal and private loans are another useful option, although students will need to pay back the loans with interest. For the vast majority of financial aid programs, the application process begins by filling out the FAFSA form.
At most schools, online students are eligible for financial aid packages, just like their on-campus counterparts.
Perhaps the one circumstance in which online students will face a different financial situation than traditional students is at the doctoral level. Many on-campus Ph.D. candidates secure "fully funded" degrees. Essentially, they receive a tuition free education and possibly even a stipend in exchange for teaching and contributing to research projects at the university's research facilities. Because these fully funded programs require the recipients to be on campus to perform the work, online Ph.D. candidates are generally not eligible for these programs.
We've put together a Guide to Financial Aid for Online Students, where you can find detailed information on the various types of aid available, the application process, tax implications, and additional resources.
Jobs You Can Get With an Online Degree
Today, there are relatively few subjects that aren't covered in online school programs—these include graduate-level study in law or medicine—so you can prepare for most occupations through online college programs. People who have earned their degrees online are often equally eligible for jobs requiring a college education as those who've attended college in person.
The BLS has identified quite a few occupations that are expected to grow substantially over the next decade, and many of these require degrees that can be obtained online. For example, some high-growth occupations that require a bachelor's degree include health services manager, information security analyst, mental health counselor, data scientist, and operations research analyst. Some in-demand occupations also require a master's degree, such as statistician, nurse practitioner, physician assistant, and speech language pathologist.
The BLS has identified quite a few occupations that are expected to grow substantially over the next decade, and many of these require degrees that can be obtained online.
What Careers Can You Get With a Two Year Degree?
Most occupations that require only a two-year degree fall into the fields of computer technology, engineering, office support, education, health care, transportation, and law. Some specific occupations you can prepare for with an online associate degree or certificate program include computer support specialist, electrical engineering technician, bookkeeping clerk, and medical assistant, among others.
Degrees That Lead to High Paying Careers for Online Graduates
High paying occupations can be found in many different fields with varying educational requirements, creating numerous opportunities for prospective college students to choose career paths that will be both rewarding and lucrative. The following is just a sampling of online degree programs to consider, with salary data provided by the Bureau of Labor Statistics and Payscale.
Degree
Possible Occupations
Median Annual Salary

Associate of Applied Science in Computer Science

Computer support specialist

$55,510

Government agency administrators

$98,890

Political campaign fundraiser

$118,430

Computer hardware engineer

$119,560

Software developer

$110,140

Computer network architect

$116,780

Educational administrator

$97,500

Chief executive officer

$197,840

Chief nurse executive

$125,000
Is Getting an Online Degree Worth It?
Getting an online degree can definitely be worth it, depending on your circumstances. Having the ability to attend classes on your own schedule is ideal if you work full time, have a family, or have other constraints that make it challenging to attend traditional classes. Online programs also give you more options for enrolling in the best program for your needs without having to move to a different location.
Having the ability to attend classes on your own schedule is ideal if you work full time, have a family, or have other constraints that make it challenging to attend traditional classes.
Additionally, online degrees are becoming widely accepted in the workplace, which means that getting a college education online will likely lead to the benefits of earning a degree in general, including access to higher-level, better-paying jobs. According to the Bureau of Labor Statistics (BLS), people who've earned bachelor's degrees earn, on average, about $500 more per week than those who have a high school diploma. Multiplied out over a typical career, that amounts to $26,000 more per year and around $1 million more over a 40-year span. When you consider that the total tuition cost for four years at the schools on our Best Online Bachelor's Degrees list ranges from $25,800 to $190,960, you can see that the initial investment of time and money has the potential to yield a high return.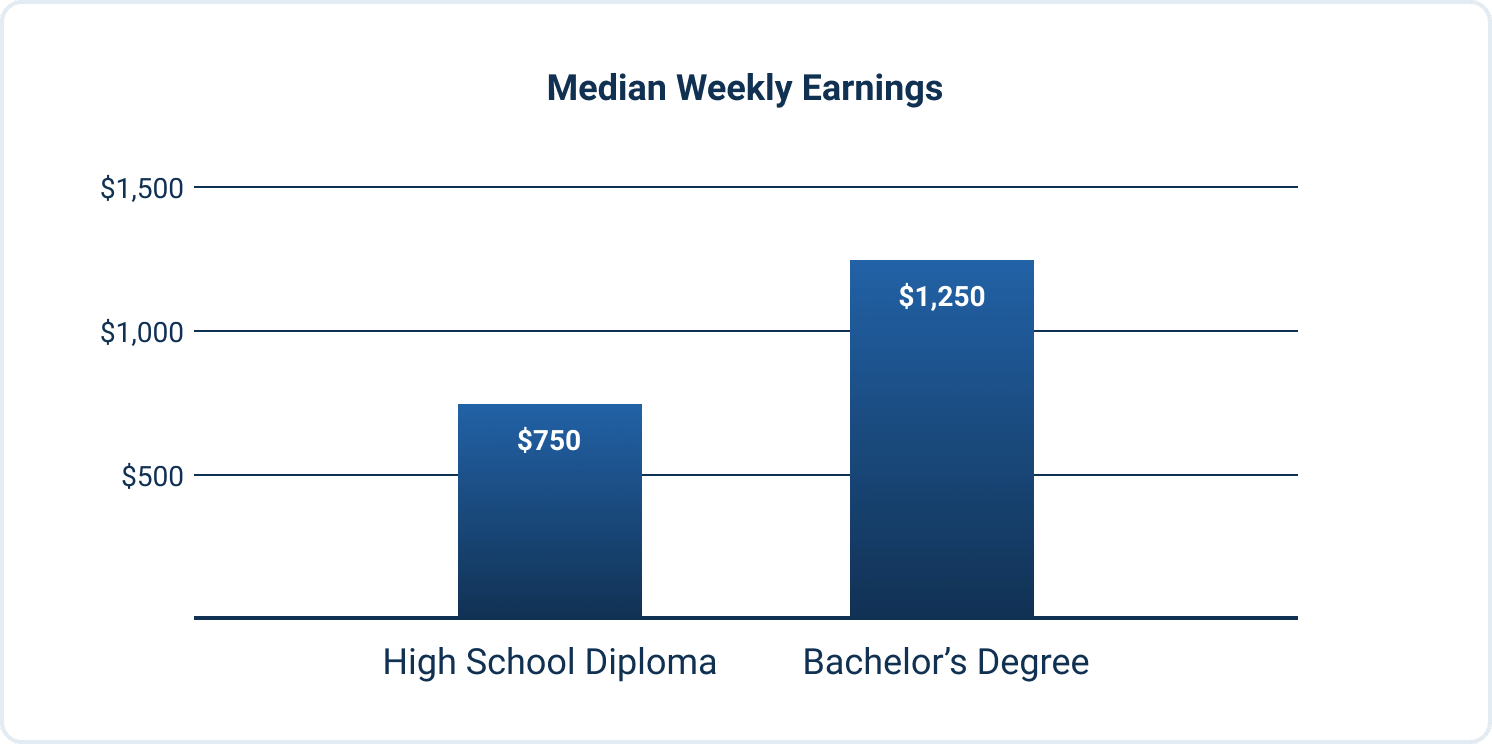 Is an Online Master's Degree Worth It?
Given the flexibility, ease, diversity, and affordability of online-only master's programs, about 30% of students are opting to follow this path. According to BLS data, earning a master's degree has the potential to lead to mid-level positions and increase your annual earnings by $13,000 above what you'd earn with a bachelor's degree, which adds up to about $520,000 over a 40-year career. Although all students need to weigh the alternatives for themselves, you may find that the benefits of earning an online master's degree will be well worth the time and money you invest.