2020 Best Online Bachelor's in Business Degrees
Business has been the most popular major for four decades for a reason: it's a versatile credential that can boost careers in a wide range of fields. Professionals with a strong foundation in business are needed in marketing, healthcare, technology, and many other sectors. According to the National Association of Colleges and Employers, the starting salary for those who graduated with bachelor's degrees in 2019 was $52,000 per year. At the master's level, recent graduates earned nearly $77,000, and an MBA has the potential to unlock much higher salaries down the road. A degree in business is a solid career choice for those seeking higher salaries and career advancement opportunities. Below is our rankings list of the top schools offering online bachelor's degrees in business. Continue reading for more information on career opportunities, concentrations, and accreditation for those studying business.
2020 Best Online Colleges Offering Bachelor's in Business Degrees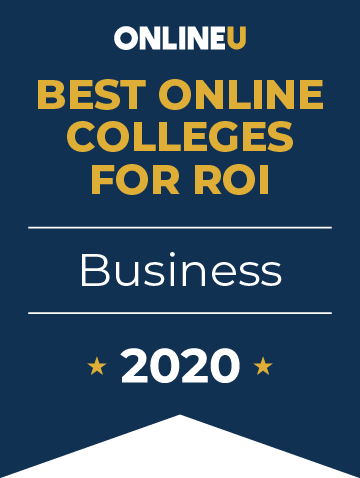 This list highlights the 24 best value colleges offering online bachelor's degrees in business. University of Alaska Fairbanks is the #1 school, with an average alumni salary of $116,400 and charging only $9,690 for their Bachelor of Business Administration - General Business. At #8, Southern Utah University has the least expensive tuition on the list, costing only $6,006 per year for its Bachelor of Science in Business Management.
Alumni salaries were provided by PayScale. View our methodology for more details or learn more about OnlineU.
Rank
School

Annual Tuition

Mid-Career Salary

#

1

University of Alaska Fairbanks

$9,690

$116,400
#

2

Assumption College

$12,720

$113,800
#

3

Concordia University-Irvine

$14,850

$102,600
#

4

University of New Mexico

$10,795

$100,800
#

5

University of St. Francis

$11,970

$99,700
#

6

Quincy University

$11,400

$98,200
#

7

California Baptist University

$18,390

$99,200
#

8

Southern Utah University

$6,006

$93,900
#

9

Rutgers University

$19,500

$99,100
#

10

New York University

$26,654

$101,700
#

11

University of Virginia

$13,260

$96,000
#

12

University of Massachusetts - Amherst

$11,935

$94,500
#

13

Lesley University

$13,350

$94,800
#

14

Temple University

$17,850

$95,850
#

15

Hamline University

$15,750

$94,800
#

16

Newman University

$30,386

$100,600
#

17

Westminster College - UT

$21,297

$96,900
#

18

St. Peter's University

$14,850

$94,000
#

19

West Virginia University

$10,380

$91,400
#

20

Southeastern University

$13,260

$92,500
#

21

California State University-East Bay

$18,864

$94,300
#

22

Dominican College of Blauvelt

$19,200

$94,400
#

23

University of Massachusetts-Dartmouth

$12,060

$91,400
#

24

Quinnipiac University

$15,810

$92,700
Salary data provided by

2020 Online Colleges Offering Business Degrees - Ranking Details
Online Business Degree Overview & Career Information
Undergraduate certificates and associate degrees in business can cover both general or career-focused business areas. For example, an associate degree in business usually covers general college-level liberal arts topics, as well as economics, management, leadership, accounting, and other basic business topics. Other certificates can be used to pick up specific business skills, such as bookkeeping or human resources knowledge.
Online bachelor's degrees in business provide a broader introduction to the interdisciplinary nature of business, as well as the chance to specialize the degree. Bachelor's graduates understand how to communicate in business settings, interpret financial data, effectively market a business, and think about business in a global context. Some bachelor's programs have pre-designed focuses in areas like information technology or human resources management.
Master's degrees in business come in a few different forms and are a great option for students who would want to learn about advanced business topics or switch from another career to business. The online Master of Business Administration (MBA) is one of the most popular options. MBA degree programs offer a variety of advanced business topics, such as ethics, finance, and quantitative analysis. Other master's programs focus in a particular business area, such as accounting, human resources, or management information systems, and can provide more depth.
Online doctoral degrees in business are designed for students who wish to work in academia, either conducting research or teaching others. These lengthy programs require that students create a research project that looks at an aspect of business and generates a new understanding of how businesses function.
Online Bachelor's Degrees in Business
Students in the business bachelor's program gain an understanding of the interdisciplinary skills necessary to run a business. These programs require the traditional 120 credit-hour course load, which takes four years to complete. Applicants need a high school diploma or GED; many programs also require ancillary materials such as a resume, statement of purpose, and standardized test scores.
Business students take a wide array of classes that expose them to the many facets of business. Courses in economics, finance, and accounting teach students how to develop budgets and understand the market system. Classes in advertising, marketing, and public relations discuss the development of a business's public image. General administration, business management, leadership, and communications courses round out the degree's core of classes. Depending on the program, students may also be required to complete an experiential learning component. Common hands-on requirements include internships, co-op work experiences, and project-based courses.
Graduates can use their training to apply for entry-level positions in small and large businesses. Opportunities exist for business graduates in general administration, marketing, human resources, accounting, and information technology departments. Other graduates find their place in government agencies, hospitals, financial institutions, and non-profit organizations. Graduates can also start their own small business.
Accreditation for Online Business Schools
Selecting an accredited business program can help students ensure that they will receive a high-quality education that will be respected in the business world. Employers will likely give more consideration to a candidate who has graduated from a recognized and respected educational institution. Accreditation is also necessary for students who plan to pursue federal financial assistance or transfer credits to other schools in the future.
Regional and national accrediting agencies evaluate schools based on their curricula, faculty qualifications, research programs, and student resources, among other things. Programmatic accrediting agencies evaluate specific degree programs, such as business programs, based on their ability to meet established academic standards for that particular discipline.
In the case of business degree programs, it's wise to choose one that has been accredited by either the Association to Advance Collegiate Schools of Business or the Accreditation Council for Business Schools & Programs. Both of these agencies are recognized by the US Department of Education and the Council for Higher Education Accreditation as being legitimate independent accrediting bodies for business and business-related academic programs. The Distance Education Accrediting Commission (DEAC) is another recognized accrediting body that awards accreditation for institutions that specifically offer online programs.
Online Entrepreneurship Degrees
If you are innovative, driven by the desire to create new things, and love the challenges entailed in product or service development, an online degree in entrepreneurship may help you to become a successful entrepreneur. An entrepreneurship degree is also a good fit if you're already established in business but wish to take your business to the next level. Entrepreneurship programs enhance the ability of students to identify and exploit business opportunities in a dynamic business environment. Online entrepreneurship degrees are available at both undergraduate and graduate levels.
Career opportunities for entrepreneurs are virtually unlimited: You may become a successful small business owner in the automotive, computer, fashion, healthcare, or horticulture field, or any other industry that holds interest for you. The program could also prepare you to become a consultant or franchise owner.
Coursework required during entrepreneurship degree programs teaches students the concepts and principles that prepare them to start, acquire, or develop a business. Courses also focus on the challenges in entrepreneurship as well as strategies for effectively resolving such problems. Students will build their knowledge and skills in areas such as accounting, business law, business management, computers, finance, human resources management, and marketing. Specialization courses may include advertising, international business, negotiation, new business venture management, product development and innovation, public relations, small business development and planning, strategic thinking for entrepreneurs, and venture capital and private equity.
Bachelor's programs require students to engage in a capstone experience or an internship as part of the learning requirements. This gives students the opportunity to demonstrate knowledge and skills gained from instruction. Students enrolled in master's programs must engage in a culminating experience after the completion of coursework. This may consist of a comprehensive exam, applied project, thesis, or other requirement as specified by the program. Graduate certificate programs offer students the opportunity to expand their existing knowledge and develop skills in a specific area within entrepreneurship. This is accomplished by completing a concentrated graduate-level course of study within the entrepreneurship program.
Online Insurance Degrees
Insurance is a wide-ranging industry that affects every type of business. All business owners need to protect their investment from physical threats (such as fire or theft) and lost income due to business interruption if disaster strikes. Online insurance degrees are available at the undergraduate and graduate levels and help to prepare students for careers in a number of fields. Graduates from these programs may choose to focus on sales, insurance underwriting, or management. Although not all employers require insurance sales agents to hold a bachelor's degree, many have completed their postsecondary education. Underwriters and managers usually have at least a minimum of an undergraduate degree.
Undergraduate certificate programs include courses in a number of topics, including insurance planning, life and health coverage. Students learn about annuities, long-term care, and property coverage products. Courses also cover insurance regulations and ethics for agents and financial advisors. Bachelor's degree students who choose to major in insurance will take a number of core business courses as part of the requirements to complete their degree. Understanding the fundamentals of marketing and finance is a good platform for learners entering this industry. Students may also be expected to take courses in accounting, microeconomics, macroeconomics, statistics, business law, and information systems.
At the master's degree level, students take a core curriculum that includes courses in risk management, business conditions analysis, and personal financial planning. Specialization courses vary, depending on the school offering the program. Some schools offer a course in international risk management, which gives students the opportunity to expand their educational horizons by taking a trip abroad.
Online International Business Degrees
Online international business degree programs equip students with the fundamental managerial skills to succeed in international business. The coursework introduces students to various accounting, banking, marketing, and monetary systems that exist in the global business environment. Programs give students the opportunity to develop an understanding of the business ethics, human resources, management fundamentals, and marketing concepts required to succeed in the global business environment. Areas of focus in international business programs include accounting, banking, cultural protocol, economics, exporting, finance, foreign languages, government contract management, healthcare management, importing, information management, management, and marketing.
Program graduates can take up managerial positions in public and private firms as well as in the non-profit sector in the global arena. Job titles for graduates of international business degrees include export sales representative, international business development manager, international marketing representative, and international sales manager. Online international business programs are available at the associate, bachelor's, master's, and doctoral degree levels.
Bachelor's degree programs place heavy emphasis on introducing students to barriers in global business, which includes cultural, legal, political, social, and technological barriers. Students also develop an understanding of international trade and investment opportunities. Bachelor's and master's degree programs usually require students to complete a capstone project or internship. This is an excellent opportunity for students to demonstrate their grasp of course content.
The curriculum for master's programs covers areas such as creation and distribution of goods and services, domestic and global economic environments, financial reporting, analysis and markets, and human behavior in organizations. Doctoral programs focus on developing research and writing skills, which are essential for high-level leadership positions in global academic and business settings. In addition to taking an integrated sequence of courses, doctoral students must also complete a dissertation and take a comprehensive exam. Doctoral degree programs are a good choice if you've earned your master's degree in the field and intend to take up high-level leadership positions in the global environment.
Online Small Business Management Degrees
Those who are interested in starting their own businesses may be interested in earning a degree that offers a small business management or entrepreneurship emphasis. Degree options range from certificates in small business management and entrepreneurship to bachelor's degrees in business administration with a concentration in small business management.
Students who are enrolled in these types of programs can expect to take classes on a range of business-related topics, from finance and marketing to economics. Additional coursework that focuses specifically on small business management will include classes on such topics as hiring and managing employees, business ethics, creating a business plan, advertising a small business, and other topics that a small business owner or entrepreneur needs to know.
After successfully completing one of these degree programs, students often pursue a variety of small business ventures, such as starting their own sole proprietor business, opening franchises of an existing company, or working at another individually owned small business. For entrepreneurs who are interested in using their small business management degree to launch their own company, additional licensing or certification may be necessary, depending on what they wish to do and where they live. The U.S. Small Business Administration maintains a great list of resources for the aspiring entrepreneur, from business plan guides to tips on obtaining financing, tax information, as well as instructions on how to register your small business.
Career Opportunities for Business Graduates
The skills and knowledge acquired during a business degree program make graduates suitable for a wide array of career options. The following is a list of just some of the career opportunities available to students who complete an online business degree program:
Administrative Manager: Administrative managers are responsible for overseeing how an office runs, including small items such as paperwork and mail delivery, and larger items such as processes and office maintenance. The job duties will depend on the particular organization, but they will often include coordinating with all employees, making sure the office has enough supplies, and making sure the office is up to standards, codes, and regulations.
Compensation/Benefits Manager: The human resources arm of a company is vital to employee motivation and overall happiness at work. A compensation or benefits manager will generally oversee the human resources department and make sure that each employee is getting paid fairly and on time. They will also help keep employees motivated with well-earned benefits and items such as a retirement plan and paid vacation time.
Financial Manager: Finances are a huge part of any organization, because even if earning money isn't an organization's main goal (e.g., a non-profit company) they still need money to keep the doors open and the employees paid. A financial manager will ensure that a company's money is spent wisely, and they will report to executives or board members on the progress of the company, often offering solutions for any financial distress.
Marketing/Advertising Manager: Almost every business in the world needs marketing. As a marketing or advertising manager, you'll be working with the sales team to make sure all numbers are being met and that everyone on your team is doing their job and meeting their goals. You may also serve as the facilitator between those who are selling your product and those who are buying what you have to sell.
Training/Service Manager: Once employees are hired at a company, they need to be trained. Training is crucial, as it's an employee's introduction to what will be his or her job in the days ahead. A training manager will oversee this orientation process and update and improve it as necessary.
Frequently Asked Questions About Business Degrees
Is a two-year business degree worth it?
Getting an associate degree in any subject is worth it. Studies show an associate degree can boost your income by $6,000 per year, and a two-year degree in business can help students decide if they want to go on to pursue a bachelor's degree in the subject. If they choose to continue with their education, they will have accumulated two years of credits they may be able to apply towards a four-year degree.
Which business degree pays the most?
While majoring in business will benefit your career and likely lead to a higher salary, there are some areas in the field that are more lucrative than others. According to Indeed, some of the highest-paying business majors are healthcare management, economics, project management, and finance. Your salary will also depend on what sector you find employment in. For example, a business degree can be useful in the technology industry, which will likely pay more than working for a nonprofit.
Do you have to be good at math to go into business?
Getting a degree in business will include math classes. However, some degrees are more focused on mathematics than others. For example, a degree in economics, accounting, or finance will be very math-heavy. A degree in business administration or management will include math classes but this won't be as concentrated as it is when studying accounting or economics. Business majors learn to use and apply mathematical concepts in everyday situations. Students who struggle with mathematics may have difficulty in these classes, but most schools offer resources such as online tutoring centers to help students succeed.
This website offers school details to prospective students as an informational resource. The appearance of a school listing on this website should not be interpreted as an endorsement of the school by this site.