2023 Best Online Accounting Degrees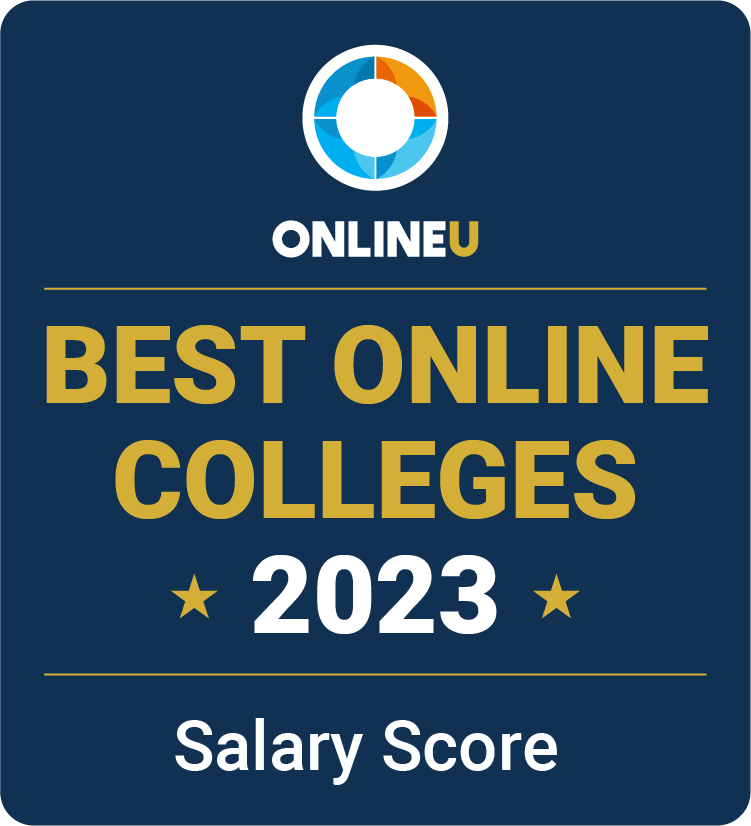 Accounting majors are important for small and large businesses, nonprofits, and government agencies to analyze financial data and advise key decision-makers on improving an organization's health. An online bachelor's degree in accounting opens up new opportunities for students looking to enter the field while balancing other responsibilities. Graduates of accounting programs often go on to work in finance and insurance, auditing, tax preparation, banking, finance analytics, or consulting.
To help prospective students maximize their investment in their education, we've ranked the best online bachelor's degrees in accounting by Salary Score. These online degrees offer the best chance at a high paying career after college based on first-year salaries for previous graduates. View our methodology for more details about our list or learn more about OnlineU.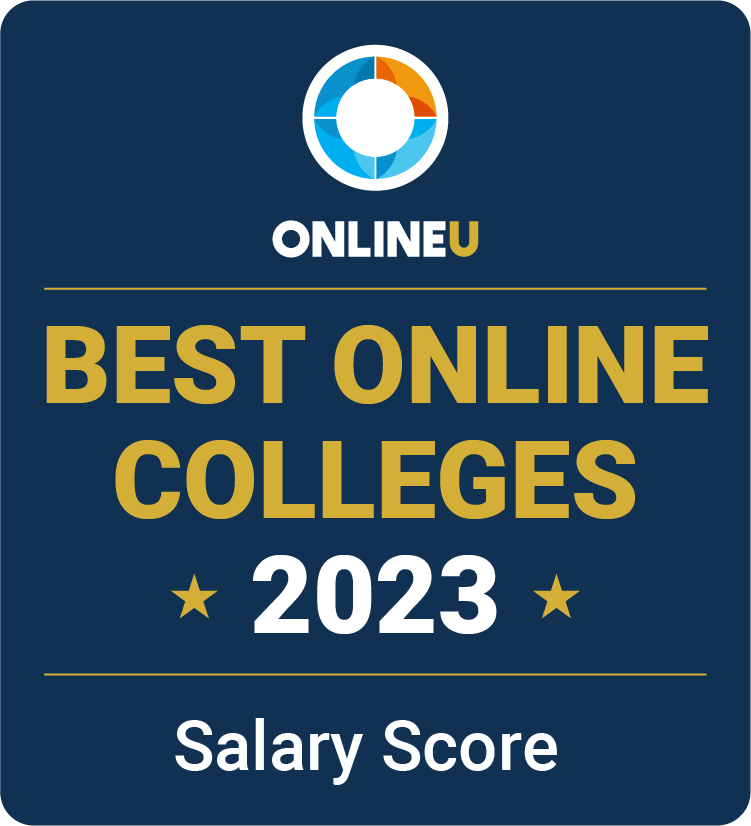 ADVERTISEMENT
Online Accounting Bachelor's Degrees You May Be Interested In

Southern New Hampshire University Online

Annual Tuition: $16,639 - $17,479
1 Programs (view all)

The University of Arizona Global Campus
Annual Tuition: Not Provided
1 Programs (view all)
---
2023 Best Online Accounting Degrees
| Rank | School | Salary Score | Median Starting Salary |
| --- | --- | --- | --- |
| # 1 | University of Massachusetts - Amherst | | $62,571 |
| # 2 | DePaul University | 96 | $61,704 |
| # 3 | University of Minnesota - Online | 92 | $58,714 |
| # 4 | Linfield University - Online and Continuing Education | 89 | $57,453 |
| # 5 | University of Arizona | 81 | $54,832 |
| # 6 | Auburn University | 79 | $54,118 |
| # 7 | Maryville University | 75 | $53,147 |
| # 8 | Concordia University - Saint Paul | 73 | $52,642 |
| # 9 | Regis University | 72 | $52,346 |
| # 10 | Colorado Christian University | 71 | $52,258 |
#1
University of Massachusetts - Amherst
Salary Score:
Median Starting Salary:
Locations:
Accreditation:
The University of Massachusetts - Amherst offers a Bachelor of Business Administration in Accounting online, which is designed for students who have some college credit to help them complete their bachelor's degree. Students will take classes in areas such as corporate finance, taxation, and diversity in business to gain the skills necessary to work in accounting, auditing, tax, and consulting. Applicants should have at least 27 transferable credits from previous learning experiences and will need to complete 120 credits total to graduate. Graduates can explore career opportunities in finance and insurance, real estate, and professional services. Online students at UMass Amherst access class materials on Moodle and Blackboard Learn, the university's learning management systems (LMS). The university has a 65% acceptance rate and a high graduation rate of 78%.
#2
DePaul University
Salary Score:
Median Starting Salary:
Locations:
Accreditation:
DePaul University is a private Catholic school offering an online Bachelor of Science in Business with a Concentration in Accountancy (192 credits). The program is designed to give students a strong foundation in business law, technology, management, financial analysis and interpretation while preparing them to launch their career in accounting with resume writing and interviewing skills. Students will take classes such as Cost and Managerial Accounting, Financial Reporting, and Career Management for Accountants. Program graduates may find career opportunities in auditing, taxation, international accounting, and budget analysis. Professors at DePaul use Desire2Learn, a digital learning platform that allows students to access class materials and submit assignments online. DePaul has a graduation rate of 68%, and 70% of first-time applicants are accepted, according to data from College Scorecard.
#3
University of Minnesota - Online
Salary Score:
Median Starting Salary:
Locations:
Accreditation:
The University of Minnesota (UMN) is a public university with a 120-credit Bachelor of Science in Accounting online. The program is designed to prepare students to work in financial sectors of public, private, and government organizations. Online students at UM use Canvas to participate in class activities and discussions and submit assignments. Classes will cover foundational techniques in topics such as auditing, income tax, managerial finance, and ethics for business. Graduates might go on to careers in public accounting, financial analysis, banking, taxation, or management accounting.
#4
Linfield University - Online and Continuing Education
Salary Score:
Median Starting Salary:
Locations:
Accreditation:
Linfield University offers a Bachelor of Arts in Accounting and a Bachelor of Science in Accounting online, both of which require 125 credits. Accounting majors at Linfield should be well-versed in marketing, financial analysis, business ethics, business law, business strategy, and managing when they finish their degrees. Students will take classes in areas such as Strategic Management, Business Analytics, and Financial and Managerial Accounting. Classwork and homework assignments are completed on the LMS Blackboard. Linfield is a private nonprofit college with historical ties to the American Baptist church. The university has a 67% graduation rate. Alumni of the bachelor's in accounting programs at Linfield have gone on to internships at companies such as PriceWaterhouse Cooper, Moss Adams, and Ernst & Young.
#5
University of Arizona
Salary Score:
Median Starting Salary:
Locations:
Accreditation:
The University of Arizona, a public school with a large online platform, offers a Bachelor of Science in Business Administration - Accounting online. The accounting major is designed to teach students skills in critical thinking, problem-solving, financial analysis, and communication strategies necessary to be successful in a finance-focused career. Students might take classes in areas such as cost accounting, federal taxes, and financial analytics. The bachelor's program requires 120 credits which typically takes students four years to complete when enrolled full-time. Alumni of the program may find job opportunities in areas such as financial consulting, auditing, and tax preparation. UA has an acceptance rate of 85% and a graduation rate of 64%.
Overview of Online Accounting Bachelor's Degrees
What Is a Bachelor's in Accounting Degree?
Accounting is a profession that's been around for centuries. Accounting practices have evolved over time; today, accounting degree programs in the U.S. teach students the generally accepted accounting principles (GAAP) used by organizations, banks, and regulatory agencies.
Accounting majors typically learn standard bookkeeping practices and other accounting functions through practice. Coursework often presents students with simulated financial records and bookkeeping situations they must work through and resolve. In the process, students master the use of industry-standard accounting information systems. Undergraduate students often have the chance to specialize in areas such as taxation, forensic accounting, or management accounting.
While many courses provide a close-up view of accounting methods, other courses in an accounting curriculum ask students to step back and assess the big picture of an organization's finances. Students learn how to interpret the meaning of financial data and how the information can be used to make strategic decisions regarding revenue, expenses, assets, and liabilities.
In addition to bachelor's degree programs, students can pursue other types of accounting degrees, such as associate degrees, master's degrees, and doctorates in accounting. Undergraduates who intend to become Certified Public Accountants (CPAs) should probably plan to pursue a master's degree in accounting. Although you're not required to have a master's degree to become a CPA, you are required to have 150 credit hours of higher education (30 credits more than a bachelor's degree), which most CPA candidates achieve by earning a master's degree.
Students pursuing graduate-level degrees explore accounting concepts at a much more advanced level while also taking classes in research methods. For instance, they may study international tax regulations, professional auditing procedures, fraud, and advanced cost accounting. Additionally, graduate students complete a thesis, which often involves presenting original research on accounting theories and principles.
Degree Requirements
Bachelor's in accounting programs require the completion of approximately 120 credit hours. About half of the required courses cover general education subjects, such as literature and chemistry, while the other half are core courses and electives in accounting. Most full-time students take four to five years to complete a program, while part-time learners may need more time. However, some schools offer accelerated online accounting programs that may take students two to three years to complete.
Some programs may require students to complete accounting internships to gain real-world experience before graduating. Externships are also recommended because they help students explore career options and potentially choose an area of specialization.
Courses
While the curriculum varies based on the type of accountancy degree an individual is enrolled in, undergraduate students generally spend their first two years meeting major requirements by completing coursework in microeconomics, macroeconomics, business, and statistics. In the subsequent two years, they take professional accounting classes such as financial accounting, accounting information systems, tax law, and government accounting. During this latter period, students may also have the chance to specialize in areas such as taxation, forensic accounting, or management accounting. Most programs expect students to complete a capstone project in their final year — often in the form of a research paper or presentation — in which they apply their accountancy knowledge to a real-world scenario.
Course titles may differ from school to school, but all accountancy programs are designed to meet standard learning objectives and outcomes. Core courses help you hone critical and analytical thinking skills, standard accounting procedures, and general business and communication competencies.
The following are some of the common courses you may find in a typical accounting degree program:
Through case studies and problem sets, instructors will demonstrate how to design, apply, and evaluate an audit. Topics may include common audit standards, tests and controls, and statistical samplings.
This course focuses on the theories, policies, and procedures behind federal income tax. Students learn how taxation applies to corporations, estates and trusts, gifts, and partnerships, as well as how to plan in order to meet tax needs.
Students will become familiar with the roles of accountants in areas such as decision-making, cost behavior, cost planning, and cost methods. They'll learn to see how to apply basic cost accounting concepts, using technology to develop financial deliverables, evaluate data, and communicate findings.
Students are instructed on how to apply financial management analytical techniques for decision-making. Content may include formulating financial objectives and policies, planning and control, asset management, capital budgeting, and securities valuation.
Admissions
Not all colleges set the same deadlines, but in general, prospective students should submit their applications as early as the November of the year preceding the fall semester when they plan to start attending classes. While each school may require a slightly different set of documents, most require applicants to provide the following items in addition to an online application:
Official high school or GED transcripts, usually with a minimum GPA of 2.5-3.0

One to three letters of recommendation from teachers, coaches, or other mentors

A resume or list of extracurricular activities, jobs, and volunteer activities
What Can You Do With an Accounting Degree?
Types of Accounting Degrees
Students can study accounting at the associate, bachelor's, master's, and doctoral levels. Those pursuing a four-year undergraduate credential have additional options and can choose among several different types of accounting degrees. These degrees vary in terms of the emphasis they place on accounting theories and principles, with accounting majors typically completing different educational requirements to graduate. Students at the bachelor's level also have the option to pursue a professional accounting degree that focuses exclusively on preparing graduates for employment in the field. Depending on their area of interest — and future career options — students may consider enrolling in one of the following accounting programs at the bachelor's level.
Bachelor of Arts (BA) in Accounting
A BA covers fundamental accounting principles, introducing students to the core concepts of assets, liabilities, capital, income, and expenses. Generally considered a liberal arts degree, this credential allows students to explore arts and humanities subjects as well. Individuals may minor in subjects such as history, English, and philosophy, thus gaining a broader undergraduate education. While a BA can qualify graduates for entry-level positions in accounting, it may also prepare them for jobs in other fields depending on their choice of coursework.
Bachelor of Business Administration (BBA) in Accounting
The BBA differs from a BA in that it is designed to give students a more business-focused education. Students have the option to major in accounting while taking elective coursework in business management areas such as marketing or human resources. Individuals with a BBA in accounting may graduate prepared to work in a business setting or pursue an MBA.
Bachelor of Science (BS) in Accounting
A BS is meant to give students a foundational understanding of accounting theories and how to apply these in various business and non-business settings. Unlike a BA or BBA, students enrolled in a BS program complete most of their coursework in accounting and usually take required classes in financial reporting, advanced mathematics, business, and data analysis. While they have the option to take elective classes outside these areas, students largely concentrate on studying accounting-related concepts. Graduates with a BS may be well-positioned for careers as financial analysts in many different industries.
Bachelor of Accountancy (BAcc)
The BAcc is a highly specialized degree which trains students to become professional accountants. Learners take classes exclusively in business and advanced accounting topics, and often choose a specialization such as wealth management or taxation. A BAcc is therefore considered a first professional degree that is meant to equip graduates with the knowledge and skills necessary to enter the accounting field. It may also be a suitable option for those who are determined to gain their CPA license or want to pursue a master's in business.
Accounting Careers
Graduates with a bachelor's degree in accounting have several career options. They can move directly into the workforce as accountants or take on one of the more specialized roles in accounting, such as auditor or tax preparer. They can also move into finance roles. Those who want to become CPAs will need to continue with their education in order to meet the certification and licensure requirements. Graduates can also choose to pursue further education, whether in accounting or another field.
Many graduates go to work in one of the four primary areas of accounting: public, private, government, and accounting education. The job functions are often similar but are performed for organizations with different purposes, stakeholders, and reporting obligations.
Employees in public accounting often work with clients on a contract basis and may work for a dedicated accounting firm, such as Deloitte, PricewaterhouseCoopers, Ernst & Young, and KPMG.
Private accountants perform financial analysis for one company or business.
Government accountants, including state auditors, work for government agencies.
Accountants who work in education teach, conduct research, and train students to become accountants.
Graduates may also consider one of several occupations within the field of finance. They may find employment in consulting firms, large corporations, banks, and financial institutions, working in roles such as personal financial planner, financial analyst, or chief financial officer.
Accounting and finance professionals may also want to pursue certification. Some certifications are required, while others are voluntary or preferred by employers. Earning certification demonstrates your commitment to professional development as well as your high level of skill in a particular area.
Accounting Specializations
Some schools allow you to specialize by focusing your accounting program studies in an area of interest, which may give you a competitive edge later when you're building your accounting career.
Tax accounting narrowly focuses on planning for taxes and preparing tax documents. Tax accountants prepare and file tax returns for businesses and individuals by following the Internal Revenue Code. They also look at taxes in the context of an organization's or individual's financial situation to identify opportunities to reduce taxes.
Assurance and Auditing Accounting
Assurance and auditing accounting refers to reviewing and investigating the work completed by other accountants. These professionals look for and correct accounting irregularities. Auditors who review the financial documentation of their own organizations are called internal auditors, while auditors who review the documentation of organizations that are not their direct employers are called external auditors.
Analytics accounting,which is also called managerial accounting, deals with financial analysis and decision-making. Analysts take the complex data found in financial documents and make it more accessible to stakeholders. This data helps business leaders make informed decisions to meet an organization's goals.
Forensic accounting may be of interest to those who enjoy investigating and reconstructing financial documents. Forensic accountants often work in law enforcement or for legal teams, examining accounting documentation and looking for evidence of fraud, money laundering, identity theft, and other crimes.
Further Education
Graduates who hope to move into higher-level management roles within the accounting or finance fields may find that earning an advanced degree makes them more attractive job candidates. Advanced degrees help students obtain the depth of knowledge and mastery of skills employers expect when hiring for managerial positions, such as controller and chief financial officer.
A master's degree in accounting can increase your growth potential. Courses typically cover advanced accounting topics, such as managerial accounting, advanced tax for individuals and businesses, and advanced auditing theory. Students may also pursue a master's degree in accounting to complete the 150 credits needed to become licensed after passing their CPA exam. Some schools make it easier to gain those additional credit hours by combining a bachelor's degree with a master's degree, which is often called a 4+1 program.
Students who want to advance their accounting knowledge while also acquiring a broad background in general business management may want to consider earning a Master of Business Administration with a concentration in accounting. Like a master's in accounting, an MBA with an accounting focus will also prepare you to sit for the CPA exam.
Some employers may require their senior accounting executives to hold doctorates. However, graduates who earn an accounting doctorate usually become college professors or researchers. Because of the intense study and research necessary for a doctorate, those with the degree often serve as legal witnesses in cases of accounting malpractice and securities fraud. They may also work as consultants for the government or on criminal cases that need forensic accountants.
Financing Your Bachelor's Degree in Accounting
Before enrolling in a bachelor's in accounting program, you may want to calculate how much you can afford to pay for your degree. This information may be very useful in helping you select a college. You may also want to estimate an accounting degree's return on investment, meaning the total cost of earning the degree as compared to your potential lifetime earnings.
Cost
Our list of the best online bachelor's degrees in accounting reveals that tuition rates vary, but the College Board's 2022 report provides some useful figures. The report states that the average annual tuition fee for four-year public schools is $10,940 and for four-year private schools is $39,400. Some schools, however, charge lower fees for online accounting degree programs than they do for on-campus programs. The College Board also estimates that students spend an average of $1,240 on books and other supplies each year.
Financial Aid
Both online and traditional students are eligible for financial aid. Even if you don't think you're qualified, experts recommend that all students submit a Free Application for Student Aid (FAFSA) to see if they can obtain some financial assistance.
Financial aid is available in many forms and comes from a variety of sources. Once you've submitted the FAFSA form, you'll be notified by mail if you qualify for aid provided by the federal or state government or from the school itself. Grants and scholarships are preferred because these types of aid generally don't need to be repaid, unlike student loans that must be repaid with interest. There are also many privately sponsored scholarships — some specifically intended for accounting students — but you'll need to submit separate applications for them.
If you're offered a student loan, it's important to know the difference between the two major types. Each has its own benefits and drawbacks, but federal student loans offered through the government are usually preferred over private student loans offered by banks and lending institutions. Federally funded loans tend to have lower interest rates and more accommodating repayment terms.
Is a Bachelor's Degree in Accounting Worth It?
A bachelor's in accounting is worth it for individuals who aspire to have a steady career with plenty of opportunities for professional growth. Ultimately, however, the worth of this education will vary depending on an individual's personal circumstances, financial situation, and other obligations, so prospective students should carefully evaluate these factors before deciding to enroll. They may also consider the following pros and cons of an accounting bachelor's.
Potential Benefits
A career in accounting is considered a high-status occupation. According to the World Economic Forum, accountants were ranked seventh in the top 10 most respected professions in the world.

Accountants typically have a well-defined career path. This is because students graduate with a set of hard financial skills and gain on-the-job experience which makes it easier to identify jobs and future promotions. Furthermore, the accounting field remains largely unchanged, despite new financial tools and technologies, allowing graduates to chart a predictable career.
Potential Drawbacks
An accounting degree at the undergraduate level may not be enough to advance a career in finance. Graduates will often need a CPA license to conduct audits and some states expect accountants to have a master's degree and certification for higher-level positions.
FAQs About Bachelor's in Accounting Programs
How Long Does It Take to Get an Accounting Degree?
---
Earning a bachelor's in accounting degree online or on-campus typically takes four to five years and requires the completion of 120-124 credits. However, some colleges offer accelerated online programs. With these programs, students enroll in back-to-back terms, each lasting six to eight weeks, which enables students to graduate in less than four years.
Is an Accounting Degree Worthwhile?
---
Yes, our research shows that an accounting degree is worth it. Earning this degree helps you develop qualities that employers value, such as accounting skills, familiarity with technology, and strong communication abilities. Organizations of all sizes in virtually every industry need employees skilled in accountancy, and according to the Bureau of Labor Statistics, the earnings potential is high.
Is Accounting Hard?
---
Accounting courses may be challenging for some but not for others. Students who are detail-oriented, have a strong facility with numbers, and are able to meticulously follow logical steps are more likely to excel in accounting classes.
How Much Does a Bachelor's in Accounting Cost?
---
The cost of a bachelor's in accounting varies based on several factors, including whether a student enrolls in a private or public school, whether they can pay in-state tuition, have additional fees and expenses, or if the specific program costs more. Online programs are typically cheaper. Our page of the most affordable online accounting degrees has annual tuition ranging from $1,600 to $7,000.
How Can I Become an Accountant?
---
The minimum requirement to become an accountant is a bachelor's degree in the field, though some positions may require a master's as well. While certification and licensure are not necessary for some areas of accounting practice, individuals who hope to provide tax-related services will need to earn their CPA license.
Is an Accounting Degree a Good Fit for me?
---
An accounting degree may be a good fit for students with strong organizational and problem-solving skills, an eye for detail, and an interest in applying mathematical concepts in real-world settings. Since accountants typically work closely with their clients, this degree may also be suitable for students who enjoy helping others navigate technical and sometimes complicated situations. Overall, an accounting degree will likely interest individuals comfortable with taking responsibility and constantly expanding their skill set to meet new challenges.
Why Trust Us?
60,000 Degrees Researched Annually
20,000 Hours Spent on Research Annually
Launching Rankings Since 2009
Meet our team
Related Articles
2023 Best Online Business Degrees
Find the best online business degree programs in 2023 based on data, like projected alumni salary outcomes. Our list only includes accredited online colleges.
2023 Best Online Bachelor's Degrees in the U.S.
Earning an online bachelor's degree can vastly expand your career options and earning power. We've ranked the best colleges by alumni salaries.