2020 Best Online Bachelor's in Accounting Degrees
An accounting career is an appealing path for many because the field is stable and has a promising salary outlook of $71,500 per year, on average. Career opportunities for accountants are varied: they prepare and verify financial records and exchanges for individuals, businesses, companies, and organizations to ensure they are accurate. They also detect inefficiencies or procedures that could be updated to maximize revenue or reduce overhead costs. Accounting is an excellent career choice for those who are organized and like working with numbers.
Demand for accountants is expected to remain steady, with job growth matching the U.S. average for all occupations through 2029. Continue reading for our ranked list of the best online colleges offering bachelor's degrees in accounting. Our guide to accounting programs also includes information on degrees, certifications and licensure, accreditation, and answers to frequently asked questions.
2020 Best Online Colleges Offering Bachelor's in Accounting Degrees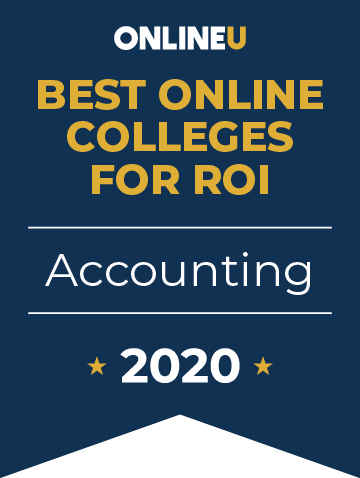 Distance students seeking bachelor's degrees in accounting will find that these 25 colleges offer the best value based on affordability and alumni salaries. At #1, Marian University - Wisconsin charges $13,800 per year for their Bachelor of Business Administration - Accounting. At #2, the University of Massachusetts - Amherst charges only $11,700 per year and has a reported alumni salary of $109,000.
Alumni salaries were provided by PayScale. View our methodology for more details or learn more about OnlineU.
Rank
School

Annual Tuition

Mid-Career Salary

#

1

Marian University - Wisconsin

$13,800

$119,700
#

2

University of Massachusetts - Amherst

$11,700

$109,000
#

3

LeTourneau University

$14,250

$106,100
#

4

Washington State University

$11,550

$104,900
#

5

Auburn University

$23,250

$109,000
#

6

Northern State University

$10,537

$96,600
#

7

University of Arkansas

$10,065

$95,700
#

8

New England College

$12,150

$95,400
#

9

St. Peter's University

$14,850

$95,100
#

10

Eastern New Mexico University-Main Campus

$7,492

$92,100
#

11

Granite State College

$10,950

$91,100
#

12

Golden Gate University

$20,460

$94,400
#

13

Nichols College

$9,900

$88,500
#

14

Temple University

$17,850

$91,400
#

15

Clarion University

$8,334

$86,100
#

16

Western Illinois University

$8,883

$86,200
#

17

Arizona State University

$15,900

$88,200
#

18

Southern Illinois University - Carbondale

$11,085

$85,600
#

19

Kean University

$9,935

$84,100
#

20

Northwestern Oklahoma State University

$18,280

$86,700
#

21

Bemidji State University

$8,758

$82,600
#

22

Champlain College

$9,540

$82,100
#

23

Southern Utah University

$6,006

$80,300
#

24

Florida Southern College

$10,106

$81,800
#

25

Fitchburg State University

$9,240

$80,600
Salary data provided by

2020 Online Colleges Offering Accounting Degrees - Ranking Details
Online Accounting Degree Overview & Career Information
Undergraduate accounting certificates can lead to entry-level accounting positions. An online certificate program typically provides the basic skills and knowledge needed to work in accounting without going into any other subjects. Some schools offer graduate certificate programs in specialized areas, such as accounting for controllers or accounting for financial and business analysts. An associate degree program in accounting will also provide students with the basic skills and knowledge needed to work in the accounting field, with the addition of general education courses in the liberal arts.
Bachelor's degrees in accounting offer in-depth study in accounting principles, as well as additional general education classes and electives. Accounting courses may include federal tax, business law and math, and introductory and advanced accounting. Some bachelor's programs allow students to focus on a specific subspecialty, such as tax accountancy or auditing-forensic accountancy. Some programs may require that online students complete accounting internships or externships, while other degree programs may be completed exclusively online.
Master's degrees in accounting typically include management, leadership, and advanced accounting topics, such as managerial accounting, advanced tax for individuals and businesses, and advanced auditing theory. While most accounting positions require applicants to hold a bachelor's degree and the CPA label, many employers seem to be showing preference to those who have a master's degree in accounting. These graduate degrees provide students with the skills necessary for managerial accounting roles. Doctoral degrees typically involve a significant amount of research and the completion of a dissertation; they can help prepare graduates for careers in accounting research and academia.
Online Bachelor's Degrees in Accounting
The bachelor's degree in accounting provides students with in-depth training to prepare and analyze financial records. As with all bachelor's programs, applicants need a high school diploma or GED. High school coursework in math may also be required. The accounting bachelor's usually takes four years to complete and requires about 120 credit hours of work. Specialized programs designed to prepare graduates for the Uniform Certified Public Accountant exam may require 150 credit hours or more.
The core of the accounting major consists of courses in economics, math, and different accounting principles. Macro- and microeconomics classes teach students about the way the market system works at the individual and national level. Accounting courses cover financial, management, and cost accounting. Other common courses include auditing, budgeting, information systems for accountants, and taxation. Many accounting bachelor's programs also include courses in general business topics such as management, leadership, marketing, and finance, and general education topics in social science, humanities, and natural science areas.
Accounting graduates with bachelor's degrees can apply for a range of entry-level and intermediate accounting positions, depending on their work or internship experience. Accountants are employed by the government, businesses, and individuals. Corporate accountants work for particular businesses and help by planning budgets, keeping track of spending, filing taxes, and providing investment advice; auditors and accountants with government agencies may work on in-house accounting, or they may work as part of the Internal Revenue Service to ensure that citizens file their taxes appropriately.
Accountants with at least 150 credit hours of coursework can sit for the Uniform CPA examination to become a Certified Public Accountant. While the CPA exam is not required to become employed in most cases, the CPA credential helps accountants gain clients, improve their job prospects, and increase annual salary.
The Importance of Accreditation
When selecting a particular learning institution for an online accounting degree, it is best to select a program that is accredited. Accredited programs offer a host of benefits that non-accredited programs do not, and guarantee that the students will receive a quality education recognized virtually everywhere throughout the professional and educational fields. According to the US Department of Education, the goal of accreditation is to ensure that the academic programs provided by institutions of higher education meet acceptable levels of quality.
Accrediting agencies are either state, regional, or national in their focus. An entire school may be accredited for all of its programs, and specific programs within a certain institution may be accredited as well, which is referred to as specialized or programmatic accreditation. There are several different types of accreditation that may apply to an online accounting degree. However, for those who would like to become Certified Public Accountants (CPAs), it is highly recommended to complete a program with AACSB accreditation, as it is required to sit for the CPA exam in some states.
In order for an online accounting degree program to gain accreditation status, it must submit its curriculum and faculty to the particular accreditation agency's evaluation to determine whether it meets its standards. This guarantees students and potential employers that the program meets the minimum requirements for an education in this field. Although the Department of Education doesn't explicitly accredit programs itself, it provides a list of agencies determined to be reliable authorities as to the training and quality of education of various didactic programs.
To properly discern whether or not a particular program for an online accounting degree is accredited, students should check with the USDE's Database of Accredited Postsecondary Institutions and Programs or the Council for Higher Education Accreditation. It is possible for schools to be accredited by agencies not recognized by the USDE or the CHEA, which is why both organizations include the names of recognized accrediting agencies in their databases.
Besides determining the quality of a degree, accreditation has other benefits within the sphere of education and professional accounting. Students must enroll in accredited programs to receive federal financial aid. Additionally, degrees from accredited programs are widely accepted in the accountant job market, while those from unaccredited schools may not be.
Becoming a Certified Public Accountant (CPA)
Becoming a CPA requires a significant amount of schooling followed by a passing score on the Uniform CPA Exam, which is administered by the American Institute of CPAs. To begin the exam process, accountants must first meet the eligibility requirements set by their particular exam jurisdiction, which include stipulations for education, work experience, and state residency. Applicants can locate their exam jurisdiction by contacting the board of accountancy for the state in which they live. Some states also require other exams in addition to the CPA exam, such as an ethics exam. Depending on location, the application will be submitted to either the state board of accountancy or another organization that represents the board. Pay close attention to specific fees that may apply, since fee schedules can also vary between jurisdictions.
In addition to filling out the application, you must also submit any academic documents, ID photos, or special credentials that may be required. If your accounting requirements were completed outside of the United States, you may be required to have your credentials evaluated by an approved agency. Once your application has been reviewed, you will receive a notice to schedule your examination from the proper testing location assigned to you.
Once you have completed the examination and it has been graded, you will receive a report indicating your score as well as any prior credits you may have in your name. If you received a passing score, you will then be considered a licensed CPA. If you failed any of the sections, check the testing schedule to see if you can retake any of the sections before your credits expire. Most states require CPAs to complete continuing education hours in order to maintain their licensure.
Becoming a Certified Management Accountant (CMA)
A Certified Management Accountant, or CMA, differs from a Certified Public Accountant in that CMAs rarely work with the public. CMAs work specifically with businesses and organizations to offer advice regarding financial concerns that may be affecting their potential for success. They serve as counsel on all financial matters, including corporate spending, taxation compliance, planning, and budgeting. With the increasing number of industries turning to CMAs for financial help, the earning potential and job prospects for CMAs are very promising.
The Institute of Management Accountants offers the CMA program and examination to candidates with an accredited bachelor's degree and at least two consecutive years of experience in a management accounting or financial management capacity. The CMA exam identifies professionals with above-average skills in risk analysis, financial decision making, and internal controls.
To take the exam, you will need to file a registration form and pay the necessary fees. Once your eligibility has been confirmed, you will receive an acknowledgment form with an authorization number, testing opportunity window, instructions, and access to exam support. The first part of the CMA exam deals with planning, control, and performance, and consists of two essays and 100 multiple-choice problems. The second part of the exam is about decision making regarding financial issues. You might register to take your first exam sometime in your first year of accessing the CMA program, and you will need to complete both sections within 36 months. Once certified, CMAs must meet continuing education requirements to stay apprised of any changes within the field and to prove that they are keeping their accounting skills current.
Other Accounting Certifications
There are many certifications available to help accounting professionals specialize their skills and demonstrate their competency to potential employers and clients. Here are just a few of the popular certifications that accounting professionals can earn.
Becoming a Certified Financial Planner (CFP)
Financial planners and advisers determine how to best manage the financial investments of their clients and offer consultation on new sources of income. The goal of financial planners is to maximize profits for clients by providing educated fiscal advice on stocks, tax laws, insurance, and other investment opportunities. In addition, financial planners meet with their clients to discuss their current financial status and determine what is required to meet future economic goals, such as investments or retirement.
Because they must be trusted with the proper investment of people's money, it is extremely important that clients have a means of assessing the professional standards of their prospective financial planners. To ensure the professionalism and overall competence of advisers, the Certified Financial Planner Board of Standards bestows Certified Financial Planner (CFP) certification to those who meet the necessary demands.
Financial planners seeking CFP certification must have obtained at least a bachelor's degree or meet the CFP board's equivalent education credentials. They must also have at least three years (6,000 hours) of full-time work experience in financial planning. While the bachelor's degree does not have to be in any specific field, the CFP board does ask that applicants have a broad education in nearly 100 key subjects, such as retirement planning and estate planning. The degree and work requirements must be fulfilled within five years after passing the CFP examination, or applicants may no longer be considered eligible for certification.
Once an applicant has met the necessary educational requirements, they must pass the CFP certification examination. The CFP exam assesses individual understanding of realistic financial planning scenarios and contemporary tax laws. The test is multiple choice, but looks for the application of knowledge, rather than rote memorization. With the exception of military veterans, who can receive reimbursement, all applicants must pay a fee to take the exam. All applicants can retake the exam in the event of a failing grade, but no more than five times.
Once all other requirements have been met, applicants must agree to the CFP board's standards of professional conduct and disciplinary procedures. Furthermore, applicants are reviewed by the CFP board to ensure that they meet the fitness standards for candidates and registrants. Those who have, for instance, past felony convictions or personal bankruptcy claims can be denied certification unless they successfully petition the CFP board to reconsider.
Becoming an Internal Auditor
Internal auditors are hired by a range of corporations to examine companies' financial records in search of inconsistencies, inefficiencies, and fraud, and to recommend strategies for improving overall financial integrity. Internal auditors also provide oversight for managerial finance reports and inform company directors of any mismanagement.
Although there are no official regulating organizations for internal auditors, the Institute of Internal Auditors (IIA) offers the most widely recognized standards of practice as well as certification of excellence in the field. The Certified Internal Auditor credential (known as the CIA, though not to be confused with the Central Intelligence Agency) is awarded to those who can demonstrate a comprehensive understanding of internal auditing. The CIA lets both employers and clients know that they can rely upon the auditors that possess it, which thus creates an occupational advantage for those who manage to obtain CIA credentials. To receive the CIA, all applicants must complete the following objectives:
Auditors must have earned a postsecondary degree in any field from an accredited university in order to qualify for the CIA. To confirm that they do in fact possess a degree, applicants must send formal documentation of their college graduation to the IIA either in the form of a transcript, a letter from their respective school, or a letter from evaluation services.
At least two years of work experience as an internal auditor is also necessary in order to receive the CIA. Individuals in possession of a master's degree, however, are only required to have completed one year's work as an auditor. Once they have met the two-year work requirement, candidates can then submit a form verifying and detailing their time spent as an auditor to the IIA.
Before anyone can be granted CIA credentials, they are first required to submit a form corroborating their ethical integrity to the IIA. The form in question must be filled out either by an already certified auditor, an employer or supervisor, or a university professor. Following the submission of their college degree documentation, CIA candidates are permitted to take a test that examines their skills as an internal auditor. The CIA exam comes in four sections: the internal audit activity, audit engagements, business analysis and information technology, and business management.
Becoming an Enrolled Agent for the IRS
Enrolled agents are nongovernmental tax professionals who become licensed by the United States Department of the Treasury to represent taxpayers in cases brought before the Internal Revenue Service (IRS). Similar to attorneys, enrolled agents appear before the IRS in place of their clients during audits, collections, and appeal procedures. Additionally, enrolled agents are not restricted with regard to whom they can represent and act as consultants for single individuals as well as large organizations.
A career as an enrolled agent demands an in-depth understanding of taxation, and agents must constantly stay up to date with the latest developments in tax laws. Individuals are eligible to apply for enrolled agent status following the successful completion of the following:
Before anyone can be registered as an enrolled agent, they must first file for a Preparer Tax Identification Number (provided either online or on paper by the IRS). Once an individual has obtained an Identification Number, they must take the Special Enrollment Examination (SEE), a lengthy test that covers a huge range of issues in modern tax regulations. The SEE is divided into three parts: Individuals; Businesses; and Representation, Practices, and Procedures.
As an alternative to passing the SEE, individuals who work at least five years as tax professionals within the IRS can also apply to become enrolled agents. Professions eligible for promotion to enrolled agent status must specialize in the daily use and interpretation of the US tax code (e.g., tax examiners, revenue agents, and collectors). The educational achievements needed to obtain a job as a tax specialist in the IRS depend largely on the particular career, specialty, and branch of employment. However, previous work experience in addition to a bachelor's degree in accounting, business administration, economics, or a similar field are frequently required for employment with the IRS.
Once applicants have successfully completed the SEE or five years of work as a tax professional, they have effectively met the requirements to become an enrolled agent. To apply, applicants must submit an Application for Enrollment to Practice form and a fee to the IRS. Before they can be approved to work, all prospective enrolled agents must undergo an extensive background check to ensure that they have not failed to make any tax returns and that there are no tax liabilities on their record. If any problems are discovered during the background check, an applicant may be denied the right to become an enrolled agent.
Becoming a Certified Governmental Financial Manager (CGFM)
Government budget analysts, accountants, and auditors interested in improving their job performance, overall salary, and chances for employment may be interested in becoming Certified Government Financial Managers (CGFMs). Provided by the Association of Government Accountants (AGA), the CGFM credential is not needed to work as a financial management professional, but individuals who do hold certification have a simple way of demonstrating to employers that they possess the professional expertise and training needed to excel in their careers. Therefore, those who have earned the CGFM may have a considerable edge in the job market compared to those who only possess a college degree.
A bachelor's degree in any subject plus 24 semester or 36 quarter credit hours in coursework from an accredited college are essential for earning the CGFM designation. Additionally, the completed coursework must be part of at least one of nine different fields specified by the AGA, such as accounting, public administration, or budgeting. After graduation (or one year prior to graduation), candidates must send an application form to the AGA along with a fee and transcripts documenting their academic accomplishments.
Potential CGFMs are also required to have spent two years or more working in government financial management. Like the college coursework requirements, the financial management experience must have been completed within at least 1 of 14 AGA designated fields, such as financial report design/preparation or audit of contract compliance/costs. Again, like the college coursework requirements, a full report of your employment experience must be sent to the AGA's Office of Professional Certification via a work verification form.
Once candidates have submitted their school transcripts and application form, they are able to schedule a time to take the CGFM examinations, a series of three multiple-choice exams that test their comprehension of government institutions, governmental accounting, and financial management. There is also a fee for all three tests, which must be paid to the AGA. Upon successful completion of the CGFM examinations, candidates will receive an official award letter and certificate from the AGA designating them as a Certified Government Financial Manager.
Becoming a Certified Fraud Examiner (CFE)
A Certified Fraud Examiner (CFE) is an accountant with specialized examination skills. Their job is part numbers, part investigation, and part criminology. With the growing amount of identity theft, fraud, and corporate scandals, the need for CFEs is growing. To become a CFE, you must be a member of the ACFE (Association of Certified Fraud Examiners) and pass the CFE Exam. The CFE Exam tests your expertise and knowledge in the four main areas of being a CFE: fraudulent financial transactions, investigation methods, legal elements of fraud, and fraud prevention and deterrence.
Once you are an established association member, you can submit an exam application along with proof of your education and any professional recommendations to the Certification Department at the association's headquarters. You should do this at least one month before you will be ready to take the CFE Exam. A completed application with proper documentation is necessary to be able to take the exam. You will also be required to pay any necessary fees with your exam application.
After applying for the CFE Exam, you can prepare for it by making use of the online exam prep course, attending the exam review course in person, or studying on your own. A majority of the exam questions come from material that is in the Fraud Examiners Manual, and the rest is compiled from information from the Corporate Fraud Handbook. After taking and passing your exam, you will officially become a CFE.
Frequently Asked Questions About Accounting Degrees
Can you become a Certified Public Accountant (CPA) with an online degree?
Yes, you can become a CPA with an online degree, but you also need real-world experience working under a licensed CPA. Typically, you must earn a bachelor's degree, pass an exam, and have one to two years of experience before you can become a licensed CPA, although requirements may vary depending on what state you live in.
What are the four areas of accounting?
The four main areas of accounting are public, private, government, and accounting education. Many of the job functions are similar but are performed for organizations with different purposes, stakeholders, and reporting obligations. Employees in public accounting often work with clients on a contract basis, and may work for a dedicated accounting firm. Private accountants perform financial analysis for one company or business. Government accountants work for government agencies, and this section includes state auditors. Accountants who work in education teach, conduct research, and train students to become accountants.
What types of accountants make the most money?
According to data from Glassdoor, chief financial officers and controllers make the most money in accounting, with salaries ranging from $78,000 to $286,000 per year, on average. These are top positions that are responsible for overseeing financial aspects of an organization. Starting your own accounting firm can also be lucrative, depending on the number of clients you have, among other factors.
This website offers school details to prospective students as an informational resource. The appearance of a school listing on this website should not be interpreted as an endorsement of the school by this site.