2020 Best Online Bachelor's in Social Work Programs
Social workers are needed in a variety of settings, including in hospitals, schools, and nursing homes. They play an integral part in their communities to help identify and solve issues and improve the lives of those around them. Social workers meet with clients to identify needs, assess situations, and help individuals work through challenges in their lives. They often act as client advocates, helping to connect people with resources. Social workers may also respond to crises and work with family or friends to create targeted treatment plans. Social workers make an average of $50,000 a year and the U.S. Bureau of Labor Statistics predicts our need for social workers will grow by 13% over the next decade, making now a good time to pursue a career in social work. Read on for information about accreditation and licensure, along with answers to frequently asked questions about the field.
2020 Best Online Colleges Offering Bachelor's in Social Work Degrees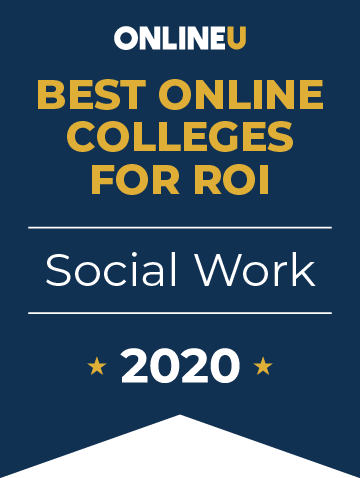 This list highlights the 14 best value colleges offering online bachelor's degrees in social work. Graduates of the #1-ranked school, the University of Toledo, earn a median salary of $64,200 after earning their Bachelor of Arts in Liberal Studies - Social Work. In the #2 spot, Aurora University offers a Bachelor of Social Work for only $12,750 per year, making it an affordable choice for distance learners who are looking for a high quality and affordable education.
Alumni salaries were provided by PayScale. View our methodology for more details or learn more about OnlineU.
Rank
School

Annual Tuition

Mid-Career Salary

#

1

University of Toledo

$17,573

$64,200
#

2

Aurora University

$12,750

$54,600
#

3

Liberty University

$11,700

$50,300
#

4

Wichita State University

$6,708

$47,200
#

5

Troy University

$10,140

$48,000
#

6

Metropolitan State University of Denver

$22,510

$52,500
#

7

University of Nebraska at Kearney

$11,880

$47,800
#

8

Arizona State University

$15,900

$48,100
#

9

University of Cincinnati

$10,492

$45,700
#

10

Millersville University of Pennsylvania

$19,290

$46,900
#

11

The University of Tennessee - Knoxville

$15,270

$43,000
#

12

Wayne State University

$32,505

$46,600
#

13

Eastern Kentucky University

$12,270

$36,200
#

14

Limestone College

$13,230

$31,500
Salary data provided by

2020 Online Colleges Offering Social Work Degrees - Ranking Details
Online Social Work Degree Overview & Career Information
Many students begin their studies by pursuing an associate degree in pre-social work or human services before transferring to a bachelor's degree program. An associate degree provides introductory information in the field and acquaints students with appropriate counseling techniques, behavioral analyses, and the overall nature of social work. A bachelor's degree in social work, also known as a BSW, helps to prepare students for entry-level positions in the field. Students obtain in-depth knowledge on intervention strategies, industry trends, administrative practices, and coordination policies. Common coursework includes foundations of social work, human behavior and diversity, social welfare policy and services, and research methods.
Master's degree programs in social work are commonly referred to as MSWs and are for students who plan on becoming licensed clinical social workers. These programs are research intensive and offer students a chance to gain more hands-on training in the field. Master's students learn how to supervise personnel and perform clinical assessments. Online MSW programs may also enable students to begin internships in their specialty and become eligible for licensure.
Those who desire to work in consulting, research, or postsecondary teaching may choose to earn a doctorate in social work. Students learn how to examine complex issues in social policy and arrange new solutions in public policy. They take classes in data analysis, counseling, and welfare policy. Most programs also heavily focus on clinical psychology. Each PhD candidate must present a dissertation before graduation.
Online Bachelor's Degrees in Social Work
Program Requirements
Online bachelor's degrees in social work require approximately four years of full-time study and 120 units of coursework. Applicants to a BSW program will need a high school diploma or the equivalent, as well as acceptable scores on a college entry-level test, such as the SAT or ACT. Those who have completed an associate degree may be able to complete a bachelor's degree in two years, depending on the program's particular course requirements.
Curriculum
A bachelor's degree in social work will give students a broad understanding of introductory theories in social work, human behavior, sociology, psychology, and history. After the introductory courses, students can expect to take courses such as social issues and diversity, social welfare, research methods, human behavior and the social environment, and preparing for the field. Topics covered by the coursework may include administrative principles and practices, alcohol and drug abuse, communication, crisis intervention, family systems, human growth and development, psychology, social work ethics, social work interventions, social work principles, and working with communities and organizations.
For many distance learning bachelor's programs, students may complete all of their coursework online. The last year of the program typically involves hands-on training under the direction of a professional social worker, however, so students may need to obtain that experience in a local social services setting.
Common careers for bachelor's graduates include child and family social work, healthcare, and school social work. A bachelor's degree is required for many social work positions, but some jobs may require a master's degree. For example, clinical social workers must have a master's degree, pass an exam, and obtain a state license before entering the workforce.
The Importance of an Accredited Online Social Work Degree
Accreditation is an important aspect that students should take into account when considering enrolling in an online social work degree program at any level. Institutional accreditation is granted by one of six regional accrediting agencies recognized by the US Department of Education. The accreditation process involves a thorough, independent evaluation of all aspects of an undergraduate or graduate degree program. Students who choose an accredited school can feel more confident that they are going to receive a high-quality education and that their degree will be recognized by other academic institutions and potential employers.
The Council on Social Work Education (CSWE) is the predominant agency for the programmatic accreditation of social work degrees. The CSWE accredits individual bachelor's and master's social work programs. Along with institutional accreditation, programmatic accreditation from the CSWE indicates that an online degree program meets the national standards for education and social work education speficially. A complete list of accredited social work programs may be found at the CSWE's website'.
While accreditation isn't required, enrolling in an unaccredited program can negatively impact both your academic prospects and your future employment opportunities in the field of social work. In order to apply for student loans or transfer credits to another institution, you must attend an accredited school. For most upper-level social work positions, professionals are required to have a state license, and in order to take a state licensing exam, applicants must have a degree from an accredited bachelor's or master's degree program.
Licensing and Registration Requirements for Social Workers
In the United States, the profession of social work is regulated on the state level, which means that professionals must comply with their particular state's guidelines in order to practice as a social worker. Depending on the state, the process of regulation is referred to as either "registration" or "licensing." The two terms are often used interchangeably. In most states, you will need at least a bachelor's degree in social work to find a job in the field. A master's degree is required for clinical work. There are two distinct types of social workers—direct contact and clinical—and states have different regulations for each.
Direct-contact social workers, such as case managers or mental health assistants, don't provide mental health treatment; rather, they help clients work through everyday problems or achieve a particular goal. For example, they might help a family find low-cost child care or register for food stamps. In most states, direct-service social workers do not need to register or earn a license; they may only need a Bachelor of Social Work degree.
Clinical social workers assess, diagnose, and treat patients facing emotional and mental issues. This process involves an understanding of psychology, interviewing skills, and other counseling procedures. Thus, states require that clinical social workers have a license. In most states, licensed social workers, or LCSWs, must complete an accredited MSW program. Along with the degree, prospective LCWs must also have completed a supervised clinical internship, which usually takes at least one year. Some MSW programs integrate the supervised internship into the program. Along with the internship, most states require that social workers pass an exam before they apply for licensure.
Most US states and some Canadian provinces use the social work licensing exams developed by the Association of Social Work Boards. These exams ensure that candidates are prepared to practice social work at four different competency levels: Bachelor's, Master's, Advanced Generalist, and Clinical. Each ASWB exam has 170 multiple choice questions and a four-hour time limit. To learn more about the specific social work registration guidelines for your state, visit the ASWB website.
Continuing Education for Social Workers
In many cases, social workers can have a significant impact on their clients' well-being. Because of this responsibility, all US states require that clinical social workers possess a state license. To maintain this license over time, social workers are required to complete continuing education (CE) units. Not all social workers are required to have a state license, and thus, not all have to complete CE units. In many cases, bachelor's-level direct-contact social workers do not need a license. However, they may be able to elect to earn an elective license for direct-contact work, in which case CE units may be required. All states require master's-level clinical social workers to have a license, and most require continuing education units.
After a specific number of years, clinical social workers must renew their license with their state licensing board. The length of time between renewal periods varies from state to state. While this process always requires completing paperwork, it also usually requires completing CE units. The exact number of required continuing education credits will vary depending on your jurisdiction. Anywhere from 20 to 50 CE units may be required. All social workers who are unclear about the CE unit requirements in their state should contact their state's social work licensing board.
The type of classes available to any particular social worker is dictated by their licensing board. In some states, social workers may complete CEs in any topic as long as they come from an approved CE provider. Other states require that social workers complete CE units in their particular work area, such as substance abuse. Some states have a number of available topics, such as ethics or domestic violence.
Besides ensuring that the CE units are state approved, you can also look for CE units that are recognized by professional groups, such as the Association of Social Work Boards. Students should look for programs with qualified instructors that spend time interacting with students. A quality CE program will be well organized and have a clear syllabus with objectives outlined for the class. In many states, CE units can be completed online. Check with your board for details on CE requirements where you work. The ASWB has a list of recommended CE units, many of which can be completed online.
It's the social worker's job to keep track of their attendance and any other required proof of completion. Before enrolling in a CE program, students should make sure the class can issue the required signed certificate of completion. It is wise for social workers to hold on to the records of attendance for several years after the program, should they need to confirm their completion again.
Types of Social Workers
Social workers play a very important role in the healthcare and general welfare of people from every social stratum. Some of the most common responsibilities include helping clients identify and access useful services that may be available to them and counseling clients with regard to emotional or mental health challenges. Here are a few examples of some of the areas in which social workers specialize:
Child and Family Social Work
Child and family social work is a branch of social work that specializes in the provision of assistance and social services to help children and their families. Quite frequently, this type of social work involves interaction with a child's school. In fact, many of these social workers may be employed by a school or a school district, or may be assigned to work with certain schools. The primary goal of this occupation is to help the social and psychological functions of children and their families. There is a fair amount of stratification within this line of work. Professionals may specialize in areas via a population segment or by a particular type of setting, and may therefore find their work concentrated in areas such as homelessness, adoption, foster care, domestic violence, or child protection services.
In addition to working for schools, child and family social workers may also be employed by local and state governments, as well as for family or individual service agencies. Oftentimes, these positions are referred to as child welfare social workers, child protective services social workers, or as family services social workers. Within school settings, these professionals operate as a vital source to assist both school personnel and families in helping children maximize the most of their educational process, despite whatever issues may be present. Often, these issues may be related to stress as well as to emotional problems, so child and family social workers frequently interact with a variety of people such as teachers, guardians and parents, and administrative personnel. On some occasions, child and family social workers within school environments may lead classroom workshops about subjects such as conflict resolution. These professionals may also be called upon to assist teachers in dealing with the myriad issues that students go through related to teenage pregnancy, substance abuse, truancy, and general misbehavior.
Medical Social Work
There is a fair amount of similarity that exists between medical social work and public health social work. In many instances, public health social work is responsible for the formulation of the policies that directly affect the care and treatment provided by those engaged in the field of medical social work. It may suitably be asserted, however, that medical social work is involved with more of the actual implementation and facilitation of that policy, although it should be noted that there is a degree of policy determination involved in this field of social work as well.
There are many social workers who specialize in a particular environment or setting. For many medical social workers, those settings are frequently healthcare facilities, including hospitals, inpatient and outpatient care facilities, home health service environments, or nursing care facilities. Professionals working within this branch of social work are responsible for disseminating a variety of support to individuals in need of medical attention (as well as to their families) in a host of vulnerable populations that may be subject to illnesses. There is a fair amount of advisory responsibilities these professionals have to deal with, since they must help family members as well as patients with counseling, and help plan patients' needs once they have been released from hospitals. They also frequently interact with family caregivers and provide instruction to them.
More and more frequently, the target demographic for medical social work is the elderly population, which is largely attributed to increased technology and a higher quality of life that is responsible for people living longer than ever before. For those who are involved with the care of senior citizens and their families, job functions include the assessment, monitoring, and coordination of a plethora of services, such as long-term care, housing, and transportation. Those who specialize with this population group are called gerontological social workers.
Mental Health Social Work
Mental health social work is based upon the assessment and treatment of individuals who are experiencing mental health challenges. In addition to providing therapy, they also make provisions for patients as they readjust to daily living within their surrounding community after leaving inpatient facilities.
There are a couple of different options for the employment environment of mental health social workers. Oftentimes, these professionals may work in inpatient programs where those who are seeking mental health treatment are sequestered in a specific facility away from the public. In such locations the patients actually reside in these facilities for a finite amount of time, which is more than likely determined or approved by a mental health social worker. In such settings, mental health social workers may engage in both group and individual counseling with a particular patient, and also communicate with that person's family to update them on progress and methods to employ to help that person when he or she goes home again.
In outpatient facilities, clients typically come in for treatment and leave. Although some patients may stay overnight, patients do not typically reside in outpatient facilities. Mental health social workers provide the same sort of intervention in these settings as mentioned in inpatient environments, but they typically have less time to work with a patient for the simple fact that he or she is not present at the facility for as long a time.
Another option for mental health social workers is to conduct their own private practices. In virtually all instances, these professionals must have a master's degree within this field, as well as pass strict licensing requirements that vary by state. Private practice social workers are directly employed by a particular client and are referred to as clinical social workers. Oftentimes, mental healthcare social workers who have a private practice provide psychotherapy for their patients, which is typically financed either through a healthcare program or from the client. These professionals typically need a substantial network of contacts for referrals in order to help maintain their practice.
Substance Abuse Social Work
Substance abuse social work can be emotionally demanding. It requires individuals to be emotionally mature, sensitive to people and their needs, and to be objective when dealing with them and their particular issues related to drugs, alcohol, and other substances that are foreign to the human body and produce effects upon the psyche. These professionals typically spend the bulk of their time within an office or residential facility, but they may also have to travel to meet with clients or service providers, as well as attend meetings that may be of benefit to a particular case.
The primary objective for substance abuse social workers is to help clients and their families deal with issues related to substance abuse. There are many different means of going about treating such people. Frequently, individuals within substance abuse social work must play a part in some sort of therapeutic solutions for clients, either in an individual or in a group setting. Other options include crisis intervention, outreach, teaching skills for coping with life, and social rehabilitation.
Because of the sensitive nature of such cases, most substance abuse social workers tend to have advanced degrees. In fact, some areas of the country actually mandate that professionals have such degrees in order to practice and treat patients. Since substance abuse social workers (along with mental health social workers) are called clinical social workers, there are also usually licensing requirements that must be met by these employees in order to work within a certain jurisdiction. Although most states have their own respective licensing requirements, it is fairly common for there to be mandates about a minimum level of experience required (usually two years or 3,000 hours of supervised clinical experience) before these professionals receive their licenses. It may be beneficial to check with certain states for their particular requirements.
Most employees within this field are employed by public agencies, such as family services, while some are employed by individuals. Substance abuse professionals may also work in outpatient care facilities and provide counseling to help people address their respective habits.
Public Health Social Work
There is a fair amount of administrative responsibilities for those who are employed in public social work health. This largely has to do with the nature of this work, which is primarily concerned with the formulation of policy from a managerial or supervisory perspective that is to be implemented and carried out at a variety of levels of public service. Quite frequently, these individuals are employed by entities such as the government as well as individual and family services agencies. Job positions encompassed within this field include social work administrators, policy makers, and researchers, the majority of which are responsible for the research and fostering of programs that address many issues such as violence, penury, homelessness, and child abuse.
To that end, these social workers typically have a hand in several different types of social work, since public health policy social workers frequently are the ones responsible for coming up with the rules and guidelines that professionals in these other areas need to adhere to. Public health social work may play a significant part of the formulation of governmental policy on various issues related to social work, which may require the analysis and advocacy for different public policy positions within governmental agencies. Additionally, these professionals are involved in the implementation of programs that they help to originate. Depending on what sort of a setting a public health social worker is employed in, he or she may be responsible for such practical job functions as the arrangement of at-home services for individuals in need of care, which may include programs such as Meals on Wheels and other forms of domestic assistance.
Due to the level of management or supervisory responsibility that is inherently a part of public health social work, it is often mandatory for professionals within this field to have master's degrees. In particular, depending on what specific setting a professional is involved in, he or she will need to have an MSW with a concentration in an area such as administration or social services policy. It also may help to have a voluntary credential from a professional organization such as the National Association of Social Workers.
Frequently Asked Questions About Social Work Degrees
Can I become a social worker without a degree?
While requirements differ from state to state, you will likely need at least a bachelor's degree to become a social worker. Entry-level positions in similar roles may be available without a degree, however. For example, teacher assistants and paraeducators may be able to find positions with a high school diploma, GED, or associate degree. Positions in nursing or retirement homes, or working with children in preschools and other settings, may also be attainable without a degree.
What is the difference between a clinical social worker and a social worker?
The main difference is that clinical social workers are licensed to diagnose and treat mental health and behavioral disorders, whereas social workers are not. A clinical social worker's responsibilities more closely align with those of a psychologist or mental health therapist. Social workers without a clinical license often have a bachelor's in social work, or BSW. They often work at more of a macro level with communities and organizations rather than one-on-one.
Which industries do social workers make the most money in?
This website offers school details to prospective students as an informational resource. The appearance of a school listing on this website should not be interpreted as an endorsement of the school by this site.