2023 Most Affordable Online Colleges for DNP Programs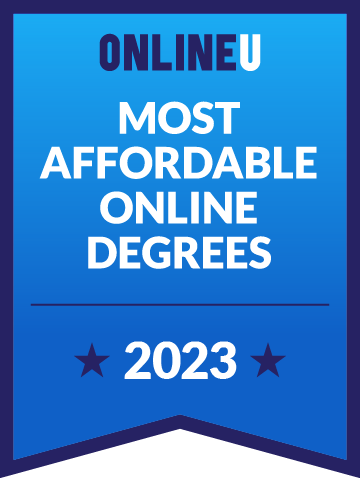 An online Doctor of Nursing Practice (DNP) helps practicing nurses upskill to assume leadership roles in the field of nursing. These online programs are designed for nurses with a bachelor's or master's degree in nursing who aspire to gain additional clinical experience and knowledge to further their careers. Within an online DNP program, students explore topics like healthcare policy, pathophysiology, and healthcare economics through courses that are entirely online. However, students must also complete their clinical hours at an onsite location approved by their teaching faculty and preceptor. In addition, students may also need to complete a research project and visit the campus once or twice. Graduates of an online doctoral in nursing may pursue careers like nurse managers, research managers, and health policy analysts.
View our methodology for details about rankings or learn more about us. You can also check out our overall list of the most affordable online degrees for some inspiration.
All tuition numbers were manually collected and verified
| Rank | School | Locations | Annual Tuition |
| --- | --- | --- | --- |
| # 1 | Fort Hays State University | Hays (KS) | $4,478 |
| # 2 | Wichita State University | Wichita (KS) | $4,620 |
| # 3 | University of North Georgia | Dahlonega (GA) | $4,750 |
| # 4 | Missouri State University | Springfield (MO) | $5,415 |
| # 5 | Georgia College & State University | Milledgeville (GA) | $5,520 |
| # 6 | University of Central Arkansas | Conway (AR) | $5,850 |
| # 7 | Arkansas State University | Jonesboro (AR) | $5,958 |
| # 8 | Jacksonville State University | Jacksonville (AL) | $6,150 |
| # 9 | Southern Illinois University - Edwardsville | Edwardsville (IL) | $6,300 |
| # 10 | Ohio University - Main Campus | Athens (OH) | $6,324 |
Choosing an Online DNP Program
What Factors Should I Consider When Choosing an Online DNP Program?
Accreditation is one of the most important factors to consider when choosing a DNP degree. Enrollment in an accredited Doctor of Nursing Practice program ensures that graduates will qualify for licensure and certification in whatever nursing position they choose to pursue. Employers may prefer to hire nurses who have completed a program accredited by the Commission on Collegiate Nursing Education (CCNE) or the Accreditation Commission for Education in Nursing (ACEN). These organizations are the only accreditors recognized by the U.S. Department of Education as accreditors for nursing programs. They ensure nursing programs are held to universal academic standards and meet specific industry requirements to better prepare nurses for healthcare roles.
Accreditation is one of the most important factors to consider when choosing a DNP degree.
Prospective students should also consider what DNP program options a school has available. There are many specializations within these programs, including adult-gerontological acute care, family nurse practitioner, nursing administration, neonatal nurse practitioner, nursing informatics, public health administration, women's health, and nurse educator tracks.
Students enrolled in a DNP program need at least 1,000 clinical practice hours. Those considering an online program should look closely at the requirements to ensure they can complete their nursing practicum locally. This is especially important for nurses who want to complete clinical hours at their current place of work.
Students who plan to seek APRN certification should check the eligibility requirements for their intended specialization when choosing a program. Each APRN certification has specific criteria for supervised clinical experience hours, program accreditation, and core competencies that must be included in the coursework.
Common Online DNP Courses
Students of DNP programs will likely take some of the following courses, though specific course names may vary by school.
Advanced Clinical Decision Making: To assess, diagnose, and treat patients, APRNs and other healthcare workers must make informed decisions based on many different variables. Advanced clinical decision making incorporates critical thinking and clinical problem-solving skills that nurses apply in a range of complex healthcare settings. This course provides nurses with a strategic framework for making evidence-based decisions when providing healthcare to offer the best outcome for patients.
Applied Clinical Pharmacology: Pharmacology is the study of drugs used in patient care to prevent, diagnose, and treat disease. In applied clinical pharmacology courses, students will learn how drugs affect different body systems and how to prescribe and administer them for primary patient care. Advanced pharmacology courses also cover legal requirements and ethics related to drug prescription.
Epidemiology and Population Health: Epidemiology is the scientific study of disease and other health issues within a population. In this class, DNP students learn clinical epidemiology concepts such as risk factor analysis, public health surveillance, and the health impacts of social trends. They will also study how to use epidemiological methods to develop health policies and practices and evaluate the health of specific groups or communities. Course topics may include epidemiology in the workplace, study design, data sources, statistical measures, methods of evaluation, and prevention of health conditions.
Health Policy and Advocacy: This course focuses on the relationship between policy and healthcare delivery in nursing. In this class, DNP students learn how to evaluate health policies and understand their impact on healthcare quality. Coursework may examine the role of health policy at the organizational, community, state, and/or federal levels. Some courses also cover social justice strategies in healthcare systems. Other courses may incorporate leadership strategies for health advocacy.
Populations & Social Determinants of Health: Many factors can affect a person's health, including social, political, cultural, environmental, and economic factors. Some DNP programs include courses on how these factors can cause health inequity. Courses, such as this focus on healthcare barriers and how social determinants affect health equity in different populations. Other courses may cover community-based healthcare, promoting health and prevention of health issues within communities, and understanding the needs of diverse populations.
Should I Get My MSN or DNP?
Nursing professionals who currently hold a Bachelor of Science in Nursing may be considering either an MSN or DNP program. Choosing between these different levels of education is a personal decision that will depend on individual career goals and how much time and money a student is able to dedicate to their studies. Both degrees will allow nurses to become APRNs. Generally, earning a DNP is a better choice for nurses seeking roles in leadership, administration, education, or research. Earning an MSN can lead to specialized nursing roles.
The major differences between these two degrees are cost, length of time to completion, and salary benefits. Earning an MSN will likely take less time and cost less than earning a DNP, but may also mean lower average salary rates, depending on the specialty area or chosen career path. Earning a DNP will require more credit hours, take a longer amount of time, and may be more expensive, depending on the program. However, a DNP may be necessary for some positions and may qualify nurses for higher pay.
How Long Does an Online DNP Program Take?
As with any doctoral program, the length of an online DNP program depends on a few factors: what degree a student holds before entering the program, whether they attend full time or part time, and whether the program requires a dissertation. On average, MSN-prepared nurses will earn their DNP in two-three years, whereas nurses with a BSN will need five-six years to complete the degree.
MSN students take many of the classes required to graduate with a DNP, and this effort is usually rewarded with a shorter time to graduation. Students in a BSN-to-DNP program need to demonstrate their aptitude with the graduate-level coursework included in an MSN program before they move to the DNP requirements.
MSN students take many of the classes required to graduate with a DNP, and this effort is usually rewarded with a shorter time to graduation.
DNPs are practice doctorates rather than research doctorates, which means they're terminal degrees that aim to prepare students for a profession rather than a career in research or teaching. Therefore, most DNP programs culminate in a capstone course that features a semester-long research project rather than a dissertation that could take years to write.
Cost of an Online DNP Degree
We have limited data on the average cost of online graduate degrees, but bachelor's degrees are significantly more affordable online, especially for out-of-state students or those who attend private colleges and universities.
Given the growing demand for DNP-prepared nurses, a student's employer may agree to partially subsidize the degree in exchange for a guaranteed period of service after graduation. Many employers provide up to $5,250 a year, which is the amount they can pay without being taxed. We cover additional ways of funding an online degree below.
Funding an Online DNP Program
Earning a DNP degree is a significant financial investment, but there are opportunities to lower the total cost. The first step prospective DNP students should take is to apply for federal and state financial aid by filling out the FAFSA. This form is used by the federal government to determine how much money students will need, in the form of grants and loans, to pay for their education. Colleges and states also use this information to award scholarships and grants. To receive aid from a state government, the student may need to reside in the state where their online program is based.
Many DNP students qualify for loan repayment programs. The U.S. Department of Health and Human Services offers a Nurse Corps Loan Repayment Program that repays up to 85% of student loan debt for licensed registered nurses, advanced practice registered nurses (APRNs), and other nurse faculty members who work in either an accredited school of nursing or facilities with healthcare worker shortages. Some schools also participate in the Nurse Faculty Loan Program. This option is a good choice for DNP students who plan to go into nursing education — up to 85% of their student loans can be forgiven if they work in a school of nursing for four years post-graduation.
Funding From Employers
Those who work in government or nonprofit hospitals or healthcare facilities may also qualify for the Public Service Loan Forgiveness program. Under this program, the federal government forgives the remaining balance on any federal Direct Loans after 120 payments. Prospective DNP students should also check with their employer to see if any tuition reimbursement opportunities are available. Many employers will fund part of an employee's tuition, enabling them to pursue more education.
Is a DNP Worth It?
Most applicants considering a DNP already have a nursing degree and years of experience, so the prospect of several more years of hard study can be daunting. Although the advanced degree won't be worth the costs for everyone, it can provide a major career boost in terms of salary and employability.
Potential benefits
Potential drawbacks
To graduate, DNP students need to complete more than 1,000 hours of clinical practice. Working nurses may be able to complete these at their current positions, but their employer will usually require that nurses perform clinical hours separate from work hours. If the student's chosen focus area differs from their current job, they may need to travel to a second location for clinicals.
DNPs can be expensive. Annual tuition for the most affordable online programs ranges from about $4,000 to $9,000, but many cost upwards of $15,000 per year. To estimate the full cost of the degree, students should add the cost of books, supplies, and fees, and then multiply the total by two to four years for the program.
Nothing about nursing classes make them especially well- or ill-suited to distance learning, but the usual caveats apply. Online programs allow students to work on assignments, watch lectures, and post to discussion forums on their own time as long as they respect due dates. Students don't need to uproot their lives to move close to school if they find an ideal program in another area of the country. One downside is that students might forgo some informal networking opportunities that take place on campus, but this may be offset by a DNP student's field experience. Each student needs to log more than 1,000 clinical hours in a healthcare facility, where they can make helpful contacts.
Salary Outlook: DNP vs. NP Salary
Nurse practitioners (NPs) are APRNs who work in a wide range of settings. They diagnose and treat medical problems and have the power to prescribe medication in all states. According to salary data from PayScale at the time of writing, nurses who hold a DNP earn about $8,000 more per year, with an average salary of $104,000, than those with an MSN. DNP graduates are also better prepared for more advanced nursing research and leadership roles or positions as faculty members or administrators.
Even if someone isn't motivated by a higher salary, they may want to consider a DNP to stay competitive with the rest of the workforce. Currently, an MSN is the minimum degree required for NP certification, but several nursing organizations (including the American Association of Colleges of Nursing) are advocating for the DNP to replace the MSN for entry into NP practice. The industry hasn't yet adopted this change, but the trend in nursing education is to require more advanced credentials among nurses. For example, beginning in 2025, a doctorate will be required for nurses to certify as a registered nurse anesthetist (CRNA), one of the highest-paid positions within the field.
Related Articles
2023 Most Affordable Online Colleges & Degrees
Explore the top affordable online colleges of 2023. Find cheap online associate, bachelors, master's, and doctoral degrees.
2023 Most Affordable Online Doctoral Degrees
Explore our 2023 list of the most affordable online doctoral programs to find cheap degree options with high alumni salaries.