2023 Most Affordable Online Master's Degrees in Educational Leadership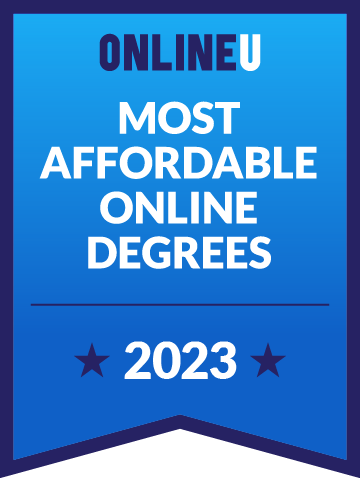 An online master's in educational leadership prepares working educators to assume leadership roles. Prospective students can expect to explore topics surrounding leadership, principalship, and school law. Some example courses include Leadership Theory, School Law, and Introduction to School Administration. Students may also need to complete a practicum, internship, and/or capstone project to graduate. Graduates of an online master's in educational leadership may enter careers like directors, education program coordinators, principals, and program directors. Or, they may further their education by obtaining a doctoral degree.
View our methodology for details about rankings or learn about us. You can also check out our overall list of the most affordable online degrees for more inspiration. Similar programs to an online master's degree in educational leadership are education, elementary education, and secondary education.
All tuition numbers were manually collected and verified
| Rank | School | Locations | Annual Tuition |
| --- | --- | --- | --- |
| # 1 | Buena Vista University | Storm Lake (IA) | $4,080 |
| # 2 | The University of Texas at Arlington | Arlington (TX) | $4,100 |
| # 3 | Fort Hays State University | Hays (KS) | $4,478 |
| # 4 | Evangel University | Springfield (MO) | $4,500 |
| # 5 | Campbellsville University | Campbellsville (KY) | $4,650 |
| # 6 | Athens State University | Athens (AL) | $4,875 |
| # 7 | Fitchburg State University | Fitchburg (MA) | $4,934 |
| # 8 | Southwest Baptist University | Bolivar (MO) | $4,960 |
| # 9 | Northeastern State University | Tahlequah (OK) | $4,991 |
| # 10 | Union College - KY | Barbourville (KY) | $5,100 |
#1

At Buena Vista University (BVU), prospective students can pursue an online Master of Education - Teacher Leadership, Curriculum, and Instruction, which requires 30 credit hours. Full-time students can expect to spend one year completing the program. This program has four tracks students can choose from: (1) Effective Teaching and Instructional Leadership, (2) Teaching English as a Second Language, (3) Talented and Gifted Education, and (4) Teacher Technology Integrationist.

BVU's online students complete coursework on Canvas. The education graduate program is designed for working teachers looking to further their careers in higher education. Some of the program's core courses are Graduate Study and Research; Learning, Development, and Motion; and Leadership in a Changing Society and Culture. Potential career opportunities for graduates include academic directors, assistant principals, and superintendents.

Financial Aid Recipients:

100%

Average SATs:

963 -1140

Undergrad Online Enrollment:

664

Graduate Online Enrollment:

361

School Type:

Nonprofit

School Accreditation:

HLC
#2

The University of Texas at Arlington (UTA) is a public institution offering an online Master of Education in Educational Leadership and Policy Studies totaling 30 credit hours. It can take full-time students just one year to finish this program online.

At UTA, students can complete coursework virtually on Canvas. Courses are delivered both asynchronously and synchronously, depending on the instructor's preference. Overall, a master's in educational leadership gives students the knowledge and skills necessary to pursue high-level careers in education. Sample courses include Leadership Theory, The Principalship, and Diversity in Educational Settings. Students are also required to complete a practicum and capstone internship before graduating and pursuing careers, like education directors, culture associates, and community education directors.

Financial Aid Recipients:

91%

Average SATs:

1000 -1220

Undergrad Online Enrollment:

9,856

Graduate Online Enrollment:

7,453

School Type:

Nonprofit

School Accreditation:

SACS COC
#3

Fort Hays State University (FHSU) is a public institution that offers an online Master of Science in Educational Administration - Building Principal requiring 36 credit hours. Full-time students may complete the program within one year.

FHSU facilitates asynchronous and synchronous online learning via Blackboard. This program helps students to develop the necessary managerial and leadership skills to become a leader in education. Sample courses include School Law, Introduction to School Administration, and Educational Finance. Additionally, a practicum and comprehensive program are both required for graduation. Prospective careers for alumni include principals, instructional coordinators, and district administrators.

Financial Aid Recipients:

96%

Undergrad Online Enrollment:

4,138

Graduate Online Enrollment:

2,462

School Type:

Nonprofit

School Accreditation:

HLC
Overview of Online Educational Leadership Master's Degrees
Advanced degrees in educational leadership are common in the online learning space, in part because it's one of the key ways teachers can advance their careers in education and boost their salaries. Educational leadership degrees prepare current teachers and education professionals for careers as principals, school district administrators, department heads, curriculum developers, education consultants, and other upper-level roles in education.
Master's in educational leadership programs are designed to give students the skills necessary to be effective leaders in education through a blend of theoretical coursework, research, and hands-on experience in the field.
Some programs offer specializations to help students customize their program to fit their career goals. Students might look for focus areas such as instructional leadership, policy analysis, gifted education, educational technology, policy studies, or principal certification.
Graduate students in educational leadership programs often conduct research on topics such as innovative teaching methods, how educational policies affect communities, or leadership practices in schools. Students may also need to complete experiential learning, such as an internship or residency, and complete a thesis or capstone project as part of their program.
Common Courses
A master's in educational leadership will cover core aspects necessary to lead in the field, including areas such as educational law and policy, curriculum development, finance and budgeting in education, diversity, community engagement, and data-driven decision making. Some programs let students choose electives to fit their professional interests, such as education technology.
Funding an Online Educational Leadership Degree
While the high price tag of a college degree can be daunting, there are many resources to help pay for college. The majority of students use financial aid to help cover the cost of their degree, including scholarships, student loans, and employer-funded tuition programs. Many online students also work while in school to pay for college and living expenses.
Financial Aid
The vast majority of students use financial aid to make college more affordable. The first step to applying for most financial aid options is filling out the Free Application for Federal Student Aid, or the FAFSA. Filling out the FAFSA tells schools you are interested in financial aid, including grants, scholarships, and assistantships. This also acts as an application for federal student loans, which you can accept or decline.
Gift Aid: Grants, Scholarships, and Fellowships
When you receive your financial aid offer from your school, it might include gift aid and student loans. Gift aid is the best kind of financial aid because it doesn't have to be paid back. Gift aid includes grants, scholarships, and fellowships and usually comes from the federal government, your school, nonprofits, and other organizations. Your financial aid offer might also include a graduate assistantship, where you can work part-time for your school in exchange for tuition credits and/or a stipend.
Once you receive your offer, ask your school if there are any other scholarships or other funding opportunities you can apply for. You can also look for scholarships outside of your school, which might be offered by nonprofit organizations, businesses, and other groups.
Employees should also check with their employers to see if they have access to tuition reimbursement benefits. Many school districts and other employers offer tuition assistance programs to help students cover the cost of college, especially if their degree is related to their current job.
Student Loans and Other Funding
After all gift aid options are exhausted, there are a few additional ways to help bridge the gap.
Student loans are the last option for students who need help covering tuition and living expenses. While it can be intimidating to borrow money for college, students can avoid owing more than they need by becoming educated borrowers.
Students can use either federal student loans or borrow from a bank, their school, or another private lender. Federal loans are generally seen as the better option over private loans. Benefits of borrowing from the federal government include the option for student loan forgiveness programs, fixed interest rates, and income-driven repayment plans.
There are two types of federal loans available to graduate students: grad PLUS loans and direct unsubsidized loans. Direct unsubsidized loans are the cheaper option, with lower interest rates and other fees. Graduate students who are eligible for loans can borrow $20,500 per year in direct unsubsidized loans.
Grad PLUS loans have higher interest rates and fees, but are not capped at a certain dollar amount per year. Students can borrow whatever is left of their cost of attendance after other financial aid in PLUS loans. Students will need to pass a credit check to qualify for grad PLUS loans.
Both loans accrue interest even while a student is in school, so it's important to borrow as little as possible. Students can learn more about loans in our guide to student loan debt. Educational leadership graduates who work for a nonprofit or government organization at the federal, state, local, or tribal levels, such as a public school, may also qualify for the Public Service Loan Forgiveness Program, where any remaining debt is forgiven after 120 payments or 10 years of monthly payments.
What Can You Do With an Online Educational Leadership Degree?
An online master's in educational leadership can open up a variety of career paths in education, administration, and policy development. Pursuing a career in educational leadership is one of the main ways teachers can advance their careers and earn a higher salary. Here are some potential career opportunities in educational leadership, with data from the Bureau of Labor Statistics (BLS):
Median Annual Salary:
$98,490
Principals manage all school operations, from day-to-day school activities to curriculum coordination. They also oversee teachers and provide a safe and productive learning environment for students. The BLS projects roughly 23,500 job openings per year over the next decade as current principals retire.
Instructional Coordinators
Median Annual Salary:
$63,740
Instructional coordinators are in charge of developing curricula for different areas of study, selecting textbooks, and training teachers on new instructional materials. They often work for elementary, middle, and high schools, colleges, universities, and professional schools. Some might find jobs at educational support organizations and government agencies.
Postsecondary Education Administrators
Median Annual Salary:
$96,910
Postsecondary education administrators work at colleges and universities to coordinate and manage admissions, administrative affairs, faculty and staff, athletics, academics, student services, research, and other areas within the school. Depending on the size of the college, administrators may have a broad or more focused role. Larger schools might have a separate office for athletics, for example, while small colleges might lump athletics into student activities.
When considering whether a master's in educational leadership will be financially worth it, it's important to think about the cost of the degree and the potential salary boost you may see with it. On average, master's degree holders earn more than those with just a bachelor's degree. Leadership roles in education also tend to earn higher salaries than teaching positions.
Further Education
Earning a doctorate in educational leadership is another way educators can unlock upper-level positions and earn higher salaries. A doctoral degree is the highest education level you can achieve and might help open up more advanced career opportunities in colleges and universities, government agencies, and other organizations, alongside the potential for a large salary increase.
FAQs About Online Educational Leadership Degrees
How Do I Choose a Master's in Educational Leadership?
---
There are a few factors to consider when choosing a master's in educational leadership. First, look for an online graduate school that offers the program you're interested in, whether it's a general educational leadership degree, a master's of education in educational leadership, or offers a specialization in areas such as principal certification or educational technology.
Second, check to see what type of online format the program is in and if there are any in-person requirements. Students who prefer more face-to-face time might look for online programs with synchronous classes, where students meet live on camera with their class on a regular basis. Those who don't have very flexible schedules might prefer self-paced or asynchronous options, where they can log in when it works for them.
Third, make sure that the school is accredited and has a good reputation. Accreditation means a school is regularly evaluated to make sure it meets academic standards. A school's reputation can also help you improve your career outcomes after graduation.
Other important factors to think about include tuition, financial aid opportunities, alumni salaries and outcomes, practicum and internship requirements, and faculty expertise.
How Long Is an Educational Leadership Degree?
---
Most educational leadership master's programs take around two years to complete when enrolled full-time. Students who attend part-time might take three to four years, depending on how many classes they can take at a time. Some programs offer accelerated options where students can fast-track their degrees. Self-paced programs are also available to students who want to complete their degree sooner or chip away at it when they have the time.
What Are the Admission Requirements for Educational Leadership Degrees?
---
Applicants will need to have a bachelor's degree to get into a master's program. While a bachelor's in teaching or education isn't necessary, most programs are designed for students who have experience in the field. Programs might require teacher certification or a certain amount of teaching experience. Other common admissions requirements include undergraduate transcripts, letters of recommendation, a statement of purpose or application essay, and a resume. Some schools also have minimum GPA requirements and might require test scores such as the GRE.
Is a Master's Degree in Educational Leadership Worth the Cost?
---
While this depends on personal circumstances, an online master's degree in general leads to higher salaries and more career opportunities in most sectors. This is true in education as well and is especially true for teachers, who tend to earn lower salaries compared to professionals in other fields, such as STEM or business. Students trying to understand the benefit of earning an educational leadership master's degree should consider how much the degree will cost them in both time and money and what they will get out of it.
The return on investment for a master's in educational leadership is not purely financial. Many people pursue this degree program out of a desire to make a positive impact on students and the education system. These other benefits, such as career satisfaction and the opportunity to shape educational policy and outcomes, can be equally or even more valuable for those who are passionate about education.
Related Articles
2023 Most Affordable Online Master's Programs
Explore the most affordable online master's degree programs in 2023 and choose the one that's right for you.
2023 Most Affordable Online Master's Degrees in Organizational Leadership
Find the most affordable online master's degrees in organizational leadership from our 2023 list of colleges ranked by manually collected tuition.