2023 Most Affordable Online Master's Degrees in Counseling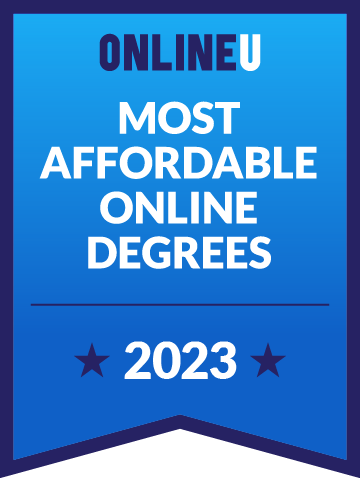 There is a growing need for skilled and compassionate behavioral counselors to help individuals manage mental conditions, such as depression, anxiety, and substance use. In response, we've identified the most affordable online master's degrees in counseling for those who are considering a career spent improving the lives of others. Many of the programs on our list can help students meet licensing requirements and earn credentials in their area of expertise.
We've ranked our list by tuition so you can choose a budget-friendly program that helps you realize your goals. View our methodology for details about rankings or learn more about us. Others may be interested in exploring similar degrees, such as an online master's in marriage and family therapy. You can also check out our overall list of the most affordable online degrees for some inspiration.
All tuition numbers were manually collected and verified
| Rank | School | Locations | Annual Tuition |
| --- | --- | --- | --- |
| # 1 | Kairos University | Myerstown (PA) | $3,600 |
| # 2 | Fort Valley State University | Fort Valley (GA) | $4,993 |
| # 3 | Union College - KY | Barbourville (KY) | $5,100 |
| # 4 | Amberton University | Garland (TX) | $5,130 |
| # 5 | Liberty University | Lynchburg (VA) | $5,500 |
| # 6 | Governors State University | University Park (IL) | $5,648 |
| # 7 | University of Central Arkansas | Conway (AR) | $5,850 |
| # 8 | Veritas Baptist College | Lawrenceburg (IN) | $5,922 |
| # 9 | Arkansas State University | Jonesboro (AR) | $5,958 |
| # 10 | Adams State University | Alamosa (CO) | $6,525 |
Getting an Online Master's in Counseling Degree
Can I Get My Master's in Counseling Online?
You can complete coursework for a master's degree in counseling completely online. However, there are significant experiential requirements for each specialization — for example, most mental health counseling students need to complete 600 supervised in-person field hours to graduate.
We list the 25 most affordable online degree options here, starting with the lowest tuition rate. Even the two schools tied for #24 have tuition rates of $12,240 a year, which is much less than some schools charge. Our sister site, OnlineU.com, ranks the 11 best online master's programs by their return on investment (ROI). Besides tuition, the ROI calculation includes estimated future debt and earnings for graduates so prospective students can make an informed decision about their future.
You should always ensure that a program is accredited before considering it seriously. All schools on our site are nationally and regionally accredited, which guarantees that they've met certain criteria for quality. Counseling programs may be further accredited at the program level by the Council for Accreditation of Counseling & Related Educational Programs (CACREP). CACREP accredits online programs, and most schools who have earned this stamp will mention it on their counseling program pages; for example, Indiana Wesleyan University and Southern New Hampshire University Online both mention their CACREP accreditation in describing their online master's degrees.
Common Counseling Courses
Below are some courses that students across counseling degrees might encounter. Many programs will offer coursework about these topics, though course names and details may vary.
Mental Health Counseling
Introduction to Mental Health Counseling: In this course, students learn the history, philosophy, and legislation behind mental health counseling. Faculty discuss the role of the counselor in treating people with emotional, psychological, and behavioral problems, along with how these professionals earn and maintain licenses to practice. Most schools (including Indiana Wesleyan University Online) offer this survey as a standalone course. However, the University of the Cumberlands and some others include mental health counseling as part of a broader course on the counseling profession.
Crisis, Disaster, and Trauma: An important aspect of counseling is understanding how traumatic events shape people's mental and physical well-being. This course teaches the best methods for helping patients process trauma. Faculty also discuss the toll that such counseling can take on the counselor, providing strategies for self-care when dealing with burnout and compassion fatigue. Most colleges with an online master's in mental health counseling offer this or a similar course, including Houston Baptist University and Adams State University, which are #14 and #20 on our list of most affordable colleges.
Rehabilitation Counseling
Introduction to Rehabilitation Counseling: This course gives an overview of theories, principles, and best practices for rehabilitating people with physical disabilities or mental illness. Students learn the relevant historical and legal context behind rehabilitation counseling, along with current and projected trends and challenges. This course offers a broad look at rehabilitation counseling — students will have a chance to study more focused topics further into their program.
Psychiatric Rehabilitation: This course teaches how to assess people with mental illness and offer them strategies for moving forward after a diagnosis. Students read the latest research in rehabilitation theory and case management and learn how to adopt an evidence-based approach to practice. The focus is on helping people structure their lives to set them up for success after a diagnosis. Rutgers University and Fort Valley State University offer this class in their online rehabilitation counseling programs, and Clarion University offers a rehabilitation course about the psychological impact of living with HIV/AIDS.
Substance Abuse Counseling
Introduction to Substance Abuse Counseling: Faculty cover the foundations of chemical dependency and proven methods for treating it in various populations. Faculty also cover the ethics of counseling people affected by addiction. Students should understand that religious-affiliated schools will usually approach ethics topics from the perspective of their denomination.
Psychopharmacology for Counselors: This course describes the physiological effects of different addictive chemicals on the human body and brain. Faculty help students understand the physical science behind addiction so they can effectively treat its psychological effects. All substance abuse counseling programs offer a variation of this course, including Washburn University and Aspen University from our list of affordable programs.
School Counseling
Introduction to School Counseling: In this survey, students learn fundamental theories and techniques for guiding students through their education. Faculty discuss common mental health issues and behavioral disorders, legislation and practice trends, and licensing standards for school counselors. Most versions of this course touch on mental and physical development through childhood and adolescence, though later courses cover this more in depth.
Human Development Across the Lifespan: This course covers emotional, physical, and behavioral development from childhood on. Students learn the major development milestones and the crucial influence played by a child's social and family environments. Faculty emphasize what development means for a young student's education. On our list of most affordable colleges, Lubbock Christian University and University of North Dakota both offer this course.
How Much Does It Cost to Get an Online Master's in Counseling?
Among the 25 most affordable schools on this page, the average annual tuition is $9,549. Annual tuition for this degree can range from $5,500 to $53,850, according to our sister site. Tuition is not the whole story, because each school adds fees on top of the tuition rate. Most schools charge a technology fee to online students, along with other costs. For example, the University of North Dakota applies four mandatory student fees for all enrollees (online and on-campus), which total $868 per semester. Research these fees when considering programs, and use each institution's net price calculator to get the most accurate estimate of a degree's cost. Most schools offer these calculators in the tuition or financial aid sections of their sites.
Research conducted by OnlineU.com tells us that online programs are often more affordable than their in-person equivalents. This is especially true for out-of-state students or those enrolled at private institutions. The data is limited to bachelor's degrees, but looking through the most affordable online master's degrees in counseling reveals a similar story. For example, Houston Baptist University charges the same tuition for its online and on-campus M.A. in human services counseling, but a flat $250 fee per semester to online students and a number of potential fees to in-person students, including a $635 general fee per semester.
How Do I Get a Master's in Counseling Paid For?
It's unlikely that anybody will get a master's degree without any debt obligation, but there are ways to partially fund a program. These include scholarships, grants, and employer tuition assistance.
Scholarships
Scholarships are highly sought after because they pay part of a student's tuition with no expectation of repayment. Because there are many specializations within the field of counseling, the scholarship field is wide-ranging. Applicants may be eligible for some of these options depending on their background and experience:
Grants
Like scholarships, grants are a form of funding that students don't need to repay after graduation. Review these options for an idea of what's available:
In addition, the American Counseling Association (ACA) has a page hosting the various federal funding options for counseling students. These include opportunities for students interested in behavioral health, opioid addiction, and suicide prevention, among other issues.
Employer Tuition Assistance
Though there are many scholarships and grants for counseling students, employer funding is more nebulous. We have little hard data about the number of employers willing to partially fund their employees' master's degrees in return for an agreed-upon term of service. Students who work for a college or university may be eligible for tuition discounts on classes offered by their employers but may not receive assistance to attend another institution. Employers who do fund graduate degrees usually offer up to $5,250 per year, which is the maximum tax-deductible amount. Prospective applicants should check with their employers to learn the relevant policies.
Salary and Job Outlook for Online Counseling Graduates
Below are some common careers for counseling graduates. Counseling is a wide field with several specializations, so some careers only make sense for graduates of particular programs — for example, those with an M.A. in school counseling are qualified to become school counselors but not substance abuse counselors. Students should research licensure and certification for their specialty in the state where they want to practice, because standards may differ across these boundaries.
Clinical Mental Health Counselor
Median annual salary: $46,240
Job prospects: 25% growth through 2029
These professionals provide mental health therapy either one on one or in group settings. They seek to assess, diagnose, and treat a range of mental and behavioral health disorders to help their clients live healthy and productive lives. Clinical mental health counselors work for government agencies, at hospitals and other health care settings, or in private practice. Educational requirements vary by state, but a master's degree in counseling is sufficient to sit for a licensure exam anywhere in the country. The American Mental Health Counselors Association (AMHCA) also offers certifications for those seeking additional credentials. The BLS expects the heaviest job growth in rural areas, providing opportunities for graduates in these areas.
School Counselor
Median annual salary: $57,040
Job prospects: 8% growth through 2029
School counselors work with K-12 students to help them succeed in school and address any social, behavioral, or cognitive delays or difficulties that may affect their functioning in the school environment. They give aptitude tests, evaluate students' home environments, and consult with parents and teachers to offer improvement plans where needed. High school counselors also help students plan for their lives after graduation. School counselors must earn a master's degree and a license in their state of practice. They can also join the American School Counselor Association for professional development opportunities.
Substance Abuse Counselor
Median annual salary: $46,240
Job prospects: 25% growth through 2029
The Bureau of Labor Statistics (BLS) groups substance abuse counselors together with mental health counselors, but these professionals more narrowly focus on helping people overcome chemical dependency. They often work with patients' families in group sessions to help repair damaged relationships. These counselors work in a variety of practice settings, and some choose to influence federal policy by working for the Substance Abuse and Mental Health Services Administration. To practice privately, addiction counselors need a master's degree and thousands of hours of clinical experience. License requirements are less stringent for other types of practice, though they vary by state. The BLS attributes the rapid job growth over the next decade to state and local governments increasingly emphasizing addiction treatment over incarceration.
Rehabilitation Counselor
Median annual salary: $35,950
Job prospects: 10% growth through 2029
These counselors help people with physical and mental disabilities live as independently as possible. They assess each individual's abilities in relation to their work and home environments so they can develop strategies and seek accommodations where needed. Rehabilitation counselors need a master's degree and a license in most states — the Commission on Rehabilitation Counselor Certification has information about state requirements. The high rate of job growth will be due to an aging U.S. population and a spike in veterans with disabilities over the last two decades.
Related Articles
2023 Best Online Master's in Counseling Degrees
View rankings of the best online master's degrees in counseling based on alumni salaries. Read on to learn about coursework, career options, and more.
2023 Most Affordable Online Master's Programs
Explore the most affordable online master's degree programs in 2023 and choose the one that's right for you.