2023 Most Affordable Online Cybersecurity Degrees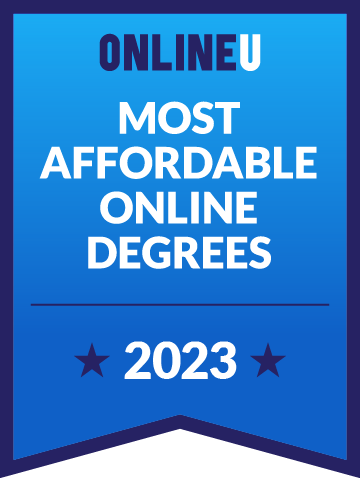 Online cybersecurity degrees online teach valuable skills that are used to protect information and network systems. Most professionals jump-start their career by earning a bachelor's degree online and gaining work experience. Some even go on to earn an affordable master's degree in cybersecurity, where students further develop their skills and prepare for administrative roles in the field. There are also alternative programs that produce similar outcomes, such as a homeland security degree or a computer science degree.
View our methodology for more details about rankings or learn more about us. You can also check out our overall list of the most affordable online degrees for more inspiration.
All tuition numbers were manually collected and verified
Rank
School

Locations

Annual Tuition

# 1
Middle Georgia State University
Macon (GA)

$3,410

# 2
Kennesaw State University
Kennesaw (GA)

$5,562

# 3
Georgia Southern University
Statesboro (GA)

$6,169

# 4
Athens State University
Athens (AL)

$6,975

# 5
University of Alaska Fairbanks
Fairbanks (AK)

(and 1 other)

$7,020

# 6
Columbia Southern University

Orange Beach (AL)

$7,050

# 7
University of the Potomac

Multiple Locations

$7,200

# 8
Purdue Global
Indianapolis (IN)

$7,500

# 9
Western Governors University

Salt Lake City (UT)

$7,550

# 10
American National University

Multiple Locations

$8,185
Overview of Online Cybersecurity Degrees
Threats from data breaches, viruses, and scams have become all too common given the increasing reliance on digital interactions in our personal and professional lives. The field of cybersecurity directly counters these risks in this new technological landscape, ensuring that individuals and organizations can continue using information networks safely and securely. A bachelor's degree provides students with up-to-date knowledge of how to conduct digital forensics, map networks, develop web security, and work with emerging technologies.
Students learn how to analyze threats, generate protective measures, and maintain crucial security systems. Graduates with a bachelor's degree in cybersecurity are involved in one of the fastest growing job markets in the country. New threats — whether it's viruses or information hacking — are constantly emerging, putting cyber analysis and forensics skills in high demand.
The field of cybersecurity directly counters risks, ensuring that individuals and organizations can use information networks securely.
Students can pursue an online bachelor's degree in cybersecurity at the associate, bachelor's, master's, and doctoral levels. While graduate qualifications, such as a master's degree, give students an in-depth understanding of areas including network architecture or cybercrime, a bachelor's can equip them with the tools, practices, software, and legal frameworks to regulate the protection of online space. Online bachelor's degrees are designed to be completed in four years of full-time study. During this time, students typically finish 120-124 credit hours, including a minimum of 35 in cybersecurity topics. Part-time students who take fewer classes per semester often take more than four years to achieve their degree.
While admission requirements can vary depending on how competitive a bachelor's program is, prospective students often need a minimum high school GPA of 2.75, along with a B grade in a STEM class that covers advanced math concepts. Applicants also typically need to submit high school transcripts, letters of recommendation, and personal essays with their application.
Funding an Online Cybersecurity Degree
Simply put, college degrees are expensive. Schools charge thousands of dollars in tuition and fees, and you need to buy supplies and ensure that you meet the technology needs of your program. But millions of college students each year find ways to pay for college, usually with a combination of savings and loans.
Few degree seekers can afford to fund their education by themselves, so most postsecondary students receive at least some financial aid. This often takes the form of loans that graduates need to repay with interest, but it's important to first exhaust all possible gift aid opportunities to reduce future debt: grants, loans, and work-study programs. In general, online students qualify for the same types of aid as in-person learners.
How Much Does an Online Cybersecurity Degree Cost?
Multiple factors can affect the cost of a cybersecurity degree. Where tuition is concerned, our ranked programs range from $3,410-$8,185 per year. Online students can further reduce the cost of their education by applying for financial assistance, including federal and state scholarships as well as private grants.
Tuition is the bulk of a degree's price, but you'll typically also pay fees for a range of services that include upkeep for technology and infrastructure. Online cybersecurity programs usually have minimum technology requirements, such as stable Wi-Fi and a laptop with a certain amount of processing power.
Financial Aid
Financial aid is any form of educational funding besides personal savings. This includes loans and gift aid, such as need-based grants, merit- or need-based scholarships, and need-based work-study programs. Gift aid is ideal because it doesn't need to be repaid, so it lowers the total cost of a degree and can reduce future student loan debt.
The financial aid process typically starts with a Free Application for Federal Student Aid (FAFSA), which may help you qualify for federal funding. Most state governments and colleges also pull from the FAFSA to determine financial need. Some states offer similar forms to students with undocumented immigration status because they can't receive federal aid.
Scholarships for Cybersecurity Majors
In addition to government money, you can apply for private scholarships specifically intended for cybersecurity students, such as the following examples. Check with your school's financial aid office to ensure they accept funds from these and other sources.
DoD Cyber Scholarship Program
You can apply to have the U.S. Department of Defense (DoD) pay all of your tuition for a year, plus provide a living stipend. Whether you're an undergraduate or graduate student, you must agree to work for DoD for every year you receive the award, which requires earning and maintaining a security clearance. You also need to enroll in particular programs at designated institutions.
(ISC) 2 Undergraduate Scholarship
Up to 20 online bachelor's students can earn an award of $1,000-$5,000 toward a cybersecurity degree. Prospective applicants must have earned at least a 3.3 GPA in their most recent coursework, and the application includes providing a letter of recommendation and answering several essay questions.
Raytheon Intelligence & Space Women's Cybersecurity Scholarship
Undergraduate women studying for a cybersecurity degree can apply for this scholarship if they've earned at least a 3.3 GPA in their most recent coursework and can demonstrate financial need. Awardees receive $10,000 for tuition and fees and a package of benefits to help them pay for and earn an (ISC)2 certification in cybersecurity. Raytheon also sponsors a $10,000 Intelligence & Space Minority Cyber Security Scholarship.
Online Cybersecurity Courses and Curriculum
In an online cybersecurity bachelor's program, students gain hands-on experience working with security software and developing skills in critical thinking, problem-solving, and logic. Students enrolled in a cybersecurity bachelor's may choose between several concentrations, including mobile applications, website design and protection, and network management. In many cases, they must complete a capstone project, which is an opportunity to apply their training.
The following is a list of common courses in a cybersecurity bachelor's degree program.
Introduction to Cybersecurity
This is an introductory course in which faculty introduce the foundational principles of internet security. Students investigate the role of cybersecurity analysts, the technology they use, and the areas where they typically work. Some versions of this course also take a historical perspective on cybersecurity's evolution as a discipline, covering contemporary and possible future challenges faced by professionals in the field.
With so much information existing in the cloud, cybersecurity professionals need a working understanding of the security aspects of digital storage. Students learn about cloud technology, common threats to remote data servers, and modern practices designed to shore up internet security. This elective typically requires that students have a basic understanding of cybersecurity.
Cyber Law, Policy, and Compliance
Students enroll in this course to study the legal provisions that govern digital space. They learn about ethical hacking, intellectual property, online privacy, and related topics. Given its emphasis on analytical reasoning, this course could inspire students to enter a career in the legal field with special emphasis on cybersecurity regulations.
Cybercrime and Information Warfare
Typically listed as an elective, this class addresses the dangers of online terrorism. Students learn about small- and large-scale digital crime as well as tactics aimed to limit public exposure to such threats. This course may prepare individuals to take a position in digital forensics, an area of law enforcement.
Database Management Systems
This class covers how to construct and maintain secure databases. Students grasp concepts central to the practice of data security, such as modeling, organization, physical storage, and server performance. Covering a variety of widely applicable concepts, this class helps prepare students for entry-level computing roles in multiple sectors.
In this class, students learn to integrate online security technology with large-scale projects. They focus specifically on how to apply cybersecurity principles to an organization's long-term goals, while also developing the soft skills necessary to effectively execute online security initiatives.
Accreditation
Colleges and universities must be accredited to prove they meet national standards for academic excellence. This is a voluntary process in which a third party assesses a school's faculty, curricula, program offering, and other educational facilities. Attending an accredited school ensures that students can apply for federal and state financial assistance, as many public scholarships expressly require that aid beneficiaries study at such a college or university.
While regional and national accrediting bodies evaluate schools on an institutional basis, professional organizations appraise individual degree programs to determine whether they meet educational standards in a specific field. It's important to note that bachelor's level degrees in cybersecurity don't require this programmatic assessment to ensure they meet academic standards in this area of study. However, the Accreditation Board for Engineering and Technology nevertheless accredits bachelor's programs based on its own distinct criterion.
Careers with a Cybersecurity Bachelor's Degree
Cybersecurity professionals are trained to identify, evaluate, and counter online threats. Their tech skills are in demand across a range of industries, including government, education, and healthcare, to name a few. Specifically, these professionals help ensure online safety across various activities on the internet — from renewing driver's licenses and purchasing goods to connecting with others via social media. Below is a list of potential cybersecurity career paths for graduates:
Information Security Analysts
Annual Median Salary:
$102,600
Information security analysts are directly responsible for identifying and preventing cyberattacks. This involves developing online security measures, such as antivirus software or firewalls, and monitoring an organization's computer network for possible threats.
Computer Network Architects
Annual Median Salary:
$120,520
Computer network architects build digital communication infrastructure used daily by individuals and organizations. They work with computer hardware and software to ensure networks are safe from hackers while offering reliable connectivity.
Annual Median Salary:
$93,000
Management analysts, also known as consultants, advise clients on how to improve their processes. Cybersecurity consultants typically suggest ways for businesses and other organizations to insulate their computer systems from online assaults, such as viruses or malware. Unlike some tech workers, these professionals are generally retained on a contract basis.
Software Developers, Quality Assurance Analysts, and Testers
Annual Median Salary:
$109,020
Is an Online Cybersecurity Degree Worth It?
Completing your postsecondary education online requires motivation and time, so it's normal to wonder whether a bachelor's degree is worth it. Additionally, while a cybersecurity program may lead to a lucrative tech career, you should consider whether pursuing this qualification helps you meet your personal goals while staying within your budget. Below are some general pros and cons to help you decide whether an online bachelor's in cybersecurity is right for you.
Potential Benefits
Getting your degree online can enable you to learn at your own pace. Distance education programs are often delivered asynchronously, allowing you to take classes and complete assignments when convenient. This can make it possible to earn your degree while meeting the demands of a busy schedule.
Potential Drawbacks
Certifications may be necessary for some career opportunities. A bachelor's degree alone cannot guarantee a cybersecurity graduate will find employment — particularly as employers sometimes require candidates to have specific certifications as evidence of their expertise in a particular area. While certifications can greatly increase the chances of getting a job, they require further financial investment.

Cybersecurity bootcamps can offer a quicker and cheaper path to a job in tech. While you may not gain an understanding of computer science theory, a bootcamp can equip you with the hands-on skills necessary for a cybersecurity job in a matter of months at a significantly cheaper price than a bachelor's degree.

Distance education may not offer enough support for some. Unlike on-campus degrees, online learning may limit your interaction with professors and peers. This may prevent you from taking advantage of collaboration and networking opportunities.
Related Articles
2023 Most Affordable Online Bachelor's Degrees
Find the most affordable online bachelor's degree programs in the country for 2023. We highlight cheap online colleges with high alumni salaries.