2020 Best Online Counseling Degrees
Most of us are fascinated by the motivations and reasoning that drive human behavior, and some people are inspired to turn that fascination into a career by becoming a counselor, therapist, or mental health professional. For those who are inspired to assist people in understanding and modifying their behavior in order to lead healthier and happier lives, this is an excellent time to be entering the field of counseling. Over the next 10 years, the U.S. Bureau of Labor Statistics is projecting a 25% increase in demand for substance abuse, behavioral disorder, and mental health disorder counselors, and a similarly dramatic rise of 22% in demand for marriage and family therapists. Scroll down to find a ranked list of the best schools for online degrees in counseling. Then read on for more information about possible career specializations, the importance of choosing an accredited counseling program, and licensing requirements for counselors, and answers to frequently asked questions about the field.
2020 Best Online Colleges Offering Bachelor's in Counseling Degrees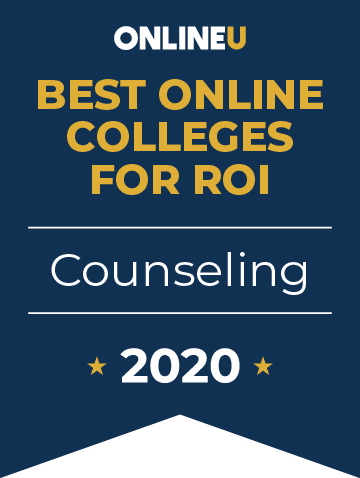 With low tuition rates and high average alumni salaries, the following 18 schools offer the best online bachelor's in counseling degrees. Houghton College is the #1 school, with an average alumni salary of $123,200 and charging only $32,930 for their B.A. in Psychology with a concentration in Clinical Counseling. Second-ranked Union College - KY offers a Bachelor of Science in Substance Abuse Counseling for $6,750 per year. Graduates of the school's counseling program earn a median salary of $83,100.
Alumni salaries were provided by PayScale. View our methodology for more details or learn more about OnlineU.
Salary data provided by

2020 Online Colleges Offering Counseling Degrees - Ranking Details
Online Counseling Degree Overview & Career Information
Online graduate certificates and master's degrees are the most commonly available counseling programs and generally prepare students for state licensure. Each state determines its own set of standards for licensed counselors, and the National Board for Certified Counselors (NBCC) contracts with all of the states to administer the licensing exam. Students should review their state's requirements in order to determine which degree program is best suited for their professional goals.
Online bachelor's degree programs in counseling typically focus on substance abuse, addictions, or human behavior. While a bachelor's degree in counseling will provide an introduction to the field, most states require that counselors have at least a master's degree in order to become licensed.
Master's degree programs allow prospective counselors to specialize in a particular area, such as marriage and family or mental health counseling. Coursework varies greatly depending on the specialization, but most programs that prepare graduates for direct client assessment require supervised counseling practicums, fieldwork, and internship experience.
Doctoral degrees are designed for current counselors who want to advance in their careers, either as educators, advanced practitioners, researchers, or supervisors in counseling settings. Advanced classes within the doctorate generally cover topics such as counseling assessment, group counseling, supervising, counseling diverse populations, and counseling curriculum development.
Online Associate Degrees in Counseling
While most counselors have a graduate degree such as a master's, PhD, or PsyD, many take the first step in their career with a two-year associate degree in counseling. Associate degree holders in counseling may be able to find general counseling work that doesn't require a specialty certification, such as addition, career or life counseling. However, they will find they are most competitive in the job market if they go on to complete a full bachelor's degree.
Program Requirements
Associate degrees in counseling are offered by community colleges, usually consist of 60 credit hours, and take about two years to complete. Credits earned in an associate degree can often be used towards a full four-year bachelor's degree. Applicants to an online associate level counseling program may need to submit transcripts from high school or a GED certificate and transcripts from any college courses they have taken at other institutions. Some colleges also have minimum GPA requirements for applicants.
Curriculum
An associate degree in counseling usually requires general education courses in math, science, and liberal arts with five or more courses in psychology or counseling. At minimum, students need a high school diploma or equivalent to start their associate degree. While work experience is not necessary, counseling students might be interested in volunteering at clinics in their counseling area of interest. Specialty counseling, which would require a master's degree and some form of certification, includes marriage and family counseling, personal growth counseling, psychotherapy, psychoanalysis, and some formalized areas of addiction counseling.
Online Bachelor's Degrees in Counseling
An online Bachelor of Arts (BA) in counseling provides solid preparation for graduate study in counseling, marriage and family therapy, social work, and other human services and helping professions.
Program Requirements
Online undergraduate programs in counseling follow the standard admissions protocol and require a high school diploma, SAT/ACT scores, a resume, and letters of recommendation. Online graduate counseling degree programs accept undergraduate majors in a wide variety of areas, although experience with psychology and sociology coursework is helpful.
Curriculum
Students who choose to earn bachelor's degrees in counseling will study general psychology and sociology, and they will also take a broader array of classes in math, sciences, communications, and social sciences. The classes students take as undergraduates will often mirror the courses they will take as graduate students, but the undergraduate curriculum revolves around learning existing theories rather than developing one's own ideas and techniques. Students gain a firm foundation in psychology and sociology through classes such as child development, addiction, abnormal psychology, and emotional disorders. Other courses discuss particular counseling issues, such as case management, drugs and behavior, substance abuse recovery, counseling skills, and counselor ethics. Many counseling bachelor's programs also include field experience requirements, where students observe experienced counselors and practice basic counseling skills in a supervised setting.
A four-year bachelor's degree may lead to positions in substance abuse or behavioral disorder counseling or nonclinical positions in human services or helping professions, but it alone will not qualify graduates to become a licensed counselor in most states. In order to become a licensed counselor, students will need to pursue a master's or doctoral degree in counseling.
Online Master's Degrees in Counseling
The online Master of Arts (MA) in counseling is the minimum educational requirement for state licensure in most professional counseling positions, including school, marriage and family, addiction, clinical mental health, and career counseling. It is also the minimum educational requirement for national certification by the National Board for Certified Counselors. To learn more about online master's programs in counseling, see our master's overview which includes a list of the best programs.
Online Doctoral Degrees in Counseling
Master's-level counselors may choose to pursue pursue an online doctorate, or PhD, in order to become counselor supervisors, researchers, and educators.
Program Requirements
Online PhDs and other doctoral counseling programs take three to five years to complete. In order to be eligible to apply, prospective students must already have a master's degree in counseling or a closely related field. Depending upon the school, applicants may be required to submit transcripts, personal statements, standardized test scores, and/or letters of recommendation.
Curriculum
Research techniques, psychological statistics, human learning, behavioral neuroscience, developmental psychology, and social psychology are some common course options. Along with studying psychological systems, students also undertake a large dissertation research project in an area of counseling psychology that interests them, such as vocational psychology, individual and family counseling, or diagnosis and treatment. Graduates can go on to research and teach counseling at the college level, while others oversee counselors in group practices.
Doctoral degrees require the completion of a dissertation and an extensive research paper on the student's topic of choice. Most students who seek these degrees have a topic in mind, and they will dedicate years to finishing their work. Highly advanced coursework is also expected, and most doctoral students are already working as school counselors and psychologists, providing them with experience on which to base their learning.
Online Certificates in Counseling
A wide variety of online counseling certificate programs are available to students and professionals who wish to work toward licensure or a graduate degree, or who just want to advance their current understanding of counseling for professional or personal reasons. The types of certificates that are available vary greatly in subject matter, duration, and requirements, but most require at least a bachelor's degree and last approximately six months to one year. For example, invididuals with a bachelor's degree may pursue a certificate in clinical mediation counseling, college admissions counseling, pastoral counseling, or drug and alcohol counseling as part of a graduate school track or simply to enhance their professional counseling skills.
A family counseling or lay counseling certificate might be a good option for community leaders and care-giving professionals with a variety of academic backgrounds, such as physicians, campus residential advisors, pastors, social workers, or nurses. Advanced or clinical mental health counseling certificates are typically designed for people with a master's degree who must meet specific educational requirements in order to earn or renew a state license.
What Students Learn in an Online Counseling Program
Online graduate counseling degrees offer courses that help students better understand how to interact with diverse populations. Psychology and sociology courses are offered with a variety of titles and will probably play a role in every class a counseling student takes. Because counselors are bound by legal parameters, graduate students will likely study these parameters, as well as the ethics and legal procedures that govern their work. Some counselors will take classes in general social work and cultural studies as well, so they can prepare for work in settings that serve populations in need. Students may also take courses that explore counseling procedures and theories, including group and individual counseling sessions.
The subjects that online students take are essentially the same as those in traditional schools; both types of students will complete extensive reading and writing assignments, but traditional students have more opportunities for role play, group work, and discussion. Online students must be comfortable working alone, and they may need to take more responsibility for their licensure process by finding an apprenticeship in a local school, clinic, or community agency to get the hours they need.
In order to gain the hands-on experience that an expert counselor needs, all quality online graduate counseling degrees require a practicum and internship experience. Practicums put students in mock counseling settings, which allow them to work on their counseling skills in low-stakes situations. Internships in a counseling office allow students to shadow experienced counselors and practice their counseling skills under the watchful eye of a professional. The amount of fieldwork required will depend on the state in which the training takes place and the type of counseling the student specializes in.
The following list provides examples of some of the general courses covered in an online graduate counseling degree program:
Clinical Assessment: Students learn about different tools, such as standardized questionnaires, which can be used to determine a patient's diagnosis.
Counseling Psychology: This class discusses how personality and personal interaction can manifest in the client-counselor relationship. Students learn different methods for working with clients, depending on what the client wants to get out of counseling.
Ethics: Since counselors have the ability to make a deep impact on their clients, both in a positive and negative way, they must be careful to hold themselves to the highest ethical standards at all times.
Evidence-Based Counseling: Students learn how to use evidence and counseling research to improve their therapy practice. Students study different interventions and findings and apply research in a clinical setting.
Group and Family Therapy: Students practice methods for interviewing, assessing, and treating groups of individuals.
Interviewing: This course covers methods of initial interactions with clients to determine the problems they are facing and the results they hope to achieve with therapy.
Lifespan Development: This course discusses how people change from childhood to adolescence and into adulthood and old age. All aspects of development are covered, such as cognitive, physical, and emotional development.
Understanding Licensure and Certification Requirements
Licensure refers to the set of laws and regulations that professional counselors must follow, as determined by each US state. Most states require that all mental health counselors complete an accredited master's degree program and two years of supervised training (or 2,000-4,000 hours of supervised fieldwork) in addition to passing a state licensing exam before they are allowed to work with clients. Licensing standards for counselors vary from state to state, so it is important that prospective counseling students consult their state's regulatory board to learn about their particular requirements. The American Counseling Association provides information about the licensure requirements for each US state.
Professional certification for counselors is optional, but it serves as a way for professional organizations, employers, and clients to recognize whether a counselor is competent, educated, and adheres to a strict code of ethics. Certification may also improve job prospects and increase your salary.
The two primary certification agencies for counselors are the National Board for Certified Counselors (NBCC) and the Commission on Rehabilitation Counselor Certification (CRCC). NBCC offers a national certification for the broad counseling profession (NCC, or National Certified Counselor) and specialty certifications for mental health counselors (CCMHC), school counselors (NCSC), and addictions counselors (MAC), while CRCC offers certification for rehabilitation counselors (CRC). Certification in any of these categories requires a master's degree, supervised clinical experience, and a certain number of approved continuing education courses every five years in order to remain current.
The Importance of an Accredited Online Graduate Counseling Degree
In most counseling professions, practitioners must have a state-issued license or credential in order to work with clients; to earn this license, students must graduate from an accredited master's or doctoral degree program. Accredited programs are those that are deemed to be properly established and meet the standards approved by the profession. Accredited counseling programs are the most tailored to providing you with the right skills and knowledge needed to pass a state licensing exam. Graduates of CACREP-accredited programs are also immediately qualified to acquire national certification from the National Board of Certified Counselors (NBCC) upon passing the National Counselor Examination (NCE).
While it is not strictly required that students attend an accredited school to obtain a master's degree in counseling, it is strongly recommended because doing so will open up better employment opportunities, help with state licensure, and make it easier to work in a different state. The Council for Accreditation of Counseling & Related Educational Programs (CACREP) evaluates graduate counseling programs to ensure that they meet the highest educational and professional standards. Currently, CACREP accredits master's degree programs in the following counseling disciplines: addiction, career, clinical mental health, marriage, couple, and family, school, and student affairs and college counseling.
There are also accreditation agencies that only accredit programs of a certain type or within a particular discipline. For example, the Comission on Accreditation for Marriage and Family Therapy Education (COAMFTE) accredits programs specifically in marriage and family therapy, whereas the Masters in Psychology and Counseling Accreditation Counsel (MPCAC) accredits only master's programs. Accreditation from both of these agencies can be taken as a sign that the program is of high quality and will provide students with the information they need to become capable counselors.
Career Specializations for Counseling Graduates
Counseling is a broad profession that plays a role in many settings and populations, so a wide variety of career specializations are available. Possible settings include community agencies, schools, universities and community colleges, hospitals, and private practice. Counselors may also travel within the community to see clients. Although a master's degree in counseling is necessary to become a licensed counselor, graduates with a high school or bachelor's degree and relevant experience may qualify for the following counseling-related positions:
Social and Community Service Manager: Community organizations and social services departments require managers who understand complicated cultural and social dynamics and can help their employees better serve their clients.
Social and Human Service Assistant: Counselors and social workers utilize social and human service assistants to help them find and apply for benefits and community services for their clients. These assistants may also help the patients under the guidance of a licensed counselor or social worker.
Substance Abuse and Behavioral Disorder Counselor: Depending on the setting and the state in which they work, graduates with a bachelor's degree may qualify for a position as a substance abuse and behavioral disorder counselor. They work with individuals and groups with addictions or other behavioral disorders by providing therapy, designing treatment and recovery plans, and helping them manage stress in a healthy way.
The following specializations are just a sample of the many careers available to counseling graduates with a master's degree and a state-issued license:
Career Counselors: Career counselors help recent graduates and mid-career professionals assess and evaluate their interests, strengths, and goals in order to select a new profession. They also advise clients regarding resumes, interviews, networking, decision-making, and general job-search skills.
Clinical Mental Health Counselors: These counselors provide a wide range of mental health services and help clients better understand their own behavior. Counselors work with people who are experiencing mental illness, as well as people who have experienced trauma or setbacks in life, such as divorce or grief. They also provide diagnoses and treatment, as well as prevention plans.
Marriage, Couple, and Family Counselors: These counselors evaluate individual and group dynamics within the family system and help define the roles and behaviors that contribute to difficult situations or transitions. They often provide group therapy, help clients set goals and make decisions, and create strategies to change behaviors.
Frequently Asked Questions About Counseling Degrees
How much can I expect to earn as a counselor?
In the field of counseling, annual salaries are influenced by level of education and years of experience. For example, according to the Bureau of Labor Statistics, the median annual wage for substance abuse, behavioral disorder, and mental health disorder counselors with bachelor's degrees is $46,240. Marriage and family therapists with master's degrees earn a median salary of $49,610 and licensed psychologists earn a median annual salary of $80,370.
What is the job outlook for counselors in the future?
Although demand for psychologists is projected to remain fairly steady over the next 10 years, the U.S. Bureau of Labor Statistics is predicting significant increases for many types of specialized counselors. Demand for substance abuse, behavioral disorder, and mental health disorder counselors, for example, is expected to rise by 25%, and for marriage and family therapists by 22%.
What is the work environment like for a counselor?
Counselors and therapists work with patients in a variety of settings. Many work in private practices and mental health centers, while others work in community health centers, hospitals, nursing homes, rehabilitation centers, schools, and prisons. Most counselors are employed full time, and they are sometimes required to work evenings and weekends to accommodate the needs of their patients. Counselors and therapists generally rely on talk therapy, although some employ other methods, such as play therapy, art therapy, and more, which may entail more physical movement and interaction with patients.
What are the differences between therapists, psychiatrists, and psychologists?
Although there are some broad similarities between therapists, psychiatrists, and psychologists, they are distinctly different roles with different educational and career paths. Therapists, like counselors, generally work with people on a relatively short-term basis to address behavioral issues. Psychologists and psychiatrists are trained to treat people with mental health disorders and illnesses, so they tend to work with their patients over longer periods of time. All of them work in similar work environments, from private practice to other types of healthcare facilities, and all types of mental health professionals must be licensed to practice. However, therapists and counselors typically earn master's degrees, while psychologists go to school for either a PhD or PsyD degree. Psychiatrists also earn advanced doctoral medical degrees, which require the completion of residencies in psychiatry. Psychiatrists are licensed to treat their patients with a combination of talk therapy, pharmaceutical medications, and other types of therapy.
This website offers school details to prospective students as an informational resource. The appearance of a school listing on this website should not be interpreted as an endorsement of the school by this site.