2023 Most Affordable Online Master's Degrees in Human Resources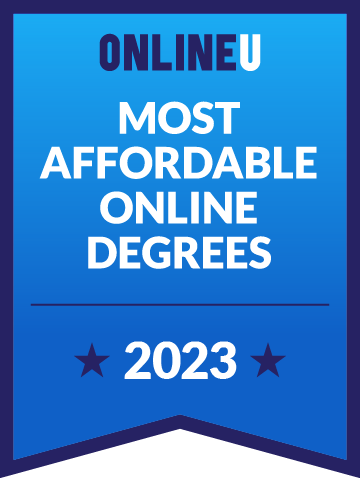 An online master's in human resources is designed for experienced human resource professionals looking to expand their knowledge and skills in the field. Prospective online students can expect to explore employee relations, management, leadership, and business ethics topics within the program. Some examples of potential courses include Leadership, Business Management, and Human Relations. Depending on which program is chosen, a capstone course, seminar, internship, comprehensive exam, or a combination of these may be required for graduation. Graduates of an online master's in human resources may pursue careers like directors of human resources, talent acquisition specialists, and leadership coaches.
View our methodology for details about rankings or learn more about us. Students should also consider similar programs, including our best online business degrees or best online psychology degrees. You can also check out our overall list of the most affordable online degrees for other options.
All tuition numbers were manually collected and verified
Rank
School

Locations

Annual Tuition

# 1
Fort Hays State University
Hays (KS)

$4,478

# 2
Wichita State University
Wichita (KS)

$4,620

# 3
Midwestern State University
Wichita Falls (TX)

$4,754

# 4

(tie)

Athens State University
Athens (AL)

$4,875

# 4

(tie)

California Coast University
Santa Ana (CA)

$4,875

# 6
Fitchburg State University

Fitchburg (MA)

$4,934

# 7
Amberton University
Garland (TX)

$5,130

# 8
Columbus State University
Columbus (GA)

$5,418

# 9
Briar Cliff University
Sioux City (IA)

$5,465

# 10
Columbia Southern University

Orange Beach (AL)

$6,030
Overview of Online Human Resources Master's Degrees
Online master's in human resources (HR) programs are designed to provide students with the critical knowledge and skills necessary to manage, develop, and lead employees within an organization effectively. Once you've earned your degree, you'll be qualified to take on the leadership of an entire organization or to specialize in a high-level HR function, such as training and development.
As part of the program, you'll engage in practical projects that may include creating comprehensive HR strategic plans, analyzing case studies on workplace issues, or proposing solutions to existing HR challenges. Assignments may involve conducting surveys, developing training modules, or drafting HR policy documents.
Through these learning activities, you'll develop a range of technical skills, such as compensation and benefits analysis, HR analytics, employment law compliance, and recruitment strategies. You'll also hone vital soft skills like conflict resolution, negotiation, organizational development, and leadership.
Online master's in human resources programs require the completion of 30-39 credit hours. If you're studying full time, you may be able to finish in about two years, but you may need an additional year if you're a part-time student. Many programs include a paid or unpaid internship and end with a capstone research project or final comprehensive exam.
Common Courses
Each course in an online human resources degree program explores some aspect of HR in depth, giving you numerous opportunities to apply what you're learning to real-world situations. Some of the coursework often found in a master's in human resources program include:
Strategic Human Resources Management
In this course, students learn how to align HR practices with organizational goals. Assignments focus on strategic planning and decision-making processes in HR functions.
Employment Law and Compliance
This course informs students about federal and state employment laws. This knowledge will help them ensure organizational adherence to HR regulations and mitigate potential legal risks.
Organizational Behavior and Development
Students delve into the psychology of the workplace, studying factors that influence individual and group behavior. They also learn effective strategies for enhancing performance and satisfaction.
Talent Acquisition and Recruitment
In this course, students learn how to source, attract, and hire the best candidates for organizations. Role-playing activities also help students learn to conduct interviews.
Compensation and Benefits Management
This course covers the design, implementation, and evaluation of compensation and benefits programs, ensuring they are competitive and equitable.
HR Analytics and Decision Making
Leveraging data-driven insights, students understand how to make strategic HR decisions, predict trends, and measure the return on investment of HR initiatives.
Funding an Online Human Resources Degree
If you're like most online students, you're probably wondering how you can pay for an online human resources master's degree. As daunting as it may seem, you actually have several funding sources available to you. These include income, savings, gifts, and various forms of financial aid.
It can be challenging to figure out how much money you'll need before enrolling, but information from the National Center for Education Statistics (NCES) can help. Data for the 2020-21 school year show that the average total annual tuition and fees for graduate programs was $26,621 at private institutions but only $12,394 at public universities. If you multiply these amounts by the number of years you expect to be enrolled, you can determine the approximate cost.
Clearly, choosing a public school over a private university may save you thousands of dollars in tuition, but there are other ways to save money on your degree, too. For example, you could select an online program like one of the most affordable human resources degrees listed above. All of these schools are institutionally accredited, so you're assured of a high-quality education at a lower price.
Financial Aid
As an online master's student, you may also qualify for financial aid. To determine your eligibility, you'll need to submit the Free Application for Federal Student Aid (FAFSA). Later, you'll be informed if you qualify for aid, and if you do, you'll receive a financial aid offer from your school.
Depending on your circumstances, your financial aid package may include grants, fellowships, or scholarships from the federal and state government and from your school. These types of aid don't have to be repaid.
However, your financial aid offer may also contain a federal student loan or private student loan. These do have to be repaid with interest, so keep in mind that federal loans often have lower interest rates and more flexible repayment terms.
Fellowships and grants may also be available from private organizations. These scholarships may be awarded based on financial need, academic performance, or career goals. You'll need to research these opportunities and apply for them separately because they are not covered by the FAFSA form.
What Can You Do With an Online Human Resources Degree?
An online human resources master's degree paves the way for numerous careers in both the private and public sectors. With an advanced understanding of HR principles and practices, you may be a more attractive job candidate for strategic roles within human resources departments than other applicants who have only a bachelor's degree.
You can also choose to become a generalist or a specialist. According to the Bureau of Labor Statistics, a human resources manager oversees an entire HR department, handling staffing issues, mediating disputes, and ensuring regulatory compliance. These generalists earn a median annual salary of $126,230.
One specialty area within HR is a compensation and benefits manager. They develop, implement, and oversee programs that compensate employees appropriately. They also negotiate health insurance and manage other employee benefits. Specialists in this role earn a median annual salary of $127,530.
Additional education, like a doctoral degree in HR or a related field, can further elevate your career, opening avenues for academic roles, higher managerial positions, or specialized consultancy roles. An advanced degree signifies expertise, which could translate into higher salaries.
FAQs About Online Human Resources Degrees
How Do I Choose a Master's in Human Resources?
---
When you're choosing a master's in human resources program, you'll want to take several factors into consideration. Program curriculum, faculty, financial aid availability, student services, and the flexibility of the program are all important, and some may be more significant to you than others.
One factor that's critical, however, is institutional accreditation. Accreditation ensures you're getting a quality education. You may also want to look for HR master's programs that follow the learning outcomes prescribed by the Society for Human Resources Management (SHRM) so that you can meet industry expectations on the job.
Why Get a Master's in Human Resources?
---
A master's in HR is designed to give you an advanced understanding of human resource practices and strategies. Because you'll be well equipped to contribute strategically to your organization's success, you'll be qualified for high-level managerial roles, which can boost your earning potential.
What Are the Admission Requirements for Human Resources Degrees?
---
Admission requirements for a human resources master's program vary somewhat by school. However, most graduate schools will require you to have a bachelor's degree in human resources, management, or business administration. Also, a few schools only accept applicants who have some work experience in the HR field.
Along with your undergraduate transcripts, which should document that you maintained a GPA of at least 2.8, you may be asked to submit a statement of purpose, one or more letters of recommendation, and a resume. Some schools also ask for GRE scores.
Is a Master's Degree in Human Resources Worth It?
Determining whether an online master's degree in human resources is worth it largely depends on your career goals. Keep in mind that a graduate degree is not required for higher-level HR roles, but it's likely to help you advance in your career. If you're sure that earning a master's is the right step, consider enhancing your return on your investment by choosing an affordable online human resources degree.
Related Articles
2023 Best Online Human Resources Master's Degrees
We've ranked the best online master's in human resources degrees for 2023 based on return on investment. Compare schools by tuition and projected alumni outcomes.
2023 Most Affordable Online Master's Degrees in Human Services
Explore the most affordable colleges for online master's degrees in human services for 2023. Our list only includes accredited online schools.