2023 Most Affordable Online Doctorates in Education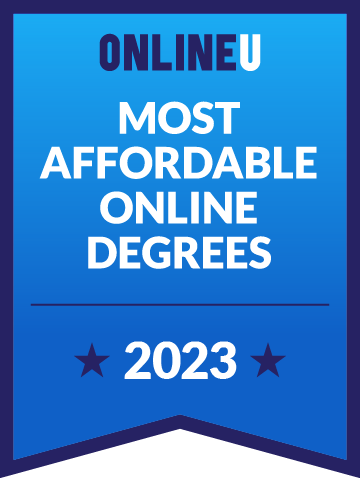 High-level expertise in instructional delivery and educational policy is vital to educators and school administrators seeking advanced leadership roles. An online Doctoral in Education can help would-be superintendents, provosts, and policymakers develop these highly sought-after skills. These online programs provide convenience so you can continue working and balancing life's numerous responsibilities while completing your education.
We've identified and ranked our list by tuition so you can receive a quality education and achieve your goals without breaking the bank. However, if you remain undecided about your path, we also identify the best online colleges for doctoral degrees for inspiration. View our methodology for details about rankings or learn more about us.
All tuition numbers were manually collected and verified
| Rank | School | Locations | Annual Tuition |
| --- | --- | --- | --- |
| # 1 | California Coast University | Santa Ana (CA) | $4,693 |
| # 2 | University of North Georgia | Dahlonega (GA) | $4,750 |
| # 3 | Columbus State University | Columbus (GA) | $5,418 |
| # 4 | Youngstown State University | Youngstown (OH) | $5,577 |
| # 5 | Kennesaw State University | Kennesaw (GA) | $5,745 |
| # 6 | Oklahoma State University - Main Campus | Stillwater (OK) | $5,824 |
| # 7 | University of the Cumberlands | Williamsburg (KY) | $5,867 |
| # 8 | Arkansas State University | Jonesboro (AR) | $5,958 |
| # 9 | University of Arkansas | Fayetteville (AR) | $6,028 |
| # 10 | Bowling Green State University - Main Campus | Bowling Green (OH) | $6,142 |
Frequently Asked Questions About Online Ed.D. Degrees
What's the Difference Between an Ed.D. And a Ph.D.?
---
Although they are both doctoral education degrees, the focus and curriculum of an Ed.D. and a Ph.D. in Education are distinctly different. An Ed.D. is designed for those who want to assume leadership positions in educational settings, so programs focus on teaching students how to identify high-level problems in this field and develop practical solutions to implement. The Ph.D. in Education, by contrast, is designed for those who intend to conduct original research and contribute to the body of literature on education, possibly while they teach at the college level. Courses in these programs concentrate on the use of various methods to gather and analyze data.
Can I Get an Ed.D. Online?
---
Yes, you can get an Ed.D. online. Many options are available, and our list features a range of affordable online Ed.D. programs.
Can You Get an Online Ed.D. Without a Dissertation?
---
Yes, some online Ed.D. programs do not require a dissertation, but nearly all programs require a culminating project that involves research and writing, often called a capstone project or thesis. These projects are different from typical Ph.D. dissertations because they don't require original research, but students must investigate existing literature and data. Ed.D. candidates generally begin by identifying a specific problem in education — often drawn from their personal work experience. Then, students formulate a solution and develop a plan for implementation. At the end of their programs, they usually present and defend their culminating project in front of a review panel.
Overview of Online Ed.D. Programs
Unlike a Ph.D. in Education that focuses on theory and research, an Ed.D. program concentrates on preparing professionals to devise practical solutions in education. Many programs feature areas of specialization so students can explore the issues that most interest them, such as curriculum and instruction, social justice, or higher education administration. In some programs, newly enrolled doctoral candidates join a small cohort of like-minded education professionals and are encouraged to solve problems through a collaborative, team-based approach.
Ed.D. programs typically require the completion of 42-60 credits. Most online degree programs are structured into three years of part-time study to accommodate the time constraints of working adults. The first two years are often designated for program coursework, leaving the final year for the dissertation or culminating project. However, those looking for the shortest Ed.D. programs may be interested in accelerated online doctoral programs, which are meant to be completed in two years of full-time study. The curriculum for an Ed.D. program may include advanced online courses in educational leadership, creativity, psychology, and instructional design, as well as research methods and data analysis. Graduation requirements may include one or more on-campus residencies, an internship, and successful completion of the final exam.
The curriculum for an Ed.D. program may include advanced online courses in educational leadership, creativity, psychology, and instructional design, as well as research methods and data analysis.
The admissions criteria vary somewhat across Ed.D. programs. In general, applicants must have a master's degree in education or a related field as well as multiple years of work experience as a teacher or administrator. Prospective doctoral candidates are usually asked to submit an application, academic transcripts meeting a minimum GPA requirement, a personal goal statement, a resume, letters of recommendation, and a copy of their teaching credential. Schools may also ask for GRE scores, although a growing number of programs are omitting this requirement. In some cases, students may need to complete one or more prerequisite courses before enrollment in their program.
How Much Does an Ed.D. Program Cost?
Earning a doctorate can be expensive, but enrolling in a distance learning program may reduce the cost. The average annual tuition for the online Ed.D. programs on our list is $6,912, with the cheapest online Ed.D. programs coming in under $5,000 a year. This is a significant savings when compared to the average cost of an Ed.D., which is approximately $37,300 annually. A distance education program may be a more affordable option because many schools offer lower tuition rates for online students, even non-resident online students . Some schools also waive the additional fees for on-campus services, although distance learners may have to pay technology fees. Doctoral candidates may be able to save in other ways as well. Some may qualify for employer-sponsored tuition reimbursement programs or various types of financial aid.
Are There Fully Funded Online Ed.D. Programs?
Unless an online Ed.D. student lives close enough to work on campus, they are probably ineligible for a fully funded Ed.D. program. A fully funded doctoral program also includes other forms of compensation from the school, such as a combination of tuition, stipends, and health insurance. In exchange for this financial support, doctoral candidates are usually required to work full or part-time on campus as research or teaching assistants.
Financial Aid for Online Ed.D. Degree Programs
Ed.D. candidates may be eligible for financial aid, such as federal, state, and college grants and scholarships, which don't have to be repaid. Candidates may also consider taking out student loans, but they should thoroughly review a loan's terms beforehand. Private loans often stipulate higher interest rates and stricter repayment plans than federal and state student loans. To apply for financial aid, candidates should begin by filling out the Free Application for Federal Student Aid (FAFSA). Representatives from a school's financial aid office are available to answer any questions about aid.
In addition to applying for school-sponsored scholarships and grants that are geared toward graduate students, doctoral candidates may be eligible for privately sponsored scholarships through professional and community service organizations. For example, members of Kappa Delta Pi, the international honor society for educators, may qualify for scholarships. The eligibility criteria and awards for these scholarships vary but typically require a separate application from the FAFSA. Some Ed.D. graduates may also qualify for the Public Service Loan Forgiveness program, depending on their chosen career path.
Accreditation for Online Ed.D. Programs
Accreditation is one of the most important factors prospective doctoral candidates should review before applying to any program. To obtain accreditation, colleges and universities must meet established quality standards for their academic programs, faculty, student services, and other resources, which lends to their credibility. Candidates must be enrolled in an accredited program to qualify for federal financial aid, and a degree from an accredited school may be required for state licensure.
Candidates must be enrolled in an accredited program to qualify for federal financial aid, and a degree from an accredited school may be required for state licensure.
In addition to earning accreditation for the entire institution, schools can also seek accreditation for individual degree programs. The approved accrediting agency for Ed.D. programs is the Council for the Accreditation of Educator Preparation, which encourages schools to conduct ongoing evidence-based analyses of their programs. Programmatic accreditation assures that the curriculum design reflects the most current theories and practices. Some programs may also be members of the Carnegie Project on the Education Doctorate, where participating schools collaborate to enhance and improve the quality of their Ed.D. programs.
What Can You Do With an Online Doctorate in Education?
Graduates of online Ed.D. programs can choose to follow a number of different career paths. Some aim for high-level school administration positions in K-12 education, while others opt for teaching or administrative roles in college education. A few move into the business sector, lending their instructional expertise to organizations with strong professional development programs.
Some of the occupations below only require a master's degree for entry-level positions, but a doctoral degree may make job candidates more attractive because of their advanced education and leadership training.
Is an Online Doctorate in Education Worth It?
Earning a doctorate in education means investing more time, money, and effort beyond what you've already devoted to earning your bachelor's and master's degrees. Most likely, you have personal circumstances, such as financial and family obligations, that need to be factored in as well. You must decide whether an online doctoral degree in education will help you fulfill your goals, but the following pros and cons may help you make that choice:
Potential Benefits
A doctoral degree may lead to a higher salary. Several high-level occupations in education do not require an Ed.D., but you might earn more if you have one. The Bureau of Labor Statistics (BLS) reports that the median weekly salary for master's degree holders is $1,497, while the median for doctoral degree holders is $1,883, a difference of 20%.
Online education allows you to choose the best program for your needs. By considering an affordable online Ed.D. program, you can choose from a wider selection of offerings with different concentrations, formats, and graduation requirements. You can enroll in the program that best fits your career goals and budget without having to change jobs or relocate.
Potential Drawbacks
Some occupations in the education field may require you to work unusual hours. If you decide to become a K-12 principal, college teacher, or some other type of administrator, you may need to work some evenings and weekends to accommodate your students' schedules or attend school events.
Online programs require self-discipline. Because of the relatively unstructured nature of online programs, you'll have to create your own schedule for your coursework and manage your time effectively.
Related Articles
2023 Most Affordable Online Colleges for a Doctorate in Counseling
Curious to learn about the most affordable colleges for online doctorate degrees in counseling? Explore our 2023 list of graduate programs from accredited schools.
2023 Most Affordable Online Colleges for DNP Programs
Discover the most affordable colleges for an online Doctor of Nursing Practice (DNP) and learn more about these degree programs.