2020 Best Online Engineering Degrees
From the printing press to the skyscraper, engineers throughout history have designed the infrastructure that makes up our lives today. Engineering is a fascinating and complex subject with many areas of focus. In short, engineers use science and math to solve problems, build tools, and figure out how to make technological and scientific advances a reality. Engineers play an essential role in today's society, and can be found in a range of disciplines. Civil, mechanical, and industrial engineers are the most popular jobs in the field, and each earns around $88,000 per year, on average. Below is our rankings list of the best online colleges offering bachelor's degrees in engineering. Continue reading for more information on majors, accreditation, and licensing requirements for engineers.
2020 Best Online Colleges Offering Bachelor's in Engineering Degrees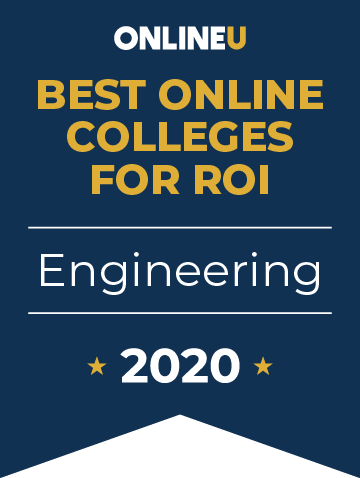 The following 9 schools offer the best online bachelor's in engineering degrees, based on their low tuition rates and high mid-career salary potentials. Ranked #1 is Lamar University, with a very low tuition of $7,440 and a very high median salary of $111,100. In the #2 spot, the University of Arizona offers a Bachelor of Science in Electrical and Computer Engineering for only $18,000 per year, making it an affordable choice for distance learners who are looking for a high quality and affordable education.
Alumni salaries were provided by PayScale. View our methodology for more details or learn more about OnlineU.
Rank
School

Annual Tuition

Mid-Career Salary

#

1

Lamar University

$7,440

$111,100
#

2

University of Arizona

$18,000

$111,283
#

3

University of North Dakota

$14,410

$106,100
#

4

Arizona State University

$15,900

$106,283
#

5

University of Alabama

$12,000

$103,500
#

6

Florida International University

$11,067

$95,200
#

7

Old Dominion University

$12,210

$94,700
#

8

Southern Illinois University - Carbondale

$9,637

$84,200
#

9

University of Alabama at Birmingham

$20,010

$79,400
Salary data provided by

2020 Online Colleges Offering Engineering Degrees - Ranking Details
Online Engineering Degree Overview & Career Information
Undergraduate certificates and associate degrees in engineering are concentrated in engineering technology areas, which focus on the testing and design of engineering components and prepares graduates to become engineering technicians. For example, an associate degree in electronics engineering technology may cover how to read and draw blueprints of electronics components, test these components, and install them.
Online bachelor's degrees in engineering are usually designed to be both theoretical and applied. For example, students in a mechanical engineering bachelor's degree program would study mechanics, statics, and dynamics, but they would also make simple mechanical components in engineering labs. Engineering bachelor's degrees usually require coursework in the liberal arts, natural sciences, engineering fundamentals, and the specialized engineering area the student is studying.
An online master's degree or graduate certificate in engineering is usually aimed at current engineering professionals who want to advance their knowledge and skills. These programs may be coursework-only and focused on leadership and management skills; other programs require a thesis. Doctoral degrees in engineering are usually designed for engineers who want to prepare for a future in research and teaching in a postsecondary setting. These programs take many years to complete and require that students design and implement a research project in their engineering discipline.
Online Associate Degrees in Engineering
An associate degree is typically the minimum educational requirement to begin entry-level work as a technician in an engineering field. Online associate programs can provide students with a background in the technological and mathematical concepts that engineers use to devise new systems and products. Most programs require individuals to commit to two years of full-time study and complete 60 to 64 credit hours. High school graduates or GED certificate holders with a strong background in science and mathematics are eligible to apply to associate programs in engineering.
The majority of associate engineering programs teach students the introductory theories and practices in their chosen fields. Students may choose to study aerospace, civil, electrical and electronics, environmental, or mechanical engineering technology. Curriculum material varies by area of concentration, but most programs feature basic classes in computer concepts, physics, chemistry, calculus, and other advanced forms of mathematics. Students in these programs often have the privilege of combining classwork with hands-on instruction at local sites or laboratory settings.
Upon graduation, engineering technicians usually work under the direct supervision of more experienced workers and provide assistance as needed. Those who want to advance into roles as full-fledged engineers must complete a bachelor's degree. Many also decide to become certified by the National Institute for Certification in Engineering Technologies to increase their career options.
Online Bachelor's Degrees in Engineering
A bachelor's degree in engineering is the minimum academic requirement for most engineering careers. These degrees come in a variety of areas, such as chemical, mechanical, civil, and electrical engineering. Students complete 120 credit hours over the span of four years. Students applying to undergraduate programs in engineering will need a high school diploma, as well as SAT/ACT scores and letters of recommendation. Some online engineering degree-completion programs require previous undergraduate classes in areas like chemistry, physics, and calculus.
The curriculum in the engineering bachelor's degree is divided into courses in general education, natural science, engineering fundamentals, and the engineering specialization area. For example, chemical engineering students would take foundational science courses in biochemistry, organic chemistry, and physical chemistry, while electrical engineering students would study math, computer science, and physics. Engineering fundamentals topics discuss statics, dynamics, and similar principles that are applicable to several engineering specialties.
In a distance learning bachelor's program, students complete foundational and engineering classes online but may be required to visit campus for hands-on labs. For example, an online civil engineering degree might require online geology, chemistry, and technical drawing classes. Students would come to campus in the summer to finish labs in materials engineering, soils, circuit analysis, and manufacturing processes.
A bachelor's degree in engineering is usually sufficient to land entry-level positions in the candidate's engineering specialty area. New graduates will be competing with master's degree-level applicants, and job growth can vary greatly by the career focus. Graduates who hope to one day offer their services directly to the public will need to earn the Professional Engineer (PE) license, which requires several years of professional experience and a passing score on the PE exam.
Online Master's Degrees in Engineering
The master's degree program in engineering builds on undergraduate training and offers the opportunity to study engineering management and research skills. Engineering master's degree programs are available with both practical and theoretical focuses. These degrees typically take one to two years to complete and require 10 to 15 courses. Admission requirements typically include an ABET-accredited undergraduate degree with a high GPA, letters of recommendation, and a personal statement; some require GRE scores.
Classes in an engineering master's degree program reflect the student's specialization area. Engineering management programs, which have grown in popularity in recent years, focus on topics like managing teams, fostering innovation, and supply chain management. Other degrees are less management focused and instead allow current engineers to specialize in a particular area of inquiry within their field. For example, chemical engineers could use the master's degree program to study biomechanical engineering, nanoparticles, or the development of artificial organ systems.
Depending on the type of master's degree, students may also be expected to complete an internship or research-based thesis. Management and professionally focused programs may only consist of coursework, or they may require students to shadow an experienced manager in the field. Other master's degrees require that students complete a research project in their chosen specialty area with the help of the faculty advisor.
The master's degree in engineering can be used by current engineers to take on more job responsibilities or move into leadership positions. Because the entry-level requirement in most engineering areas is a bachelor's degree, master's degree-level engineers are likely to have better job opportunities. The master's degree can also be used to shift focuses within a particular engineering specialization or to cement one's knowledge in an area of study.
Online Doctoral Degrees in Engineering
An online PhD, or doctoral degree, in engineering provides current engineers with the opportunity to make advances in engineering research. Applicants need an ABET-accredited bachelor's or master's degree in engineering. Prospective students are usually required to provide official college transcripts, GRE test scores, a resume, and letters of recommendation. The required 48 hours of coursework and the dissertation credit can be completed in three to five years.
Students enrolled in the engineering PhD specialize in a particular engineering discipline and subtopic; for example, a mechanical engineering student might focus on internal combustion engines. The required courses vary depending on the student's focus, but common topics include human factors engineering, applied ergonomic methods, cognitive engineering, automation, production control systems, materials handling, engineering administration, logistics engineering, and process improvement. Other typical topics include engineering statistics, industrial quality control, reliability engineering, and informational systems for industrial engineering.
All students are required to complete a dissertation in order to graduate. The dissertation topic is chosen under the direction of a faculty member. Students conduct research, write the dissertation, and orally defend their work in front of a committee of several faculty members. Graduates from a doctoral degree program in engineering are qualified to instruct engineering at the college level; others become teacher-researchers in research-intensive universities. Other engineers use the PhD to work in government agencies in a policy capacity or to begin their own consulting firm.
Online Certificates in Engineering
Online engineering certificates can be earned at the undergraduate and graduate level. These four to 12-course programs provide a focused study of a particular engineering area and can be completed in one year. Applicants need a high school diploma or bachelor's degree, depending on the certificate level. Current engineers can use the certificate to add management or research skills to their professional toolkit. Other engineers use the certificate to gain skills in an area related to their current profession. For example, a civil engineer could pursue a certificate in environmental engineering to learn more about sustainable building processes.
The topics covered in an engineering certificate program will depend on the concentration. Undergraduate certificates may explore aviation mechanics, computer engineering, electronics engineering, or another area. These programs generally require hands-on study and teach students how to build and troubleshoot particular types of components. After completing an undergraduate certificate in engineering, graduates may qualify for engineering technician or assistant roles in their discipline area.
Graduate certificate programs provide a shorter alternative to the master's program and explore topics such as engineering acoustics, structural acoustics, thermodynamics, nonlinear engineering systems, and theory and design of control systems. These programs tend to be more specialized than the undergraduate certificate and build on the engineering discipline that the student studied during their bachelor's degree. Completion of the graduate certificate may open up supervisory roles or allow current engineers to take on additional responsibilities in their current position.
ABET Accreditation for Engineering Degrees
The Accreditation Board for Engineering and Technology (ABET) is an important accrediting body for students seeking technical degrees in the United States. Attending an ABET-accredited school can have an impact on your career options and your ability to practice as an engineer. In general, "accreditation" refers to the evaluation of a particular educational program by some outside entity. ABET accreditation is a particular type of programmatic accreditation, which means that it is only granted to particular types of educational programs or schools. In this case, ABET accredits only engineering, computer science, and other applied science degree programs.
When looking at a particular engineering school or program, ABET examines a number of different criteria, such as the learning outcomes of degree programs and the qualifications of the professors. In short, ABET accreditation is a good metric of an applied science program's quality and whether it will provide you with the skills you need to succeed in the industry. Many scholarships for engineering students are only open to applicants in ABET-recognized programs.
ABET accreditation is also key for professional advancement. Many state boards and other certification agencies require applicants to graduate from an ABET-accredited program. For example, to earn the professional engineer (PE) license, most states require that applicants have at least an ABET-accredited bachelor's degree. The federal government and many other employers only hire engineers who have degrees from ABET-accredited institutions. ABET certifies programs globally, and an ABET-accredited degree is commonly required for overseas engineering positions.
ABET offers a list of currently accredited, 100 percent online programs. ABET uses the same accreditation standards for both online and on-campus programs. This search function makes it easy to identify programs based on degree level, program area, and state. The US Department of Education and the Council on Higher Education Accreditation also offer lists of legitimate accreditation agencies and accredited schools and programs.
Certification and Licensing Requirements for Engineers
Engineers have a lot of social responsibility. The products they design may affects hundreds or thousands of people, so it's important that professional engineers have been vetted for competence. Certification is one way that the government, private citizens, and employers can be sure of an engineer's abilities; it's also a way that engineers can showcase their skills for employers and make themselves more appealing as job candidates.
Many engineers decide at some point that they would like to offer their engineering services directly to the public. To be legally able to do this, engineers must first earn their state's engineering license, also known as the Professional Engineer credential. The requirements to earn this credential are rigorous. In addition to having an ABET-accredited bachelor's degree in engineering, candidates must also have at least four years of professional engineering experience and a passing score on the credentialing exam.
The exam, called the Fundamentals of Engineering (FE), is broken up into two parts. Many students take the first part of the exam when they are near the end of their bachelor's degree program; they are required to answer questions about both general engineering topics and their engineering specialty. After passing this first part, engineers may go on to internships or apprenticeships at engineering firms, where they can begin to accrue their years of professional experience. Once they have completed their time on the job, they can then take the practical component of the FE exam and apply for the Professional Engineer license.
Besides this state-issued engineering license, there are many other voluntary engineering certifications that engineers can earn to distinguish themselves in their field. These are usually offered by trade organizations, professional groups, or universities. For example, the American Academy of Environmental Engineers offers the Board Certified Environmental Engineer credential; Northwestern University credentials students in different engineering areas, requiring that they have passed a number of courses with at least a B average.
There are also professional groups that accredit certification programs. The Council of Engineering & Scientific Specialty Boards (CESB) evaluates certification programs and the list of prerequisites that students must complete to earn certification, and then decides if the certification programs meet their standards of quality. Make sure that any certifications you pursue are widely recognized by employers and standard organizations like CESB to avoid wasting time and money on useless examinations.
Online Engineering Majors
Engineering is a broad term; it describes a method of analyzing and solving problems more than any specific task or responsibility. If you decide to become an engineer, you'll decide which particular aspect of engineering you'd like to study. Here are some of the most common engineering specialties:
Aerospace Engineering: These engineers use their knowledge of physics and mechanical and electrical engineering to design and build planes, satellites, space shuttles, and other airborne crafts.
Agricultural Engineering: Agricultural engineers work to develop solutions to many of the issues that impact agricultural production in order to improve efficiency and reduce waste and pollution. For example, they may design the infrastructure used to supply water and power, or they may devise new facilities for the storage and processing of agricultural products.
Biomedical Engineering: Biomedical engineers are at the crossroads of engineering and life science. They look at ways engineering can be applied to biological systems in products such as artificial organs, medical devices, and medical diagnostic machines. This is the fastest-growing area of engineering.
Chemical Engineering: Chemistry continues to be important in many of the industrial and consumer products available today, from food to electronics and clothing. Chemical engineers use chemistry to develop new sorts of products or processes. Many work in the manufacturing industry, overseeing production in large facilities.
Civil Engineering: Civil engineers are essentially complex technical designers. Civil engineering is the most common form of engineering and employs people to design and supervise the construction of large-scale projects, from roads and sewer systems to bridges, airports, and all other manner of civil projects on a large scale. Civil engineers are trained to know the technical aspects of the industry in order to calculate the cost and structural stability of the project they are tasked with designing.
Computer Engineering: Computer engineers develop computer software, build computer hardware, and design computer networks and systems. Working in computer engineering requires the integration of electrical engineering and computer science.
Electrical Engineering: Electrical engineers work in a variety of industries designing and building electrical devices. Subfields of electrical engineering include microelectronics, telecommunications, and signal processing.
Environmental Engineering: As our awareness of the environment increases, environmental engineering is becoming a more and more important discipline. Environmental engineers look at ways to solve sustainability problems such as water use, energy use, and air pollution issues. Environmental engineering is another fast-growing engineering discipline.
Engineering Management: Engineering managers are responsible for the planning, coordination, and direction of research toward the design and production of products or services. They use their advanced knowledge of engineering to supervise the work of other engineers and support personnel. They are often responsible for creating specific technical programs within a broad framework provided to them by higher-level administrators.
Health and Safety Engineering: Health and safety engineers work in a wide variety of industries to ensure that products such as furniture, chemicals and machines are safe for consumers to purchase and use. They may also oversee the production of such products in factories or offices to guarantee that employee health and safety is not compromised in the workplace.
Industrial Engineering: Industrial engineering is the branch of engineering that determines the most effective ways to use the all the major facets of production, such as the machinery, materials, workers, and energy, in order for employers to provide a given service or product as efficiently as possible. Their daily goals are to help increase productivity and decrease waste, time, energy, and money. They spend a great deal of time conducting research on product specifications and industrial methods to figure out the best practices possible. Many industrial engineers move forward to management positions within their field.
Marine Engineering: Marine engineers design ships of all kinds and sizes, from the largest aircraft carrier to the smallest sailboat. They are also involved in developing these crafts' internal workings, such as their electrical, refrigeration and steering mechanisms.
Materials Engineering: Materials engineers create the materials that are used to produce consumer products like electronics, aircrafts, and medical equipment. They must have a strong understanding of the various chemical and mechanical properties of different materials so that they can invent unique materials that fulfill specific requirements for different products.
Mechanical Engineering: Mechanical engineers design, build, and repair engines and other machines. Heaters, refrigerators, air conditioners, internal combustion engines, generators, and turbines are just some of the systems these engineers construct and troubleshoot.
Mining and Geological Engineers: Mining and geological engineers are in charge of planning mines and ensuring that they are structurally sound so that natural resources can be extracted efficiently and safely.
Nuclear Engineering: Nuclear engineers are responsible for designing the tools and procedures that allow for the safe production and use of nuclear energy.
Petroleum Engineering: Petroleum engineers are responsible for devising new techniques for the extraction of oil and natural gas. This is one of the most lucrative branches of engineering, with petroleum engineers earning a median salary of $132,280 per year in 2017, according to the Bureau of Labor Statistics.
Software Engineering: Software engineers develop and test software for computers that will meet the needs of the user. They may work at governmental agencies, businesses, or nonprofit organizations.
Systems Engineering: Systems engineers manage and design complex and efficient systems. Their work relates to many other engineering disciplines, as parts of these systems may include hardware, software, electrical components, and structural elements.
Frequently Asked Questions About Engineering Degrees
How long does an online engineering degree take to complete?
Most entry-level positions require a bachelor's degree, which takes an average of four years to complete. This time frame is standard across most majors at the bachelor's degree level. Those interested in advancing their career in the field or learning a specialization can pursue a master's degree or certificate in a certain area as well. The time commitment of these varies based on type of program and specialization.
How do I become an engineer?
Pursuing an entry-level position in the field will require you to earn a bachelor's degree. To become a licensed Professional Engineer, you will need to earn a bachelor's degree in engineering from an accredited program, pass the Fundamentals of Engineering test, and spend four years working under a licensed Professional Engineer. Finally, you must pass the Principles and Practice of Engineering exam to earn licensure.
Which type of engineer is in the highest demand?
According to data from the U.S. Bureau of Labor Statistics, industrial engineering is the fastest-growing field. The need for industrial engineers is projected to grow by 10% from 2019 to 2029, making this industry the most appealing in terms of employment outlook.
This website offers school details to prospective students as an informational resource. The appearance of a school listing on this website should not be interpreted as an endorsement of the school by this site.