2020 Online Substance Abuse & Addiction Counseling Degrees
An online degree in substance abuse counseling can be earned at all degree levels, from associate to doctoral, and will help to prepare students to work with clients facing acute behavioral crises. Also known as addiction and behavioral disorder counselors, substance abuse counselors help people overcome issues such as alcoholism, drug use, gambling addictions, or eating disorders. Our list of best online addiction counseling programs highlights the top schools, based on tuition rates and alumni salaries provided by PayScale.
Prospective students are advised to choose an online substance abuse counseling degree program at an accredited school. Accredited schools meet established academic standards set by independent agencies to ensure students receive a quality education. The US Department of Education provides a database of recognized accrediting agencies and accredited schools.
2020 Best Online Colleges Offering Bachelor's in Substance Abuse Counseling Degrees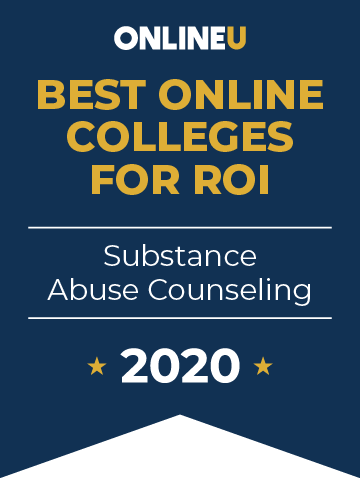 The 19 schools on this list are the top options for an online bachelor's degree in substance abuse counseling based on alumni salaries and low tuition rates. A degree from Union College - KY has an impressive return on investment, with an annual tuition of $6,750 and alumni reporting a mid-career salary of $83,100. In the #2 spot, Southern New Hampshire University Online offers a BA in Human Services - Substance Abuse for only $9,600 per year, making it an affordable choice for distance learners who are looking for a high quality and affordable education.
Alumni salaries were provided by PayScale. View our methodology for more details or learn more about OnlineU.
Salary data provided by

2020 Online Colleges Offering Substance Abuse Counseling Degrees - Ranking Details
Online Substance Abuse Counseling Degree Overview & Career Information
A bachelor's degree is the minimum requirement to become a substance abuse counselor in many states; others require a master's. In the undergraduate program, students study alcohol and drug use, counseling skills, group counseling, and pharmacology. Fieldwork experience is also required. The master's degree is required to earn a counseling license in most states. This degree requires two years of coursework as well as an internship. If you're interested in conducting intensive research into the physiological and psychological aspects of addiction, a doctoral degree would be appropriate.
During the course of treatment, substance abuse counselors may evaluate a patient's condition, identify causes and triggers of the abuse, develop a treatment plan or course of action, and help the patient develop positive behaviors and routines that avoid the abused substance. They may also coordinate social services for the patient and meet with the patient's family and friends to ensure that they are assisting with the recovery process. In the course of carrying out these job responsibilities, substance abuse counselors meet and talk with patients frequently, either in an individual or group setting.
Some substance abuse counselors work with individuals who have been sentenced by a court to complete a rehabilitation program; they may need to incorporate the court's ruling into the length or nature of the treatment. As part of the treatment plan, counselors help clients develop coping mechanisms to deal with troubling situations that could cause a relapse in their behavior. Some counselors diagnose and treat patients, while others focus on helping patients find useful community resources.
Online Associate Degrees in Substance Abuse Counseling
An online associate degree in substance abuse counseling will help to prepare graduates for further education in addiction counseling or general counseling. In some states, an online associate degree may be sufficient education to enable students to begin working with people with substance abuse or behavioral problems. Graduates of these programs may use their skills and knowledge to build relationships with patients and clients, recognize conditions, and develop treatment plans for work in settings like clinics, rehabilitation facilities, hospitals, other types of social service organizations.
Program Requirements
Online associate degrees in substance abuse counseling require between 85-95 units to earn a degree, and take between two to three years depending on how many credit hours a student takes per semester. In addition to the online courses, students are required to complete a minimum amount of practicum experience hours at approved practicum sites. The only requirement needed to apply for an online associate degree program in substance abuse counseling is a high school diploma or GED. Online associate substance abuse counseling programs are offered by community colleges and for-profit institutions.
Curriculum
Students in an online substance abuse associate degree program will take classes in psychology and sociology to better understand the people and environments associated with substance abuse. The programs also require classes that will develop the student's communication skills, such as English and public speaking courses. Most importantly, students will take counseling classes where they will learn the techniques necessary to help people in the field.
Online Bachelor's Degrees in Substance Abuse Counseling
Students of substance abuse counseling study the symptoms and causes of chemical dependency and are trained to provide clinical support for those suffering from addiction. The top online colleges for bachelor's degrees in substance abuse counseling offer a combination of academic strength and affordability to prospective undergraduates.
Program Requirements
To qualify for an online bachelor's program, applicants must typically have a high school diploma, a strong high school GPA, qualifying scores on college entrance exams, and letters of recommendation. Most online bachelor's degrees in substance abuse counseling can be earned within four years, though some schools offer accelerated programs. To graduate, students are expected to complete about 120 to 133 semester credit hours.
Curriculum
Students pursuing online bachelor's degrees in substance abuse counseling can expect to take general education classes in English and the humanities, science, math, and the social sciences in addition to counseling-specific core courses. Most substance abuse counseling programs include courses in various topics within psychology and clinical counseling, including psychopathology, pharmacology, diagnosis of addiction, counseling, human services, ethics in clinical work, and assorted counseling methods for specific demographics, such as youth and families. In some cases, online schools offer students the chance to practice in-person counseling through supervised practicums. During a practicum, students work in the same capacity as a fully employed counselor or assistant counselor within a mental health facility. This can be a great way for students to gain work experience prior to graduation.
Most students of addiction counseling specifically pursue their degree to become substance abuse counselors. While a bachelor's degree may be enough to find a job, each state has its own employment standards for counselors. Some states only ask that job applicants have a high school diploma, while others require master's degrees. Be sure to review the educational requirements of the state you wish to work in before deciding on a degree.
Online Master's Degrees in Substance Abuse Counseling
An online master's degree program in substance abuse counseling is an excellent choice for students with a bachelor's degree who want a more in-depth education in counseling that will allow them to do clinical work. Graduates of these programs can work in a number of settings, including community agencies providing addiction and mental health services or rehabilitation centers. Some graduates choose to go into private practice, while others work at schools, universities, correctional facilities, or inpatient or outpatient treatment centers.
Program Requirements
Applicants to a graduate degree program in substance abuse counseling must hold a bachelor's degree. Some schools will only consider prospective learners who have achieved a minimum grade point average in their undergraduate studies. Colleges or universities will ask to see official transcripts, a resume, and GRE scores. A 30-credit program can be completed in two years of full-time study.
Curriculum
Students enrolled in this type of program can expect to take courses in principles of theories of psychotherapy, group counseling, counseling and advocacy with diverse populations, ethics and legal issues in counseling, lifespan development, diagnosis and assessment, and group dynamics. The program may include one or more courses in research methodology. Depending on the concentration chosen, the master's degree program also includes specialization courses in subjects such as human sexuality, interventions, cultural factors in public health, mental health law, vicarious trauma and compassion fatigue, and child and adolescent counseling. The program may also include an internship.
Online Doctoral Degrees in Substance Abuse Counseling
The online PhD program in substance abuse counseling helps to prepare graduates to counsel patients and rehabilitate them from behavioral disorders. Professionals with doctoral degrees can sit for state licensure exams that are often required to work as licensed psychologists or counselors. This certification allows graduates to use particular professional titles and to work independently.
Program Requirements
Candidates must have a master's degree in psychology, counseling, or a related field to be accepted into a doctoral program in substance abuse counseling. These programs require three to five years of coursework along with a clinical internship and dissertation.
Curriculum
The curriculum in the doctoral degree requires students to perform classroom work, clinical work, and research. Substance abuse coursework discusses topics like treating addiction, interviewing patients, diagnosis, human growth and development, adolescent treatment, psychopharmacology, and more. To complete the dissertation and clinical internship, it is common for students to work in a residential or outpatient substance abuse facility. Students work under the guidance of an experienced practitioner to treat patients. The dissertation is a lengthy report based on this clinical experience or research.
Online Certificates in Substance Abuse Counseling
Substance abuse counseling certificate programs will generally require that students have a high school diploma or equivalent for admission. Some programs may not have educational requirements or require some experience in the field in lieu of education. Due to the various certificate degrees available, the length of the program will vary, although it will average about two years, and may include anywhere from 20 to 60 course units.
Substance abuse counselors have an important role in the health and well-being of others, and their coursework will reflect that responsibility. Common courses include history of drug abuse, psychology of addiction, physiological effects of drugs, criminology and drug use, individual and group counseling, treatment and motivation, continuing care, and depression and chemical dependence. Along with required courses, most certifications will require 150 or more hours of on-site training or instruction. These hours will vary depending on the state in which you want to practice; however, certification will not be complete without in-the-field hours logged.
The Importance of an Accredited Substance Abuse Counseling Degree
Prospective online substance abuse counseling students should research the accreditation of their schools and degree programs before enrolling. Accrediting agencies carefully assess a school or program's ability to provide a high-quality education by reviewing its curricula, faculty members, student resources, and student outcomes. Choosing one of these accredited schools can help you feel confident that you are investing in a worthwhile education program that will be recognized by future employers, licensing boards, other accredited schools, and student financial aid agencies.
The Council for Accreditation of Counseling & Related Educational Programs (CACREP) accredits various types of graduate-level counseling degree programs, and several regional accrediting agencies accredit entire institutions that offer substance abuse counseling degrees. Both programmatic and institutional accreditation are acceptable as long as the accrediting agencies are officially recognized by either the US Department of Education or the Council for Higher Education Accreditation. Please visit OnlineU's accreditation hub for more information about accreditation.
What Students Will Learn in an Online Substance Abuse Counseling Program
In addition to receiving a solid foundation in psychology, counseling theory, and addiction patterns, students will learn to provide both individual and group counseling in a substance abuse counseling program. They will also learn about community treatment resources so that they will be able to refer their clients to additional services and facilities outside their realm. Students will also learn about advocacy for increasing the funding and support of the programs they are aligned with. Another avenue of training for most students will be to work as a volunteer at a hospital or a rehabilitation clinic. This provides students with valuable experience and a realistic perspective of what to expect when they are employed as a counselor. Students should contact local addiction counseling groups and inquire about their volunteer opportunities.
The following courses are commonly required in substance abuse degree and certificate programs:
Addictive Behaviors: This course provides students with an overview of what causes addictions and the consequences that can result from addictive behavior. It also introduces some of the theories of prevention and treatment being practiced today.
Cognitive Neuroscience: Students will learn the basics of cognition with regard to memory, executive functions, emotion, and how people make decisions. Gaining a better understanding of how the brain functions will help substance abuse counseling students understand the physical mechanisms occurring behind the addictions.
Developmental Psychology: An introduction to developmental psychology teaches students about cognitive development, language and motor skill acquisition, moral reasoning and empathy, and social development.
Group Counseling: Students will explore the theories and techniques of group counseling, different group counseling styles, and ethical responsibilities for group counselors.
Psychopathology: An introduction to psychopathology teaches students about the causes of mental illness and the ways in which mental illness can manifest itself in people's behaviors.
Certification Requirements for Substance Abuse Counselors
Unlike many other positions in the healthcare field, becoming a substance abuse counselor doesn't necessarily require a postsecondary degree. This doesn't mean that a degree isn't helpful; earning an online bachelor's degree may make you more competitive in the job market and may exponentially increase your earning power over the course of your career. As for what level of degree you'll need and in what field, that often varies according to state, employing institution, or position.
The types of treatment and services you can offer as a substance abuse counselor will depend on the state in which you live. The education requirements for addiction treatment specialists vary from state to state. In some states, counselors with only a high school diploma or certificate can provide certain services to clients. In other states, a bachelor's degree in substance abuse counseling prepares graduates to earn a state substance abuse license. Some employers may require or prefer particular professional certifications, like those offered through The Association for Addiction Professionals. In many states, to diagnose and treat people with behavioral disorders, you will need to earn a master's degree or higher in counseling and complete 2,000-4,000 hours of fieldwork under the supervision of an experienced counselor. For information on the training requirements in your state, visit the National Board for Certified Counselors or the Addiction Technology Transfer Center Network.
Frequently Asked Questions About Substance Abuse Counseling Degrees
How long do you have to go to school to be a drug counselor?
There are a wide range of career options available for those interested in substance abuse and addiction counseling, and the education requirements vary by state. Most states require a bachelor's degree to be a substance abuse counselor, which typically take four years to complete. Some states only require a two-year associate degree to be a counselor. Others may require education or clinical experience hours in lieu of a degree. Students should check requirements for their state.
What is the difference between substance abuse and substance use disorder?
Substance use disorder is a medical diagnosis used by the American Psychological Association. The APA introduced this term in 2013 to replace the two separate diagnoses of "substance abuse" and "substance dependence." Those who suffer from substance use disorder may fall into the mild, moderate, or severe categories based on their symptoms. Mental health professionals use these terms to evaluate, treat, and measure progress in patients.
Can a person who was formerly incarcerated become a substance abuse counselor?
While having a criminal record can make it more difficult to become licensed, it still is possible for many. Those who have struggled with drug and alcohol addiction in the past are often drawn to a career as a substance abuse counselor, and are uniquely positioned to support others in recovery.
Laws vary from state to state, but most licensure boards take into account the type and seriousness of the crime, how long ago it was committed, and the length of rehabilitation time when evaluating applicants.
This website offers school details to prospective students as an informational resource. The appearance of a school listing on this website should not be interpreted as an endorsement of the school by this site.