2021 Best Online Bachelor's Degrees
Online Colleges with the Highest Return on Investment
Earning a bachelor's degree has strong positive effects on earning potential and employment prospects, but it can be difficult to make an informed decision about where to apply. This is especially true now that more colleges offer online bachelor's degrees. Our ranking list of top online colleges is the first to highlight the online bachelor's degrees with the best return on investment (ROI) using student salary and debt data from the government.
To rank these schools, we first calculated a 10-year ROI for each online bachelor's degree program, then calculated the percentile by comparing the ROI against the average for comparable programs. Schools were then ranked by their average ROI percentile. We also required that each school offer online bachelor's degrees in at least three different subject areas. View our methodology for more details. We've also published an appendix that lists all of the program salaries and debt figures for these ranked schools.
The fields that are most commonly represented on this list are business, psychology, nursing, and computer and information science. You can view the complete list below, along with information about earning a degree online, accreditation, how much an online bachelor's degree will cost, and whether enrolling in a program will be worth it.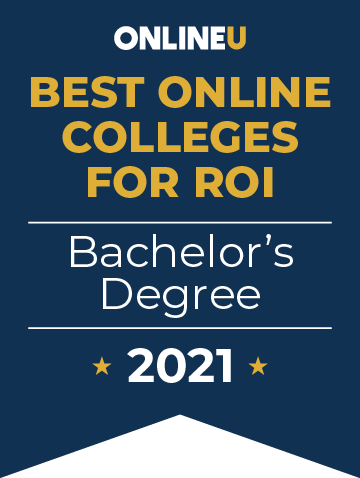 | Rank | School | Annual Tuition | ROI Score |
| --- | --- | --- | --- |
| # 1 | University of Virginia | $14,640 | 98.9% |
| # 2 | Northeastern University | $16,230 | 97.6% |
| # 3 | Excelsior College | $15,300 | 96.9% |
| # 4 | Capella University | $9,600 | 94.8% |
| # 5 | SUNY Empire State College | $10,943 | 94.7% |
| # 6 | University of Alaska Anchorage | $25,440 | 94.3% |
| # 7 | Roger Williams University | $12,990 | 92.9% |
| # 8 | Thomas Edison State University | $9,278 | 92.1% |
| # 9 | Rider University | $45,120 | 89.9% |
| # 10 | Colorado State University Global | $10,500 | 89.0% |
| # 11 | Drexel University | $23,850 | 88.5% |
| # 12 | University of Maryland Global Campus | $14,970 | 88.0% |
| # 13 | Concordia University - Saint Paul | $12,600 | 87.9% |
| # 14 | Saint Joseph's University | $47,740 | 87.8% |
| # 15 | Brandman University | $15,000 | 86.7% |
| # 16 | Bellevue University | $13,600 | 86.3% |
| # 17 | Miami University-Oxford | $10,850 | 84.2% |
| # 18 | Western Governors University | $6,450 | 84.1% |
| # 19 | American Public University System | $8,550 | 83.4% |
| # 20 | Embry-Riddle Aeronautical University-Worldwide | $12,870 | 82.8% |
| # 21 | University of Northwestern - St. Paul | $14,080 | 81.9% |
| # 22 | Trident at AIU | $12,150 | 80.5% |
| # 23 | The University of Texas Permian Basin | $10,620 | 80.1% |
| # 24 | University of Bridgeport | $17,250 | 79.3% |
| # 25 | National University | $16,650 | 78.2% |
Those interested in earning an online bachelor's degree will find many options on our best colleges list. We also offer the following comprehensive list of accredited online bachelor's degrees, which covers 463 schools and 5,184 programs. Prospective students will find information about their desired field and other popular areas of study, including the number of online schools and programs in each field.
a
Online Schools
Programs
Annual Salary
Accreditation
Accounting

153

237

$81,929

AACSB

ACBSP

Aerospace Engineering

4

6

$86,486

ABET

Agriculture

18

56

Not reported

Institutional

Anthropology

18

45

$47,346

Institutional

Architecture

1

3

$42,294

NAAB

Art & Design

20

56

$50,509

NASAD

Art History

4

5

Not reported

Institutional

Aviation

16

27

$84,852

AABI

b
Online Schools
Programs
Annual Salary
Accreditation
Biology

15

29

$55,877

Institutional

Business

369

1,905

$73,654

AACSB

ACBSP

IACBE

c
Online Schools
Programs
Annual Salary
Accreditation
Chemical Engineering

2

7

$94,405

ABET

Child Development

48

70

$49,360

APA

Christian Counseling

7

11

$42,063

ACPE

Civil Engineering

3

14

$87,636

ABET

Communications

138

369

$68,635

ACEJMC

Computer Engineering

16

22

$86,277

ABET

Computer Science

93

192

$85,150

ABET

Conflict Resolution

7

10

$49,954

Institutional

Construction Management

10

10

$72,883

ACCE

ATMAE

Counseling

62

103

$46,115

AAMFT

CACREP

Counseling Psychology

20

24

Not reported

Institutional

Creative Writing

14

26

Not reported

Institutional

Criminal Justice

229

509

$55,644

Institutional

Criminology

43

66

Not reported

Institutional

Cybersecurity

95

177

$55,667

Institutional

d
Online Schools
Programs
Annual Salary
Accreditation
Data Science

28

44

Not reported

Institutional

Dental Hygiene

22

22

Not reported

Institutional

e
Online Schools
Programs
Annual Salary
Accreditation
Early Childhood Education

76

128

$37,088

CAEP

MACTE

NAEYC

NCATE

Economics

41

86

$86,433

AACSB

Education

165

477

$49,528

CAEP

CEA

MACTE

NCATE

Educational Leadership

10

11

Not reported

NCATE

Electrical Engineering

14

35

$93,219

ABET

Elementary Education

50

81

$38,177

CAEP

MACTE

NCATE

TEAC

Emergency Management

59

119

Not reported

Institutional

Engineering

91

268

$88,118

ABET

Engineering Management

5

5

Not reported

Institutional

English

54

112

$56,040

Institutional

Environmental Science

43

108

$66,107

Institutional

ESL

3

4

$40,372

CEA

Exercise Science

11

20

Not reported

Institutional

f
Online Schools
Programs
Annual Salary
Accreditation
Fashion

6

14

$61,804

Institutional

Finance

108

182

$93,307

AACSB

Fire Science

22

41

$55,667

FESHE

Forensic Accounting

11

16

Not reported

Institutional

Forensic Psychology

16

18

$39,797

APA

Forensic Science

31

50

$55,667

AAFS

g
Online Schools
Programs
Annual Salary
Accreditation
Geographic Information Systems

14

29

$61,628

Institutional

Graphic Design

21

28

$52,877

NASAD

h
Online Schools
Programs
Annual Salary
Accreditation
Health Education

22

27

Not reported

Institutional

Healthcare Administration

154

271

$54,130

CAHME

Healthcare Informatics

55

84

$50,611

CAHIIM

CAHME

Healthcare Management

135

227

Not reported

CAHME

History

63

125

$62,354

Institutional

Holistic Medicine

3

4

$57,180

ACAOM

CNME

Homeland Security

58

132

$55,667

Institutional

Hospitality Management

45

85

$65,352

ACPHA

Human Resources

125

178

$62,050

AACSB

ACBSP

Human Services

111

246

$42,962

Institutional

HVAC

1

1

$73,170

Institutional

i
Online Schools
Programs
Annual Salary
Accreditation
Industrial Engineering

15

27

$86,894

ABET

Information Technology

151

483

Not reported

ABET

Interior Design

1

1

$46,425

CIDA

NASAD

j
Online Schools
Programs
Annual Salary
Accreditation
Journalism

43

63

Not reported

ACEJMC

l
Online Schools
Programs
Annual Salary
Accreditation
Landscape Design

1

1

Not reported

LAAB

Law

38

53

$57,728

ABA

ABA

Law Enforcement

50

62

$55,667

Institutional

Liberal Studies

278

893

$55,507

Institutional

Library Science

4

5

Not reported

ALA

m
Online Schools
Programs
Annual Salary
Accreditation
Management

352

1,468

$71,212

AACSB

Marketing

181

331

$70,957

AACSB

Marriage & Family Therapy

18

22

$46,115

AAMFT

COAMFTE

Mathematics

22

53

$78,598

Institutional

MBA

10

24

Not reported

AACSB

ACBSP

IACBE

Mechanical Engineering

7

14

$90,036

ABET

Medical Assistant

2

3

$50,611

ABHES

Medical Office Administration

1

1

$55,588

ABHES

MPA

1

2

Not reported

Institutional

Music

9

19

$45,570

NASM

NASM

n
Online Schools
Programs
Annual Salary
Accreditation
Network Administration

28

33

$63,010

ABET

Nurse Practitioner (NP)

1

2

Not reported

ACEN

ACEN

CCNE

NPWH

Nursing

320

397

$60,973

AANA

ACEN

ACEN

ACME

CCNE

Nutrition

10

12

$45,189

ACEND

o
Online Schools
Programs
Annual Salary
Accreditation
Occupational Safety

10

23

Not reported

ABET

Occupational Therapy

1

1

Not reported

Institutional

Organizational Leadership

196

439

$71,739

AACSB

p
Online Schools
Programs
Annual Salary
Accreditation
Paralegal

13

17

$57,728

Institutional

Personal Training

1

1

Not reported

Institutional

Pharmacy

1

1

$94,711

ACPE

Philosophy

16

20

$55,086

Institutional

Photography

4

4

$52,215

Institutional

Physical Education

4

7

$48,200

NCATE

Physical Therapy

3

5

$55,922

APTA

Physician Assistant

1

1

$60,157

ARC-PA

Physics

7

12

$80,203

CAMPEP

Political Science

62

119

$73,826

Institutional

Project Management

40

69

$71,577

AACSB

PMI-GAC

Psychology

213

454

$49,369

APA

Public Administration

90

204

$46,913

NASPAA

Public Health

50

111

$46,115

CEPH

Public Relations

40

46

Not reported

Institutional

r
Online Schools
Programs
Annual Salary
Accreditation
Radiology

25

39

Not reported

JRCERT

JRCNMT

Real Estate

9

11

$72,834

Institutional

Religious Studies

83

274

$47,517

ACPE

Respiratory Therapy

24

26

$57,427

CoARC

RN to BSN

274

295

Not reported

ACEN

RN to MSN

2

4

Not reported

Institutional

s
Online Schools
Programs
Annual Salary
Accreditation
Secondary Education

21

64

$44,242

CAEP

NCATE

TEAC

Social Work

50

54

$41,108

CSWE

Sociology

83

157

$42,294

Institutional

Software Engineering

24

34

$83,909

ABET

Sonography

6

8

Not reported

Institutional

Spanish

13

17

Not reported

Institutional

Special Education

29

43

$40,516

CAA

CAEP

Speech Pathology

3

3

Not reported

CAA

Sports Management

54

98

$46,126

Institutional

Statistics

2

3

Not reported

Institutional

Substance Abuse Counseling

23

31

$46,115

CACREP

Supply Chain Management

61

100

Not reported

Institutional

Systems Engineering

4

7

$67,254

ABET

t
Online Schools
Programs
Annual Salary
Accreditation
Teaching

43

88

$44,654

CAEP

MACTE

NCATE

TEAC

Theology

14

25

Not reported

CAATS

v
Online Schools
Programs
Annual Salary
Accreditation
Veterinary Technician

2

4

$50,611

AVMA COE

Video Game Design

16

24

Not reported

Institutional

w
Online Schools
Programs
Annual Salary
Accreditation
Web Design

21

30

$69,732

Institutional

Web Development

33

52

$63,010

Institutional
Best Online Colleges Highlights
Overview of Online Bachelor's Degrees
Can You Earn a Bachelor's Degree Online?
Yes, you can earn a bachelor's degree completely online. Public and private nonprofit schools started offering virtual courses in the late 1990s, but many people associated online learning with for-profit colleges for years. Today, all varieties of nonprofit and for-profit colleges provide accredited online degree options for undergraduate students.
Students might enroll in hybrid programs in which some of their courses are virtual and others are online. Others may enroll in exclusively online programs. The extent to which a degree can be completed entirely online depends on the particular program. Some majors, such as nursing, often feature in-person requirements. These can include internships in the student's local community, on-campus orientations or intensive sessions with a student's cohort, or lab hours at a college or other professional laboratory for science students. Bachelor of Science in Nursing degrees typically require more than 100 clinical hours at a location near the student's home.
Today, all varieties of nonprofit and for-profit colleges provide accredited online degree options for undergraduate students.
Applying to an Online Bachelor's Program
The application requirements for an online bachelor's program are usually identical to the requirements for an on-campus program. In general, applicants must provide:
Official high school transcripts or their equivalent showing at least a 2.0 GPA
SAT or ACT scores
Letters of recommendation from teachers, counselors, coaches, or others
An entrance essay, usually personal and reflective
Official transcripts from postsecondary colleges (transfer students only)
Some online schools provide accommodations to students who do not meet the minimum GPA requirements, such as probationary admission or the opportunity to give supplemental information to add context.
The qualifications are a bit different for applicants to an online degree completion program. These degrees are designed for adult students who have started but not completed a four-year degree, and they offer a faster and less expensive way for students to finish without starting over again. Applicants must have earned a minimum number of academic credits from previous institutions, usually between 50 and 60, or else substantial career or military experience.
How Long Does It Take to Earn an Online Bachelor's Degree?
Online bachelor's degrees are typically designed to take four years of full-time study to complete, though many students take more time to finish. However, some online colleges offer several ways for students to fast-track their bachelor's degree. Accelerated programs feature shorter terms that run year-round to allow students to take more courses each year. Students may be able to shave a year off the time needed to graduate.
Check a school's credit transfer policy for another way to reduce the time spent earning your degree. Several schools offer credit for prior learning assessments that award academic credit to students with previous professional or military experience. Additionally, students can often demonstrate mastery in a subject by completing a portfolio or taking CLEP exams for credit that can be applied toward their degree.
What to Expect From an Online Bachelor's Degree
Online bachelor's degree programs differ by institution and subject, but there are some general features that you're likely to find in many of them.
An average length of 120 credits. Most degree programs require students to complete at least 120 credit hours. Most courses are 3-4 credits and full-time students take 4-5 classes per term.
Asynchronous coursework. Online courses usually feature recorded lectures and discussion boards where a student can post at any time during the week. Live lectures or set class meetings are less common, but weekly assignments will typically have set due dates.
A culminating experience. Degree programs often lead to a final experience that reinforces concepts from previous courses. In many programs this is a capstone course in which students complete a comprehensive research project or exam. In others, it's a supervised internship or other subject-appropriate field experience (such as nursing clinicals at a health care facility).
Virtual support. Completing a degree requires support and resources. A good college demonstrates its care for students by providing academic advisors, tutoring and writing support, open access to online library resources, and nonacademic services such as counseling and career advising.
Will I Be Able to Work While Earning My Online Bachelor's Degree?
Flexibility is one of the main draws of completing your education online. According to a 2019 report on online college students, 51% of undergraduate students worked full time and 21% worked part-time. Most online bachelor's degree courses are delivered asynchronously to accommodate students' busy schedules. Asynchronous courses offer the most flexibility since students can view pre-recorded lectures and complete online coursework when it's convenient for them. In contrast, synchronous classes require students to log in at set times during the week.
Accreditation
Which Accreditation Is Best For Online Degree Programs?
When researching degree programs, consider schools with regional accreditation first. Regional accreditation is considered the most prestigious because it's based on the most rigorous academic standards; national accreditation tends to focus on technical and trade schools. Attending a regionally accredited school will allow you to:
Apply for federal financial aid
Transfer credits to another regionally accredited college in the future
The Distance Education Accrediting Commission (DEAC) is a national accreditor that certifies the quality of schools with online programs, so DEAC accreditation is another factor to consider. Finally, some major fields feature professional organizations that accredit individual programs, such as the Accreditation Board for Engineering and Technology (ABET) for engineering.
Is an Online Bachelor's Degree Legitimate?
Accredited online bachelor's degrees are legitimate. If a recognized agency has certified the quality of a school's online programs, then the credential is just as meaningful as a diploma earned through in-person learning. There are fraudulent accrediting agencies that give a stamp of approval to low-quality online colleges, so always check that all accreditors mentioned on a college's website are in the DAPIP or CHEA databases.
What Is the Easiest Degree to Get Online?
This question can't be answered in absolutes, because each person's strengths, weaknesses, and interests are different — research shows that students perform better in their favorite subjects. However, there are important factors beyond interest that can make a degree easier for an individual to obtain, including:
Admissions requirements. More exclusive colleges may have difficult programs and faculty who expect a higher level of performance.
Program length. You may stay motivated if you're on track to finish quickly.
Student support. Some schools or departments may provide better academic services such as tutoring or writing help.
Culminating projects or experiences. You may be better at writing long research papers than learning skills on the job at an internship, or vice versa.
It can be difficult to compare these factors using college's promotional materials and web pages alone. For less biased information, you can read reviews from real students and alumni of specific programs.
Cost of an Online Bachelor's Degree
Although there is wide variation between the most and least expensive choices, the average annual tuition for an online bachelor's degree is $14,993 according to data we've collected from school websites. In general, private colleges charge more than public colleges:
Average yearly tuition at a public school: $14,499
Average yearly tuition at a private school: $15,411
Tuition is the biggest portion of any degree's expense, but it's not the only cost associated with higher education. Schools charge fees that vary by institution. Many online students pay technology fees each term, and there are fees for applying to a college in the first place and for covering the cost of graduation in the final semester. Online students need reliable high-speed internet access, books or electronic books, and sometimes specific software.
You may want to consider future earnings in addition to the upfront costs of a degree. Our ROI scores show that the most expensive programs aren't necessarily the best investments in terms of future earning potential.
The average annual tuition for an online bachelor's degree is $14,993 according to data we've collected from school websites.
Financial Aid for Online Students
Financial aid can help online college students cover some or all of their education costs. The first step in the process is to complete a Free Application for Federal Student Aid (FAFSA), which determines how much federal aid a student qualifies for. Federal aid includes gift aid that doesn't need to be repaid: grants based on financial need, scholarships based on merit or family background, and work-study programs that provide tuition waivers for students. The government also offers loans at interest rates that are generally more favorable than loans from private sources.
Most states and colleges also use the FAFSA to determine aid eligibility. They may offer grants and scholarships, and some states have work-study options similar to the federal program. According to a report by Sallie Mae, 71% of all undergraduates or their families completed a FAFSA for 2019-2020, and 73% received at least some scholarship or grant money. In the same year, the average family covered about 42% of total college costs using a combination of gift aid and borrowing.
Online students apply for financial aid in the same way as campus students and are eligible for most of the same funding. Some private scholarships endowed by an institution's alumni may only apply to campus students, so check with a school's financial aid office before applying.
Salary Outcomes for Online Bachelor's Graduates
The Bureau of Labor Statistics (BLS) shows that earning a bachelor's degree leads to higher earnings and a lower chance of unemployment over the course of an individual's career. Bachelor's graduates earn a median $500 more each week than high school graduates and about $360 more than those with an associate degree. These positive salary and employment prospects improve with each degree a student attains. Alumni of terminal doctoral and professional degree programs earn a median $600 more each week than bachelor's graduates and experience less unemployment.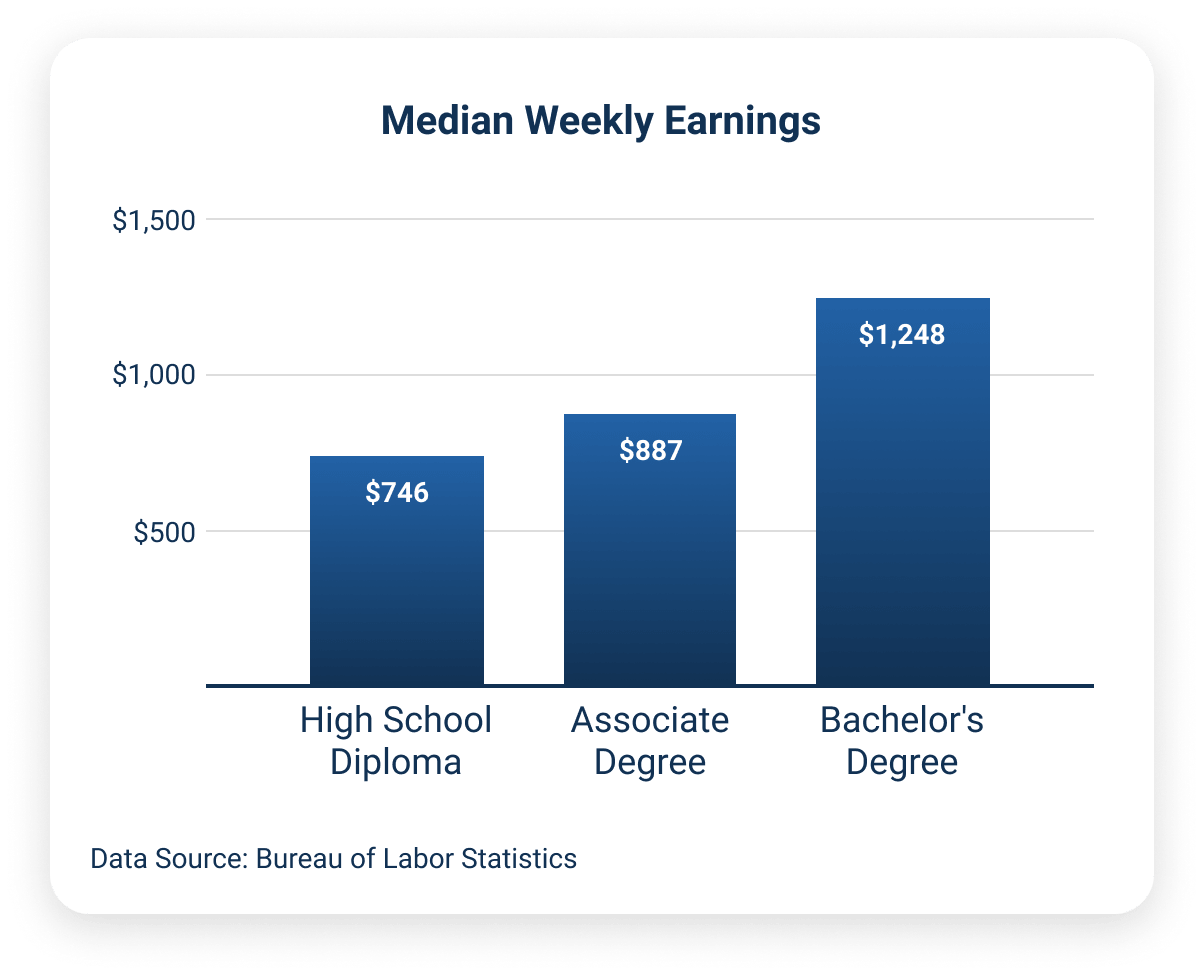 Bachelor's degrees in general lead to higher wages, but the field of study can also make a difference in future earnings. BLS lists chief executive as the top job requiring a bachelor's degree for entry, and marketing and financial managers are also high earners. Other well-paying jobs include computer and information systems manager and engineer or engineering manager. To start down these career paths, you may want to study:
Note that reaching the top of these fields requires years, and usually decades, of work experience, but a bachelor's degree is a good place to start.
Is an Online Bachelor's Degree Worth It?
Study after study has shown the benefits of higher education for employment and earning potential, but you may be wondering specifically whether an online degree is worth the cost and effort. Though this is a subjective measure that will vary by individual, the answer is usually yes: Online degrees can confer the same benefits as on-campus degrees, and they may be more accessible and flexible than on-campus programs. Online students can access their classrooms from anywhere with an internet connection and complete assignments when it's convenient for them. We dive into further detail about why the savings may be worth it, what online learning means for employment, and some potential downsides of online learning that you should keep in mind.
Students can save time and money by pursuing an online bachelor's degree instead of attending on-campus programs. Online learners aren't required to pay additional campus-based fees, and they save on room and board and transportation costs. Many online programs also offer credit for previous schooling, professional experience, or military training, which can save money by reducing the time needed to finish. Our list of the best online bachelor's degrees shows that online degrees have the potential to provide worthwhile returns on upfront investment.
What's more, the stigma against online education seems to be eroding. Online college has long been associated with its early for-profit adopters, but now hundreds of accredited colleges in all sectors offer online degrees. In a 2018 survey of 750 HR specialists, 71% said they had hired an online-degree graduate in the previous year, and 61% said they believe that online degrees are as good as regular degrees. If you attend a school that offers both in-person and online degrees, employers usually won't know how you earned your degree because the diplomas and transcripts are identical. However, graduates of fully online schools may experience some hiring bias directed against online learners. Students should be aware of this and other potential downsides, as outlined below.
Downsides of Online Learning
There are some potential downsides to studying online. Data suggests that fully online students graduate at lower rates than in-person learners, although the cause is unclear. It may be that online institutions aren't providing the necessary academic or personal support that students require to succeed, or that many students enroll in distance learning without taking their personal learning styles into account.
This website offers school details to prospective students as an informational resource. The appearance of a school listing on this website should not be interpreted as an endorsement of the school by this site.