2023 Most Affordable Online MSW Programs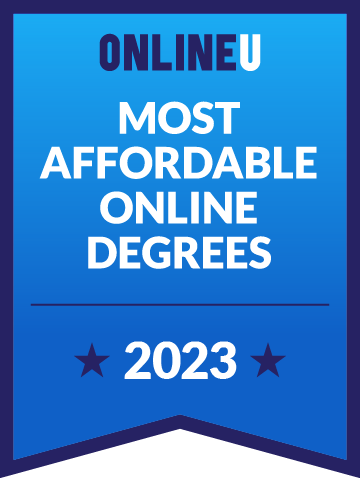 An online Master of Social Work covers the most important knowledge and skills needed to become a social worker. These include client assessment and treatment techniques, social policy analysis, and research practices. Affordable online social work master's programs may feature concentrations that help learners specialize in a focus area, such as school social work, substance abuse social work, or clinical social work. Each social work master's degree requires students to be physically present in a professional setting for several hundred hours of fieldwork, which gives them practical experience and may help them prepare for clinical licensure. Applicants might earn advanced standing and shorten their time to graduation if they already have an undergraduate social work degree.
View our methodology for details about rankings or learn more about us. You can also check out our overall list of the most affordable online degrees for some inspiration.
All tuition numbers were manually collected and verified
Rank
School

Locations

Annual Tuition

# 1
Missouri State University
Springfield (MO)

$5,415

# 2
University of Arkansas at Little Rock
Little Rock (AR)

$6,320

# 3
University of South Dakota
Vermillion (SD)

$7,057

# 4
University of Arkansas
Fayetteville (AR)

$7,252

# 5
New Mexico State University
Las Cruces (NM)

$7,407

# 6
University of Central Florida
Orlando (FL)

(and 7 others)

$7,461

# 7
University of Georgia
Athens (GA)

$7,842

# 8
The University of West Florida
Pensacola (FL)

$8,100

# 9
University of Maine
Orono (ME)

$8,850

# 10
Albany State University
Albany (GA)

$9,000
Overview of Affordable Online MSW Programs
A Master of Social Work (MSW) can help you prepare for a career in the social work field, empowering others to create positive change that improves emotional and physical well-being. You can complete an affordable online MSW program that is convenient, delivers a quality curriculum, and is accredited by the Council on Social Work Education (CSWE).
Coursework in a traditional graduate school program includes the completion of approximately 62 credit hours and 900-1200 hours of fieldwork experience. These CSWE-accredited programs meet industry standards, so you can apply your licensed clinical social worker (LCSW) credentials to counsel others. Or, you may use your skills to work in a non-clinical setting with organizations committed to public policy change and social justice advocacy.
What Factors Should I Consider In Finding an Affordable Program?
Tuition
Tuition is the biggest factor when it comes to affordability. Public schools generally charge lower tuition to in-state students on campus, and online students usually pay this in-state rate regardless of where they live. According to our research, some private schools charge less for online programs than for the identical campus versions. Schools also charge fees on top of tuition. For example, additional fees specific to online learning include technology charges, equipment rental, and physical or ebook purchase or rental.
Accreditation
Accreditation is one of the most important factors to consider when determining which college or university to attend. To earn accreditation, schools are evaluated by one of six authorized, independent accrediting agencies or by the Distance Education Accrediting Commission, which are themselves approved by the U.S. Department of Education or the Council for Higher Education Accreditation (CHEA). Through this process, schools are evaluated in a multi-year process and proven to meet or exceed recognized quality standards in order to be accredited.
Students interested in earning online master's in social work degrees may also want to look for programs that have been accredited by the Council on Social Work Education (CSWE). In most states, graduating from a CSWE-accredited MSW program is a requirement for obtaining a license to practice. Most schools list their program accreditations on the MSW program pages of their websites, and prospective students can also check their state licensing board websites for specific accreditation requirements
Financial Aid
Financial aid is another key factor in affordability, especially needs- or merit-based scholarships or grants. These programs lower the amount you'll need to borrow, which reduces future debt (student loans require repayment with interest). It's also important to consider the long-term benefit of earning an MSW. It may be worthwhile to incur more debt in a costlier degree program if the average salaries of its graduates are significantly higher. This balance is referred to as return on investment.
Funding an Online MSW
Many states, universities, and organizations want to encourage students to go into public service, which is why scholarships, grants, and loan forgiveness programs are available expressly for MSW students enrolled in both online and on-campus programs. The best place to begin a search for funding is through the financial aid office of the college or university you plan to attend. Most students start the application process by submitting a Free Application for Federal Student Aid (FAFSA) form. Once the federal government reviews the FAFSA form, the school will provide an offer detailing the types of financial aid available, including any school-sponsored scholarships, grants, or fellowships for social work students.
Prospective students may also want to investigate outside financial support. For example, several individual states offer financial assistance programs for MSW students, such as the New York State Licensed Social Worker Loan Forgiveness Program, the Nevada Maintain the Social Worker in School Program, and the Maryland Workforce Shortage Student Assistance Grant Program.
Many professional social worker organizations, community service organizations, and related nonprofit organizations offer scholarships and grants specifically for MSW majors, including the Council on Social Work Education, the National Association of Social Workers, and the National Association of Black Social Workers.
Types of Online MSW Programs
Different schools offer different types of Master of Social Work (MSW) programs. Some universities simply place an emphasis either on generalist practice or on clinical work. Other schools, however, offer formal concentrations in one of these two subfields or in other subfields, such as global policy, human services, or health care social work.
Advanced Generalist Practice
This emphasis or concentration is a good option for students who intend to work in government- and community-sponsored agencies, assisting various types of clients, such as children or veterans. The curriculum for an MSW in advanced generalist practice gives students the problem-solving skills they need to help assess their clients' needs and develop appropriate treatment plans that involve human services. MSW majors are often required to take multiple experiential courses in generalist practice, as well as courses in human behavior, public policy, and social justice, so that they are well-prepared to apply their knowledge and skills in the workplace. According to the Bureau of Labor Statistics (BLS), median salaries for clinical social workers can range from $49,130 to $61,190, depending on the population a generalist is working with. The projected demand for social workers over the next decade is slightly higher than the average rate at 9%.
Clinical Social Work
Programs with an emphasis or concentration in clinical social work are intended to prepare MSW graduates to assess, diagnose, and treat people experiencing behavioral, emotional, or mental disorders. Often found working in government or community agencies, hospitals, health care facilities, or private practices, clinical social workers may assist individuals or families. They identify resources and services that may be helpful to their clients. MSW students usually take multiple courses in advanced clinical work to develop necessary skills, such as listening and communicating, using diagnostic tools, and identifying appropriate treatment methods. Data from the BLS states that clinical social workers earn a median annual salary of $50,390 and that the projected demand for clinical social workers is 9%, just above the average for all occupations.
Healthcare Social Work
A concentration in healthcare prepares MSW graduates to work in hospitals and other healthcare facilities. Healthcare social workers assist patients who are ill or who've been hospitalized to better understand their illnesses, treatment plans, and options for related services and resources. Online MSW in health care programs typically include many of the same core courses as generalist programs, including research courses and practicums, but they may also include concentration or elective courses in health care social work practice, working with older adults, understanding the life cycle, global health issues and policy, and public health administration and policy. According to the BLS, healthcare social workers earn a median annual salary of $50,390, and the need for professionals is predicted to grow by 9% over the next decade.
Advanced Standing Track
Another specialty program found at some schools is an MSW with an "advanced standing" track. These programs allow students who have earned bachelor's of social work (BSW) degrees from programs accredited by the Council on Social Work Education (CSWE) to apply some of their undergraduate credit hours toward the requirements for the MSW. The number of transferable credit hours varies by school, but often falls in the 20-26 range. Students can thus complete graduation requirements more quickly, saving on tuition and allowing them to move into the workplace sooner. Although students enrolled in advanced standing programs take fewer courses, they must still fulfill the school's requirement for 900 or more hours of fieldwork.
Field Education
All MSW programs accredited by the Council on Social Work Education (CSWE) require enrollees to complete a certain number of hours of field education, also known as fieldwork, internships, or practicums. These internships often occur at community agencies, hospitals, and other healthcare facilities, where students work directly with clients or patients, assessing their needs, helping to develop treatment plans, and performing other common social work functions. Fieldwork allows MSW students to gain practical, hands-on experience and challenges them to apply the theoretical knowledge they're learning in the classroom to real-world situations. Because all fieldwork must be completed under the supervision of experienced social workers, students also benefit from learning from other professionals. Students then graduate with valuable work experience to add to their resumes.
The number of required field experience hours varies among programs but averages anywhere from 900 to 1,300 hours, which are sometimes split up over two semesters. This translates into working 16 to 20 hours a week for many students, although some may work more. Because many practicums require students to work during typical office hours — meaning 9 a.m. to 5 p.m. on weekdays — some students may find it challenging to hold down other jobs while completing this requirement for their degree.
Many online programs have fieldwork coordinators who assist distance learning students in locating appropriate, supervised opportunities at facilities near their homes.
Courses in Online MSW Programs
Students pursuing master's in social work (MSW) degrees can usually customize their programs somewhat by choosing electives such as family therapy, gerontology, substance abuse and addiction, and child therapy. They will also be required to take foundational online classes in some of the following subjects, although specific courses may go by different names depending on the school.
This skills-based course helps students learn to use various assessment tools to determine the mental health status of their clients. In the process, students discuss ethical considerations and recognize the impact of influences such as culture on how we diagnose behaviors.
While some areas of social work focus on individuals and families, community practice, also referred to as macro practice, looks at communities and larger populations. Students explore the factors that influence a social system's health, and learn various means and methods of instituting social change within communities.
This broad and complex subject is often split up over two or more courses within an MSW program. Students learn foundational skills in working with individuals, families, and larger groups, which can include establishing trust to obtain information from clients, formulating an assessment of clients' needs, and developing treatment plans, including required services and intervention, if needed.
A course in human behavior pulls together concepts from psychology, biology, and sociology to explain and predict how individuals interact with one another. Coursework typically covers a number of theories, and students learn how these theories can be applied to social work practice and therapy.
Closely related to generalist practice, this course explores the many types of public and private services available, especially in the areas of health, housing, and education. With the goal of becoming leaders and advocates, students develop skills in researching and working with agencies, organizations, and facilities that provide such services.
At the master's level, students are expected to utilize ethical quantitative and qualitative research methods to inform their practice. Coursework may include the development and implementation of a social work-related research project, including the analysis and interpretation of statistical data.
A common thread that runs through most MSW programs is social justice, the idea that all people deserve equal rights and opportunities. A specific course on social justice covers relevant themes, such as health care, housing and food insecurity, income inequality, and racism, as they relate to generalist social work practice.
This course looks at public policies, regulations, and laws, and how they can be implemented or changed to improve economic and social issues. Coursework provides an overview of the evolution of public policy in the U.S., and teaches students how to analyze policy at all levels of government.
Careers for Online MSW Graduates
According to the Council on Social Work Education (CWSE), large numbers of MSW graduates work with children and families in nonprofit or charity organizations, outpatient clinics, and government agencies from the local to federal levels. Jobs in the social work sector include case workers who deal with children in vulnerable situations, school social workers who help students succeed academically, and adoption specialists who connect families with children who need homes.
A large segment of MSW graduates pursue clinical social work licensure in their state of practice. These professionals work in a variety of settings to assess and treat mental and behavioral problems in their clients. They design treatment plans using a person-in-environment perspective, understanding that it's impossible to divorce each individual from the social and physical context around them. Finally, other social workers specialize in substance abuse, justice and corrections, occupational assistance, advocacy, and policy.
The following are some examples of careers for online MSW graduates, with salary and job growth data from the BLS:
Child Welfare Social Workers
Median Annual Wage:
$ 50,820
Child welfare social workers can be found working in government agencies, non-profit organizations, and court systems. Their job is to protect and advocate for children facing neglect and abuse. Child welfare workers provide access to help and services for families, and determine whether it is necessary to remove the child from the home.
Marriage and Family Counselors
Median Annual Wage:
$49,880
Marriage and family counselors specialize in evaluating, diagnosing, and treating issues common among couples and families. They encourage clients to communicate more openly, develop new behaviors and skills, and make important decisions. Many counselors maintain their own practices, but some work in conjunction with other social workers and psychologists. In all 50 states, marriage and family counselors must be licensed to practice, which requires the completion of a master's degree and 2,000 to 4,000 hours of supervised experience.
Median Annual Wage:
$50,820
School social workers typically work for school districts, addressing the needs of individual students as well as the overall student population. They provide assessment, counseling, and other services designed to help students succeed socially, emotionally, and academically. Treatment may involve interacting with students' families and teachers in order to create a healthy environment for learning and growth. As mental health professionals, school social workers are generally required to be licensed, although the terms vary by state.
Licensed Clinical Social Workers
Median Annual Wage:
$50,390
Licensed clinical social workers are trained to evaluate, diagnose, and develop treatment plans for people who have mental, emotional, or behavioral disorders. They often bring in other services and resources to address the needs of their clients. Job opportunities for licensed clinical social workers can be found in private practices, hospitals and other health facilities, and governmental or community-run agencies. All of these positions require licensure, the terms of which vary by state.
Median Annual Wage:
$49,150
Geriatric social workers coordinate care and services for older adults. Working in hospitals, health care facilities, or agencies, they identify clients' needs and work with them and their families to find services that meet those needs. Services may include physical and emotional therapy, in-home care, and meal provision. Social workers may choose to pursue voluntary certification in working with senior populations.
Is an Online MSW Worth It?
Pursuing a master's degree can be a significant investment of time, energy, and money. There are also jobs available that don't require a master's degree — including in advocacy, environmental health, and children and family services — so an MSW is not necessary for all career paths in the field. Yet, there are several important advantages to getting a master's degree in social work, especially online, that may make it worth it for some students:
MSW holders become eligible for positions within the social work field that require a higher-level degree, such as clinical social workers, health care social workers, and advanced general practitioners.

These positions typically offer higher salaries. Data from the National Association of Social Workers confirms that professionals with master's degrees earn an average of $13,000 more per year than bachelor's degree holders.

An MSW is also important for job security. An MSW is increasingly necessary in order to stay competitive in the job market.

Adding online options to the mix of potential MSW programs enables prospective students to find the program that fits their goals and budget without relocating.

Attending graduate school online allows students to build professional networks that extend far beyond their immediate region, which might be useful for job searches in the future.
The decision to earn this degree is personal. It should be based on a careful evaluation of the potential benefits and drawbacks (such as time constraints and stress) as viewed in the light of a student's unique objectives and resources.
Frequently Asked Questions About Affordable Online MSWs
What Type of Licensure is Required to Practice Social Work?
---
Some social workers require licenses certifying they've been tested on the knowledge and skills needed to practice in the field. Licensure (sometimes called "registration") varies by state and by the type of social work practiced. All states require clinical social workers to hold licenses because these practitioners provide important mental health services. To qualify for clinical licensure, an individual must have a master's in social work (MSW) degree and at least two years of post-degree fieldwork experience. Other types of social workers — such as those in administration, justice and corrections, advocacy, and schools — may not need licensure. Students should check the requirements for their jurisdiction on the Association of Social Work Boards (ASWB) website. This organization administers licensing exams throughout the U.S. and Canada.
How Long Does It Take to Get an Online MSW?
---
Students can usually graduate after two years of full-time study or four years of part-time study. Many schools offer an advanced-standing option for applicants who've earned a BSW within the last eight years (to ensure that their social work knowledge is up to date). Advanced standing can sometimes cut the time to a degree by half.
Is It Hard to Get Into an MSW Program?
---
Some programs are more selective than others, but many admissions officers are looking for similar qualities in applicants. Each school will need to see proof of a bachelor's degree, but the degree doesn't necessarily have to be in social work. Applicants with a BSW can apply for a school's advanced-standing program if it offers one, allowing students to complete their MSW coursework faster. Many schools either require or prefer that their master's students have earned a minimum GPA of 3.0 as undergraduates; advanced-standing applicants will need to prove a certain GPA in their previous social work courses.
Most programs require applicants to submit letters of recommendation and at least one personal essay or statement of intent. Social work departments want to admit students who think critically about social problems and how to solve them, and these documents can go a long way toward proving a student's commitment to the discipline. Prior jobs in social work can provide real-world examples of this commitment that applicants can draw from — although work experience usually isn't required for acceptance, about 79% of MSW graduates had some professional experience before their graduate studies.
Can You Get a Master's in Social Work Online?
---
Yes, many accredited schools offer an online MSW that prepare students to assume higher-level roles in the field, such as in advanced generalist practice and clinical social work. These online programs give students more options and greater flexibility in achieving their career goals, while still enabling them to fulfill all of the educational requirements for becoming a social work professional. As long as they're enrolled in accredited programs, online MSW students complete coursework, collaborate with peers, engage in fieldwork and practicums, and prepare for licensure, just as their on-campus counterparts do.
Related Articles
2023 Most Affordable Online Master's Programs
Explore the most affordable online master's degree programs in 2023 and choose the one that's right for you.