2023 Best Online Master's Degrees in Educational Leadership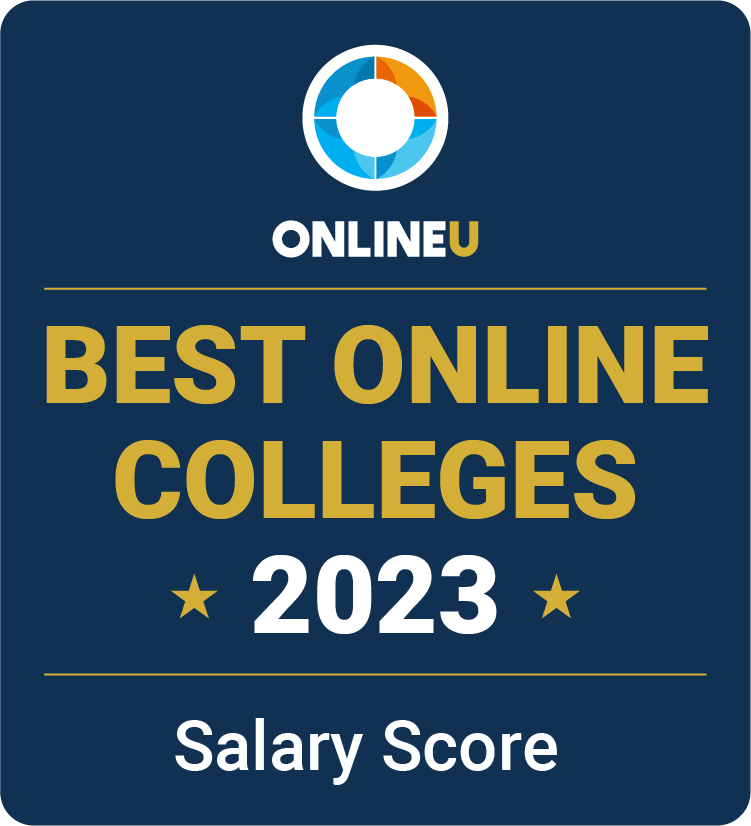 An online master's in educational leadership is designed to build upon a teacher's classroom experience by exploring administrative and governance skills. Coursework may cover communication strategies for school districts, budgeting for public schools, education law, and developing classroom instruction operations. Generally, students need a teacher's license and practical teaching experience to join one of these programs. Graduate degrees can be expensive, but there are many affordable education leadership master's degrees that allow students to save money on tuition costs.
View our methodology for more details about our list or learn more about OnlineU.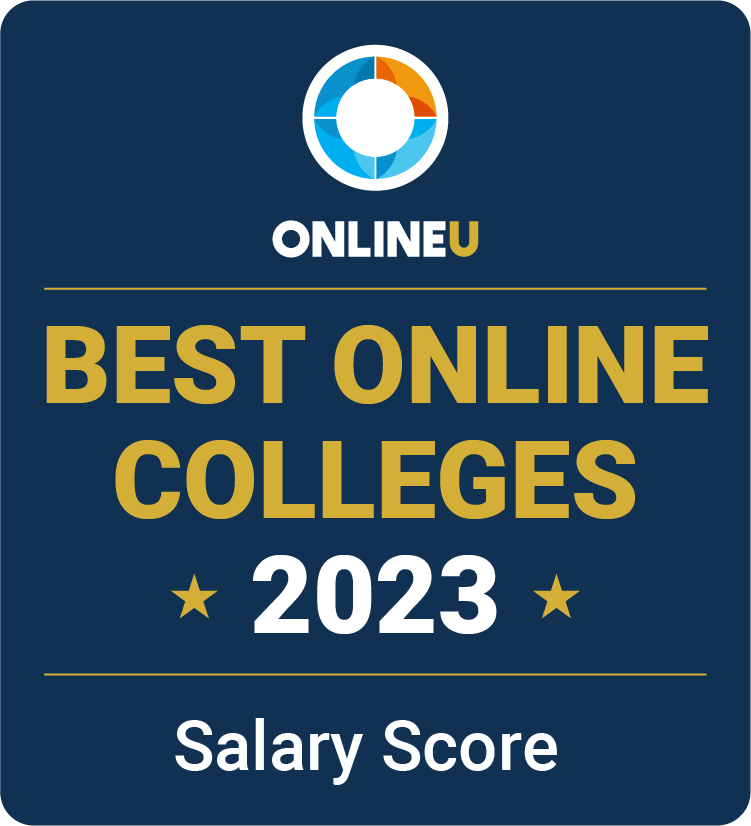 ADVERTISEMENT
Online Educational Leadership Master's Degrees You May Be Interested In

Annual Tuition: $11,286
1 Programs (view all)

Annual Tuition: $11,538
3 Programs (view all)

---
2023 Best Online Master's Degrees in Educational Leadership
| Rank | School | Salary Score | Median Starting Salary |
| --- | --- | --- | --- |
| # 1 | Mercy University | | $106,401 |
| # 2 | Touro College | 100 | $105,380 |
| # 3 | Bank Street College of Education | 100 | $104,639 |
| # 4 | Fordham University | 99 | $86,586 |
| # 5 | UMass Global | 99 | $86,122 |
| # 6 | Concordia University - Irvine | 99 | $85,614 |
| # 7 | National University | 99 | $84,898 |
| # 8 | California State University - East Bay | 99 | $84,466 |
| # 9 | University of Alaska Southeast | 98 | $81,625 |
| # 10 | Chaminade University of Honolulu | 95 | $76,071 |
What Is An Online Master's Degree in Educational Leadership?
An online masters in educational leadership offers advanced skills development in administration, management, and teaching. Students learn to develop policy, support faculty, create curriculum standards, and oversee operations in educational settings. Additional training is provided in partnership development, data analysis, and education law.
The first step for students pursuing an educational leadership masters is to earn a degree in teaching online or in person. Many programs are designed for licensed professionals who have already started a career in teaching because the coursework often focuses on deepening their existing understanding of organizational processes in school environments.
Whether it's a master's in education, a master's in elementary education, or a master's in teaching, students should ensure their degree comes from an accredited school. This process involves a third-party agency vetting a college's programs, faculty, and overall mission so students can rest assured they are receiving a quality education. All schools featured by OnlineU have been properly accredited.
How Long Does It Take To Get a Master's Degree in Educational Leadership Online?
A master's in educational leadership takes full-time students approximately two years to graduate. Most programs require the completion of 30 to 32 credits, with full-time students taking eight credits per semester to finish in two years. Part-time pathways may also be available, depending on the program's requirements, which can take up to five years to complete.
Specializations
It's common for educational leadership master's degrees to offer specializations, otherwise known as concentrations or tracks. Curricula often feature coursework focused on specific areas of interest or professional roles. For example, there are career-minded specializations in principal leadership, school district leadership, and administration that develop leadership, policy, collaboration, and communication skills. Alternatively, students can pursue specializations in niche teaching areas, such as special education or early childhood education.
Common Courses
Regardless of the specialization, students are still required to take core classes in order to ensure they learn foundational principles, applications, and theories of educational leadership. Students who have already finished their path to becoming a teacher will be familiar with these curricula. The courses below cover advanced training for working professionals seeking leadership positions in this field:
Introduction to Educational Leadership
This course is a core part of every curriculum in this field because it establishes an introduction and foundation for the practices, theories, strategies, and characteristics used in educational leadership positions. School law and federal mandates feature prominently as students learn the rules surrounding education systems. They also learn how education professionals build and manage relationships with their communities.
In this course, students learn how to manage finances for elementary, secondary, and post-secondary schools. Coursework explores economic theory, revenue streams, fiscal operations, and financial trends. In addition, students discuss effective and ethical ways of investing public money to improve education.
A curriculum development course focuses on designing, implementing, and evaluating student learning experiences. From theory to practice, this course looks at all issues related to curriculum design. Students must consider diversity, accountability, and data management as they create personalized curriculums for different education levels.
Educational technology teaches the tools, applications, facilities, and software that assist teachers and administrators in organizing and implementing academic operations. While much of this course centers on practical uses of technology, students also learn the educational theories that drive the use of these tools.
What Can I Do With a Master's in Educational Leadership?
Several post-graduate options exist for students who finish an online master's in educational leadership. Those who wish to continue their research or become college professors should pursue a doctorate in educational leadership, where coursework builds on the foundational learning experience of a master's with deeper explorations of research methods, education policy, and leadership practice.
There are also educational leadership graduate certificates that are much shorter and provide training for career advancement, many of which require practical training through internships. Career options vary by title and include different levels of responsibilities.
Annual Median Salary:
$99,940
The role of an education administrator for a college or university is to oversee all operations and services for a school. They assess learning outcomes, manage teachers, update policies, control budgets, and ensure students have the support they need to succeed. This job requires strong analytical thinking, problem solving, and communication skills.
Annual Median Salary:
$101,320
Elementary, middle, or high school principals are responsible for managing all day-to-day operations. This includes supporting staff, teachers, and students simultaneously by setting schedules, developing standards, evaluating performances, and providing counseling and disciplinary services. They also coordinate with school boards and district administrators to ensure their facilities have sufficient support.
Special Education Teachers
Annual Median Salary:
$63,560
Special education teachers work directly with students who have learning disabilities, such as those who have audio or visual impairments or are on the autism spectrum. They implement curriculums, evaluate behavior and performance, create student reports, and establish classroom policies. Their job requires an understanding of special tools and technologies crucial to their unique students' learning outcomes.
Instructional Coordinators
Annual Median Salary:
$66,490
The primary responsibilities of instructional coordinators revolve around curricula. They create the material, implement it in classrooms, and evaluate its effectiveness. They work with teachers to make sure they have a firm understanding of the material and coordinate with school boards to recommend adjustments to curriculums in their district.
How Much Money Can I Make With a Master's Degree in Educational Leadership?
Educational leadership graduates have salaries ranging from average to well above average, depending on the job responsibilities. Roles within the classroom, such as teachers and instructional coordinators, tend to have median salaries of around $65,000. Principals and administrators boast salaries of approximately $100,000 due to their strong leadership components. Even the most affordable educational leadership master's degrees can provide graduates with a salary in this range.
Applying For a Master's in Education Leadership
It's important to consider all application requirements when deciding how to pick a college, such as holding a relevant bachelor's degree in education. Every school may not explicitly note this, but students are required to have professional teaching experience, which can only be achieved with a teaching degree and license. Applying to college also requires a letter of recommendation from an education administrator.
FAQs About Online Master's Degrees in Educational Leadership
Are Online Master's Degrees in Educational Leadership Respected?
---
Online master's in educational leadership are respected degrees as long as they are accredited. This is particularly important for remote students who aren't able to visit campus to meet their instructors directly. Accredited schools often use the same instructors and curricula regardless of the delivery format. Furthermore, employers treat online degrees the same as those earned in person.
How Many States Require a Master's Degree in Educational Leadership?
---
According to the International Council of Professors of Educational Leadership (ICPEL), 37 states require candidates to have a master's degree to become principals. The same amount of states require teaching experience, and 38 states require field experience. Master's graduates in 33 states can pursue alternative pathways to principal licensure without practical experience by taking a skills assessment and written test.
What Is an MBA in Educational Leadership?
---
An online MBA in educational leadership features more business components, such as finance and operations. This coursework is already included in educational leadership majors, but through an MBA, students can understand business principles in the context of a school environment. This path is beneficial for aspiring principals and school administrators.
Is a Master's in Educational Leadership Worth It?
An online master's in educational leadership is worth it for those who wish to have a genuine impact in schools of all levels. Students engage in multidisciplinary coursework that ranges from data analysis to curriculum development and communication. Many careers involve similar job responsibilities, but salaries are substantial.
Take a look at some of the pros and cons below:
Benefits
Leadership roles result in high pay. Principals and education administrators earn median annual salaries of around $100,000.

Principals show high job satisfaction. A 2021 National Center for Education Statistics (NCES) report showed that 94% of public school principals were generally satisfied with their positions.

Graduates receive a well-rounded education. Coursework develops skills and training that can be used in industries outside education, such as business and healthcare.

Education professionals can help students beyond the classroom. Extracurricular activities and after-school programs, such as sports leagues and study groups, have a positive impact on individual households and across communities.
Drawbacks
Job growth rates are lower than in other industries. The most common educational leadership jobs only show up to 3% yearly growth.

Some veteran principals are less satisfied than they once were. The same report from IES shows that 35% of public school principals have less enthusiasm for their work as time goes on.

Many factors affect the difficulty of working as a principal. A 2021 survey from the National Association of Secondary School Principals (NASSP) shows three main factors that may lead professionals to leave their jobs: heavy workload, state accountability measures, and compliance requirements.

The learning doesn't stop after a master's degree. Principals and administrators must frequently update their curriculums and learn new technologies based on the advancement of educational materials.
Why Trust Us?
60,000 Degrees Researched Annually
20,000 Hours Spent on Research Annually
Launching Rankings Since 2009
Meet our team
Related Articles
2023 Best Online Master's Degrees
A master's program can expand your employment options and earning power. Explore our list of the best online master's programs based on alumni salaries.
2023 Best Online Master's Degrees in Education
Are you interested in earning an online master's degree in education? Find the best master's degrees in education from our 2023 list of accredited online schools.