2020 Best Online Master's in Educational Leadership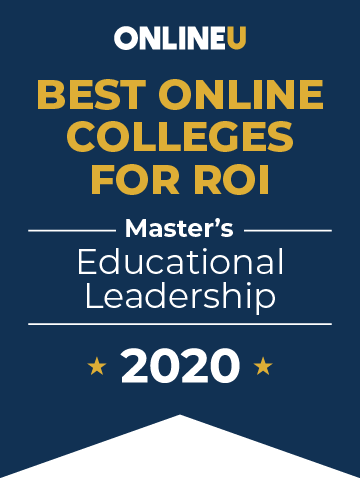 Distance students seeking master's programs in educational leadership will find that these 24 colleges offer the best value based on affordability and alumni salaries. Graduates of the #1 school, University of Illinois Urbana - Champaign, report earning a median salary of $91,600. At #2, Seton Hall University has an annual tuition rate of $25,200 for its MA in Education Leadership, Management and Policy.
Alumni salaries were provided by PayScale. View our methodology for more details or learn more about OnlineU.
Rank
School

Annual Tuition

Mid-Career Salary

#

1

University of Illinois Urbana - Champaign

$7,712

$91,600
#

2

Seton Hall University

$25,200

$96,300
#

3

The George Washington University

$15,375

$91,400
#

4

San Diego State University

$20,824

$82,900
#

5

Western Governors University

$7,080

$76,900
#

6

Eastern Michigan University

$9,216

$76,000
#

7

Pepperdine University

$25,400

$81,200
#

8

Hofstra University

$25,164

$80,100
#

9

National University

$10,166

$73,200
#

10

Kansas State University

$8,613

$68,600
#

11

University of Dayton

$15,900

$70,200
#

12

Florida State University

$11,832

$67,900
#

13

Stony Brook University

$17,334

$68,800
#

14

Cabrini University

$11,645

$65,500
#

15

Ball State University

$9,765

$63,900
#

16

Arizona State University

$9,576

$63,100
#

17

University of North Texas

$20,243

$66,900
#

18

University of Louisville

$13,752

$63,600
#

19

Indiana University - Bloomington

$9,273

$61,000
#

20

University of New Mexico

$5,155

$58,600
#

21

Liberty University

$9,960

$59,800
#

22

Troy University

$8,398

$59,100
#

23

The University of Tennessee - Knoxville

$12,852

$60,700
#

24

University of Florida

$9,457

$59,200
Salary data provided by

2020 Online Colleges Offering Educational Leadership Degrees - Ranking Details
Online Master's in Educational Leadership Overview
As with most degree programs, the exact admission requirements for a master's degree program in educational leadership vary from one school to the next. In general, however, applicants are typically required to have a bachelor's degree from an accredited institution, submit evidence of teaching experience in a school setting, and hold a current state teaching certificate. Other requirements vary, but may include letters of recommendation from previous instructors or employers, transcripts of any previous graduate-level coursework, or Graduate Record Examinations (GRE) scores. As always, it is best to speak to an advisor or the admissions office of your chosen school to learn about specific requirements.
The master's curriculum is comprised of theory, research, and practical experience. Programs allow students to gain a comprehensive understanding of theories that inform practice in school administration. Areas covered by the curriculum include academic leadership, collaborative leadership, curriculum design and development, diversity and educational leadership, educational law, fiscal and human resource management, instructional improvement and assessment, leadership and change, legal and ethical aspects of leadership, organizational behavior, school management and improvement, strategic planning and systematic evaluation, and technology leadership for administrators.
Students are required to complete a capstone project that involves comprehensive research. Master's degree programs also typically integrate internship experiences throughout the program. Through such field-based projects, students gain firsthand experience of various issues in educational administration.
This website offers school details to prospective students as an informational resource. The appearance of a school listing on this website should not be interpreted as an endorsement of the school by this site.