2023 Most Affordable Online Business Degrees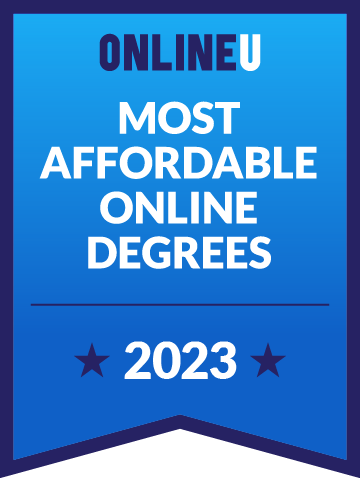 An online degree in business provides the foundation for you to learn the basic principles of business, which you'll likely need if you want to pursue further education, like an affordable online MBA. Prospective students can expect to take courses that cover a wide range of related topics, from analytics and business statistics to accounting and finance. If you are interested in pursuing similar degree programs online, you should also check out our rankings lists of the most affordable online degrees in management and finance.
View our methodology for more details about rankings or learn more about us.
All tuition numbers were manually collected and verified
| Rank | School | Locations | Annual Tuition |
| --- | --- | --- | --- |
| # 1 | Middle Georgia State University | Macon (GA) | $3,410 |
| # 2 | Ohio University - Main Campus | Athens (OH) | $3,645 |
| # 3 | Brigham Young University - Idaho | Rexburg (ID) | $3,888 |
| # 4 | North Seattle College | Seattle (WA) | $3,938 |
| # 5 | University of North Carolina at Pembroke | Pembroke (NC) | $5,074 |
| # 6 | California Coast University | Santa Ana (CA) | $5,355 |
| # 7 | Aspen University | Denver (CO) | $5,400 |
| # 8 | Columbus State University | Columbus (GA) | $5,464 |
| # 9 | Kennesaw State University | Kennesaw (GA) | $5,562 |
| # 10 | Clayton State University | Morrow (GA) | $5,694 |
Overview of Online Business Degrees
An online bachelor's in business aims to provide students with the knowledge and skills to succeed in an evolving global economy. In addition to learning about fundamental concepts, business majors also explore how big data, information technology, and computing are shaping the business environment. Graduates who earn this degree are generally prepared for careers as managers, analysts, and specialists across several industries.
While admission requirements vary by program, individuals typically need a high school diploma (or an equivalent) with a minimum 2.0 GPA, letters of recommendation from teachers or mentors, and a personal essay highlighting their interest in earning a business bachelor's degree.
Business Major Concentrations
Studying a specific subject area within a major may help you gain a competitive edge as you become an expert in a particular field. Choosing a concentration in a growth area could result in higher salaries and additional career opportunities.
There are several popular business concentrations to choose from, including finance, HR, marketing, logistics and supply chain management, and entrepreneurship. No additional coursework is required — concentration courses often apply toward your major.
Scholarships for Business Majors
Online learners can apply for various forms of financial aid — including federal and state grants, university scholarships, and private funding — to help pay for their business degrees. They may also apply for federal student loans, but it's important to first explore free sources of funding as these don't have to be repaid.
Business majors may consider applying for the following scholarships:
Cargill Global Scholars Program
This award is available to students who are enrolled or planning to enroll in an undergraduate business program. U.S. citizens and legal permanent residents are eligible to apply.
This program administered by the Foundation for Financial Service Professionals is for undergraduate students studying toward a degree in finance, accounting, or related field. Applicants must complete one year of study, demonstrate financial need, and be U.S. Citizens or Legal Permanent Residents.
Women in Public Finance Award Scholarship
This award encourages female students to pursue a career in finance. Applicants must be graduating high school as seniors with a minimum 3.0 GPA. They must also demonstrate leadership and an interest in finance.
MaxHome Scholarship Program
Business and entrepreneurship majors with a 3.5 or higher GPA are eligible for this scholarship.
Lily Pabilona Emerging Entrepreneur Scholarship
Applicants attending an accredited U.S. college must be small business owners and at least 25% Asian and/or Pacific Islander to qualify for these scholarship opportunities.
Harvard Business Services Student Entrepreneur Scholarship
Harvard Business Services awards funds to business majors and entrepreneurs with a nonprofit or for-profit business concept. Applicants must be at least 18 and attending an accredited university full-time.
The Jackie Robinson Foundation Scholars Program
JRF awards scholarships to minority high school seniors who demonstrate academic excellence and plan on attending a four-year accredited university. Recipients will also receive mentoring services and educational guidance throughout their academic career.
Online Business Courses
Business programs and online courses are designed to give students the basic knowledge and practical skills they'll need as professionals. To achieve this objective, students are often asked to engage in research, writing, group projects, and oral presentations, which are activities that simulate the types of work they might be asked to do on the job. In the process, students develop essential skills, such as analysis, problem-solving, collaboration, and verbal and written communication. Some students also pursue specializations, such as in finance or accounting, and take more courses in these areas.
In this course, students learn to use a professional tone and voice when writing different types of business correspondence, emails, reports, and other documents. They may also be required to create visual presentations, and to give oral presentations either individually or in groups. These projects allow students to learn the software programs commonly used in business.
Human Resource Management
This introductory course is designed to provide a broad overview of the many interrelated and often complex topics within human resources management. These include recruiting and hiring, training, compensation and benefits, legal issues, labor unions, and strategy. Students who are particularly interested in this subject may want to consider choosing HR management as a concentration so they can pursue this as a career.
Often the companion course to financial accounting, which covers basic accounting methods and bookkeeping, managerial accounting teaches students to understand, interpret, and make decisions based on an organization's financial records. There is typically a heavy emphasis on terminology, as well as the significance of accounting in terms of planning and budgeting.
Initially, students will be introduced to the basic components of marketing, often referred to as the "four Ps": product, promotion, price, and place (or distribution). As the course progresses, students learn how marketing efforts are used to build awareness and convert an organization's target audience into customers. Course materials also explain how marketing is related to other business functions, such as accounting, planning, operations, and production.
Typically one of the first classes in a business administration program, this course provides an overview of basic managerial functions. Course materials will cover a broad range of related subjects, including the business environment, corporate culture, decision making, goal setting, individual behavior, and organizational structure. Additional topics may include strategy, leadership, ethics, and international business.
Financing Your Bachelor's Degree in Business
Before you apply to a business degree program, you may want to calculate approximately how much you can afford to pay for your education. Comparing this figure to the cost of earning a degree in business at various schools may help you narrow down the programs you'd like to attend. You may also want to estimate the return on investment (ROI) of a bachelor's degree in business, which means the total cost of earning the degree as compared to your estimated lifetime earnings.
Some additional data from the Bureau of Labor Statistics (BLS) may prove useful in evaluating the value of a business management degree. The BLS shows that the median weekly income for bachelor's degree holders is $1,334 as compared to the $1,057 median for all workers. This translates to just over $14,400 more per year. Also, in general, the unemployment rate for college graduates is lower than for workers without degrees.
Cost
Among the schools on our list of the best online bachelor's degrees in business, tuition fees vary. Even within the same school, tuition fees typically differ for in-state, out-of-state, and online students. However, according to the College Board's 2022 report, average annual tuition fees range from $10,940 for four-year public schools to $39,400 for four-year private schools. The College Board estimates an additional $1,240 annually for books and other supplies. Distance learners may have to pay a technology fee for online classes, but these expenses can be offset by the money you'll save on housing and transportation costs associated with campus living.
Financial Aid
Depending on your financial status, you may be eligible for financial aid, which can dramatically impact the cost of your education. Although aid money typically goes to the students with the greatest financial need, all students should submit a Free Application for Federal Student Aid (FAFSA) to see if they qualify for financial assistance. Several months after submitting the FAFSA form, you'll be notified by letter if you qualify for aid from one of the many sources of funding, which include the federal or state government or the school itself.
Your financial aid package may be made up of several types of aid. Grants and scholarships provided by the federal and state government and by the colleges themselves are preferred because they typically don't need to be repaid. You may also be able to earn money toward your tuition through a federal work-study program. Some organizations also sponsor private scholarships based on need or merit, but you'll need to submit separate applications for these opportunities.
Aid packages often include student loans as well, but they do need to be paid back with interest, which can actually add a substantial sum to the total cost of your degree. Federal student loans offered through the government tend to have lower interest rates and better repayment terms than private student loans offered by banks and lending institutions, but both may be beneficial in helping you earn your degree.
Before accepting student loans, be sure to explore all other funding options. For example, if you have served or are serving in the military, you may be eligible for military financial aid or tuition discounts. Also, your employer may offer partial or full tuition reimbursement.
Accreditation
Accreditation ensures that a school has achieved a high academic standard of excellence, which is vital for schools to receive federal funding and for students to be able to utilize federal financial aid. There are three premier programmatic accrediting agencies for business programs: the Association to Advance Collegiate Schools of Business (AACSB), the Accreditation Council for Business Schools and Programs, and the International Accreditation Council for Business Education.
Is an Online Business Degree Worth It?
A review of the BLS's Occupational Outlook Handbook reveals that a bachelor's degree is required for nearly all business positions. These diverse entry-level opportunities range from engineering to construction to health services and apply to multiple business functions, including operations, information systems, and human resources.
Distance education provides flexibility with online classes, which may be more manageable with a busy schedule. Online programs can also be more affordable, thereby increasing the number of programs and price points you can choose from without having to relocate.
Consider the following pros and cons to earning a business degree online:
Potential Benefits
High earning potential: Business operations and financial occupations have a median annual salary of $72,250 as of 2020, higher than the $41,310 for all occupations.

Entrepreneurship opportunities: A business degree helps students interested in starting businesses and being self employed to become entrepreneurs.
Potential Drawbacks
Time-consuming and costly: Earning a degree takes a lot of time and work, often making managing other obligations and responsibilities difficult. In addition, some students incur debt that may take years to repay.

Highly competitive: There are many business program graduates in the job market because of the degree's popularity. It can be difficult to gain a competitive edge. You may need a master's degree to increase your career opportunities.
Frequently Asked Questions About Affordable Online Business Degrees
What's the Difference Between a BA and BS in Business?
---
A Bachelor of Arts in Business emphasizes the "soft skills" many business professionals need, such as communication, leadership, problem-solving, and interpersonal skills. A Bachelor of Science in Business emphasizes technical skills, such as accounting and finance, economics, statistics, and entrepreneurship. Many schools offer both business degrees.
How Long is an Online Business Program?
---
Bachelor's degree programs in business are designed to take about four years for full-time online students and longer for part-time students. Approximately 120 credit hours are needed to graduate. Those with an associate degree, prior work experience, or military training may be eligible for course credit, saving time and money.
How Should I Choose a Business Program?
---
The first thing to do is ensure the program or school is accredited. Also, consider how much time you can invest in learning online and whether the structure suits you. Many students review programs and share their experiences, which is a great way to get a feel for a program or school. LinkedIn, which often has alumni connected to the school page, can also be a great place to start networking and could lead to job opportunities.
Related Articles
2023 Best Online Business Degrees
Find the best online business degree programs in 2023 based on data, like projected alumni salary outcomes. Our list only includes accredited online colleges.
2023 Most Affordable Online Colleges & Degrees
Explore the top affordable online colleges of 2023. Find cheap online associate, bachelors, master's, and doctoral degrees.