2023 Most Affordable Online IT Degrees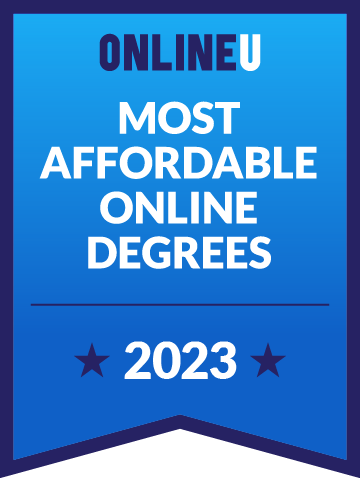 Without a doubt, information technology is one of the hottest fields to enter. The Bureau of Labor Statistics (BLS) notes that computer and information technology occupations are projected to grow by 15% over the next eight to ten years. What's more, the median annual salary for this category of occupations is $97,430, more than double the $45,760 median for all occupations.
While many people have entered the IT field with only a certificate or diploma, the BLS also recommends earning at least an IT bachelor's degree for most technology-related occupations. A bachelor's degree makes you more marketable and may allow you to earn higher salaries. By choosing one of the most affordable online bachelor's programs in IT listed below, you're likely to enjoy a healthy return on your investment in education.
View our methodology for more details about rankings or learn more about us. For further inspiration, you can check out our overall list of the most affordable online degrees.
All tuition numbers were manually collected and verified
Rank
School

Locations

Annual Tuition

# 1
Middle Georgia State University
Macon (GA)

$3,410

# 2
United States University
National City (CA)

$4,800

# 3
Great Basin College
Elko (NV)

$4,935

# 4
Columbus State University
Columbus (GA)

$5,464

# 5
Kennesaw State University
Kennesaw (GA)

$5,562

# 6
South Texas College
McAllen (TX)

(and 2 others)

$5,670

# 7
University of the Cumberlands
Williamsburg (KY)

$5,970

# 8
Georgia Southern University
Statesboro (GA)

$6,169

# 9
Fort Hays State University
Hays (KS)

$6,806

# 10
Columbia Southern University

Orange Beach (AL)

$7,050
Overview of Online Information Technology Degrees
Information technology blends theory with practical applications in the fields of computer science, business, and communication. Online IT degree programs are designed to give graduates a comprehensive understanding of the way information and data management systems work within industries.
Once you enroll in an online IT degree program, you can expect to learn a variety of technical skills. These include computer programming, network management, database administration, cybersecurity, and data analytics. Course assignments give you the opportunity to work on real-world projects, such as creating and managing databases, developing and implementing security strategies, programming software, and troubleshooting network issues.
In the process of completing these assignments, you'll start to develop creative problem-solving, analytical, and communication skills. You'll also be asked to collaborate with classmates so that you can learn to function effectively within multidisciplinary teams.
Online bachelor's degrees in IT typically require the completion of 120-124 credit hours. Full-time students often earn their degree in four or five years, while part-time students may need five or six years to finish. In addition to all of the general education and major-related courses, IT programs may also include an internship and a senior project before graduation.
Common Courses
In general, the curriculum for an online IT bachelor's degree teaches you how to create systems and networks, develop faster processes, and improve software. Many courses are project-oriented labs, allowing you to gain hands-on experience with specific IT functions. These projects can later be used in your portfolio to demonstrate your skills and experience to prospective employers.
Some schools allow you to customize your degree by taking courses that focus on a specialization within IT, such as information security, systems administration, project management, or web development. Among the core courses often included in an online IT program are the following:
Introduction to Computer Systems
Often one of the first courses in a program, this class provides foundational knowledge of computer hardware and software. Students discover how they work together to process, store, and communicate information.
Data Structures and Algorithms
This course delves into the design, implementation, and analysis of data structures. Coursework also covers the algorithms associated with data structures.
Networks and Communications
In this course, students learn the fundamentals of network design and management, as well as data communication principles.
Introduction to Cybersecurity
This course covers the two core functions of cybersecurity: identifying cyber threats and breaches of security, and applying tools and techniques for protecting systems and data
Database Design and Management
Projects in this course give students the opportunity to design, implement, and manage databases by using various data management technologies.
Basic Software Development
Another project-based class, this course covers programming concepts, data structures, and design techniques for developing quality software.
Funding an Online IT Degree
Earning a bachelor's degree is a significant financial investment, but there are steps you can take to minimize your expenses. Consider some of the following cost-saving choices:
Earn your degree online. Colleges often charge in-state tuition rates or possibly slightly reduced tuition rates for distance education students, regardless of where they live. Our list above highlights the most affordable online programs, but there are many more accredited schools offering less expensive options. Also, as an online learner, you won't have to pay for room, board, and transportation.
Enroll in a public university. Data from the National Center for Education Statistics shows that the average tuition and fees for an in-state student attending a public school in the 2020-21 school year was $9,375, as compared to $32,825 for attending a private school.
Attend community college first. Community colleges are generally less expensive, so you can complete many of your general education courses at a lower price before transferring to a four-year university to finish your degree. Additionally, most community colleges offer online courses.
Pick an economic place to live. Although online students don't have to pay for room and board, you'll still need to pay for housing, food, and other living expenses. As an online learner, however, you can choose to live someplace that's affordable.
Work while you attend school. You can use the income you earn from a full-time or part-time job to help pay for your college education. It may mean taking fewer courses each semester and needing a little additional time to finish your degree, but it's a trade-off that may be worth making.
Financial Aid
One of the most common ways many students reduce college expenses is by obtaining financial aid. Funding for financial aid comes from many sources, including the federal and state government and the schools themselves. There are also many organizations that provide private scholarships based on need, merit, or other criteria such as your chosen major.
Grants and scholarships are the preferred forms of financial aid because they generally don't have to be repaid. However, if you don't qualify for enough grant or scholarship funding, you may need to take out a student loan. Keep in mind, however, that the interest on a federal or private student loan can add a significant amount to the total cost of your degree. Before accepting a student loan, use a student loan repayment calculator to calculate the full amount of the loan.
Online learners enrolled in accredited online degree programs are eligible for financial aid. Simply fill out and submit the Free Application for Federal Student Aid (FAFSA). Once your application has been reviewed, you'll be notified if you qualify for aid and, if so, how much aid you're going to receive from the various schools where you've submitted admissions applications.
Scholarships
Although an online degree can be a more affordable higher education option, it is still a significant financial investment, and prospective IT students may be interested in funding their higher education. Because of the importance of technology in our current and future economy, many organizations encourage students to study information technology by sponsoring private scholarships, a few of which are listed below.
Generation Google Scholarship: This scholarship awards $10,000 to students pursuing a degree in computer science or a related technical field. Applicants must demonstrate financial need and strong leadership skills.
Palantir Women in Technology Scholarship: Palantir awards $7,000 to students who identify as women and are pursuing degrees in tech-related fields. Recipients also receive a paid trip to Palantir to attend a tech workshop.
Women at Microsoft Tuition Scholarships: To encourage diversity in the tech field, Microsoft offers several different scholarships in varying amounts for students majoring in computer science and other STEM subjects.
Armed Forces Communication and Electronics Association Cybersecurity Scholarship: The AFCEA awards scholarships of $5,000 to students pursuing a degree in a range of STEM fields, including IT. The cybersecurity scholarship is open to U.S. citizens and lawful permanent residents enrolled in at least their second year of college.
Information Security Undergraduate Scholarship(ISC)2
(ISC)2 offers 20 awards annually, ranging $1,000-$5,000, to high school seniors or undergraduate students pursuing an online bachelor's degree related to cybersecurity or information assurance. Applicants must demonstrate financial need and have a minimum 3.3 GPA.
What Can You Do With An Online Information Technology Degree?
An online information technology degree can open the door to a wealth of career opportunities. Naturally, graduates are likely to find employment in the tech industry, but there are plenty of additional options in other industries, including finance, healthcare, manufacturing, and more. The BLS has identified many high-paying, in-demand career paths for IT students, including the following:
Computer Systems Analysts
Median Annual Salary:
$99,270
Also called systems architects, computer systems analysts evaluate an organization's computer systems and implement improvements that enhance functionality. They may also look for ways to improve procedures and training.
Information Security Analysts
Median Annual Salary:
$102,600
Information security analysts play an essential role in protecting an organization's computer systems, networks, and data. They continuously monitor their systems for threats and security breaches, and they look for ways to minimize issues and install the appropriate solutions. Some students interested in this aspect of IT may be interested in earning a degree in cybersecurity.
Web Developers and Digital Designers
Median Annual Salary:
$78,300
Web developers and digital designers use their programming and user experience skills to develop the look and functionality of websites. While some may work directly for large organizations, most work for business service providers or as freelance consultants.
Certification and Further Education
Although an online degree in information technology will prepare you for a range of job opportunities, you may also want to train for specific positions by pursuing additional education. Both certification and an advanced degree may make you a more competitive job candidate, depending on your career goals.
Certification programs are fairly affordable and can often be completed in a year or two. Not only does certification demonstrate your commitment to professional development, it shows employers that you have current skills and expertise in a specific area, such as digital security or cloud computing. Microsoft, Cisco, and CompTIA are just a few of the organizations that offer certification in an array of IT topics.
You may also want to consider going to graduate school. Master's programs allow you to study an aspect of IT, such as project management or cybersecurity, in depth. There are also MBA programs that combine IT courses with business management courses if you're hoping to land higher-level managerial positions in the future. If theoretical research and academia interest you, consider earning a Ph.D. in information technology.
FAQs About Online Information Technology Degrees
How Do I Choose An Online IT Degree?
---
As you're reviewing the many possible options for earning an IT degree online, you'll want to take several factors into consideration.
One of the most important qualities to look for in an online program is accreditation. Enrollment in an accredited program is required for you to qualify for financial aid, and it may be needed if you decide to transfer to another school or apply for graduate school. Other significant factors include the school's tuition rate and financial aid opportunities, as well as curriculum, specializations, faculty, and student services.
Is An Online IT Degree Cheaper Than In Person?
---
Overall, an online IT degree may be cheaper than an in-person degree, especially if you select one of the most affordable schools listed above. Many schools charge the same or possibly lower tuition rates for fully online learners. Additionally, earning a degree online eliminates college room and board fees and expenses related to commuting to and from school.
Do I Need A Bachelor's Degree In IT?
---
No, in today's work environment you do not necessarily need a bachelor's degree to land a job in IT. You may qualify for many entry-level positions with just a boot camp certificate, diploma, or associate degree. In fact, research shows that even the biggest employers in tech hire job candidates without bachelor's degrees. However, a bachelor's degree can be a valuable long-term asset if you want to advance in your career, especially into management positions with higher salaries.
Can My Company Help Fund an IT Degree?
---
In the tech industry, many companies do not require job applicants to have a bachelor's degree for an entry-level IT position. Instead, they are willing to hire individuals with only a certificate or hands-on experience. Some of these employers may offer tuition reimbursement programs for employees who want to further their education in a related field. Check with your employer to see if the company is willing to help fund your IT bachelor's degree.
Is an Online IT Degree Worth The Cost?
---
Although an online IT degree requires a significant investment of time and money, pursuing a degree through one of these affordable options is likely to pay off in terms of better career opportunities and the potential for a higher lifetime income.
In the process of earning an IT degree, you'll develop the technical skills and broad base of knowledge employers are looking for. You'll also acquire valuable soft skills, such as problem-solving, critical thinking, and effective communication. Additionally, the flexibility of online learning may help you balance your studies with other personal and professional responsibilities.
Given all of the benefits of earning an affordable online degree in IT, it seems well worth the cost.
Related Articles
2023 Most Affordable Online Colleges & Degrees
Explore the top affordable online colleges of 2023. Find cheap online associate, bachelors, master's, and doctoral degrees.
2023 Most Affordable Online Master's Degrees in Information Technology
Learn about the most affordable online master's degrees in information technology from our listed of accredited online schools.