2020 Best Online Computer Engineering Master's Programs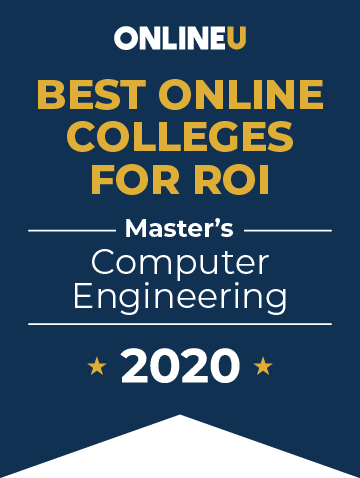 The 13 online colleges on this list are the best value options for online master's programs in computer engineering, based on their tuition and alumni-reported salaries. Stevens Institute of Technology is the #1 school, with an average alumni salary of $163,500 and charging only $24,780 for their Master of Engineering in Computer Engineering. At #2, Georgia Institute of Technology has one of the lowest tuitions on the list, charging only $16,500 per year for its Master of Science in Electrical and Computer Engineering.
Alumni salaries were provided by PayScale. View our methodology for more details or learn more about OnlineU.
Rank
School

Annual Tuition

Mid-Career Salary

#

1

Stevens Institute of Technology

$24,780

$163,500
#

2

Georgia Institute of Technology

$16,500

$155,700
#

3

University of Southern California

$29,050

$151,900
#

4

Villanova University Online Graduate Programs

$21,600

$147,900
#

5

The University of Texas at Austin

$16,811

$134,400
#

6

North Carolina State University

$20,185

$134,900
#

7

University of Florida

$10,350

$130,200
#

8

Syracuse University

$38,880

$140,600
#

9

University of South Carolina-Columbia

$8,583

$128,000
#

10

Southern Methodist University

$20,250

$129,600
#

11

Florida Atlantic University

$15,372

$124,000
#

12

Iowa State University

$10,425

$120,100
#

13

Johns Hopkins University

$55,530

$120,800
Salary data provided by

2020 Online Colleges Offering Computer Engineering Degrees - Ranking Details
Online Master's in Computer Engineering Overview
Some online master's programs are designed to be taken part-time, and these may take up to five years to finish. Core education courses include modern computer architecture, modern computer design, computer engineering capstone, computer systems security foundations, modern solid-state devices, modern electronic design, leadership and ethical decision-making, and systems engineering. Students will also participate in elective courses throughout their time of study. Some online programs may even offer internship opportunities for students to gain hands-on experience before graduation.
Along with a general application, prospective students must have three letters of recommendation written by a professional or academic reference that can attest to the student's likely success in the program. The applicant must also write a letter of intent to showcase his or her own personal goals. GRE test scores may be required for admission.
This website offers school details to prospective students as an informational resource. The appearance of a school listing on this website should not be interpreted as an endorsement of the school by this site.