2023 Best Online Cybersecurity Degrees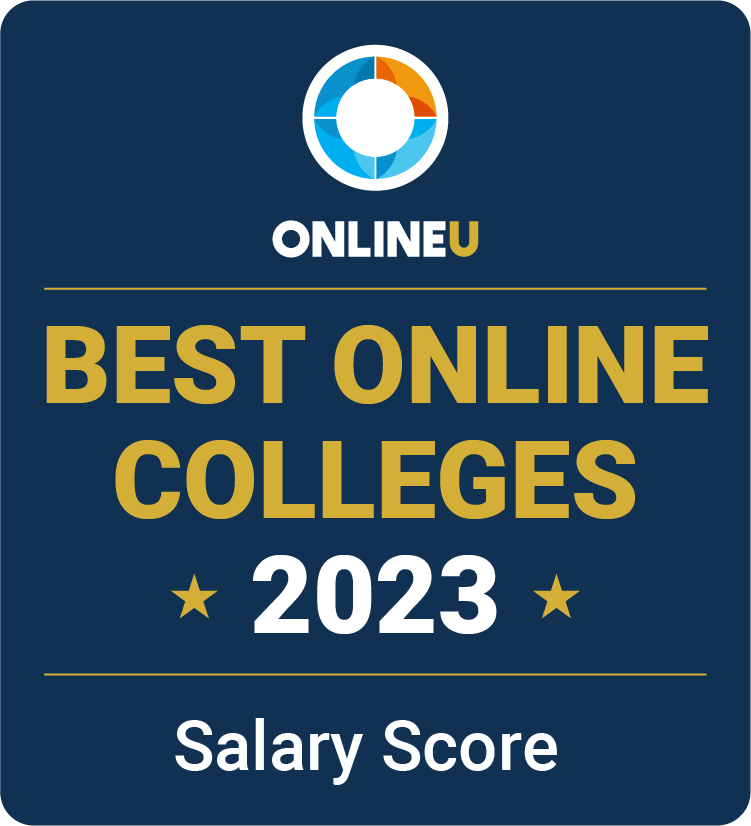 An online cybersecurity bachelor's degree teaches students how to protect companies and organizations from vulnerabilities in their networks and information systems. The coursework explores various ways to analyze threats and the processes used to implement security measures that protect valuable data. Instructors are likely to cover subjects such as cloud infrastructure, data management, and ethical hacking. Students may also learn team management and communication skills because many cybersecurity careers take place within a team environment.
View our methodology for more details about our list, or learn more about OnlineU.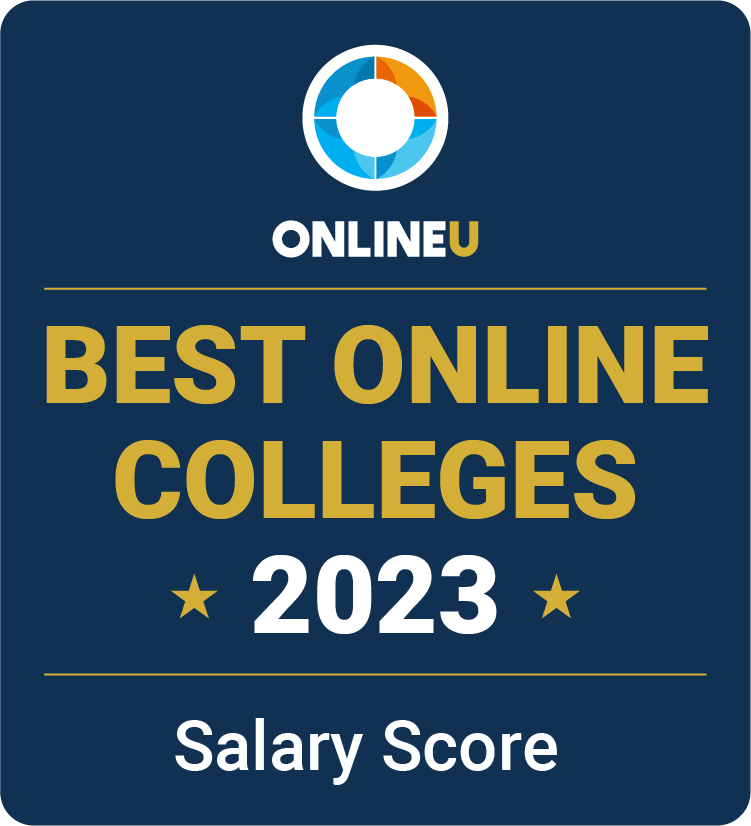 ADVERTISEMENT
Online Cybersecurity Bachelor's Degrees You May Be Interested In

Southern New Hampshire University Online

Annual Tuition: $16,639 - $17,479
1 Programs (view all)

The University of Arizona Global Campus
Annual Tuition: Not Provided
1 Programs (view all)
---
List Of Accredited Online Cybersecurity Schools
| School | Online Enrollment | Annual Tuition |
| --- | --- | --- |
| Western Governors University | | |
| Southern New Hampshire University Online | 86,849 | $9,600 |
| University of Phoenix | 72,096 | $9,552 |
| Strayer University | 41,599 | $13,515 |
| American Public University System | 37,335 | $7,324 |
| University of Maryland Global Campus | 35,971 | $12,336 |
| Liberty University | 34,092 | $11,700 |
| Purdue Global | 28,447 | $14,358 |
| Excelsior University | 22,674 | NA |
| DeVry University | 16,922 | $18,197 |
Overview of Online Cybersecurity Degrees
With policymakers warning of emerging cyber threats, colleges have been steadily creating online cybersecurity degree programs to train more professionals in the field. These d egrees seek to teach useful skills in threat detection, countermeasures, and policy planning. Whether you're a prospective undergraduate or graduate student, you can apply for an online cybersecurity program that features either a general curriculum or an optional concentration. Graduates of these degrees have embarked on careers as computer and information security specialists for government agencies, businesses, and nonprofit entities.
What Is a Bachelor's in Cybersecurity Degree?
Cybersecurity bachelor's degrees aim to teach the reasons for and best methods of securing computers and networks. In a typical program, students learn cybersecurity concepts, such as networks, data structures, cryptography, penetration testing, and cybercrime trends. With a bachelor's diploma, graduates may be eligible for a number of information technology jobs in the business, government, or nonprofit sectors.
Online cybersecurity degrees usually have fully asynchronous courses that don't meet at set times. Some classes might have occasional live discussions over video conferencing apps, but students can mostly work at convenient times as long as they respect assignment and exam due dates.
Degree Requirements
Bachelor's degrees commonly feature 120 credit hours, with about half of all coursework in the major and the other half in general education requirements. Administrators typically market their bachelor's degrees as four-year programs, but most students actually take more than four years to finish for a variety of reasons.
Some degree programs offer internship or externship opportunities, though these are typically optional rather than required in cybersecurity programs. They can be a great chance to get practical experience on your resume. Note that internships almost always take place in person, even for online students.
Cybersecurity Courses
A Bachelor of Science in Cybersecurity seeks to train thoughtful, ethical security professionals on how to learn new technology in a fast-changing threat environment. Most programs feature a general curriculum, but some schools include optional or required concentrations to help students tailor their studies.
Network and information security professionals often find themselves scrambling to stay ahead of hackers who mean their employers harm. For this reason, a cybersecurity curriculum aims to teach critical thinking skills so that alumni can not only counter known threats but also predict the forms that future cyberattacks might take.
We've listed a few common courses below that you might encounter during your cybersecurity bachelor's degree:
Foundations of Cybersecurity
This class introduces the basic terms and purposes of cybersecurity. Faculty typically discuss different kinds of threats and potential responses, along with enterprise security and the most common vulnerabilities.
Hackers often attack the vulnerable connections between computer systems, making this course a requirement in most cybersecurity bachelor's programs. Students often learn about intrusion detection and prevention, flow controls, physical versus cloud networks, and layered abstraction.
Professors in this course explore the relationship between security and employer goals that might necessitate risk. Topics generally include vulnerability assessment, data collection and analysis, compliance requirements, and risk management strategy.
Security Auditing and Assessment
This course introduces methods for testing an organization's cyber defenses, including red and blue teams and penetration testing. Many classes include a final project requiring students to organize a strategic testing regimen for a fictional enterprise.
Admissions
College application timelines typically begin several months before classes start, which is usually but not always in the fall. Therefore, most prospective students apply to college sometime between November and February.
The application process is typically similar across schools. You'll usually need to submit the following with each online application you complete:
Official high school or GED transcripts (minimum GPA requirements of 2.0-2.5 are common)

A letter of recommendation from a teacher

A personal essay on your future goals

Official ACT or SAT scores (some schools have dropped this requirement)
Additionally, you often need to pay a $30-90 college application fee to each school, which is nonrefundable.
Cybersecurity Concentrations
Schools may offer cybersecurity education in several forms. The first form is a degree in computer science, information technology (IT), or business with a concentration in cybersecurity. This includes some Master of Business Administration degrees designed for students who want to work in cybersecurity management.
Choosing between a degree in cybersecurity and an information technology degree? Here's what to consider.
The second type is a degree with cybersecurity as the specific major, such as a Bachelor of Applied Science in Cybersecurity or Master of Science in Information Systems and Cybersecurity. Some of these programs feature concentrations that let you focus your studies on a particular specialization. We've listed a few of those here.
The courses part of this degree focus on gathering digital evidence of computer crimes. Topics usually include data recovery, the chain of evidence, and criminal trial procedures. Employers also use forensic specialists to aid in disaster recovery.
Governance, Risk Management, and Compliance
Governance, risk management, and compliance is about designing and managing a strategic security program for an employer. As a student, you typically learn how to audit your IT staff, comply with regulatory requirements, and present risk analyses to executives.
Network security classes are about defending vulnerable connections between machines, including wired, Wi-Fi, and distributed networks. Professors discuss network architecture, virtual private networks, firewalls, and intrusion detection and prevention.
What Can You Do With an Online Cybersecurity Degree?
The cybersecurity industry rakes in many billions of dollars each year, so specialists in this field have plenty of options once they earn a degree. Some graduates choose to pursue advanced degrees, while most enter the job market right away. We examine both paths in this section.
Cybersecurity Careers
A cybersecurity degree is most closely aligned with job titles such as information security analyst, network security administrator, or data security officer. But these programs teach technical skills that translate well to a variety of computer and information technology roles, most of which deal with security issues on a daily basis. These occupations include network architect, database administrator, and computer systems analyst in industries ranging from tech consulting to government.
Further Education
Most entry-level cybersecurity jobs call for a bachelor's degree or even less education supplemented with certifications. Therefore, it's fairly uncommon for cybersecurity graduates to immediately enter graduate school. But an advanced degree might open up further opportunities, so it's worth understanding the possible benefits.
Master's Degree in Cybersecurity
Cybersecurity master's degrees tend to highlight leadership skills and require a concentration in specific subject matter, such as network infrastructure or compliance management. They may take two years with a full-time schedule. Administrators often design these degrees for working professionals, so part-time and fully online master's in cybersecurity programs are relatively common.
Doctorate in Cybersecurity
Doctoral degrees are only for students who want to be researchers and professors. The curriculum is heavy on research skills and projects, and most doctoral students do some teaching and teacher assisting.
Is a Cybersecurity Degree Worth It?
There's no single answer that's true for everybody. However, an education in cybersecurity may help you join a well-compensated cohort of professionals whose services are in high demand. If this prospect sounds intriguing, consider our list of pros and cons as you plan your education.
Potential Benefits
The cybersecurity job field is growing very rapidly. According to the Bureau of Labor Statistics (BLS), information security analysts can look forward to 35% growth in new jobs in the 2021-2031 period. This is by far the fastest growing computer or IT career that the BLS tracks.
Potential Drawbacks
Cybersecurity is overwhelmingly white and male. Aspen Tech Policy Hub researchers identified 9% of cybersecurity employees as Black, 4% as Hispanic, and 24% as female. This suggests systemic barriers to entry that may be difficult to overcome.

Studying online may limit your ability to network, which can potentially affect your career opportunities. Without live meetings, you have fewer chances to interact either formally or informally with classmates and faculty. You may also find that you prefer the chance to have your questions answered in real time.
FAQs About Bachelor's in Cybersecurity Programs
Can You Get a Cybersecurity Degree Online?
---
Colleges across the U.S. offer cybersecurity programs via distance learning. Most online programs feature asynchronous courses, which means they don't have live class meetings. Instead, you log in to a learning management system at your convenience to complete coursework and watch recorded lectures. This learning mode may be well suited to cybersecurity because it's a technical discipline with more emphasis on computer-based practice than group discussion.
Some degree programs feature hybrid programs, which are a mix of asynchronous and live elements such as presentations over video conferencing. In addition, you typically need to complete any internship requirements in person at an approved location near your home.
What Can You Do With a Cybersecurity Degree?
---
You can work a variety of technical careers in business, government, or nonprofits once you've earned a bachelor's degree in cybersecurity. Chief among these occupations is information security analyst, a job field that pays a median wage of $102,600 per year and is expected to expand by 35% in the 2021-2031 period, according to the Bureau of Labor Statistics.
Is Cybersecurity Hard?
---
Cybersecurity degrees require students to master many challenging technical concepts, including software and coding tools that may be new. But most students tend to perform better in academic subjects that interest them, so you might find a bachelor's program relatively easy work if you love what you're studying.
How Long Does It Take to Get a Cybersecurity Degree?
---
Administrators usually claim that a bachelor's degree takes four years, but statistics tell us otherwise. In fact, only 64% of bachelor's students graduate within six years. You might be able to graduate college early, but this often requires financial independence and credits transferred into your program from high school or early-start programs.
Can You Work in Cybersecurity Without a Degree?
---
You may be able to secure some positions with a combination of a high school diploma or academic certificate and industry certifications. Employers may ask to see a portfolio of work, which you can also develop on your own outside of college. Keep in mind that a bachelor's degree may be an absolute requirement for some roles.
While it is possible to land an entry-level position without a degree, you'll almost certainly need other qualifications, such as the following:
After spending time in your role, you can evaluate whether earning a degree will help you advance or if real world experience will suffice for your intended career path. Keep in mind that in a recent survey of 4,753 cybersecurity professionals, only 6% topped out with a high school diploma, and 86% held at least a bachelor's degree.
What Else Should You Consider?
There's no single set of criteria to guarantee a perfect decision about college. But asking the following questions may help you decide whether individual programs meet your expectations.
Is This College and Program Accredited?
Institutional accreditation — a newer term for regional or national accreditation — refers to colleges that meet an independent agency's quality standards for faculty, curriculum, and services. Accredited online schools undergo regular reviews, so check the most recent accreditation status using the Database of Postsecondary Institutions and Programs.
A few individual cybersecurity programs have earned Accreditation Board for Engineering and Technology (ABET) accreditation. But this is relatively uncommon: ABET is a major force in engineering education but has only accredited cybersecurity programs since 2018. Graduating from a program without ABET accreditation is unlikely to affect your employment prospects.
Do I Want To Study Online?
Online learning is often great for people balancing school with work and other responsibilities because it lets them study at convenient times. But it can be more isolating than traditional, campus-based education, and it might be tough to forge the kinds of relationships that can pay off later in your career.
Thankfully, online degrees are increasingly respected in the job market, so this is probably not a concern. At any rate, employers most likely won't know that you studied online unless you tell them.
What Do I Want From My Ideal College?
Think about your preferred features and services, professors you want to study with, and anything else that matters to you, from alumni networks to disability accommodations. You can assign weights to each factor and compare them across colleges to understand how each stacks up.
Should I Do a Bootcamp Instead?
Tech bootcamps offer condensed training in a focused topic, and there are many online and in-person options for cybersecurity around the country. These might be good ways to gain the knowledge and skills you need to pass the cybersecurity certification tests that are so important in this field.
However, there are potential downsides to bootcamps. Because of their intense pace, it's basically impossible to maintain a full-time job while attending one. In addition, they don't provide the rounded education you get with a bachelor's degree, which includes general education in the liberal arts.
Related Articles
2023 Best Online Master's in Homeland Security Degrees
Explore 2023's best online master's degrees in homeland security with our comprehensive ranking of accredited schools.