2020 Best Online Bachelor's in Computer Science Degrees
We've ranked the best online bachelor's degrees and best online master's degrees in computer science, based on tuition and alumni salary data provided by PayScale. An online computer science degree can give graduates the theoretical, mathematical, and analytical foundation necessary to succeed in various careers with high salary expectations in rapidly growing industries. Because these jobs are so popular, they are also highly competitive. Graduates of online computer science degree programs likely possess a powerful combination of education, skills and experience that will impress recruiters and give these candidates a signficant advantage over self-educated applicants.
2020 Best Online Colleges Offering Bachelor's in Computer Science Degrees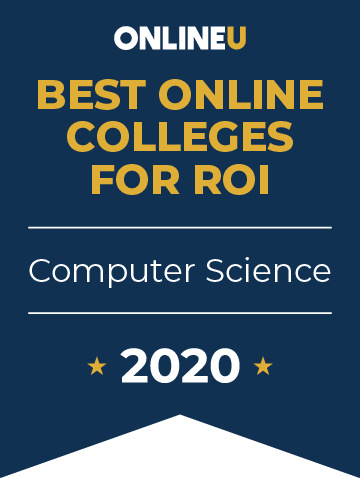 The following 23 schools offer the best online bachelor's in computer science degrees, based on their low tuition rates and high mid-career salary potentials. Graduates of the #1-ranked school, Weber State University, earn a median salary of $113,100 after earning their Bachelor of Integrated Studies - Computer Science. Fort Hays State University, ranked #2, offers the lowest annual tuition at only $6,560.
Alumni salaries were provided by PayScale. View our methodology for more details or learn more about OnlineU.
Rank
School

Annual Tuition

Mid-Career Salary

#

1

Weber State University

$8,340

$113,100
#

2

Fort Hays State University

$6,560

$109,500
#

3

University of Maryland Global Campus

$14,970

$110,700
#

4

Florida International University

$10,376

$105,800
#

5

Eastern New Mexico University-Main Campus

$7,492

$103,600
#

6

Mercy College

$18,934

$105,500
#

7

Franklin University

$12,338

$99,700
#

8

Florida Atlantic University

$21,595

$102,300
#

9

Western Governors University

$6,750

$96,300
#

10

National University

$16,650

$93,200
#

11

University of Colorado Boulder

$24,750

$96,300
#

12

Troy University

$10,140

$90,400
#

13

Southern New Hampshire University Online

$9,600

$88,700
#

14

Wayland Baptist University

$12,834

$89,000
#

15

Saint Leo University Online

$11,100

$86,900
#

16

Park University

$12,450

$83,400
#

17

Old Dominion University

$12,210

$81,500
#

18

Dakota State University

$13,825

$81,700
#

19

Liberty University

$12,090

$78,300
#

20

DePaul University

$32,095

$85,900
#

21

Thomas Edison State University

$9,856

$72,900
#

22

Florida State University

$20,581

$76,300
#

23

Davenport University

$15,570

$67,500
Salary data provided by

2020 Online Colleges Offering Computer Science Degrees - Ranking Details
Meet Online Grad Jeffrey Richley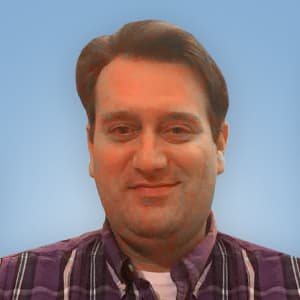 Jeffrey Richley is a former online college graduate working as a Chief Data Scientist. Jeff began his undergraduate education in the 90s, finished his bachelor's degree in computer science at Liberty University in 2018, and is currently pursuing his master's in computer science at Georgia Tech with a specialization in computational perception and robotics.
To learn more about the best online computer science programs, check out our 2020 rankings. Otherwise, continue reading for advice from online student Jeffrey Richley!
Can you tell us a bit about how you decided on an online program versus an on-campus program?
Frankly with me, it was the only option that I had found. I had stopped school back in '94, and I had attempted quite a few times at different locations to start back up. Everywhere I talked to said "You have to start from scratch." That wasn't going to work. It wasn't financially or time feasible.
Liberty's online program was really the only place that had offered something that was actually feasible to do. That's why I chose that for my bachelor's. For my master's I had a friend going through the Georgia Tech program and I was helping him with a lot of his classes. That got me interested.
What kinds of advice or caution would you offer to a prospective online student who wanted to study computer science?
Make sure that you're doing it because you really are interested in the subject and not because you've heard that you can make tons of money with it. Computer science, and just programming in general, is super easy for the people that it comes naturally to. For the people that struggle with it, it is going to be a struggle and grind forever. If anyone ever asked me about getting into the computer science world, I always ask them "Why?"
What personality traits do you think a student should have in order to be successful in an online computer science program?
To start with the online part, they've got to be a self starter. They've got to be organized. This is not a world where someone needs to make sure you're in class. A lot of times the lectures are taped, they give you a syllabus, tell you when things are due, and let you go. It's not for somebody that needs to be coddled. That kind of person would struggle greatly.
The other thing is curiosity. You could go through the classes and just do what they say. You can get a good grade. But you need to be curious about what's really going on, and dig further, and understand why, as opposed to what.
How did your online degree impact your career goals? What was the motivation behind going back for a master's degree?
I'm in civil service. I quickly advanced up through the ranks, and then just hit a stopping point where there was no more progression. I found out that people weren't even wanting to give me interviews because I didn't have a bachelor's degree. I've even been told, "Hey, you were the best on paper, but you didn't have the degree. So our policy is we don't interview you." In order for me to really even get a lateral position, I had to get the bachelor's degree.
Do you think computer science is a subject that can be successfully studied online?
Absolutely. It's probably one of the easier ones to do online.
Online Computer Science Degree Overview & Career Information
With computer science degrees in high demand, online degrees are a flexible, affordable, accessible, and high-quality choice for those in or entering the technology field. There are many online degree options, and students can find a program to suit nearly any budget. It's important to keep in mind that the most expensive programs can offer the most financial aid.
Online associate degrees and certificates in computer science will help prepare graduates for entry-level technical positions and further education. Students will learn the basics and fundamentals of computer science such as programming languages and computer architectures. However, in order to advance into a higher-level computer science career, candidates should complete a bachelor's degree.
An online bachelor's degree is often sufficient for most computer science careers. Students will learn how to develop, design, and test computer software, hardware, and networks through hands-on programming projects. These undergraduate degrees will help equip students with the training they need for a wide range of technical roles.
An online master's can help open opportunities for research, development, and a PhD program, making graduates more competitive in the job market. This is a great option for students who have a strong interest in the theories and languages associated with computer science as well as students who want a deeper understanding of a computer science specialization.
To earn a doctoral degree in computer science, students must commit several years and participate in original research studies to keep them on the cutting edge of computer science. A PhD in computer science can help lead to careers in teaching and research at four-year colleges and universities as well as high-level computer science jobs and management positions.
Online Bachelor's Degrees in Computer Science
An online bachelor's degree in computer science helps train students in the fundamental concepts underlying today's information technology and software engineering. A computer science degree helps prepare students with skills necessary to learn other computer languages easily and keep up with rapidly changing technologies. Upon graduation, students should be able to apply knowledge and theory to real-world problems in the workforce.
Program Requirements
Applicants typically must have a high school diploma or the equivalent and standardized college entrance exam scores to qualify for an online bachelor's program. To graduate, students should expect to complete around 120 semester credit hours over the course of 4 years. The tuition for online bachelor's programs varies widely, with schools charging anywhere from $6,000 to $47,000 per year.
Curriculum
Students pursuing online bachelor's degrees should expect to understand the theory and organization of computer systems. Most computer science programs include core classes that cover computer programming, operating systems, web design, data structures, algorithms, and logic & computation. Some schools may place an additional emphasis on mathematics and require classes such as statistics, probability, discrete math, and calculus. Besides the foundational courses, students also complete advanced courses and possibly a computer science specialization. Advanced courses discuss topics like computer networking, data networks, computer architecture, and machine learning. Specializations require a focused set of courses in computer science, such as software engineering, networking, or database administration.
Careers
A bachelor's degree in computer science can help open up a number of entry-level positions, such as computer programmer, systems analyst, data scientist, systems or network administrator, web developer, computer support specialist, software developer, and database administrator. Graduates who participate in an internship during the degree can narrow down their skill set to prepare for a particular type of position upon graduation.
Accreditation for Online Computer Science Degrees
Prospective computer science students are encouraged to select an online degree program that has received accreditation from a national or regional accrediting organization. Accreditation is a comprehensive evaluation process that schools and programs may choose to go through to let the public know that they meet established standards of excellence. Programs are evaluated based on their curricula, faculty members, research programs, and student resources, among other things.
Programmatic accreditation is not required for computer science degrees, but this credential can be a useful sign of a high-quality program. While accreditation is not required for computer scientists, the designation may help boost your resume when applying for jobs. Students can also consider programs offered by schools that are nationally or regionally accredited. Legitimate accrediting agencies should always be recognized by the US Department of Education or the Council for Higher Education Accreditation.
Accreditation may also be beneficial if you plan to transfer credits to another accredited school or apply for federal financial aid. Most schools and financial assistance programs require applicants to attend an accredited school. To learn more about accreditation, please visit our comprehensive accreditation hub.
Do I Need a Computer Science Certification?
Earning a professional certification in the computer science field has the potential to help recent graduates as well as seasoned professionals in the field. For a recent graduate, certification may provide a foundation for a career path. For experienced computer scientists, certification verifies proficiency in a specialization and strengthens professional credentials.
For those in the computer science field, especially software developers, there are two main types of certification: CSDA (Certified Software Development Associate) and CSDP (Certified Software Development Professional).
The CSDA is for individuals who are newer to the field. Earning a CSDA as an entry-level employee signals to potential employers that the certificate recipient has a comprehensive understanding of the concepts, principles, and techniques of software development and design.


The CSDP, in contrast, is for those who have already completed at least two years of professional experience. This certification indicates that recipients are proficient in software engineering requirements, software engineering design, software engineering construction, and software engineering testing. The CSDP requires a final examination that takes place online, and contains 160 questions.
Both of these certifications are offered through the IEEE Computer Society and require that applicants take an exam to demonstrate their proficiency.
Microsoft also offers over 230 computer software and systems operations certification. Certification types include fundamentals, role-based, specialty, and Microsoft-specific certs such as:
Microsoft Certified Educator (MCE)
Microsoft Solutions Associate (MCSA)
Microsoft Solutions Developer (MCSD)
Microsoft Solutions Expert (MCSE)
Microsoft Office Specialist (MOS)
Microsoft Technology Associate (MTA)
For answers to frequently asked questions and to learn more about the different types of certification offered, visit the Microsoft Learning site.
What is the Best Specialization in Computer Science?
Computer science is a rapidly growing field with with a number of sub-fields to specialize in. Read on to learn about some of the most popular computer science specializations and examples of related coursework within each field.
Artificial Intelligence
Students studying computer science can specialize in artificial intelligence, or AI. Through this course of study, students develop an understanding of machine-learning techniques that can be applied to independent computing systems. Subjects such as robotics, statistical programming, and natural language processing are covered in the coursework.
A specialization in artificial intelligence allows computer scientists to work professionally on every day systems like home security systems, energy grid control systems, and automated lighting or thermal control systems, as well as more cutting-edge systems.
Cybersecurity
Cybersecurity is an example of a specialization within the field of computer science. It requires a thorough understanding of best practices in security management, as well as the principles pertaining to ethical hacking. Cybersecurity specialists work to address potential breaches in the protective measures in place to secure data and confidential information.
Students who choose to specialize in cybersecurity learn how to implement multi-layered security architecture for the protection of data and networks, as well as a comprehensive understanding of cryptography, risk management, and security authentication and authorization.
Computer Networking and Telecommunications
Computer networking and telecommunications is an area of specialization that computer science students can pursue through certain degree programs. This field covers the design, application, and management of linking systems between one or more computers and associated software.
Students learn about network architecture and data communications, as well as advanced routing, and local area network (LAN) switching. Computer networking and telecommunications specialists are also concerned with security, and must be familiar with protective measures of information systems.
Software Design and Development
Certain computer science programs offer students the opportunity to specialize in software design and development. Intended for students who plan to pursue a career in software engineering. Students learn about specific software operating systems, both prototypes and current versions, and take classes in large-scale distributed systems for resource sharing, parallel programming, and embedded systems software.
Software engineering specialization also prepares students for research of issues such as human-computer collaborative systems, model and component-based development, and software reliability, verification, and security.
What Can You Do With a Computer Science Degree?
Computer science deals with the process of using computer systems to solve problems that range from software design to scientific questions about the computing process. The definition of a computer scientist is broad, mainly because specialists help fill a variety of different roles in the industry, from designing software to using programming knowledge to eliminating issues. Students looking for a job immediately after graduation will likely have several options open to them, including:
Computer Engineer: Computer engineers can be found designing microprocessors, personal computers, circuits, and supercomputers. Computer engineers also often write software and firmware and design analog sensors, operating systems, and circuit boards.
Computer Network Architect: Computer network architects design, build, research, and upgrade small and large data communication networks, including intranets, wide area networks (WANs), and local area networks LANs).
Computer Programmer: Computer programmers write, test, debug, update, and expand the code that allows software programs and computer applications to function properly. Programmers work closely with non-technical team members, such as project designers and project stakeholders. They also work with software developers and can even share the same duties, so programmers may also design programs.
Computer Support Specialist: Also called help desk technicians, customer support specialists are certified specialists who guide individuals through the process of manually fixing a computer. A technician will also study the company's products and manuals to discover ways of fixing faulty equipment and software.
Database Administrator: Database administrators, also known as DBAs, store and organize data using specialized software and ensure the data is secure, backed up and restored. DBAs make sure the data is easily accessible to data analysts and serves the needs of the organization.
Data Scientist: Data scientists analyze existing data, predict data patterns, and create programs, plans, and products using information gleaned from data analysis.
Information Security Analyst: Information security analysts plan and implement security measures to protect sensitive information as well as computer networks and systems. They stay up to date on information technology security trends to recommend security enhancements and to develop the best practices and security standards.
Information Technology (IT) Manager: Information technology managers determine an organization's information technology goals and oversee the implementation of computer systems to achieve these goals. They typically supervise other computer related positions, such as computer systems analysts, computer support specialists, software developers, and information security analysts.
Network and Computer Systems Administrator: Network administrators tend to work on short and long-term projects involving network modeling and analysis and the coordination and planning of hardware and software communications. Typical tasks of a network administrator include planning, coordinating, and carrying out security measures to safeguard against viruses, designing and configuring hardware and software, performing data backups, and configuring email applications.
Software Developer: Software developers are the creative brains who make the theoretical designs for the applications that people use on their computers and develop the underlying systems that control devices or networks. Developers oversee the entire development process of software through understanding user needs and designing, testing, and recommending software to meet these needs.
Software Engineer: Software engineers design and create computer programs. Similar to software developers, they evaluate a client's software needs, upgrade existing programs, and collaborate with programmers and other engineers to develop large projects. Unlike software developers, engineers utilize engineering concepts to develop software and focus on computer and program architecture.
Systems Analyst: Systems analysts examine requirements and procedures to improve the current way a system operates. Most will review the capabilities of a system, its work flow, and its limitations to make significant or moderate adjustments. Systems analysts will also test and maintain programs and systems to ensure that no bugs or viruses enter them.
Web Developer: Web developers design and create websites. They also manage the basic planning and layout of a new website, the programming of links and other network connections, and the maintenance of new features required to keep a website on the cutting edge.
How Much Can You Make With a Computer Science Degree?
Graduates with computer science degrees are in demand, but salary ranges for positions vary depending on the specialty area. Other factors include the region where the employer is located and applicant years of relevant experience. Additionally, employers have their internal salary ranges, but also set competitive rates to attract quality employees. The salaries listed below are based on the national average of reported salaries for bachelor's degree holders for each position.
Computer Programming: New graduates planning for careers in computer programming may apply for jobs with titles such as software developer, software engineer, front-end developer or engineer, application developer or computer programmer. Software engineers earn an average of $79,000 a year; software developers earn about $76,000 a year, and front-end developers earn about $71,000. Application developers and web application developers on average earned a little less with salaries of $66,000 and $56,000 respectively. Individuals with expertise in a programming language may be attracted to jobs such as java developer. The average reported salary for a Java developer was $67,000.
Information Technology and Systems Engineers: Individuals looking for jobs in information technology may apply for positions with titles such as IT project manager, IT business analyst, systems engineer and network engineer. IT project managers earned a reported average salary of about $89,000 per year while IT business analysts earned about $70,000 per year. Systems engineers earned about $63,364 annually, and the average salary for network engineers was about $67,000.
The Experience Factor: Applicants with experience in the field can qualify for higher salaries. For example, senior software engineers or senior developers can earn $101,000 per year, and a senior systems administrator can earn about $84,000 per year. Solutions architects specialize in designing computer systems for organizations. Individuals in this specialty area can earn an average of $114,000 annually.
Do I Need a Degree to Work in Computer Science?
While free online resources for computer science education exist and can be helpful if used as supplementary material, college graduates are reported to have landed more jobs than self-educated individuals. Do you dream of working for a top tech company, like Amazon or Google? You better hit the books for a couple more years, because chances of being hired at these companies are dramatically improved for those who have earned master's degrees. Tech recruiting experts agree that it takes a balance of talent and education to be a great candidate for a job, so having a degree in addition to demonstrated computer science skills can provide the edge you need to get noticed by recruiters and hiring managers. In this day and age, when our lives revolve around computers, gaining an education in the field of computer science is more beneficial than ever!
References
This website offers school details to prospective students as an informational resource. The appearance of a school listing on this website should not be interpreted as an endorsement of the school by this site.