Best Online Medical Billing & Coding Programs
Medical billing and coding is an administrative position in healthcare, and is a good fit for those who are organized, analytical, and detail-oriented. Coding specialists translate patients' medical records into standardized codes, which are then processed and sent to insurance companies by billing specialists. This career path is the perfect opportunity for individuals who prefer technical and office-based tasks rather than working directly with patients. The need for medical billing and coding professionals is projected to grow by 8% over the next 10 years, and they make an average of $42,630 per year. Entry-level positions often only require a certification or associate degree, making medical billing and coding an appealing career choice. Our rankings list below of the best medical billing and coding programs can help you choose which program best fits your needs. Continue reading for more information on certification requirements and accreditation for medical billing and coding programs.
Most Affordable Online Colleges Offering Medical Billing & Coding Certificates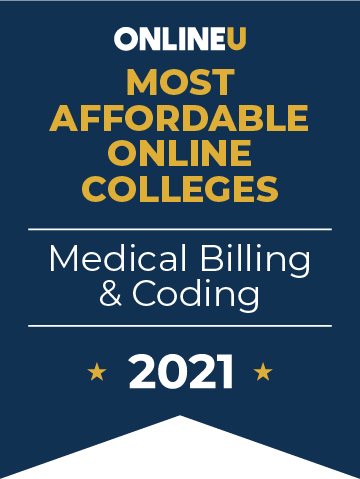 These are the most affordable online programs in medical coding and billing based on tuition. All tuitions are specific to online students, and each one is manually researched in order to provide the most accurate data possible. All 25 schools on this list offer tuition rates under $5,000 per year.
View our methodology for more details or learn more about OnlineU.
Rank
School

Annual Tuition

# 1

Albany State University

$1,140

# 2

Alexandria Technical & Community College

$2,388

# 3

University of Alaska Fairbanks

$2,808

# 4

Montana State University-Billings

$2,832

# 5

Cowley County Community College

$3,480

# 6

Western Nebraska Community College

$3,547

# 7

Madison Area Technical College

$3,889

# 8

Weber State University

$3,892

# 9

Southwest Wisconsin Technical College

$3,958

# 10

Oconee Fall Line Technical College

$4,000

# 11

(tie)

Craven Community College

$4,020

# 11

(tie)

Edgecombe Community College

$4,020

# 11

(tie)

Lenoir Community College

$4,020

# 14

San Juan College

$4,100

# 15

Central Community College

$4,140

# 16

Vance-Granville Community College

$4,288

# 17

(tie)

Ogeechee Technical College

$4,400

# 17

(tie)

Southeastern Technical College

$4,400

# 17

(tie)

West Georgia Technical College

$4,400

# 20

Hutchinson Community College

$4,410

# 21

Seminole State College of Florida

$4,747

# 22

Georgia Northwestern Technical College

$4,800

# 23

(tie)

Central Carolina Community College

$4,824

# 23

(tie)

Fayetteville Technical Community College

$4,824

# 23

(tie)

Gaston College

$4,824

# 23

(tie)

Guilford Technical Community College

$4,824

# 23

(tie)

Wayne Community College

$4,824
2021 Online Colleges Offering Medical Billing & Coding Certificates - Ranking Details
Online Medical Billing & Coding Degree Overview & Career Information
Certificates take about one year to complete and include courses in popular coding systems, medical software, medical terminology, and insurance and reimbursement. Students learn how to translate medical diagnoses into codes that can be used for medical payments. The associate degree takes two years to complete and includes the courses required during the certificate program, as well as general education and healthcare administration courses. Graduates of these programs can become medical coders and health information technicians.
Medical coding and billing specialists gather and process patient information, including medical history, examination results, symptoms, diagnostic tests, treatment history, and more. Once they obtain this history, medical coders are then responsible for ensuring the accuracy and patient confidentiality of these files as they present them to healthcare providers or insurance agencies. The main responsibility of medical coders is to create claims that match diagnoses, treatments, and procedures with the corresponding numeric codes. This information is entered into a database and then sent off to an insurance carrier, where it will be approved or denied. If all of the documentation is accurate, the claim will be approved, and the healthcare provider will be reimbursed. In the case that the claim is denied, the medical coder assumes the additional responsibility of investigating why the claim was rejected and making any updates to the claim.
Online Certificates in Medical Billing & Coding
Medical billing and coding schools offer online certificate and diploma courses that explore the systems and programs used in medical billing and instruct students on the different fields and varieties of medical billing. Students interested in applying to a certificate program typically must have a high school diploma or GED. The school may request official transcripts and general college entrance exam scores as part of the application process. Most certificate programs can be completed in nine months to one year.
Medical billing and coding certificates include classes in clinical classification systems, coding practices, data security, computerized patient record systems, health data management, health services organization and delivery, healthcare confidentiality and privacy, information technology and systems, legal and ethical issues in healthcare, quality management procedures, reimbursement methodologies, risk management, statistical software, physician-based medical coding, hospital-based medical coding, medical billing and software, medical terminology, and physician-based chart auditing. Other courses in the program may include hospital case studies, classification of diseases, healthcare data quality and management, healthcare reimbursement, and healthcare information management and supervision. Professional experience is an essential component of the training required to become a medical billing and coding specialist. Depending on the program selected, some certificate completion requirements may include a practicum or internship to reinforce instruction.
Graduates from accredited medical billing and coding certificate programs will be prepared for entry-level positions as a medical billing clerk or specialist, a medical coder, or an insurance claims analyst at doctors' offices, clinics, or insurance companies. Some medical billers and coders choose to work as independent contractors and provide services from their home.
Educational Requirements for Online Medical Billing and Coding Programs
Medical coding & billing careers often appeal to those individuals who do not have the time, finances, or desire to pursue bachelor's degrees, as the requirements for admission to a certificate or associate degree program are minimal. Most programs require only a high school diploma or GED to be accepted. Basic keyboarding and word-processing skills, familiarity with technology, and a knack for details are also valuable skills for beginning medical coders. Students can complete their entire education online or at a community college, often on a part-time basis, in two years or less. Specialized professional schools often offer these degrees or training programs and can provide assistance to students who seek internship opportunities or career placement after graduation.
Medical coding & billing programs are characteristically hands-on and practical. Most associate degree programs will require core classes in mathematics, general sciences, and English. In contrast, online certificate programs tend to have a curriculum that is solely geared toward medical coding and billing. Students will take technology classes that help them learn to navigate electronic health record programs correctly. Some programs may also offer classes that deal in paper records, though this is far less common today. Medical billing and coding students develop a comprehensive understanding of healthcare informatics and health informatics applications.
Basic courses in anatomy and physiology provide medical billing and coding students with a solid introduction to the medical field and help familiarize them with many of the terms they'll eventually come to know very well. Among the most essential classes students will take are those related to medical terminology and billing. Once students learn the medical codes associated with various services and treatments, they may use software to determine how much a patient or insurance company should be billed. There are several coding systems that students must learn, including those used for cancer, ambulatory calls, or long-term patient care. Students learn how to utilize diverse technologies to capture, analyze, store, and retrieve medical data, and they must be able to work efficiently with these systems while also maintaining the confidentiality of their patients' records.
The Importance of an Accredited Online Medical Billing and Coding Program
The US Department of Education recognizes several private, nongovernmental accreditation agencies as having the authority to evaluate the academic merit of colleges and universities, including those that offer medical billing and coding programs. When researching online certificate and associate degree programs, prospective students should narrow down their options by selecting programs offered at accredited institutions. Accreditation signifies that a school meets high academic standards, maintains current research, and hires highly qualified instructors to teach its courses.
The Council on Higher Education Accreditation is a nationally recognized association of accrediting agencies, and their database of accredited colleges and universities is available on their website. The Accrediting Commission of Career Schools is also recognized by the USDE and specializes in accrediting schools whose primary focus is occupational or career-oriented diploma and degree programs. They, too, offer a database of accredited institutions.
Certification Requirements for Medical Billing and Coding Careers
Though certification isn't legally required for medical coders in most states, it is highly recommended. An official certification designation on your resume can increase your job prospects and show potential employers that you are committed to the profession. The American Academy of Professional Coders (AAPC) reports that, compared to noncertified coders, Certified Professional Coders (CPCs) earn an average of 20 percent more and have a greater chance of being hired.
AAPC offers three certifications for medical billing and coding specialists: Certified Professional Coder (CPC), Certified Professional Coder - Hospital Outpatient (CPC-H), and Certified Professional Coder - Payer (CPC-P). Additional credentials are also available for medical billers and coders to demonstrate superior knowledge in specialized areas such as cardiology, dermatology, pediatrics, emergency department, and internal medicine billing and coding. The requirements to sit for the CPC exams include current AAPC membership, two years of experience working as a medical billing and coding specialist, and 36 hours of continuing education units every two years to maintain the certification. An associate degree is not required, but it is recommended.
The Board of Medical Specialty Coding and Compliance offers a certification for Specialty Coding Professionals (SCP) with at least two years of specialty coding experience and Advanced Coding Specialists (ACS) with at least three to five years of specialty coding experience. To maintain either of these certifications, specialists must complete 20 continuing education units each year.
The Professional Association of Healthcare Coding Specialists (PAHCS) offers a Certified Basic Medical Coding Specialist (CBMCS) certification and specialty certification in many areas, such as pain management, podiatry, family practice, and obstetrics and gynecology. PAHCS does not require applicants to complete an academic program before they take the certification exam, but 24 continuing education units are required every two years to maintain certification.
The American Health Information Management Association (AHIMA) currently has two certification options, and each of them is accredited by the National Commission for Certifying Agencies. The Certified Coding Associate (CCA) credential is offered for coding professionals who have experience working in both hospital and physician offices, and applicants must have a high school diploma. The Certified Coding Specialist - Physician-based (CCS-P) credential is for coding professionals who have more experience specifically in outpatient clinics rather than hospitals. The CCS-P certification requires candidates to have either a prior credential, an in-depth coding education, two years of work experience, or a combination of one year of work experience and a prior certification. To maintain certification, AHIMA requires certificate holders to complete 20 continuing education units every two years.
Online Medical Transcription Degrees
Medical transcriptionists and medical billing and coding professionals both play an important role in the management of health information. While medical billing and coding professionals are responsible for assigning numerical codes to patient diagnoses, medical procedures, and other sensitive healthcare information for insurance and billing purposes, medical transcriptionists create written copies of audio recordings made by doctors and other medical professionals.
Online medical transcription degree programs teach students how to understand medical terminology, transcribe the results of medical tests, and work with voice recognition software. Programs are available at the certificate or associate degree level via community colleges and technical schools.
Online certificates in medical transcription are a solid training option for students who want to hit the job market as quickly as possible. These programs take approximately one year and prepare graduates for entry-level positions by training them in the transcription of a number of different types of medical records. Courses cover medical terminology, transcription formatting, and computer applications. Most programs require that students transcribe sample medical records from a variety of medical specialties so that graduates leave the certificate program with practical skills.
Two-year associate degrees in medical transcription cover the professionally oriented curriculum of the certificate as well as several general education classes. Associate programs introduce students to topics such as pharmacology for medical office professionals, word processing, medical terminology, business English, medical science, anatomy and physiology, and transcription methods. Online health information technician and medical transcription associate degrees often require an internship or professional practice experience in a medical office.
Medical transcription skills are often covered in health information technology (IT) associate degree programs, which discuss medical records management, medical billing, and medical coding, as well as transcription. Health IT professionals provide an array of administrative services in medical offices. These associate degree programs can be a good choice for those interested in coding who want a wider array of job opportunities.
Frequently Asked Questions About Medical Billing Coding Degrees
Which pays more, medical billing or medical coding?
As they are sometimes combined into one role, there is little pay difference between medical billing and medical coding. Salaries will depend more on location, employer, and level of education or work experience. Larger employers, such as health systems, large group practices, and hospitals pay more on average than private and small group practices. In 2019, medical billers and coders made the most money in California, New Jersey, and Delaware.
Can you get a medical coding job without a degree?
Yes. Most employers look for some formal education, such as a certificate or associate degree. It is possible to get a job without credentials, but it will likely be difficult. While a bachelor's or master's degree is not necessary for a job in the field, holding a degree will likely lead to higher wages.
Do medical billers work from home?
Medical billing and coding can be done from home, depending on your employer. Some organizations will hire contractors to work from home, while others may allow their full-time employees to work remotely.
Is medical billing and coding hard to learn?
Medical billing and coding may sound complex, but the most difficult aspect of it is the sheer number of codes you'll be working with. Professionals in the industry work with thousands of codes across multiple changing code sets. Medical coders do not need to memorize these codes, as there are reference books and software available to ensure accuracy.
This website offers school details to prospective students as an informational resource. The appearance of a school listing on this website should not be interpreted as an endorsement of the school by this site.