The Truth About Online Learning: 4,650 Students Speak Up
5.25 million students were enrolled in distance education courses in 2013, as reported in the Online Learning Consortium's 2014 Survey of Online Learning. Due to the growing numbers of online students, it's crucial we ask questions about the state of online learning and the quality of programs. Our study of 4,000+ online student reviews submitted to GradReports.com since 2008 cites a wide range of experiences at recognizable schools like Liberty University, University of Phoenix, and Arizona State University.
What we found: while online students rate their experiences lower than campus students, 71% of all online learners are satisfied with their degrees. Also, the complaints of online students aren't about the quality of instruction—they are about lackluster support services, with unresponsive financial aid and academic advising staff causing missed deadlines and, ultimately, causing some students to drop out.
School ratings referenced throughout this piece are based on student reviews collected over seven years on our partner site, GradReports.com, and vetted for authenticity. Since 2008, online, hybrid, and on-campus students have submitted 13,041 alumni reviews from 740 schools. More information on the above online schools and their student reviews can be found at here, and the entire list of online colleges with reviews can be viewed here.
To view a graphic summary our of findings from this survey, click here.
How do online degrees compare to degrees earned on campus?
We looked at a sampling of 1,167 campus student reviews and 847 online student reviews, considering only those from non-profit schools, as the majority of students attend non-profit institutions. While the majority of online students from non-profit schools are satisfied with their degrees, campus students at comparable schools reported 7% higher satisfaction. Campus students also rated aspects including quality of instruction and career improvement more favorably than online students.

As a point of comparison, we looked at the ratings from campus students and online students at Arizona State University. Graduates of ASU receive identical diplomas, with no special indication of whether a student pursued their degree online or on-campus.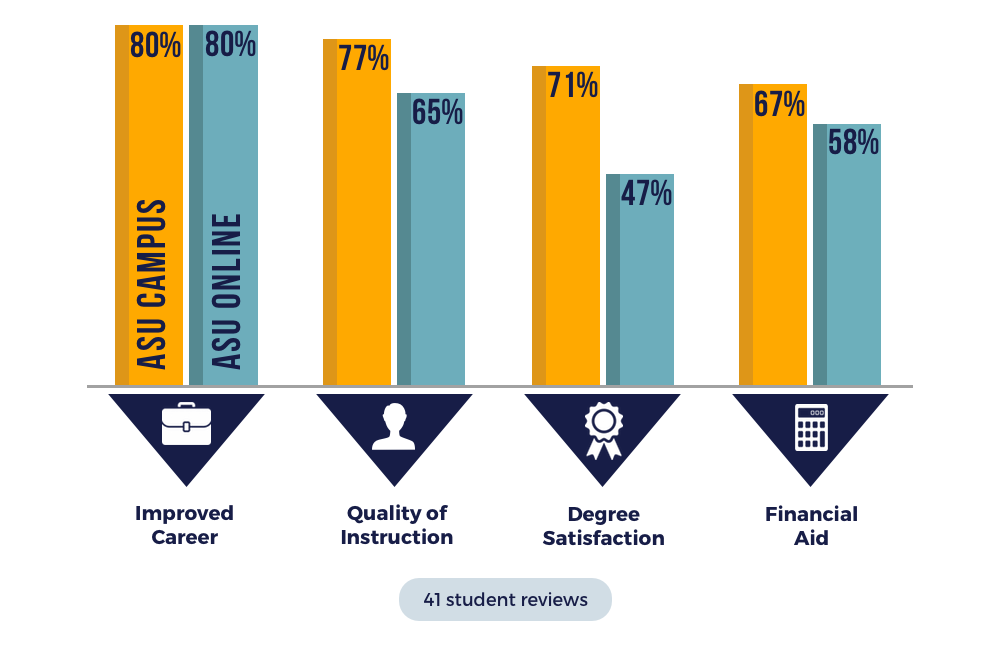 While 71% of campus students at Arizona State University are satisfied with their degree, only 47% of online students are. Furthermore, students also rated their experience in areas like quality of instruction and financial aid. In nearly every regard, campus students are expressing more satisfaction than their online counterparts. Campus and online students at ASU, however, did rate their career improvement equally, at 80% This one case study may not reflect the online vs. campus student trends for every school. However, when looking at this example of a traditional brick-and-mortar school that offers online degrees, we can learn much about the still persisting quality gap between online and campus education.
Online for-profit vs. online non-profit schools - how do they stack up?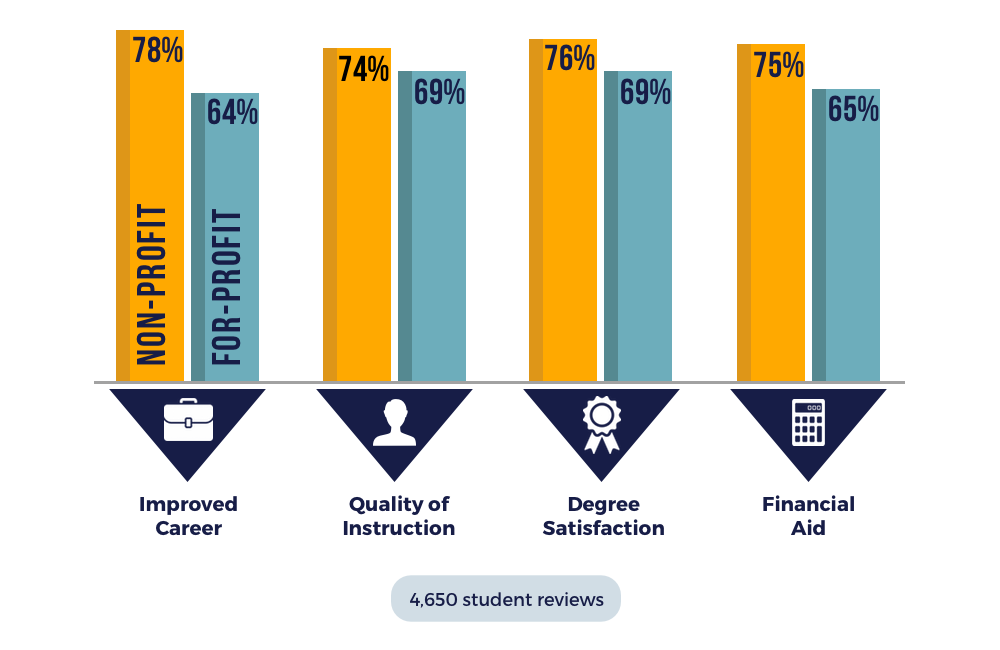 Based on recent controversies surrounding for-profit institutions, we thought it would be helpful to look at the differences between for-profit online colleges vs. non-profit online colleges. We looked at a sample of 4,650 online student reviews to view comparisons. Based on our analysis, the average difference in ratings between online for-profit and online non-profit schools was 9%, suggesting that structural deficiency may be a bigger factor than the business model.
Where do we see the smallest gaps?
The average difference in ratings between online for-profit and online non-profit schools was 9%.
Online students at non-profit and for-profit schools rated the quality of instruction most similarly, with only a 5% difference. Second was the degree satisfaction, with 7% more students at non-profit institutions saying they were satisfied.
Where do we see the largest gap?
Was there one area where online non-profit students fared significantly better than for-profit students? Yes, in terms of how well online degrees improved post-graduation careers, non-profits rated 14% higher than for-profits. Since students reported relatively high degree satisfaction and quality of instruction rates, it's possible the pre-existing bad reputation of for-profit schools is a major reason why these graduates are having a hard time finding employment after graduation.
Many online student reviews cited issues having degrees taken seriously during job interviews, with more issues appearing amongst for-profit learners. One graduate of a for-profit school, David, said that despite receiving a solid education in psychology, his school's reputation was hindering his ability to get a job: 'unfortunately the name ruins your chances of being able to showcase what you know.' He added that there is a lack of respect surrounding for-profit institutions in general, 'which is sad because some of them have good programs.'
What are the strengths and weaknesses of online schools?
High quality of instruction
After degree satisfaction, quality of instruction was the second highest rated aspect of online learning that we collected, with an overall average student rating of 70%. Many students submitted reviews discussing outstanding faculty and coursework, like 2014 graduate, Alyshia, who said, 'The faculty and staff take the time to check in and touch base with you to see if you are having any problems or have any questions. They have a way of inspiring you to want to work hard to accomplish your goals and dreams.' David, a 2014 criminal justice graduate, said, 'It was obvious the instructors were there and working to help you succeed. The courses were challenging and the material was relevant and current.'
Poor financial aid
The most common issue online students cite when discussing finances is the trend of poor communication from financial aid departments making it tough to receive timely aid. Financial aid, in the form of scholarships, grants, fellowships, and loans, is available at all of the institutions with student reviews. However, student opinion shows financial support is often not received by mandatory deadlines due to errors caused by financial aid departments. This regularly leads to issues during enrollment, such as students not being able to sign up for classes on time or not being able to fund personal expenses like rent payments. Our collected data shows financial aid is one of the most contentious topics among online learners, discussed in over 2,000 of the online student reviews and mentioned in over half of all negative reviews.
'This university has great professors, but the problem is with the financial aid department.' - Trish, Online Grad
These are just the raw statistics, but reading through actual student quotes, we're able to hear the difficult situations online students are being placed in because financial aid offices aren't providing adequate support and information. Graduate Trish said, 'This University has great professors, but the problem is with the financial aid department. As of today, I have had my classes dropped for 2 semesters in a row and am now behind 16 weeks.' Similarly, graduate Amanda said, 'It came time for me to renew my financial aid paperwork and they let me start my classes. I had completed the classes and then they told me that my financial aid paperwork didn't go through. Then they sent me a bill stating that I had to repay the two classes that I just took before I could continue to anymore classes. I was upset because they allowed me to take the classes before my financial aid had been approved.' While on-campus students are able to walk into the financial aid offices and physically obtain the help they need, online students are having difficulty receiving reply emails or phone calls from financial aid offices. This trend is more than just an annoyance for many online students, but a cause for great stress.
Lackluster support from academic advisors
Another hot topic among online students is the issue of poor academic advisor communication. Advisors were mentioned frequently, discussed in over one fourth of online reviews and in 23% of all negative online reviews submitted. Graduate Amy, said, 'I was on my own for scheduling as my advisor was not involved and did not seem interested in my goals.' Similarly, Jeff, a 2015 graduate, said, 'It does seem more and more that they are trying to get people to enroll in large quantities in order to receive more money. I constantly get emails from my 'academic advisor' encouraging me to enroll for more classes, instead of offering help and guidance with my degree.' Inadequate help or difficulty communicating with advisors is leaving many online students unsupported and confused about the status of their degrees.
What are our key findings?
Within the 4,650 reviews we examined, online students pointed out the major hurdles of online education: student support services, specifically financial aid services and academic advising. In the City University of New York's three-year experimental program Accelerated Study in Associate Programs (ASAP), increased student support services, including financial aid assistance, comprehensive advising, and goal-setting seminars, doubled graduation rates. Should these improvements be made to online learning as they were at CUNY, online education could benefit from the same increase in graduation rates. Even considering these areas needing advancements, our findings show online education is viable. An overall 71% degree satisfaction rate among online students confirms that students are currently finding their degrees valuable.
---
Data Methodology
The schools included in our above infographics were required to have at least 15 reviews each for their online and campus degree programs. Information reflects data as of October 10th, 2015. Student reviews were submitted to Optimal's review site, GradReports.com, which has been collecting school reviews since 2008 and features 13,041 reviews from 740 colleges. Every review is vetted to ensure authenticity before being published.