The Student Debt Crisis in 2021: Everything You Need to Know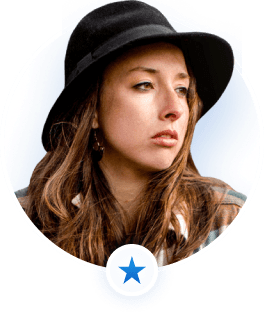 Larissa Runkle writes for finance, real estate, and lifestyle publications, and is also at work on several fiction projects. Her writing has been featured on The Penny Hoarder, FinanceBuzz, Realtor.com, LendingTree, and MagnifyMoney, among others.
Student debt is undoubtedly one of the biggest economic dilemmas of our generation, and there's still no sign of it slowing down. With growth rates that are six times faster than the U.S. economy, it's no wonder our country has 43 million borrowers that owe over $1.7 trillion. And although the student debt crisis is much more widely discussed than it used to be, it's been a problem for a long time— as in, the last 30 – 40 years. Whether you're preparing to go back to school, or one of the 43 million graduates wondering how we got into this mess— stick with us. We've got the full scoop on student debt right here.
A History of Student Debt
Most experts tie the start of the student debt crisis to the years between the mid eighties and early nineties when college degrees became the norm for many young working professionals. During that time, the cost of attending college also began to rise astronomically.
According to the October 2020 report on student debt conducted by The Institute for College Access & Success (TICAS), the average debt of borrowers increased at a rate of 4% per year between 1996 and 2012, with the most significant increase happening between 2004 to 2012 when average debt grew almost 58% from $18,600 to $29,400. While shocking, these numbers make a lot more sense when you consider the sheer increase in costs associated with attending college:since 1980, the finance experts at Visual Capitalist estimate that the overall cost of college tuition and all its associated fees has risen by 1,200%.
Today the numbers don't look much better, with TICAS reporting that more than six in ten (62%) college seniors graduating from public and nonprofit colleges in 2019 owe an average of $28,950 in student debt. And it isn't just the sheer amount of debt that's been problematic, it's also the kinds of loans being borrowed. About 16% of the debt owned by graduating students in the Class of 2019 consisted of non federal loans, which often don't come with the same consumer protections as federal loans and can even end up costing more.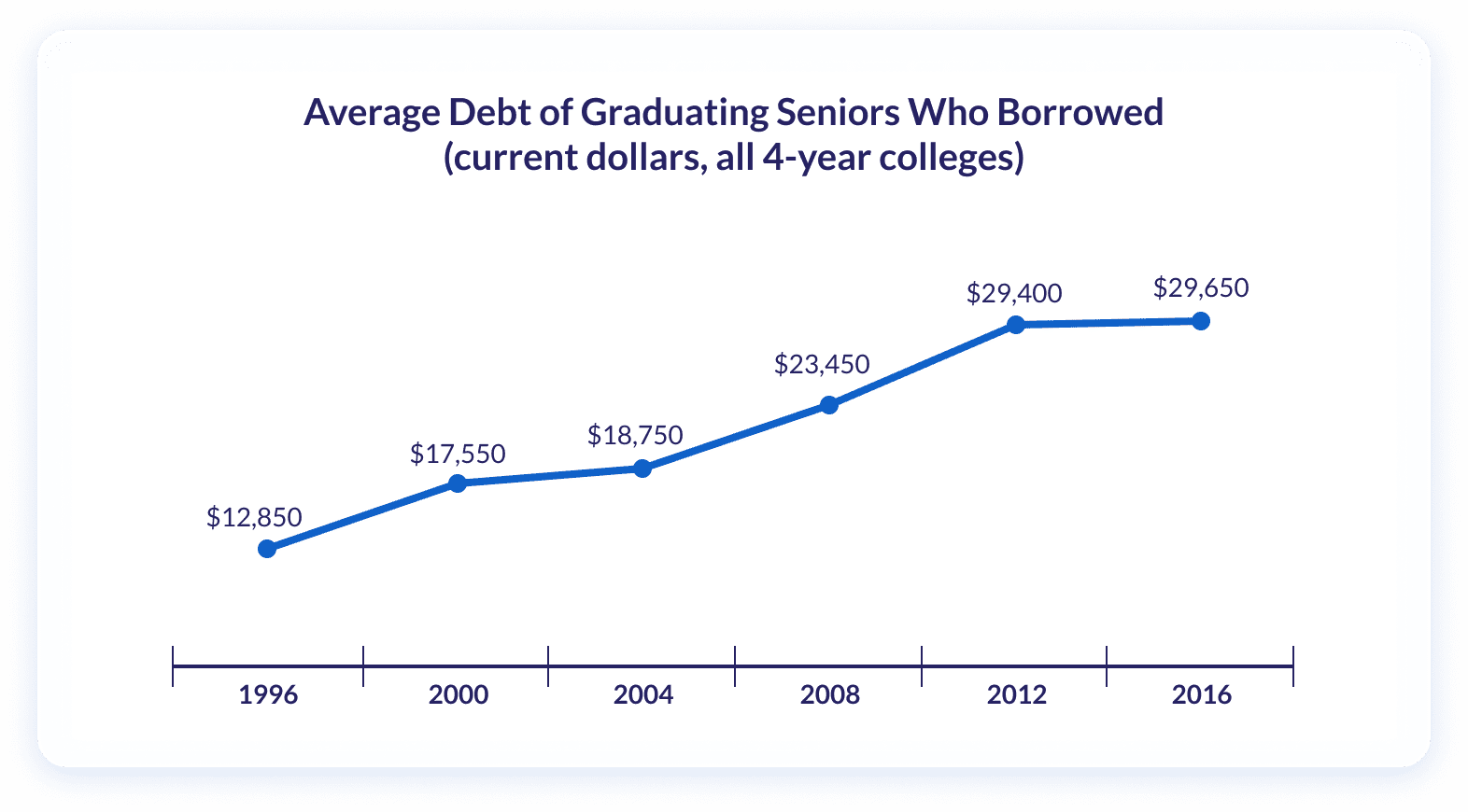 The Economic Impact of Student Debt
The economic impact of student debt is one of those things that's hard to put a number to, but its effects can be felt nonetheless— especially in the number of young professionals who struggle to afford housing, or don't have the income to start saving for retirement.
"Graduates have had to put their lives on hold," says Matthew Carpenter, CEO and Founder of College Funding Services. "Not only are an alarming number of folks defaulting on their loans, but we now live in a society where parents can't retire, students can't buy homes or start families, or even make investments."
Many of life's declining data points, from historically low marriage and birth rates to reduced car purchasing and restaurant spending, all trace back to the massive debt loads of the Millennial generation.
Another way to think about the student debt crisis is like an economic bubble, only in this case it's going to be much harder to reset the economy and recover.
"The student debt crisis has impacted the economy in ways that are not easily apparent," says Joe Orsolini, President of College Aid Planners. "In a typical economic bubble like stock or real estate bubbles, prices crash, stabilize, then reset. In the student loan bubble, there are no prices to reset. What resets are lifestyles. Many of life's declining data points, from historically low marriage and birth rates to reduced car purchasing and restaurant spending, all trace back to the massive debt loads of the Millennial generation."
What's Being Done to Solve the Student Debt Crisis?
Three bills were recently passed that may provide some temporary relief for student borrowers. The first is called the Consolidated Appropriations Act, 2021 which lends tax-free status to employer-paid student loan repayment assistance programs (LRAPS) until December 31, 2025. The second (which you've most likely heard of), is the Coronavirus Aid, Relief, and Economic Security Act (CARES Act). In addition to providing a temporary payment pause and interest waiver on all federal education loans held by the U.S. Department of Education (which has since been extended until September 30, 2021), this bill also provided temporary relief to some LRAPS and supplied emergency financial aid grants to some college students. The third and most recent bill, which is called the American Rescue Plan Act of 2021, has made all student loan forgiveness tax-free through 2025.
Because these bills were passed in part due to the financial challenges of COVID-19, they also come with a not-so-distant expiration date. There are however, several other ideas in the works that may provide more long-term solutions to the student debt crisis. One of these is President Biden's campaign promise to forgive $10,000 in student debt per borrower, and grant federal student loan forgiveness to all student loan borrowers from public colleges and universities who earn up to $125,000 per year.
Complete a FAFSA
Completing your Free Application for Federal Student Aid (FAFSA) is one of the simplest ways to ensure you receive every last bit of qualifying federal financial aid, but unfortunately, not everyone does it. According to a recent report conducted by Sallie Mae called How America Pays for College 2020, only 71% of families applied for their Free Application for Federal Student Aid (FAFSA) in 2020, which was a significant decrease from 83% two years ago. Whether you think the FAFSA will come back with something good or not, it's worth filling it out and understanding all of your options.
Explore All Scholarship Opportunities
Similarly, exploring all potential avenues for scholarship is another way to ensure you receive the best possible financial aid package. "Check out all possibilities for scholarships," says Sean Fox, President of Freedom Debt Relief. "Don't overlook sources like employers, churches, nonprofit organizations, foundations, and credit unions. Not all of their scholarships are based on prior academics or athletics and online searches can help identify the ones you may qualify for."
Seek Out Colleges With Low Tuition Rates
There's no doubt about it, college is expensive. Fortunately, it's become more affordable in recent years with the expansion of online programs. By studying online, you'll not only limit your living expenses (and avoid paying for on-campus room and board) but you'll also cut down on any commuting time and costs associated with studying in-person. The tuition itself is also much more affordable for students who choose to study online rather than in-person. Take a look at the breakdown: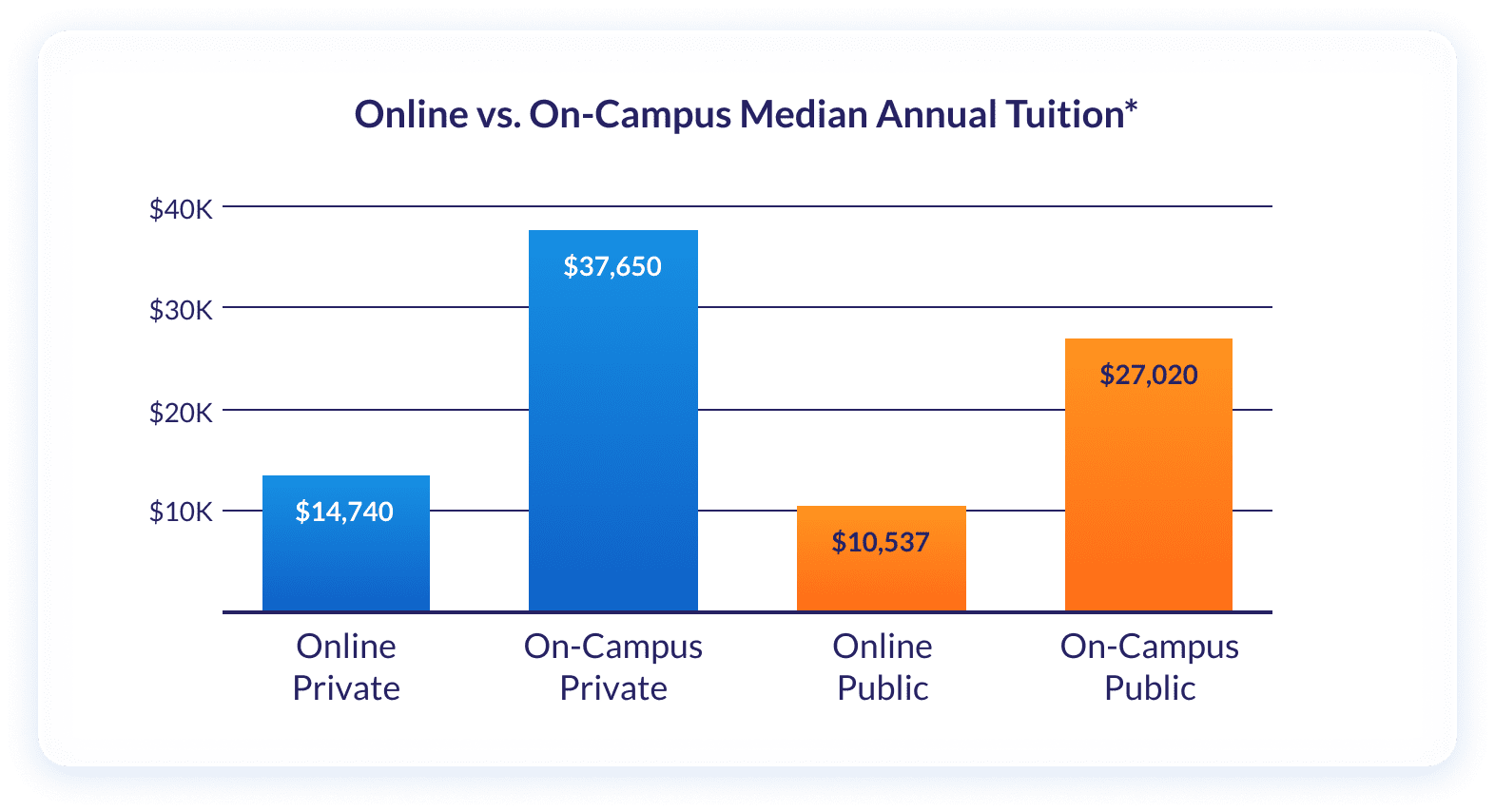 The above data shows online tuition typically costs less than half of in-person tuition fees. In addition to the other savings mentioned above, studying online can drastically minimize how much of a loan you need to borrow, and how much debt you have to repay later on.
Borrow Responsibly
Last but certainly not least, make sure to borrow responsibly when the time comes. Focus on loans that are specifically meant for education purposes, and try to get federal loans over private ones whenever possible. You'll also want to be sure you understand the terms of your loans, and feel comfortable with the repayment schedule.
Focus on loans that are specifically meant for education purposes, and try to get federal loans over private ones whenever possible.
The Final Word
It's a difficult time to be a student, especially in light of the pandemic and how it's undoubtedly affected the finances (and well-being) of so many people. But don't be too discouraged. There are positive legislative changes on the horizon, and you're in the driver's seat when it comes to finding smart financing options and picking from the thousands of college programs that can provide you with a strong return on investment, save you from drowning in student loan debt, and help you reach your career goals.
Related Articles
Best schools for graduating with no debt
(that you can actually get into)
These 15 schools result in the lowest debt for students and have at least a 50% acceptance rate
Financial Aid Letters: Why they're so confusing, and how to read them
Financial aid can be notoriously confusing for students trying to make informed college decisions. We talked with experts about why that is and how you can demystify the process.