Is an Online MBA Worth It?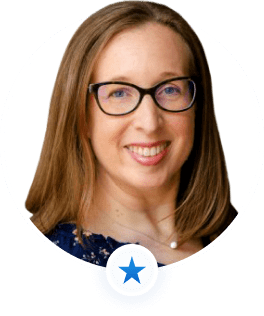 Heather Morgan is a freelance writer and Retired Army Veteran. She earned an online MBA from Columbia Southern University and a Master of Science in Organizational Leadership. She frequently writes about leadership, self-development, and veteran issues, and is passionate about causes including community building and veteran advocacy.
The Master of Business Administration (MBA) has been the most conferred master's degree in the U.S. for years, and online programs comprise an increasing proportion of the total. Even before the COVID-19 pandemic, the application rate for online MBAs was climbing despite a decline in total MBA applications. This may be because students recognize that online degrees offer more flexibility than traditional degrees: most part-time MBA students are balancing work and family responsibilities with their studies, and these are exactly the students most likely to express interest in online learning. Online degrees allow students to continue their education without needing to attend daytime classes or uproot their lives to move near a campus. Below, we examine how an online MBA might improve a student's career prospects.
Are Online MBAs Respected?
Research suggests that we've reached a point where most employers respect online degrees as much as on-campus degrees. A 2019 survey from Northeastern University reported that 61% of HR managers view both options equally. MBA-specific data is lacking, but some corporate executives have spoken to the increasing acceptance of online programs by employers. Further, some academic experts argue that the sudden switch to online learning in 2020 has incentivized schools to offer more and better online options, which will further erase any lingering stigma about distance learning.
One thing that will help ensure your online MBA is respected is to choose a business program at a reputable institution of higher education. It is vital to choose an accredited college or university. Accreditation means that the school has been examined by a qualified, independent agency and found to meet accepted standards for quality, rigor, and service. Another factor to look for in a program is an admissions requirement for standardized entrance exams, such as the GRE or GMAT, two common exams for graduate business school. Choosing an online program that requires a favorable score on one of these exams indicates that you, your classmates, and the program itself meet high academic standards.
If an online MBA program is accredited and requires a favorable score on the GRE or GMAT, that indicates the program meets high academic standards.
What Are the Differences Between an Online MBA and a Traditional MBA Program?
In most cases, the faculty and curriculum are identical, so the most noticeable difference is the learning space. In traditional programs, students gather in a classroom with a professor who leads them through lectures or interactive activities, taking questions as they arise.
Online business programs feature mainly asynchronous components, such as recorded lectures and discussion forums. Some programs feature live lectures in select courses, which may occur twice a week, once a term, or anywhere in between. Online programs are usually designed for students who have jobs and families, so any synchronous coursework is typically scheduled during the evening.
Students will need to manage their time efficiently if they pursue an online program while working. These students will take longer to complete their degree than on-campus students enrolled in full-time MBA programs because they won't be able to take a full course load. Instructional designers for most online degrees understand that casual interactions aren't as frequent as they would be in a classroom, so they encourage faculty to assign group projects that allow students to work together.
Online learners will forgo some of the informal networking opportunities that campus MBA students enjoy, but the quality of the networking may be greater. The online cohort is likely to be at least a few years out of college and currently working, with deeper networks than fresh college graduates. Online students are also welcome to join alumni associations and take advantage of the many benefits of engaging in alumni networks.
Is the Cost of an Online MBA Worth the Return on Investment?
Study after study indicates the positive effect an MBA has on a student's earning potential. At the time of writing, Payscale showed an average yearly salary of $90,177 for MBA graduates, and the Financial Times has reported on the significant salary increases that can come with earning this degree. The Bureau of Labor Statistics (BLS) lists occupation categories rather than degrees, but even a quick scan through its Management Occupations page reveals median wages well above the U.S. average for all occupations combined, which is $39,810.
An MBA from some schools is likely to have an especially positive impact on earning potential. You should seek out programs whose alumni tend to earn high salaries and have relatively low debt. For example, graduates of the Stevens Institute of Technology's MBA program earn median salaries of $122,100 one year after graduation, and their median debt from the degree is $34,476. This is $50,000 less debt than the University of Southern California, whose MBA graduates earn similar median salaries. The graduate with less debt can pay off student loans more quickly and free up money for other purposes.
You should seek out MBA programs whose alumni tend to earn high salaries and have relatively low debt.
Along with increased earning potential, an MBA can improve your desirability in the job market. The Graduate Management Admission Council (GMAC) reported that 69% of the 940 U.S. companies they surveyed had hired MBA graduates in 2018, and 77% planned to hire MBAs in 2019. This demand has fueled a decades-long upward trend in MBA graduation rates. The BLS charted the dramatic jump in MBAs awarded between 1970 and 2013. The larger pool of MBA graduates has led to credential inflation: companies have more MBA candidates to draw from, so an MBA is increasingly necessary for professionals to stay competitive as they seek to advance.
Online MBA students can differentiate themselves by choosing a concentration in an area that interests them, such as accounting, healthcare management, information systems, or marketing. Even back in 2011, experts recommended specialty MBAs over generalist plans of study. Candidates with specialized MBAs may be able to position themselves as managers in some of the fastest-growing occupational fields, such as information systems management or healthcare management.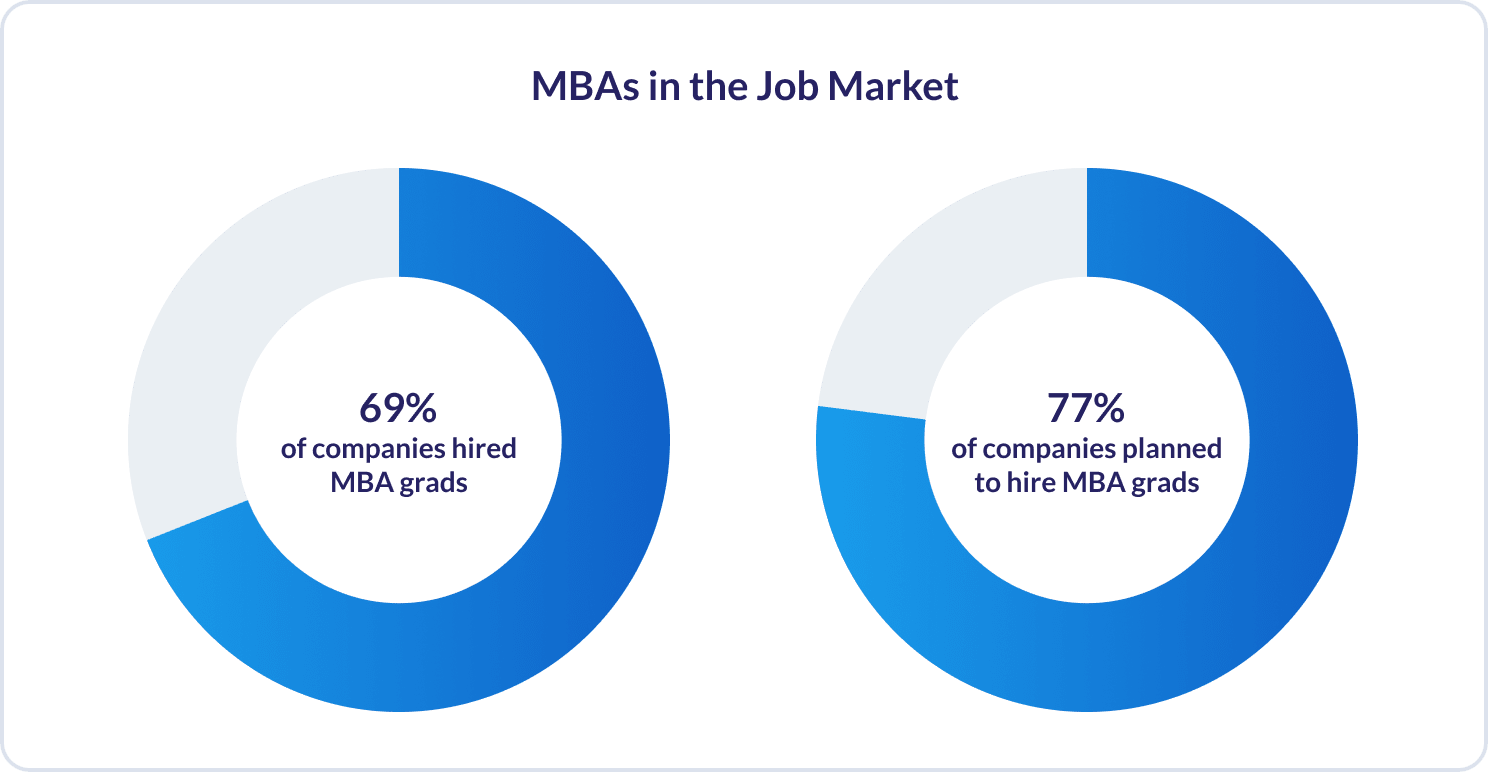 Online MBA Programs are Typically More Affordable than Traditional MBA Programs
Online MBAs typically cost less than the in-person version at the same school. Public schools usually charge online students the in-state rate for tuition no matter where they live. This rate is lower than tuition for students who move from out of state to study on campus. For example, the University of Southern California estimates that its online MBA costs $112,346 in tuition and fees for two years, whereas its on-campus equivalent costs $127,100 once living expenses are subtracted. Some schools even try to diversify their student body by offering a lower price for their online MBAs.
Professionals must also consider whether an on-campus program will allow them to work while attending school. Not all adult learners can forgo two years of salary and benefits to attend a full-time in-person program, even for the likely prospect of increasing their earning potential. Online MBA degree programs tend to offer the greatest flexibility, with most coursework available asynchronously or after work hours.
Prospective students should also check whether their employers will help pay for graduate school. According to the GMAC, 49% of U.S. companies offer tuition assistance to their employees. Most of these employers expect a specified period of service after graduation, and they may not offer more than the tax-deductible limit of $5,250.
Benefits of an MBA Program
Earning an MBA online will provide you with the advanced knowledge and desirable skills that can help you advance your career, whether your vision is to climb the corporate ladder, lead a small niche organization, or found a business of your own. The following are some of the specific advantages many MBA holders enjoy.
Changing Career Paths With an Online MBA
Although an MBA can advance your current career in business, program admissions are far from limited to those who earned their bachelor's degree in business. In fact, a study by Earnest found that 24% of MBA students come from a liberal arts undergraduate background, followed by 10% in science and 10% in engineering. MBA programs are often highly collaborative, and you will bring a unique perspective and skills that will expand your teammates' understanding of the business world. Many schools allow students with any bachelor's degree to enroll in an MBA program. If you encounter a school that has business degree prerequisites, you should be able to explain to admissions officers how your non-business degree and prior work experience will make you a unique and qualified MBA candidate.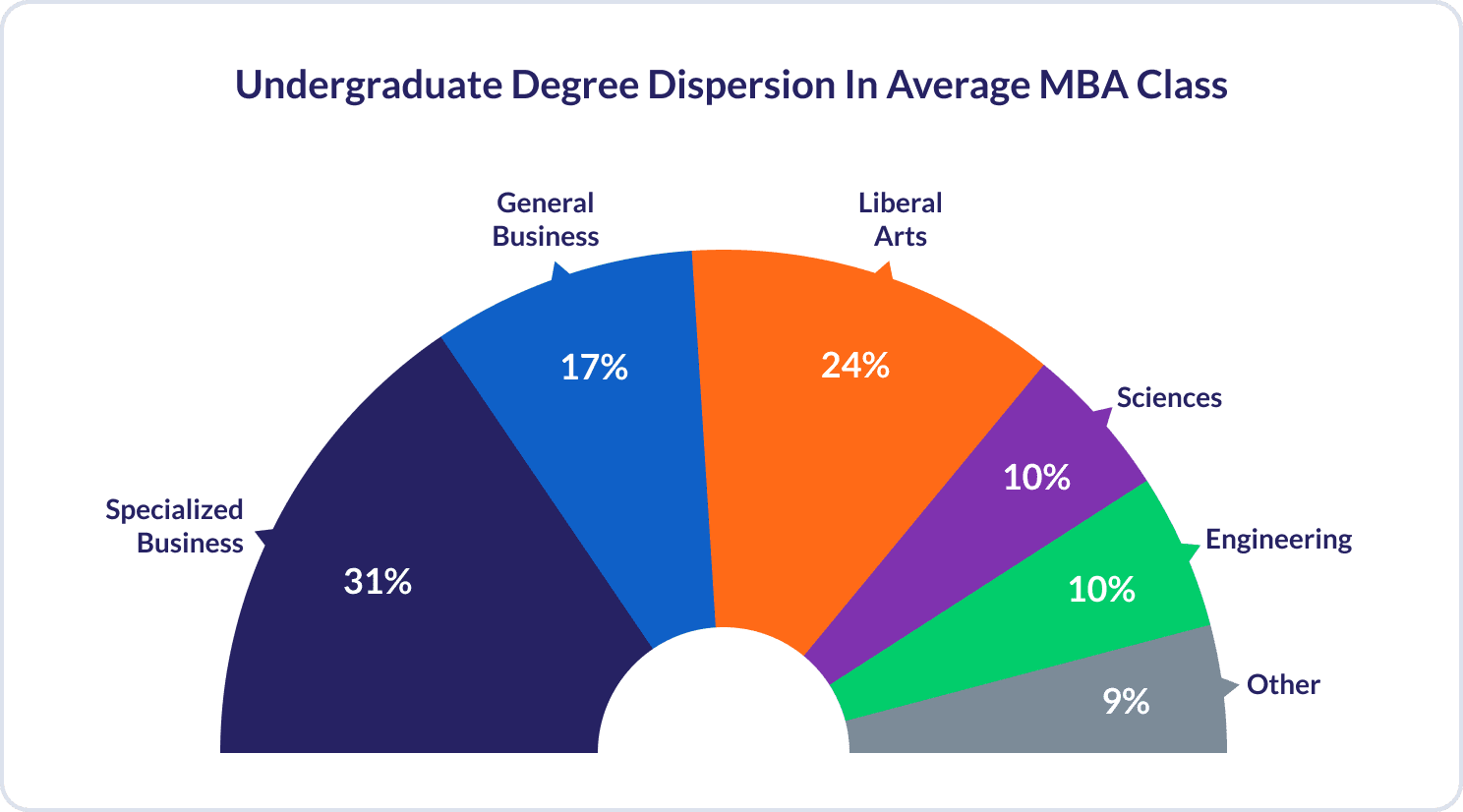 For current business professionals, an online MBA can help you to make a career change within the industry to another business function. For instance, if you work in the Human Resources department, an online MBA program can allow you to specialize in Operations or Training and develop the skills necessary to transition to a career in that field.
For those who have an entrepreneurial spirit, a graduate degree in business can help prepare you to start and operate your own organization. To become an entrepreneur, you will need to understand operations management, finance, accounting, and marketing fundamentals—all of which are required courses in most MBA programs. You'll also need strong strategic thinking, communication, and problem-solving skills, which are common outcomes of an MBA program. With a graduate degree in business, you'll be better positioned to succeed in whatever business venture you choose to launch.
Career Advancement With an Online MBA
In today's uncertain business environment where cutbacks and lay-offs can be necessary, it is crucial to have every edge available to market yourself. The same is true when looking towards advancement in your organization. Sometimes you need more than just your strong ethic and track record of excellent work. You need to have something that places you ahead of the pack, and an online MBA can do just that.
Getting an online MBA will show leaders that you are committed to professional growth and serving the organization in the most significant capacity you can. The variety of skills you'll learn through an MBA program make you a versatile asset – you can serve in several functional areas as needed. These are the type of leaders that top organizations are looking to promote to positions of greater authority and responsibility.
MBA holders are the type of leaders that organizations are looking to promote to positions of greater authority and responsibility.
Negotiating Higher Pay After Earning an Online MBA
Just as an MBA helps you advance in your career, it allows you to negotiate higher pay. Higher level skills such as risk management, conflict resolution, and strategic planning make you a well-rounded and valuable leader. Your company will benefit greatly from your newly acquired skills and knowledge, and they cannot afford to lose you to another organization that is willing to pay more. For this reason, negotiating higher pay to keep up with industry standards should be easier after earning your MBA.
It's important to be prepared before having a conversation about your pay increase. First, research salary averages for MBA holders in your industry and region so you have an idea of what the standard is. Next, review the skills you've obtained from your coursework and think about how you'll apply them to your work. Be prepared to communicate this as part of the salary negotiations.
Skills You Will Learn Through an Online MBA Program
An online MBA will help you develop skills that you will use throughout your daily responsibilities in your business career. Here are just a few.
Leadership
Although leadership style is a personal trait developed through experience and time, it is essential to learn about leadership theories and issues facing leaders in today's workplace. Your leadership skills will be strengthened as you conduct personal inventories, discuss leadership issues with peers, and research ways to best motivate employees.
Strategic Management
Strategic planning is more important than ever. Companies rely on leaders who can analyze data and make strategic plans that are mission-focused. An online MBA will give you the skills to recognize business opportunities and threats and to develop strategic plans that take your company where it wants to go.
Project Management
As organizations are becoming more cross-functional and conducting more operations virtually, leaders need to have excellent project management skills. An MBA will teach you how to design and control projects, lead a diverse group of team members, and meet deadlines. Project management skills are essential for any business leader to have; even those without the official title of Project Manager will undoubtedly manage projects in some way.
Global Operations
The business world has expanded enormously since the internet. No longer can we remain comfortable in our local bubble. Business leaders need to be prepared to operate and communicate with global vendors, customers, and colleagues. Through global business courses required in your MBA, you'll examine global business considerations such as cultural norms and international logistics. Expanding your vision of the business world and enhancing your ability to communicate effectively across borders and cultural barriers is a much-needed skill in today's global market.
Final Thoughts
All the factors we've discussed are important: cost and affordability, return on investment and improved job prospects, and the relative appeal of the online course format. An MBA is not necessarily the right choice for everyone, and the decision to earn this degree hinges on your personal circumstances and goals. However, this degree can boost a professional's career, and an online program provides a flexible and cost-effective path to achieving this accomplishment. By carefully selecting the best online MBA program to fit your career goals, you may make yourself a more attractive candidate to recruiters and potential employers and position yourself for greater success.
Related Articles
2023 Most Affordable Online Colleges for MBA Programs
Explore our list of colleges offering the most affordable online MBA degrees in 2023. We manually collect all the tuitions so you don't have to!
Does It Matter Where You Get Your MBA?
A look at the highest-paying MBA degrees — and what they all have in common.