International Student Guide
Key Insights:
There are 914,095 international students in the U.S.
A majority of international students are from India and China
Most international students choose to study science and engineering subjects
The tech industry and large, publicly traded companies are more likely to hire international students
In addition to gaining a quality education, studying in the U.S. can be an exciting, invigorating, and ultimately rewarding experience for international students. According to Open Doors, an initiative funded by the U.S. Department of State, 914,095 international students were enrolled in U.S. institutions during the 2020-2021 academic year. Though the ongoing COVID-19 pandemic has reduced the number of international students entering the country, the U.S. still attracts individuals from all over the world looking to enroll in undergraduate and graduate programs in a range of subjects.
If you're considering studying in the U.S., this guide explains how to apply to college and provides information specific to international students on subjects like financial aid, online learning, and visas.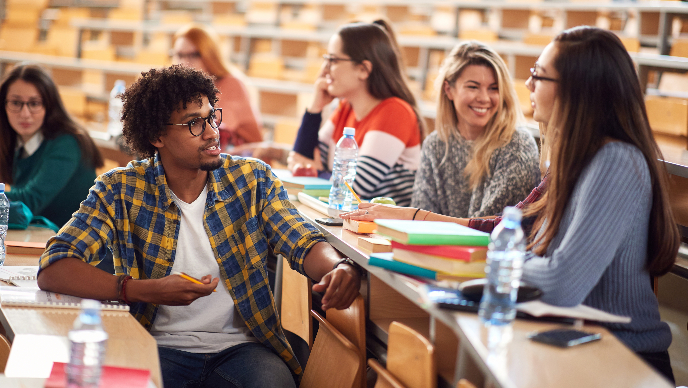 Online Programs You May Be Interested In
Advertisement
Southern New Hampshire University Online
Annual Tuition: $9,600
153 Programs (view all)

Arizona State University
Annual Tuition: $19,398 - $29,428
305 Programs (view all)


Who Is Considered an International Student?
International students temporarily reside in the United States to attend a postsecondary institution. They enroll full-time in degrees at both the undergraduate and graduate levels, as well as certain non-degree programs. International students typically leave the country after completing their education, though some may find employment and remain in the U.S. for a period after their graduation.
Since they are neither U.S. Citizens nor Lawful Permanent Residents ("Green Card" holders), international students must have a visa to study at a college or university in the U.S. The Department of State has three broad visa categories that prospective international students can apply for.
F Visa

This category is for foreign students enrolled full-time in an academic program at an accredited U.S. postsecondary institution.

J Visa

The J visa is an exchange program for students from abroad at the high school or college level.

M Visa

M visa holders pursue a non-academic or vocational course of study in the U.S.
International Students by Country
A majority of international students come from China and India, as well as countries like Saudi Arabia, Vietnam, Brazil, and Mexico.
| | |
| --- | --- |
| China | 317,299 |
| India | 167,582 |
| South Korea | 39,491 |
| Canada | 25,143 |
| Saudi Arabia | 21,933 |
| Vietnam | 21,631 |
| Taiwan | 19,673 |
| Brazil | 14,000 |
| Mexico | 12,986 |
| Nigeria | 12,860 |
Popular Fields of Study for International Students
Perhaps given the increasing popularity of STEM fields, it's no surprise that a majority of international students choose to major in fields like engineering and computer science. Many also end up studying business subjects.
| | |
| --- | --- |
| Engineering | 20.9% |
| Math and Computer Science | 19.9% |
| Business Management | 15.9% |
| Social Sciences | 8.4% |
| Physical and Life Sciences | 8.2% |
Popular Schools for International Students
New York University is home to the highest number of international students in the U.S. Other popular schools include Columbia University and the University of Southern California. The states of California and New York together host over 200,000 international students.
| | |
| --- | --- |
| New York University | 17,050 |
| Northeastern University | 15,880 |
| Columbia University | 15,015 |
| University of Southern California | 14,992 |
| Arizona State University | 13,015 |
Applying to College in the U.S.
Applying to college in the U.S. can be quite a long and stressful process for international students. Aside from filling out application forms and meeting deadlines, they must also factor in time for visa applications, make travel arrangements, and get their financial documents in order. It can help to know which steps to follow to ensure your application process doesn't run into any unexpected difficulties.
Find a School
Find and apply to a college or university that is certified by the Student and Exchange Visitor Program (SEVP) and accredited by a relevant organization. Gaining acceptance to an SEVP-certified program is required to apply for a student visa. Applications to multiple schools can be made through the Common App.
Assess Your Financial Situation
International students are expected to show they can pay for the cost of attending school in the U.S. before enrolling. Sorting out your financial circumstances — in terms of both personal funds and any received aid — is a crucial step in your application process.
Apply for a Visa
This is the most crucial part of the application process. Barring an expedited review, visa processing can take several months, so it's essential to apply to the correct visa category as early as possible. Give yourself plenty of time to gather the necessary documents to avoid any possible delays.
Arrange Housing
Most schools in the U.S. have on-campus dorms, which can be an excellent choice for international students who may be unable to arrange for a place to live before entering the country. Contact your school's residential services department before the deadline to secure housing.
Make Travel Arrangements
Depending on where you're traveling from and where your school is located in the U.S., you may have to take several flights — not to mention other forms of transport — to reach your final destination. Purchasing travel insurance and planning your trip ahead of time can help avoid unexpected travel disruptions.
List of Important Documents
As an international student in the U.S., you should take special care to maintain documents related to your education, identity, and ability to travel domestically and internationally. It's a good idea to make copies of the following documents and store the originals in a safe place — until you need them.
Passport: While abroad, your passport serves as the primary document for identification. Make sure it has at least six months of validity at all times.
Valid Visa: Your student visa stamp will most likely be located in your passport. This document will allow you to travel in and out of the U.S. while it's valid.
I-20 or DS-2019 Forms: These documents are issued by the United States Department of Homeland Security and contain critical details such as your area of study, financial aid, and time period as an international student. They are required to apply for visas and seek entry to the country.
I-94 Form: Also known as a record of admission, this document confirms your status as a student while in the U.S. A new I-94 is issued electronically whenever you enter the country.
Admission Letter: An admission letter confirms that a school in the U.S. has accepted you for full-time study in a particular subject area. It may also contain information about any financial aid you received.
Transcripts: Students in the U.S. receive transcripts for every semester. Transcripts show that you're actively enrolled and making progress toward your degree.
Student ID: Most colleges and universities issue student IDs, which are meant to allow you access to buildings on campus, serve as identification, and, in some cases, pay for services like meal plans.
Proof of Financial Support: This may include bank statements, financial aid documents, and any other material that shows you're able to fund your stay in the U.S.
Attending College in the U.S.
Attending college in the U.S. can offer both academic and non-academic avenues for international students to pursue. Most colleges have a diverse student population, so there are plenty of opportunities to meet individuals from different backgrounds and other parts of the world. While campus culture varies from school to school, many institutions have clubs devoted to sports or other extracurricular activities that provide opportunities to immerse yourself in college life. International students, in particular, can benefit from associations that are based on their culture and national identity.
However, moving to a foreign country can seem intimidating. Below are a few essential points about life in the U.S. that can help you settle in as an international student.
Juggling classes and social commitments can seem overwhelming. As an international student, you should make a schedule that allows you to achieve your college goals while giving you enough time to care for your health.
Getting a Driver's License
International students are eligible to secure a U.S. driver's license from their local DMV. Aside from serving as a form of state identification, a driver's license can make it easier to get groceries, travel outside campus, and explore your surroundings.
All international students who receive a taxable scholarship or fellowship grant or any other taxable income must file state and federal taxes every year. You must declare your earnings to the Internal Revenue Service and relevant state authorities, or file forms indicating you didn't make an income.
Securing Health Insurance
Often, U.S. schools require all students, including international ones, to have health insurance while they're enrolled. You should carefully review your college or university's health policies and plan options, if any, in case you need to enroll in coverage.
Be sure to check in with your school's international student office for more information and resources on how to navigate your time in the U.S.
Financial Aid
International students can apply for specific forms of financial aid to help pay for their education in the U.S. While they don't qualify for federal assistance in the form of grants and loans, international students can apply for funding from their college or university. In fact, many U.S. schools offer a financial aid package to learners from abroad. International students may also apply for assistance from professional organizations, though it's important to check eligibility requirements beforehand if receiving funding from private sources.
At the graduate level, international students may be able to apply for teaching and research assistantships that typically waive tuition fees and provide a small income. All forms of aid are contingent on satisfactory academic progress, so, as an international student, you should clarify the academic benchmarks you need to meet to continue receiving funding.
Can International Students Take Online Classes?
Yes, international students can take classes online — but with very specific restrictions. In general, they are expected to enroll full-time and take a majority of their courses in person. However, international students may take one online course as part of their full course load each semester.
International students should note that these restrictions have been relaxed due to the ongoing COVID-19 pandemic. According to U.S. Immigration and Customs Enforcement, international students can study fully online — whether from within the U.S. or their home country — through the 2022-2023 academic year.
Top Employers for International Students
A majority of companies that hire international students are in the tech sector. Additionally, employers for these students are more likely to be large, often publicly-traded corporations that have thousands of workers rather than smaller firms. Below are the top employers in 2019 for international students in a practical training program.
Employers that hire international students also tend to be big companies that have resources to sponsor foreign workers through work visas such as the H-1B. Given this, securing a long-term job as an international student in the U.S. can be challenging. If you hope to gain work experience in the U.S. after graduating, consider applying for jobs a few months in advance of your graduation date.
FAQs for International Students
Can I Work in the U.S. as an International Student?
---
Work restrictions vary by visa type for international students. Those with an F visa can work up to 20 hours per week while school is in session and full-time during vacation periods. Additionally, they may not work off-campus during their first academic year. After this time, they may work off-campus through various practical training programs either during their studies or for up to 12 months after their graduation. Those facing severe economic hardship may qualify for additional off-campus employment on a case-by-case basis.
On the other hand, M visa holders are only permitted to find employment in practical training programs, which are meant to augment the skills they receive in a vocational school. These international students can work for up to six months after completing their degree.
Is College in the U.S. Hard?
---
Generally speaking, college coursework in the U.S. covers material that is more advanced than at the high school level in most countries. With significantly larger class sizes than most are used to, as well as weekly assignments, mid-terms, and final exams, learning can also seem fast-paced for some students. Moreover, international students may have to acclimatize to a new culture while meeting the academic requirements for their degree. Ultimately, whether a particular course of study is difficult to complete will vary from person to person, though international students should bear in mind that they may face additional, non-academic challenges as well.
Can I Study Part-Time as an International Student?
---
No, international students may not study part-time. All student visa holders are expected to take a full-time class load in the semesters they are enrolled.
Should I Fill Out the FAFSA as an International Student?
---
Yes, international students applying for financial aid should absolutely fill out the Free Application for Federal Student Aid (FAFSA). Though they don't qualify for federal aid, many colleges and universities use this form to determine how much and what kinds of funding an individual is eligible for. As an international student, you should aim to fill out the FAFSA as soon as possible after the form becomes available on October 1st, in the year before you intend to attend college. You should also remember to fill out the FAFSA every year to continue applying for financial assistance.
Can I transfer to a Different School as an International Student?
---
Yes, international students can typically transfer between schools, as long as they have written acceptance from another SEVP-certified institution. When transferring, you should contact your school's international student office to learn about specific eligibility requirements, identify a transfer date, and update immigration documents such as form I-20.
Can International Students Attend Community College in the U.S.?
---
Yes, international students can attend community college in the U.S. These are two-year institutions that award associate degrees in various fields.
Related Articles
Guide to Online English Degrees
Are you interested in learning about online English degrees? Discover the degree options and learn about the program curriculum and career opportunities.
First-Generation Student Guide
College may come with unique challenges if you're a first-generation student. Here's how you can succeed.