Guide for College Students Experiencing Homelessness
Learn about the barriers unhoused students face — and how to overcome them
College can provide the opportunity to gain qualifications for better-paid jobs. For those in low-income communities, it can be the first crucial step toward financial independence. Yet, they also face unique challenges that make the goal of getting a degree much harder to achieve.
That's especially true for students experiencing homelessness. From applying to college to paying tuition to navigating the college system, unhoused students might need to seek support and guidance to reach their academic potential.
In this guide, we'll take a closer look at the common issues unhoused students face — and what they can do to overcome them.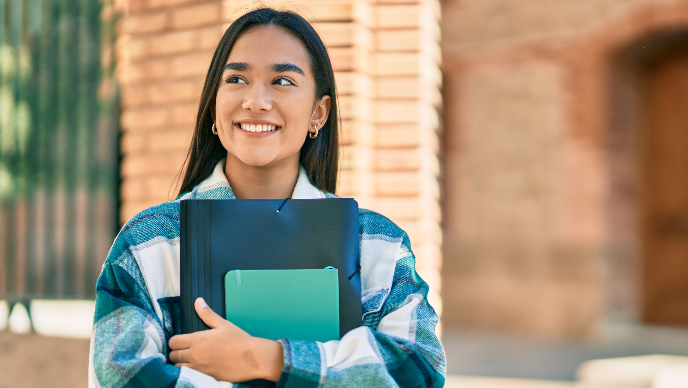 Homelessness Among College Students in Numbers
According to a report published by the Hope Center, 14% of college students experienced homelessness in 2020. Most of them temporarily stayed with friends or family or couch-surfed while seeking other housing. Some also stayed at a hotel or motel or slept in a car or a van.
Even more students faced housing insecurity, which encompasses a broader range of challenges, including difficulties paying for housing, overcrowded living situations, and more. The survey found that 52% of two-year college students and 43% of students at four-year colleges encountered this type of basic needs insecurity in 2020.
The numbers also show that homelessness may be a factor preventing young adults from receiving a college education. A survey published by Chapin Hall at the University of Chicago found that among adults ages 18-25, four-year college enrollment was four times lower for those experiencing homelessness in 2018 — 15% compared to 52% for young people without experiences of homelessness.

Minority youth are especially at risk of experiencing basic needs insecurity. The research by the Hope Center found that 75% of Indigenous, 70% of Black, and 70% of American Indian or Alaska Native students experienced housing insecurity, food insecurity, and/or homelessness. To compare, the rate of basic needs insecurity among white students was 54%.
Further, completion rates for at least some college credits among homeless youth ages 18-25 were lower for non-white students. The report by Chapin Hall shows: 22% for Black students, 15% for American Indian or Alaska Native, and 13% for Hispanic — compared to a 28% completion rate for white students.
How Homelessness Impacts College Students
Dealing with homelessness and housing insecurity creates a set of unique challenges for those interested in getting a degree. These often include:
Basic Needs and Economic Insecurity
Most of those experiencing homelessness and housing insecurity come from low-income backgrounds. They often struggle with broader basic needs insecurity, meaning that they may lack access to nutritious food, health care, childcare, technology, transportation, resources for personal hygiene, and more.
Weak Academic Foundations
It's often the case that homeless and foster youth move from school to school. This, in turn, hinders their early academic success. To add to that, they commonly take few or no college preparation courses.
As a result, these students struggle to meet college admissions requirements. If they do get accepted, they might find themselves unprepared for college-level courses and stuck in remedial classes.
Limited Family Support
Encouragement from family can make a huge difference for a prospective student. A supportive family member can offer help with applying for college and navigating the process.
Unfortunately, students who experience homelessness often lack this kind of caring figure in their lives. They're left to figure everything out on their own, from selecting a college to signing up for admissions tests and filling out the FAFSA form.
Lack of Awareness of Financial Resources
The upfront costs of applying to college and ever-rising tuition create financial barriers that require unhoused students to seek additional resources.
Such resources exist, but people experiencing homelessness are often unaware of them. With little or no guidance from family members and no single federal website where all this information is gathered in one place, unhoused students may struggle to find what help is available.
How to Apply for College While Experiencing Homelessness
As financial insecurity is one of the biggest obstacles people experiencing homelessness face when applying for college, figuring out how to cover college costs becomes a priority.
Fortunately, there are multiple resources that can help.
Fee Waivers
Students who demonstrate financial need can qualify for a college application fee waiver. Such fees typically range from $30 and $90 per application and are nonrefundable. To see if application waivers are available, students should contact the school's admissions office.
Additionally, SAT and ACT fee waivers might be available for eligible applicants through a high school guidance counselor.
FAFSA
To qualify for federal aid, such as loans and grants, all college applicants must file the FAFSA. This requires providing detailed financial information, which may include W-2 forms, tax returns, bank statements, and more.
Applicants who indicate they're homeless or at risk of homelessness don't have to provide information for their parents or guardians. Instead, they can file as independent and qualify for a dependency override by proving they're unaccompanied homeless youth. To do that, applicants may need to get a homeless youth determination from their high school or school district homeless liaison, the director of a youth center, transitional housing program or emergency shelter, or financial aid administrator at their prospective college.
While it's not necessary to provide a home address, applicants still need to include an address where they can get mail. For example, unhoused prospective students can use the address of a relative or friend or ask their school for permission to put down the school address.
Scholarships
College applicants experiencing homelessness can also apply for scholarships designed for those in their situation.
Eligibility
Students the age of 21 actively pursuing post-secondary education and eligible for McKinney-Vento assistance
Students who have experienced homelessness while in school within the last six years
Undocumented students who meet these criteria are also eligible
Amount
Eligibility
Graduating high school seniors from Chicago and suburban schools
CCH youth leaders and former youth clients
Amount
Eligibility
Students experiencing homelessness or housing instability as defined by McKinney-Vento Homeless Education Act
Students in extreme poverty
Students whose family is going through a transition
Amount
Eligibility
Prospective first-time students residing in the U.S. (including undocumented applicants) who have explerience homelessness in the last six years
Amount
Hope Through Learning Award
Eligibility
First-time students age 24 and under residing in Allegheny County who are experiencing or have experienced homelessness during their school attendance years
Amount
Eligibility
Full-time undergraduate students with a minimum of 60 credits earned, enrolled at an accredited college or university at the time of award in the fall semester
Student must be pursuing a career in live entertainment, such as live event operations, production, music engineering, music business management, and more
Applicants who have experienced homelessness within the last four years, and/or been part of the foster care system any time after the age of 16
Amount
Note that these scholarships have been created specifically for youth experiencing homelessness, but there are more resources available. It's a good idea to look up and apply for additional scholarships that may be a good fit. There's no limit to how many scholarships a student can apply for or receive.
Resources for Students Experiencing Homelessness
Even with the costs of higher education covered, unhoused students might face countless hurdles. From finding a roof over their head to getting to and from college — or obtaining a laptop for their studies — there are many things that can turn into challenges to earning a degree.
Here, we've highlighted resources that can help unhoused students have a better college experience.
Housing
For students without a permanent home, finding safe housing is typically the main priority. Their first step should be contacting their college's residential life office to ask about on-campus living. Some schools may provide year-round housing, while others offer cost-effective on-campus options. If a college doesn't have a housing program, counselors at the Residential Life Office can still help by connecting students with community resources.
Off-campus Housing
Students experiencing homelessness can also look into off-campus housing resources. Here are a few to consider:
The HUD Exchange is an online platform created by the U.S. Department of Housing and Urban Development. Its Housing Assistance page is designed for people experiencing or at risk of homelessness. The page offers help in finding local agencies that provide support, including food, housing, health, and safety resources.
The YMCA is a nonprofit dedicated to youth development and health. Their local chapters all around the country help young people by offering support to homeless youth, short-term community-based housing, transitional housing, and much more.
The 211 phone number connects callers to their local community services. In a confidential call, a local expert can provide information about shelter and housing programs in the area, food and nutrition programs, and many other resources.
Food
Since food insecurity is another common issue for those experiencing homelessness, it might be a good idea for unhoused students to reach out to their school's dining services. They may provide options for free or affordable meals on campus, as well as any food assistance programs available. These may include meal plan voucher programs and student food banks.
Beyond that, students can look into federal and local food assistance programs.
Food banks are nonprofits that collect and distribute food to those in need, usually through soup kitchens and food pantries. Feeding America offers a convenient tool for finding local food banks.
Supplemental Nutrition Assistance Program (SNAP)
For unhoused students with independent status, SNAP can be an excellent option. SNAP is a federal program providing nutrition assistance to low-income families and individuals. Those eligible receive an Electronic Benefit Transfer (EBT) card. It works similarly to a debit card with funds automatically added each month to use at authorized grocery stores.
Swipe Out Hunger is a nonprofit partnering with more than 450 colleges in all U.S. states and Canada. The program allows students to donate their meals to help their fellow students experiencing hunger and food insecurity.
Transportation
Students who don't live on campus also need reliable transportation to get to and from school.
In cities with a good public transit system, getting around using public transportation can be an excellent low-cost option. Many public transit systems also provide discounts to students and low-income individuals.
Alternatively, students can carpool with their classmates, which usually involves pitching in some gas money.
Health Care
Many colleges and universities have a health care center offering services to students, often at affordable rates. The services may include a fully-staffed primary care clinic, an urgent care clinic, an on-campus pharmacy, and others.
Unhoused students can also seek support from federal programs and organizations advocating for health care access for people experiencing homelessness.
The National Health Care for the Homeless Council (NHCHC) is a membership organization uniting thousands of physicians, nurses, and other healthcare professionals. Its website has a directory listing health care resources in every state for people experiencing homelessness.
Health Care for the Homeless (HCH) partners with advocates, donors, and caregivers to provide health care services to individuals experiencing homelessness.
Unhoused students may also be eligible for health care coverage under the Affordable Care Act, depending on their income, immigration status, and state of residence. This fact sheet from the U.S. Department of Health and Human Services can be helpful in determining eligibility.
Mental Health Care
Mental health issues like anxiety and depression are common among college students, and unhoused students can be especially vulnerable.
Most schools can offer help through a student health center. This can include mental health screenings, individual and group counseling, referrals to long-term or specialized counseling, and more.
To find mental health resources available on their campus, as well as other information on emotional health, students can use this convenient tool by ULifeLine, an online resource center for college students. ULifeLine is a project of The Jed Foundation, a leading nonprofit helping teenagers and young adults protect their mental health.
Besides many other types of support YMCA can offer, the organization provides mental health services. Through its local mental health centers, YMCA offers counseling services for a wide range of issues. Eligible students can use Medicaid or qualify for financial aid using a sliding scale.
Another option for affordable therapy is Open Path, a nonprofit connecting therapists with individuals whose insurance doesn't provide adequate mental health benefits. Therapists charge between $30 and $60 for an online or in-office therapy session. A lifetime membership to access these rates costs $59.
Technology
The college learning environment is increasingly digital, and students need computers and internet access for their studies. Students who experience homelessness and have no regular access to a laptop with Wi-Fi may be able to use their school's computer lab. These labs typically offer high-speed internet and campus network access, software such as the Microsoft Office Suite, and printing services. Some colleges and universities also provide students with free laptops for the duration of their enrollment.
Students can also visit a public library to use a computer and the internet. Proof of residence isn't always required for a library card — a library might accept proof of student enrollment in the eligible area instead.
Laptops 4 Learning is a nonprofit providing free laptops to low-income college students. To qualify, students must provide proof of enrollment and record a 90-second video explaining why receiving a laptop would help them.
Related Articles
2023 Best Online Public Administration Degrees
Read about the best schools offering online public administration bachelor's degrees based on salary score.
2022 Best Marriage and Family Therapy Degrees Online
If you want to earn your marriage and family therapy degree online, explore the best online degrees in this field and learn more about online programs.