Why College Students Take More than Four Years to Finish
Centuries of tradition claim that a bachelor's degree lasts four years. But this no longer holds true because most students take longer than four years to finish college. So what's changed, and why? In short, more people enroll in degree programs than they did 50 years ago because college is more accessible than ever. The wider, more diverse student population encompasses a range of student experiences beyond the four-year-degree model.
Though it's possible to graduate college early, this isn't the higher education experience that most people have. Read on to find the most common reasons for extending a bachelor's degree beyond four years, including stories from real students.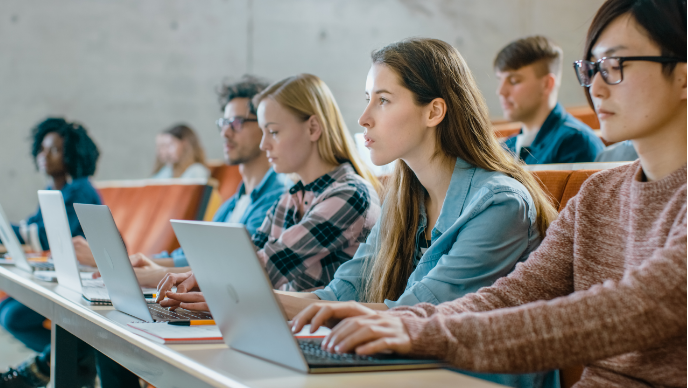 How Long Does It Take to Get a Bachelor's Degree?
The best number we have for the median time to graduation is 52 months , or one to two terms past the four-year mark. Keep in mind that the National Center for Education Statistics (NCES) calculated this statistic in 2019. In all, 46.6% of the cohort starting college graduated in four years, and 60% of the same group had graduated by the six-year mark.
Graduation rates are confusing, partly thanks to legislation in the 1980s that let the U.S. Department of Education to count six-year rather than four-year graduation rates. It's important to note that while 52 months is the most recent median time to degree, many students take significantly longer than this to graduate.
While 52 months is the most recent median time to degree, many students take significantly longer than this to graduate.
Why Do People Take More Time to Complete College?
College students are not a monolith, and there are a variety of reasons why most don't earn their bachelor's degree in four years. Below, we detail some of the major reasons why students enroll for extended periods, starting with the primary one: work.
Studying Part-Time While Working
College enrollment doubled in the U.S. between 1970 and 2002, and it increased to a high of more than 18 million enrollees in 2010 before tapering off a bit in the years since. With more people attending increasingly expensive colleges, it's little wonder that many of them choose to work full-time so they can mitigate problematic student debt in the future.
Most working students enroll in college part time because it's very hard to carry a full course load while holding down a full-time job. In fact, 40% of part-time undergraduates worked at least 35 hours a week in 2020, with another 26% working 20-34 hours per week. Summer classes can be especially hard for working students because these feature the same amount of work in fewer weeks, which is often impossible to reconcile with a full-time job.
In turn, many of these working students come from lower income socioeconomic backgrounds, which makes them more vulnerable to external setbacks and more likely to take a leave of absence or drop out entirely. The same is true of students from underrepresented racial and ethnic groups, who often face financial pressures alongside culture-specific expectations, such as the responsibility to care for family members in need.
Notably, working students are often drawn to distance learning programs. The rising popularity of online learning is partly due to its flexibility when compared to traditional on-campus learning. Working adults now have greater accessibility to degree programs around the country, and they're able to work on classes from anywhere and at any time that suits them.
Losing Credits After Transferring Schools
To be clear, it's entirely possible to transfer colleges and maintain all of your academic credits. But this isn't always the case because different schools may feature different required courses for similar degree programs.
For example, Sage Kelley began studying music at a public university but transferred to a creative writing program at a private school after one year. This meant that "the majority of my prerequisite credits wouldn't transfer over. … My first year was practically out the window." This ultimately caused Kelley to spend an extra year earning a college degree.
When considering a transfer, you should first establish the accreditation status of both your current and intended schools. Accredited colleges typically only accept credits from other accredited schools, so you may run into problems if your current school is unaccredited.
Next, contact an admissions officer at the college where you want to transfer. They may be able to answer all your questions, or they might put you in touch with an academic advisor who's more familiar with your major field. It's important to advocate for yourself and take detailed notes about credits that do and don't transfer.
Changing or Adding a Major or Minor
Not all paths are totally smooth from matriculation to graduation, and your interests and priorities might change along the way. You'd be in good company: Many younger students tend to change majors or add a focus area because they're often still forming their worldviews.
If you change majors, you might find yourself behind in your new program because you still need to take certain classes in sequence. The same may be true if you add a second major or a minor to your initial focus. Dr. Amy Sarow, an audiologist, describes her undergraduate experience: "I changed my first major (music) to a different major (German) and needed to complete additional coursework." She also studied abroad, which brings us to the next reason for extending college past four years.
Studying Abroad
About 347,000 U.S. students took some college classes in another country the year before COVID-19 lockdowns started skewing the numbers. Studying abroad doesn't necessarily add extra time to a degree path, but it can; study-abroad programs often require classes that are outside of normal academic paths, so they may add empty credits that don't get you any closer to graduation.
This phenomenon is currently under debate. For example, one University of Georgia study found that studying abroad actually led to quicker graduation times. Whatever the truth is on the whole, you should understand that studying abroad can delay completion in individual cases.
Dr. Sarow, for one, believes that her experience abroad added time to her college career. But studying abroad can have positive outcomes, and she has no regrets about her choices: "I first spent a semester abroad in Germany before receiving a scholarship to return to Germany again for a year. Although it took me longer than four years to graduate, I enjoyed my time overseas immensely. … I learned so much while living in Germany."
Personal and Unforeseen Circumstances
Sometimes life gets in the way of well-laid plans. Students can experience personal tragedies, mental health crises, financial difficulties, unplanned pregnancies, or simple changes of heart during their bachelor's studies. Any of these events can necessitate time off or a reduced course load, which can in turn delay graduation.
Some issues are more predictable than others. For example, Corinne Segura took 10 years to earn her degree, which was billed as a five-year program, in large part because she has chronic fatigue syndrome. This necessitated a part-time school schedule with summers off. Segura understood that "the most I could do at one time was three classes in a semester. I had to go slowly as my energy was much lower than most people, and if I pushed myself, my health condition would get worse."
Check with an admissions officer or academic advisor if you have a condition that calls for special accommodations because your school may be required to help you under federal law. It's generally a good idea to request accommodations early, even before you start classes. In addition, your school might be required to excuse absences related to an unplanned pregnancy or other reproductive health concern under Title IX law.
FAQs About Attending College for More Than Four Years
How Long Does a Part-Time Bachelor's Program Take?
---
This depends on the program in question. Some colleges allow you to attend school half time, which means you'll typically take two courses per term. Many part-time students take about three classes each term, or about nine credit hours. In this case, you'd be on track to graduate in six academic years.
Can You Get a Bachelor's Degree While Working Full-Time?
---
You can absolutely earn your bachelor's degree while maintaining a full-time job — millions of U.S. students are in the midst of doing so now. This is a difficult path to follow, but it can potentially help you graduate with less student loan debt and more professional experience than your peers.
Can an Associate Degree Cut the Time It Takes to Get a Bachelor's?
---
Getting an associate degree may shorten the time you spend in a bachelor's program, but it doesn't typically cut the total time you spend on college education. However, it may help you save money in the first two or so years of college, especially if you earn your associate degree from a community college. With an associate diploma in hand and general education credits out of the way, you can usually concentrate on courses for your major at your so-called four-year college.
Bottom Line
You might graduate from a bachelor's program in four years or under, but the majority of students now take more time to finish their degree. There are many reasons for this, including work, the inability to transfer credits between schools, changing majors, and any number of life changes.
Related Articles
Dual Degree vs. Double Major: What's the Difference?
Learn all about dual degrees and double majors and find out how they're different, how to decide which is right for you, and what to look for in a program.
College Degree Levels Guide
This article defines all the degree levels in college, including the types of degrees that are available to students and what order they come in.