Guide to Financial Aid for Online Students
Earning a degree may open the door to more job opportunities and higher salaries. People with only a high school diploma have nearly twice the unemployment rate as those with bachelor's degrees – and degree holders make $26,000 more per year, on average.
With statistics like these, it's clear that investing in your education can pay off exponentially. Unfortunately, prospective students may be discouraged from earning a degree as a result of the financial burden that accompanies higher education. Today, the average tuition-and-fees cost exceeds $10,000 per year for in-state students at public institutions — and out-of-state students can end up paying triple what in-state students pay.
It's easy to be intimidated by hefty tuition fees, but paying for school is not an impossible feat. Careful planning and access to the right resources can help minimize student debt. There are billions of dollars given each year in financial aid to make college more affordable. One simply needs to find them.
What are the Different Types of Financial Aid?
On any given day, almost 20 million people in America are pursuing a degree, and 85% of them rely on financial aid to do it. Funding for higher education can come in many different forms. The most common types are grants, scholarships, federal work-study, and loans.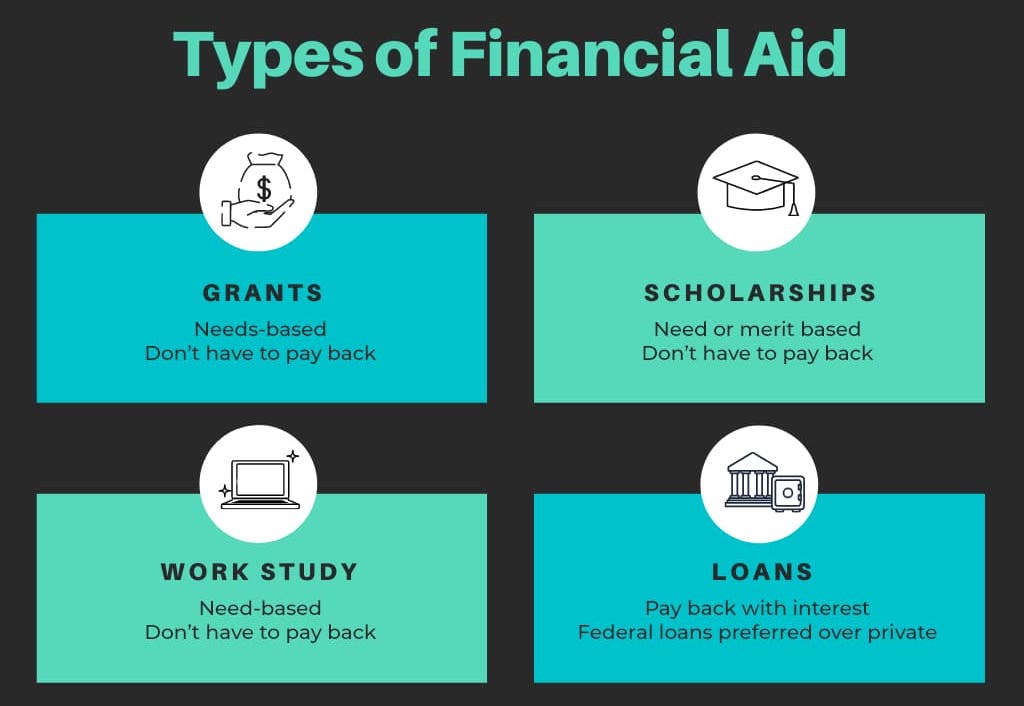 Grants: Federal and state grants usually don't have to be repaid, as long as the recipient meets minimum academic requirements. Students can use grant dollars to pay for anything academically related, including tuition, fees, books, or housing costs.
Scholarships: Scholarships can be based on need or merit and do not need to be repaid. In addition to scholarships given out by the U.S. Department of Education and universities themselves, thousands of scholarships are awarded each academic year by private organizations to students who have special skills, participate in extracurricular activities, have a financial need, or have specific career goals. Scholarships are a good option for out-of-state and international students who may not qualify for federal or state grants.
Work-Study: Often included as part of a federal financial aid package for both undergraduate and graduate students, work-study is a government program that pays students to work for their university part-time. Some online schools offer work-study positions for online students on their campuses or with community partners. Students who qualify should check with their school's financial aid office to see if there are positions available.
Loans: Federal and private student loans are generally the least popular of the financial aid options because borrowers must repay them. Interest rates and repayment rules vary depending on the lender, and federally-funded loans are typically the most popular for students because of their low interest rates and flexible repayment schedules. Although several private lenders offer education loans as well, students usually see these as the less favorable option.
How Do I Apply for Financial Aid?
The first step in the application process is to fill out the FAFSA (Free Application for Federal Financial Aid). This form provides schools with the information they need to offer you institutional aid and will act as an application for federal and state loans and grants.
Here are some other tips to help you navigate the financial aid process:
What Is the FAFSA and Why Do I Need It?
The Free Application for Federal Student Aid, or FAFSA, is used to determine how much money a student and/or their family can contribute to the cost of higher education. The government then uses these results to figure out how much financial aid a student will need. The expected family contribution is calculated based on family size and income. The federal financial aid process does not consider whether or not a student's family will actually be contributing to the cost of attendance. Applicants are considered independent when they turn 24 years old, get married, have children, or pursue a graduate or doctoral degree. This means their parents' income will no longer be considered when awarding financial aid.
The grants involved in this process are federal and individual state grants. There are four federal grants awarded through FAFSA:
Do I Qualify for Federal Aid?
To receive federal financial aid, you must:
Demonstrate financial need
Be a U.S. citizen or eligible non-citizen (includes U.S. nationals, permanent residents, and refugees)
Have a social security number (see NASFAA's tips for getting financial aid as an undocumented student here)
For men, be registered with the Selective Service
Be enrolled or accepted in an accredited degree or certificate program
Have a high school diploma or GED
Does My Online School Accept FAFSA?
Always check to see if the school you're interested in accepts FAFSA and is authorized to disburse federal student aid. The easiest way to do this is to check a school's tuition and financial aid hub. Most schools will have information on federal financial aid, including a link to the FAFSA with their school code. If you cannot find any information listed on their website, contact their financial aid office directly.
Schools must be accredited by an organization recognized by the U.S. Department of Education to be able to disburse federal funding. Search for your school in this database to check its accreditation status.
Some programs may have specific enrollment requirements, such as taking classes full or half-time, for students to receive certain types of financial aid. These enrollment requirements can be difficult for online students, who often seek online programs because they are more convenient for students who have jobs, families, and other full-time responsibilities. Check your school's website or ask their financial aid counselors for enrollment requirements to ensure you can receive funding.
Are There Ways to Qualify for Financial Aid Without the FAFSA?
Filling out a FAFSA may not be necessary for all types of aid, especially those not based on need or family income. When it comes to scholarships that many institutions award students, universities may award funding without considering a student's FAFSA.
Also, for those who plan on obtaining private loans to cover the costs of their education, filling out a FAFSA may not be necessary. For these types of financial aid funds, students or their parents must fill out a separate set of paperwork specified by the lender.
Although a FAFSA may not be an absolute requirement for every student, it is strongly advised that those who think they may need financial aid funding go ahead with the process and fill it out. Doing so can only benefit students in the long run, since many may find out they are eligible for aid they didn't realize they would qualify for.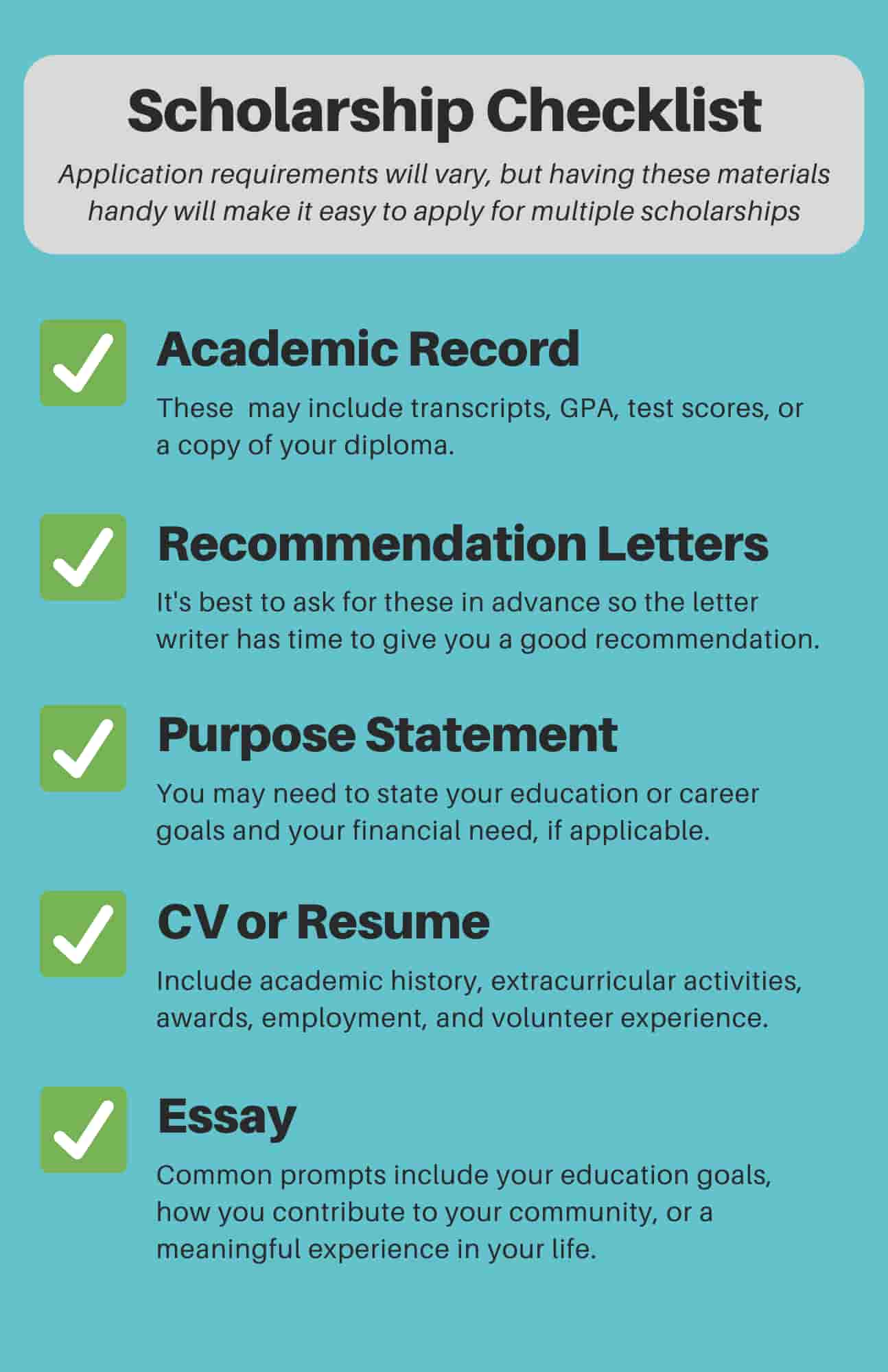 Can I Receive Financial Aid as an Online Out-of-State Student?
Out-of-state students still qualify for federal financial aid but may miss out on state grants. As a result, they may need to rely on other options to reduce their out-of-pocket costs. Luckily, many online programs still offer out-of-state students in-state tuition. Here are a few alternatives for out-of-state online students:
See if your home state is part of a reciprocity program. States join organizations that allow students from specific regions to attend out-of-state schools at discounted or in-state rates. The inclusion of online programs may vary from school to school.
Western Interstate Commission for Higher Education: serves the Western region of the country, including Alaska and Hawaii, and extends to North and South Dakota.
Midwest Student Exchange Program: serves students in the upper midwest, from Nebraska and Kansas to Ohio.
New England Regional Student Program: Students in the six New England states can attend schools within New England at reduced rates and must pursue approved programs.
Southern Regional Education Board: Their Academic Common Market program serves students in southern and southeastern states, from Texas to Virginia. Students must enroll in eligible programs.
Apply for scholarships. There are tons of opportunities available, from diversity scholarships for underrepresented students to award money for knitting contests. While many scholarships require an essay, some require minimal effort and could have an application process that takes less than five minutes. Check your school's financial aid website for opportunities specific to your school or program.
Check with your employer. More than half of employers offer tuition assistance for employees to go back to school.
Can I Receive Financial Aid as an Online International Student?
As international students don't qualify for any state or federal grants, paying for a degree at an American school can get expensive. Here are some tips for online international students looking to reduce tuition costs:
Take funding for international students into consideration when selecting an online program. Some online schools, such as Walden University, provide grants, scholarships, and tuition discounts for international students.
Check with your home country. Many countries provide financial aid for students looking to study in the United States.
Rely on scholarships. Websites such as International Scholarships and IEFA.org offer information on scholarships for international students.
What Are My Student Loan Options?
Student loans are often a necessity to cover the cost of attending college. After graduation, however, many students struggle to navigate the sometimes complicated landscape of loan repayment.
Most college loans do not need to be repaid while you are still in school or even for months after graduation. When the time comes to start repaying, however, it's important that you understand your responsibilities as a borrower. From loan deferment to consolidation, here are some of the options graduating college seniors have for student loans.
What Is the Post Graduation Grace Period?
Most students will likely not be able to begin repaying loans during the immediate months after graduation. Luckily, most student loans allow some time before students need to start repayment.
This grace period varies depending on the type of loan a student takes out. Some offer a three-month grace period, while others allow students to take up to nine months before they need to make regular repayment installments.
Government loans, such as the Stafford and Perkins loans, allow six-month and nine-month grace periods, respectively. Some lenders offer extensions on a grace period due to financial hardship, but they grant them on a case-by-case basis.
What Is Student Loan Deferment?
A deferment in the student loan world means that in certain, pre-approved circumstances, someone can temporarily stop making payments on their loan. When a loan holder is in deferment, they can choose to make interest payments or allow the interest to build onto the principal amount owed.
This is how deferment differs from forbearance, in which borrowers must pay the interest. Some loans, such as the subsidized Stafford Loan, do not accrue interest during a deferment period. In this case, the government pays the outstanding interest. Most loans, however, will accrue interest during deferment.
Here are some possible reasons for deferment eligibility:
Economic hardship
Serving in the Peace Corps or Americorps
Enrolled at least half-time in school
Military service (active duty or post-active duty)
Unemployed but actively seeking employment
What Is Student Loan Forbearance?
Forbearance is similar to deferment, but in forbearance, loan holders must pay the interest that accrues on their outstanding balance. Lenders are very particular about allowing forbearance. An important eligibility requirement is a person's good history of repayment, with no loan defaults.
Some of the most common conditions in which lenders grant forbearance include financial hardship, teaching in an underserved area, or serving in a governmental volunteer service position. Each forbearance request is considered on a case-by-case basis.
How Does COVID-19 Affect Repayment?
In March 2020, The Department of Education took steps to relieve hardship brought on by the COVID-19 pandemic. The department allowed federal student loan borrowers to suspend payments, and it stopped collecting on defaulted loans and set interest rates to 0% temporarily. The subsequent Coronavirus Aid, Relief, and Economic Security Act (CARES Act) set these measures into law through September 30, 2020. In August 2020, the Secretary of Education extended the relief through December 31, 2020.
The COVID-19 situation is fluid, and forbearance measures could be extended or allowed to end at the close of 2020. Anyone with questions should visit the Coronavirus and Forbearance Info for Students, Borrowers, and Parents page maintained by the Office of Federal Student Aid for the latest information.
What Does Student Loan Cancellation Mean?
There are a few situations in which certain types of loans can be canceled and do not need to be repaid. The Perkins Loan, for example, might qualify for cancellation if the borrower works as a teacher in a low-income school for five or more years. This condition is specific to the Perkins Loan and does not necessarily apply to all types of loans. Some Stafford loans may also qualify for this type of cancellation.
More dire conditions that could allow for a loan cancellation are permanent disability or death. Requirements and stipulations vary, so it is best to check with specific lenders for details on cancellation options.
What Does It Mean to Default on a Student Loan?
Failing to make payments on a loan is considered highly irresponsible by lenders and credit agencies. People who are unable to repay their loans will see their credit scores affected, which can have many consequences. They may also lose the ability to choose a repayment plan, receive deferment or forbearance, or maintain eligibility for federal student aid in the future.
Loan holders who have not made payments for over 270 days are considered officially in default. Most student loans are generally not canceled under bankruptcy, and lenders will go to great lengths to collect money from loan holders in default.
Students who do not complete their degree or who earned a degree from a for-profit college are more likely to default on their loans, and the consequences can follow them for years. If you allow your loan to go into default, your lender can have part of your paycheck withheld to pay your balance and may even take legal action against you. If you are concerned you may enter into default, contact your lender immediately and begin brainstorming other options. The longer you wait, the harder it will be to find a solution.
Are There Tax Benefits for Students?
An educated population makes for a richer nation, not only financially, but also culturally. This is why many governments are proponents of making it as easy as possible to earn a degree. One of the ways the U.S. government eases the financial burden of its citizens is by providing tax breaks to students funding their education.
There are three standard tax incentives for higher education. They are Lifetime Learning Credit, American Opportunity Credit, and Deducting Loan Interest.
Other tax breaks include special tax credits for students and parents, tax-free college savings accounts, and loan interest deductions. Make sure to check with a financial aid officer to see if you qualify for any of these breaks.
What Resources Are Available for Financial Aid Assistance?
There are several different resources available to help students pay for school. The first place any student should begin their search is with the financial aid office of the school they'd like to attend. A university's financial aid officers can offer students a wealth of information on the different ways to pay for school. Financial aid counselors and many librarians generally know the most about scholarships available to students.
For students who prefer to research on their own, however, many excellent resources exist online. When it comes to government-sponsored loans and grants, the U.S. Department of Education's Federal Student Aid website is the best place to find information on federal aid. Another great source is finaid.org, a nonprofit website that helps students navigate the application process.
Other websites that offer a wealth of information on financial aid, scholarships, and student loan opportunities include the following:
Related Articles
College Guide for Underrepresented Students
Our guide offers tips and expert advice to help Minority students find the right college, apply for scholarships, and navigate common challenges.
College Guide for Latinx Students
Our guide offers tips to help Latinx and Hispanic students find the right college, apply for scholarships, and navigate common challenges.