What Is My Learning Style?
Determining your learning style can be a valuable exercise in discovering more about yourself and what your future can hold in college and beyond. What's great about going to college is that you have the opportunity to tailor your major to suit how you learn and what you enjoy doing. Once you find out if you study best by listening, reading, visualizing, or doing, you can pursue a degree path that fits your personality, interests, and career goals.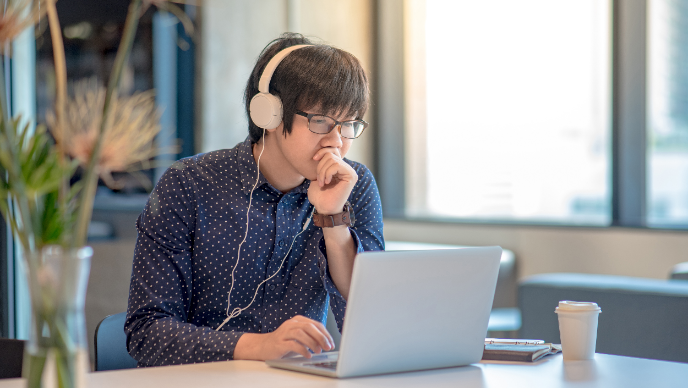 ADVERTISEMENT
Online Programs You May Be Interested In

Southern New Hampshire University Online
Annual Tuition: $9,600
153 Programs (view all)

Annual Tuition: $19,398 - $29,428
305 Programs (view all)

Annual Tuition: $16,639
21 Programs (view all)
---
What Are Learning Styles?
Simply put, learning styles influence the way you learn. Learning styles are determined by the skills and tools you rely on to accurately absorb, understand, retain, and repeat information. Your learning style develops at a young age and can affect how well you progress through school. If you try to learn in a way that doesn't suit this style, you may find it challenging to succeed in school. As a result, your grades may suffer, and meeting your career goals may be difficult.
Learning styles are determined by the skills and tools you rely on to accurately absorb, understand, retain, and repeat information.
Determining your learning style can be critical to your success as a student and in your career. In addition, it can help you choose a major you enjoy and excel in, ultimately affecting your future.
The Four Types of Learning Styles
There are four main types of learning styles or modalities in the VARK model — visual, aural/auditory, read/write, and kinesthetic. You may fall neatly into one of these styles or find yourself straddling a couple. Regardless, this model will help you see how you may learn best and why.
Visual Learning
Visual learners appreciate data and information represented graphically. If you are a visual learner, you probably need to see more than words on a page — you may need to see information represented numerically and broken out into a pie chart, bar graph, or flow chart. You may also appreciate when an instructor uses a whiteboard to its fullest potential and fills it with symbols, signs, and shapes to represent the relationship between information.
Aural/Auditory Learning
Aural/auditory learners prefer to learn information through lectures, group discussions, and asking questions in class. They may often read out loud to themselves to make sense of and understand concepts and ideas. If you are an auditory learner, you may generally be more verbal and inclined to "talk things through" to sort out your thoughts. Slow reading is also a common characteristic of auditory learners, as well as repeating what has already been said to ensure understanding.
Reading/Writing Learning
Reading/writing learners learn through words, which often overlaps with visual learning because of its nature. Readers/writers may read as much as they can to learn information, and they generally enjoy researching and looking up information in reference materials and on the internet. For example, Wikipedia can be a reader's/writer's first go-to for information because it's not cluttered with video and audio files. As a reader/writer, you may also enjoy journaling and keeping a diary. Interestingly, readers/writers are often drawn to teaching as a career.
Kinesthetic Learning
You may be a kinesthetic learner if you learn best through a hands-on approach. Kinesthetic learners are tactile learners who learn by doing. They also enjoy live demonstrations, videos, movies of real things and events, and learning from case studies. If you are a kinesthetic learner, you may prefer handling and touching things to gain understanding and practical application. You may also enjoy researching and writing about the "who, what, where, and why" of something or building a case study.
How To Determine My Learning Style
You may find determining your learning style a straightforward process after you've read each description. Additionally, a teacher or instructor may be able to help you identify your style. If you're still undecided, there are several free online resources you can access to determine which style best describes how you learn:
College Majors for Different Learning Styles
There are college majors suited for each learning style. You may find yourself drawn to one that seems like a natural fit because of how you like to learn and what you see yourself enjoying as a career. However, just because a major isn't in your learning style doesn't mean it's unattainable — it means you'll have to figure out how to study in a way that supports your success the best.
Careers for Different Learning Styles
There are also careers that may be more appealing than others based on each different learning style. Chances are that you'll still have to learn on-the-job and especially for career advancement, so determining your learning style now can help you find a career that's fulfilling and pays well with opportunities for job growth. Our career guides, the Occupational Information Network (O*NET), and the U.S. Bureau of Labor Statistics (BLS) can help you further explore these careers and others.
Careers for Visual Learners
Database Administrators and Architects
Annual Median Salary:
$101,000
Typical Qualifications:
Bachelor's degree
A database administrator and architect creates and organizes data information systems for companies. They also back up data and ensure the data and systems are safe and meet user needs.
Software Developers, Quality Assurance Analysts, and Testers
Annual Median Salary:
$109,020
Typical Qualifications:
Bachelor's degree
Careers for Aural/Auditory Learners
Annual Median Salary:
$50,390
Typical Qualifications:
Bachelor's degree for non-clinical work, master's degree for clinical work
Social workers help groups, individuals, and families overcome challenges in everyday life. They generally assess client needs, connect them to the appropriate community and government resources, maintain case files, and help clients adjust to change. Those working in a clinical setting may also provide psychotherapy services.
Annual Median Salary:
$126,230
Typical Qualifications:
Bachelor's degree
Human resources managers are the link between management and staff. They oversee recruitment policies and processes and benefits and compensation plans. HR managers often serve as consultants to managers on HR issues, such as sexual harassment or personnel conflicts.
Careers for Reading/Writing Learners
Annual Median Salary:
$61,820
Typical Qualifications:
Bachelor's degree
High school teachers help prepare students in grades 9 through 12 to enter the job market or higher education after graduation. They develop and administer lesson plans, work with individual students to strengthen skills, supervise students and assess their abilities and progress, and grade assignments and exams.
Annual Median Salary:
$63,940
Typical Qualifications:
Master's degree
Historians use their love of the past to conduct research, analyze, interpret, and write about it. They may work in museums, at historical sites, or visitor centers archiving and preserving materials and teaching others about the significance of preserving history. Some go on to write books, reports, and articles using their expertise and knowledge in a particular subject area.
Careers for Kinesthetic Learners
Annual Median Salary:
$59,430
Typical Qualifications:
Bachelor's degree, though smaller hotel chains may require a certificate only
Lodging managers play a key role in the travel industry by ensuring guests enjoy their stays at hotels, motels, lodges, and other types of accommodations. Depending on the size of the lodging, they may hire and train staff, coordinate front-office activities, set room rates and budgets depending on the season, and ensure company standards are met.
Annual Median Salary:
$77,810
Typical Qualifications:
Associate degree, though some employers may require a bachelor's degree
The dental hygienist in a dentist's office cleans teeth before patients see the dentist for an exam. They also check for signs of gum disease, take X-rays, and talk with patients about how to care for their teeth properly. Dental hygienists also update and maintain dental health records.
FAQs About Learning Styles
What Are the Four Main Learning Styles?
---
The four main learning styles are visual, aural/auditory, reading/writing, and kinesthetic.
Why Are Learning Styles Important?
---
Learning styles are important because they help determine how well you'll do in school, which major you may choose, and which field you may enter after graduation.
How Do Learning Styles Affect Learning?
---
Learning styles affect learning by determining your ability to understand, absorb, retain, and disseminate information. If how or what you're studying doesn't suit you, you may find it difficult to learn, study, and achieve your career goals.
Bottom Line
Taking the time to determine your learning style can help you decide what to study in college, impact how well you'll do there, and help you choose a career path. There are numerous majors and occupations uniquely suited to visual, audio, reading/writing, and kinesthetic learners, so understanding your learning style can help you find the perfect fit.
Related Articles
How to Balance Working Full Time and Going to School
Working full time and going to school can be challenging. Learn how to balance school and work and explore the pros and cons as well as alternative options.
Study Tips for College Students
Discover the best study tips and tools, and learn how to study smarter by building an effective study plan based on your learning style.