What Is a Terminal Degree?
Simply put, a terminal degree is the highest level of education you can earn in a given field. This is most often a doctorate or similar professional-level diploma, though terminal degree types may vary by discipline. Achieving the highest qualification available in your chosen field can seem like a daunting, time-consuming task. You may also be wondering whether a terminal degree is necessary for your preferred career path. Continue reading to learn more about these unique credentials and whether pursuing one is the right decision for you.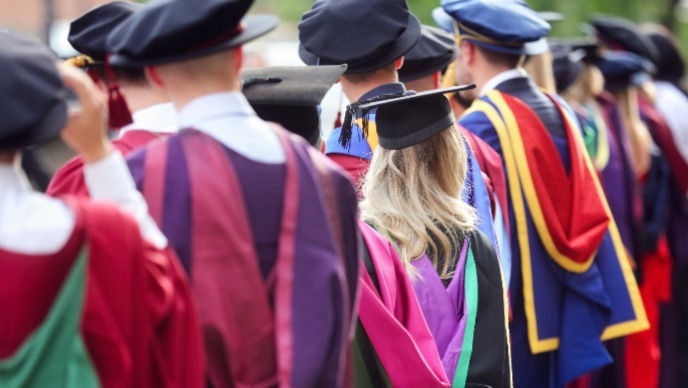 Is a Terminal Degree a PhD or a Master's?
In most cases, the term terminal degree describes a doctorate. However, professional master's degrees that prepare students to work in their chosen fields can also be considered a terminal credential. Two common examples in this vein include a Master of Fine Arts, which is awarded to artists, and a Master of Engineering. Master's degrees in fields such as interior design, landscaping, and architecture may also be considered terminal.
Most other disciplines award doctorates as terminal degrees, which usually fall into one of two categories. The first is a Doctor of Philosophy (PhD), a research-heavy program in which students primarily focus on completing advanced coursework and advancing new theories in their chosen field. The second is a professional doctorate. This latter degree is typically awarded in fields like law and medicine and trains students to apply the knowledge they gain in real-world scenarios.
Terminal Degrees by Discipline
A terminal degree can be offered at both the doctoral and master's level. As mentioned, the most common is a PhD, which is awarded across a range of subjects. In addition, however, many fields also have discipline-specific master's and doctoral credentials that can be considered terminal.
Terminal Business Degrees
The most common terminal business degree is known as a Doctorate of Business Administration (DBA). DBA programs are geared toward training future leaders who are able to innovate and create new opportunities in the business world. Terminal business degrees may also include PhD programs in areas such as management, business economics, or finance, in which students conduct research and generally prepare for a career in academia. Lastly, though considered a master's, an MBA is also seen as a terminal practice degree in this field.
Terminal Nursing Degrees
Nurses aspiring to pursue a terminal qualification in their field can enroll in a Doctor of Nursing Practice. This degree is specifically designed for practicing nurses who hope to advance their careers by securing high-level management positions in clinical settings. Other terminal degrees in nursing include Doctor of Education (EdD) and Doctor of Nursing Science.
Terminal Psychology Degrees
There are two types of terminal degrees in psychology, each leading to a different career path. Those who are interested in researching human behavior and teaching at the college level should pursue a PhD in psychology. By contrast, students who want to work in a clinical setting — often directly with patients — should consider a Doctorate of Psychology, also known as a PsyD.
Terminal Education Degrees
In education, the highest degree a student can earn is called an EdD. Though a PhD in education also counts as a terminal degree in this field, an EdD is a professional-level diploma that equips students with the knowledge and training to take on administrative positions in the education sector.
Terminal Social Work Degrees
Like in business, terminal degrees in social work are available at both the master's and doctoral levels. For instance, a Master's in Social Work (MSW) is a terminal practice degree that is best suited for students who aim to land a job in this field. PhDs in social work, along with Doctorates of Social Work (DSW) are also terminal degrees, though these are a better option for professionals who plan to work in research or academia.
Terminal Degrees in Other Disciplines
As mentioned above, terminal degrees tend to vary by discipline. In most cases, a PhD is considered the final qualification an individual can earn in their chosen area of study. However, many disciplines also have professional and practice-level terminal degrees. Below is a list of popular terminal degrees by subject area.
Discipline
Terminal Degree
Architecture
Master of Architecture (MArch)
Dentistry
Doctor of Dental Surgery (DDS)
Doctor of Dental Medicine (DMD)
Law
Juris Doctorate (JD)
Library Science
Master of Library Science (MLIS)
Medicine
Doctor of Medicine (MD)
Public Administration
Doctor of Public Administration (DPA)
Why Get a Terminal Degree?
The value of a terminal degree will vary from person to person, depending on their career goals, financial circumstances, and whether they have familial or professional obligations to fulfill. However, like with any higher education endeavor, there are a few general advantages and potential drawbacks associated with earning a terminal degree.
Pros
A terminal degree leads to higher earnings and lower unemployment rates. For example, doctoral and professional diploma holders can make over $900 a week more than the average U.S. worker.
Terminal degree holders have in-depth knowledge and training. Recognized as experts in their field, they often qualify for high-level leadership positions in areas such as research, education, law, and business.
Terminal degree programs teach students to be innovative, creative, and excellent researchers. Students not only learn qualitative and quantitative research skills, they also gain an understanding of how to apply their knowledge in real-world settings, and many end up finding solutions to important problems.
Cons
Terminal degrees take several years to earn after a bachelor's. At 7.5 years, the average completion time for a PhD is the better part of a decade. As for professional degrees, these can take a minimum of three to four years of full-time study to finish.
Earning the highest qualification in a given field can be extremely difficult because it takes significant time and effort. Attrition rates for PhDs can be as high as 50%, and many students drop out of professional doctorate programs as well.
Common Questions About Terminal Degrees
Is a Master of Divinity (MDiv) a Terminal Degree?
---
Yes, an MDiv is a terminal degree in religious studies. It is also considered a first professional degree, which is a credential that is meant to prepare individuals for a job in their chosen field. For instance, an MDiv is typically required for a career in ministry in most Christian denominations.
Is a PhD a Terminal Degree?
---
A PhD is one of the oldest and most common terminal degrees available. Designed to prepare graduates for careers in academia, it serves as the highest qualification available in a wide variety of STEM, humanities, liberal arts, and social science subjects. A PhD is also considered a terminal degree in subjects that have professional doctorates — such as nursing, education, and business.
Is a JD a Terminal Degree?
---
A JD is a professional terminal degree that is required to practice law as an attorney or judge. JD programs teach students to apply the law in various real-world circumstances and can also lead to a career in academia.
Is an MPH a Terminal Degree?
---
Yes, an MPH is a professional master's level qualification that is a terminal degree in public health. Students in this field may also pursue a PhD, though this latter credential is more for those who hope to teach at the college level.
Is a Terminal Degree Right for You?
While it may seem exciting to pursue the highest available education in your field, enrolling in a terminal degree program purely for a title or diploma is not advisable. These programs take time, effort, and money to earn and don't guarantee higher earnings or better job prospects. Spending additional time in school than is necessary for your chosen career path can therefore result in lost earnings and early career opportunities.
On the other hand, a terminal degree can be an excellent choice if you want to work in fields such as law, education, medicine, or psychology. In fact, a terminal qualification is perhaps most suitable for students who are committed to pursuing a career where knowing how to apply subject area expertise is essential. Occupations in this context can include attorneys, physicians, and postsecondary teachers.
Related Articles
2023 Best Online Colleges for Doctoral Programs
Use our 2023 list of the best online colleges for doctoral programs to find the school and degree that will help you advance your career.
Higher Education Terminology Glossary
This glossary of college terms has common higher education words and definitions to help you navigate college and learn the difference between similar terms.