8 Steps To Prepare For the First Day of Online Class
As online degrees become increasingly popular, more students are preparing to attend their first day of school online rather than arriving on campus and walking into class. Starting your online education takes extra thought and preparation as your spare bedroom, the corner of your living room, or your breakfast table suddenly becomes your classroom.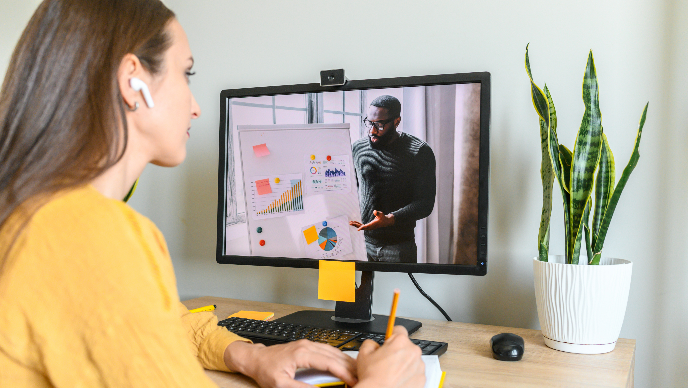 ADVERTISEMENT
Online Programs You May Be Interested In

Southern New Hampshire University Online
Annual Tuition: $9,600
156 Programs (view all)

Annual Tuition: $16,639 - $17,479
21 Programs (view all)

Annual Tuition: $17,800
195 Programs (view all)
---
How To Prepare For the First Day of Online Class
Whether pursuing a certificate or an associate, bachelor's, or master's degree, preparing for the first day of an online class requires similar preparation. Your course syllabus can be your roadmap to explaining learning outcomes and expectations, what books and school supplies you'll need, whether there are any computer hardware or software requirements, and what may be expected on the first day of class. Once you know what's required, you can equip your deskspace, so it's conducive to stress-free learning and productivity.
What You Need for the First Day of Online Class
We've identified eight things you can do to ensure you are adequately prepared for the first day of online class.
Review Your Online Course Schedule and Syllabus
Your course syllabus can be a Pandora's box of information you need to succeed in class. It generally lists required textbooks and supplies, technology requirements, an assignment schedule, exam dates, and instructor contact details. This information lets you know the expectations so you can plan, and it is especially helpful if you're balancing several obligations and responsibilities. You'll also know where to go to ask questions because instructors list their contact information and office hours in the syllabus.
Determine and Fulfill Technology Needs for Online Classes
Technology requirements will likely include a laptop with a fast processor, a reliable broadband connection, software applications, and a printer. You may also need a webcam if your classes are synchronous and you must log in at a specific time each week, though most are asynchronous and do not require you to be on camera.
If you're unable to meet technology requirements at home, you may be able to access equipment from the school library, computer lab, or a public library. You may also be able to purchase software using a student discount as long as you have an ".edu" email address, or your school may provide access for free.
Purchase Textbooks and School Supplies for Online Classes
Give yourself enough time to shop around for the best prices for supplies and new or used textbooks before classes start. While your school's bookstore may be convenient, it may not be the most affordable.
There are several other sources to explore for textbooks and other school supplies:
Textbooks may be available at the school library with extended return dates
Former students may be willing to sell or trade their used books and supplies to incoming students, so check student bulletin boards virtually or on campus
Books and other materials may be accessible through the Open Educational Resources Commons (OER)
Set Up your Online School Accounts
Before the start of the term, you should receive an email with instructions for accessing student and course information through school portals, websites, and learning management systems (LMS). The LMS you use, such as Canvas or Blackboard, may have tutorials to familiarize you with essential functions and processes before the start of class. Make sure to log on and create your passwords right away in case of glitches that your school's IT department will need to address.
Still have questions about preparing for college? Check out our College Planning hub to find more resources on choosing a college, applying for admission, and going back to school.
Identify Important Dates
You may decide to add or drop a class at some point, so you'll want to know how quickly you'll need to decide after the first day of class. Schools generally publish academic calendars on their websites and student portals with instructions for making scheduling changes.
Important dates to know include:
Last day to add classes
Last day to drop classes for a refund
Last day to drop classes for a partial refund
Last day to withdraw from a course before taking an incomplete
Last day of the term
School holidays
Dates for final exams
Organize Your Workspace for Studying
Once you have a better idea of course requirements, you can start setting up your workspace so it's conducive for studying by including the following:
Plenty of room to work at ease with minimal distraction

A chair and desk or table that are ergonomically sound and comfortable

Equipment and school supplies that are within reach

A noise-canceling device or music if you prefer

Creature comforts, such as something to drink, eat, and look at or play with when you need a break
As you pick up study tips, you may decide to change your workspace so it helps you develop good study habits.
You may also want to consider an alternate workspace in an emergency, such as a power or internet outage, inclement weather, or visitors that make it hard to focus when you have to study. Alternate workspaces may include:
The library
A friend's house
Your office at work
A local coffee shop with wifi access or where you can use your phone as a hotspot
Prepare an Introduction For the First Day of Online Class
You'll likely be asked to introduce yourself in a post to your instructor and classmates. It may help to have something handy that's already written to share when asked. Being prepared can help alleviate first-day jitters and any anxiety you may feel talking about yourself to people you don't know.
Relax and Unwind Before the First Day of Online Class
If you've taken care of everything in anticipation of your first day of online class, it's time to relax and unwind to alleviate any stress or anxiety you may feel. So take a walk, read a book, visit a friend, listen to music, or stream a favorite show to take your mind off things and approach the first day of class with a fresh outlook and feeling prepared.
The Bottom Line
Once you've adequately prepared for the first day of online class, you can focus on what's driving you to complete a college degree or certificate. You may need to adjust and figure out what works best for you as you go along. Your school's IT department can help you with any technical issues you may face, and as you get to know your classmates and instructors, they may be able to provide insight into what works best when attending online classes from home.
Related Articles
2023 Best Online Education Degrees
Explore our 2023 list of the best online education degrees at the bachelor's level. All online schools listed are accredited.
2023 Best Online Community Colleges
Explore the best community colleges in the country that offer online degrees in 2023 and learn more about whether community college might be right for you.