Ph.D.s vs. Doctorates - What Sets Them Apart?
In the hierarchy of U.S. college degrees, the highest level of education is known as a terminal degree, more commonly called a doctorate or doctoral degree. Very few people — 4.5 million out of the 258.3 million adults in the U.S., or less than 2% of the adult population — have earned the highest degree available.
There are several types of doctorates, and the names are often used incorrectly, which can cause a lot of confusion. For example, the term "Ph.D." is used so frequently that many people believe the term is synonymous with "doctorate," but it's not. A Ph.D. is just one type of doctorate. An explanation of some of the key terms may help clear up these misunderstandings.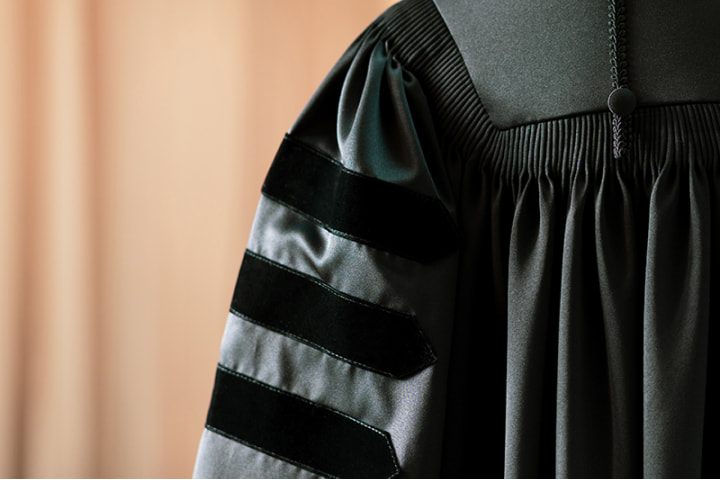 According to the National Science Foundation, doctorates can be separated into two main categories — professional doctorates and research doctorates.
Professional doctoral programs train students to assume challenging, knowledge-intensive occupations, such as medical doctors and lawyers.
Research doctoral programs, on the other hand, train students to engage in researching and analyzing information. This category can be further divided by the focus of the research: pure research or applied research. The term "Ph.D." typically refers to pure research doctoral degrees that focus on creating new knowledge.
While there are many similarities between Ph.D. degrees and other applied research doctoral programs, there are also a few significant differences.
View our comprehensive guide to degree levels, learn what you can do with a doctorate, or check out the rankings of the best online doctoral degrees.
Differences Between a Ph.D. and an Applied Research Doctorate
The Ph.D. is the most common research doctorate. Although the title stands for "doctor of philosophy," students can earn Ph.D.s in a wide range of subjects, including science and technology. In contrast, applied research doctorates often relate to specific fields, such as education, music, or social work. The main difference between the two is the approach to research, although there are several other distinctions as well.
In a Ph.D. program, doctoral candidates focus on contributing to the body of knowledge about a particular subject by conducting original academic research. Coursework introduces students to a range of research concepts and explains various methods for analyzing data. People with Ph.D.s often devote their careers to working in academia or for think tanks, where they continue to conduct research and develop new knowledge.
By contrast, doctoral students in applied research doctoral programs focus on using existing knowledge to solve real-world problems. They usually begin by identifying a specific challenge in their field — often drawn from their professional work experience — and then formulating a solution and developing an implementation plan, all of which is backed up by research. Once they've earned their applied doctorate, they typically assume high-level positions in their field where they continue to apply their problem-solving research skills to important issues.
The number of years it takes to complete any doctoral program varies based on a number of factors, including the type of program, previous college experience, and the culminating project. For example, some applied research doctoral programs require just 36 credit hours of coursework to graduate. Other programs — especially dual degrees or joint programs that combine a complete master's degree program along with all doctoral requirements — may require the completion of up to 120 credit hours. Also, doctoral candidates have a somewhat flexible amount of time to complete, defend, and revise their dissertation or capstone project. In general, however, applied research doctoral candidates often finish their programs in as little as three years, while Ph.D. students may need four to seven years.
Many on-campus Ph.D. programs, particularly in the sciences, are fully funded programs. When a school itself is conducting research in a particular field — biology, chemistry, or computer science, for example — it is often willing to compensate Ph.D. students for participating in the research. Doctoral candidates may work part- or full-time on campus as a research assistant or teaching assistant while earning their doctoral degree in exchange for some combination of tuition, stipends, and health insurance provided by the university.
However, if the university is not conducting research in a particular field, its doctoral program may not be able to provide much, if any, financial support to candidates. For this reason, some Ph.D. candidates — such as those studying the social sciences or humanities — and all applied research candidates may not receive funding from their programs. They would need to pay their tuition fees and other expenses themselves, possibly with the help of grants, scholarships, and loans. Students who are completing their doctoral studies online are also not likely to receive funding from their doctoral program if they cannot engage in on-campus research or teaching activities.
What All Research Doctorates Have In Common
Whether the program involves conducting new research or finding new applications of existing research, a research doctoral degree program is likely to have the following traits.
In the first two or three years of a research doctoral program, students typically examine existing research data and literature while also learning about various research methods and data analysis techniques. Students in Ph.D. programs then move on to conducting new research, while applied research doctoral candidates focus on framing an existing problem and using data to develop a practical solution.
Both programs end with a final project that includes some original work, whether it's actual research or a plan for using information to solve a problem. It may be called a dissertation, or it may be called a capstone project or another similar name. All candidates must present and defend their culminating project before a review panel. If the project does not pass this review, the candidate must revise the presentation until it's approved.
Admission Criteria and Prerequisites
Admission criteria vary from school to school, but there are a few commonalities. Most universities require doctoral applicants to have earned at least a bachelor's degree, if not a master's degree. In some cases, the earlier degree or degrees must be in the same field as the doctoral degree, while in other cases they may be in a different field of study.
Additionally, schools usually look for applicants who did well in their previous college coursework and maintained at least a 3.0 GPA. Other application requirements may include persuasive personal statements from the applicant, positive letters of recommendation from colleagues, and high GRE or other standardized test scores. One final requirement often limited to applicants for applied research doctorates is a certain number of years of work experience — perhaps five to eight — in the relevant field.
Many research doctoral programs are offered through traditional colleges and universities. Therefore, the school should be accredited by one of the six regional accrediting agencies approved by the U.S. Department of Education or the Council of Higher Education Accreditation. However, if the school offers primarily online degrees, it may be nationally accredited by the Distance Education Accreditation Commission, which is also sanctioned by the USDE and CHEA. Individual doctoral programs may also be accredited by one of many approved programmatic accrediting bodies.
Before enrolling, prospective doctoral students should confirm that their school of choice is accredited to ensure a quality education. They can establish the accrediting body for any school as a whole and for individual doctoral programs within the school by searching the Database of Accredited Postsecondary Institutions and Programs or the Database of Institutions and Programs Accredited by Recognized U.S. Accrediting Organizations.
Getting A Research Doctorate
Doctoral degree holders are part of an elite group, regardless of what type of degree they've earned. Some in academia view applied research doctorates to be less prestigious than Ph.D.s because they don't require original research, but many others acknowledge that all forms of doctorates are equally rigorous and no one type of doctoral degree is higher than or better than another.
The Bureau of Labor Statistics adds that terminal degrees generally result in higher incomes. BLS data shows that the median weekly salary for doctoral degree holders is $1,883, which is 20% higher than the $1,497 median weekly salary for master's degree holders.
---
Perhaps one of the most interesting developments in higher education over the last several decades is the emergence of online doctoral programs.
---
Today, many notable colleges and universities offer online options for both research and professional doctorates. For example, several law schools offer hybrid Juris Doctor programs, and later this year a law school in Texas will roll out the first fully online accredited J.D. program. Other popular professional doctorates available online include the Doctor of Nursing Practice and the Doctor of Occupational Therapy. Among the most popular online research doctoral programs are an array of Ph.D.s, as well as the Doctor of Education (Ed.D), Doctor of Engineering (Eng.D), and Doctor of Social Work (DSW).
Related Articles
What Is a Terminal Degree?
Learn more about what different fields consider a terminal degree and why you may choose to pursue one for yourself.
College Planning
These guides provide all the information you need about planning for college – from your applications through choosing the best program or school for your goals.