Everything You Need to Know About the Common App
The process of filling out your college applications can be both thrilling and intimidating. On the one hand, this is your chance to show the admissions counselors at your dream schools why you think you'd be a great fit for their programs. On the other, these forms all require a lot of information, and answering the same questions over and over again can be tedious and time-consuming.
Fortunately, many schools have streamlined the college application process for you by partnering with one of several online application services — most likely the Common Application. Basically, you submit most of your information just once, and the service distributes your details to the colleges of your choice.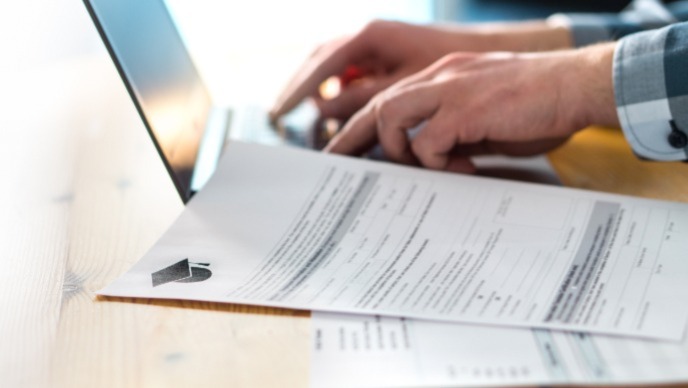 What Is the Common App?
The most frequently recommended college application service is the Common Application, which is used by about 900 member institutions. This well-designed website walks you through the process of filling out a standard college application step by step, often referring to informative resources along the way. You'll then be prompted to provide additional materials for the individual schools you've selected before you submit your applications. You can also use the Common App website to obtain information on colleges, financial aid, scholarships, and more.
The Common App, however, does not include every college or university. Some schools may not partner with any application services, while other schools may use alternate service providers, such as the Coalition for College application or the Common Black College Application, which is popular among HBCUs. There are also several state-specific services for Texas public colleges and community colleges, the University of California system, the California State University system, and the State University of New York system. All of these service providers function in similar ways.
How Does the Common App Work?
The Common App is available for both first-time applicants and transfer students. In general, once you've created an account, you'll be asked to complete several sections. For example, in your profile, you'll input the type of information that is generally requested on all applications, such as your GPA and extracurricular activities. You'll then select a list of colleges you want to apply to, and proceed to provide whatever information or documentation each of those schools requests. This may include essays, standardized test scores, and recommendation letters.
The easy-to-navigate dashboard will guide you through the process, allowing you to take breaks and return for additional work. After you've completed all of the steps and paid any fees, your responses in the profile section will be combined with each school's specific requirements to create a separate application package for the individual schools on your list. The Common App website or mobile app will keep you updated on your progress.
Which Colleges Accept the Common App?
You can choose up to 20 of the approximately 900 colleges and universities accepting the Common App. These include public and private schools of all sizes, including many of the best-known schools like Harvard, Stanford, Yale, and Princeton, as well as smaller colleges such as Barnard, Vanderbilt, and Wake Forest. Many state-run universities, such as the University of Virginia and the University of North Carolina at Chapel Hill, also employ the Common App.
When Does the Common App Open and Close?
Generally speaking, the Common App opens on August 1 of the school year preceding the school year when you intend to start classes. For example, if you plan to start college in the Fall 2023 semester, you can submit your applications through the Common App starting on August 1, 2022. However, you can create your account and start completing the application before the earliest August 1 submission date.
You may be wondering when the Common App closes — in other words, what is the final deadline for submitting an application for the upcoming fall semester? That is usually January 1.
How To Fill Out Your Common Application
The Common App site and mobile app both offer a well-organized user experience. A dashboard makes it easy to access each of the various sections you'll fill out following these steps:
Create an Online Account
Even before the opening date of August 1, you can start using the Common App website by setting up an online account. This will give you time to familiarize yourself with the dashboard and other navigation tools. You'll see that there are two paths to follow — one for high school students heading to college for the first time and one for college students who've already completed some college coursework — so choose the appropriate path.
When setting up your login credentials and application form, be sure to use your full name as it appears on all of your official documents, and be consistent throughout the entire process. Also, the Common App service sends you notifications and reminders periodically, so make sure you provide them with the email address you use regularly. The service has a mobile app that you can download, which will also help ensure that you don't miss any important deadlines.
Pull Together Your College Application Materials
The application form asks for a great deal of information, and it will be easier for you to fill out the application if you have these details handy. Here's a list of items you'll need:
Copy of your high school transcript (and college if you're a transfer student)
List of extracurricular activities, such as jobs, clubs, sports, etc., including dates
List of awards and achievements, including dates
Test scores and dates of any college entrance exams you've taken
Information about your parent(s) or legal guardians (employment status, occupation, education level, degree and year earned)
Select Your Colleges
Hopefully, by now you've already done a thorough college search and determined the colleges you think you'd like to attend. With this list in hand, click on Explore Colleges on the Common App dashboard and select all of the schools on your list that use the Common App service. Keep in mind that you're only allowed to select a maximum of 20 colleges and that each college may require an application fee, so be selective about the number of schools you choose. You can always go back and modify your list before the final step of submitting your applications.
You can also use this tool to obtain additional information about each school. The Common App site provides a comprehensive list of requirements, called the Requirements Grid, that details the admissions criteria, fees, deadlines, and other important information for each college and university using the Common App.
Build Your Profile
Now's the time to transfer all of your personal and demographic information from the materials you've gathered into the profile section of your account. Be ready to provide details about your high school — and college, if applicable — education so far. This includes contact information for your high school guidance counselor, as well as the education background of your parents or guardians.
Applicants often ask how many activities they should list on the Common App. You can list up to 10, but don't feel obligated to fill that list. It's better to show fewer activities that were meaningful and engaging rather than short-term activities that didn't have an impact on your life.
Write Your Essay
One of the biggest time-saving advantages to using the Common App is that many schools only ask applicants to select one of six or seven Common App essay prompts and write one essay. Depending on the schools you apply to, that may be the one and only essay you have to write. After reviewing all of the Common App prompts for the year, choose the one that inspires you or allows you to share something significant about your character. Your essay should be 250-650 words in length.
However, again depending on your selected schools, you may need to provide additional writing samples. Some schools require applicants to answer short questions or respond to essay prompts of their own. You can check the Common App list of writing requirements by college to determine whether you need to write more essays or statements for the schools on your list.
Obtain Letters of Recommendation and Other Documents
Your education records, including transcripts of your courses and disciplinary documents, are protected by the Family Educational Rights and Privacy Act (FERPA). Before your school can send these documents to the colleges on your list, you must sign a FERPA release form that authorizes your school to transmit your records to other schools. The same is true for letters of recommendation, which is why you'll find the FERPA forms under the Recommenders and FERPA tab on the dashboard.
Like college essays, each school on your list may have different requirements for letters of recommendation. Some may want only one letter from your high school counselor, while others may want two or three letters from various adults in your life, such as teachers, coaches, work supervisors, or other mentors. The Common App provides a simple and transparent way for you to request recommendation letters from select individuals, which you can then transmit to the colleges of your choice. These letters become part of the application packages submitted to each school through the Common App.
As a side note on etiquette, experts recommend asking recommenders if they're willing to write letters of support for you before issuing them invitations through the application system. Another smart practice is to send a thank-you note to those who take the time to provide letters for you.
Provide Test Scores
Although the Common App gives you the opportunity to self-report your scores on standardized college entrance exams, such as the SAT or ACT, you'll want to think carefully about providing this information. Your scores will be reported to all of the colleges on your list, so if your scores are a bit lower than the admissions criteria for some of the schools on your list, you may opt to withhold that information.
However, some of the colleges you're applying to may require these scores. In this case, you should ask the testing agencies to transmit your official test scores directly to those colleges that demand them. Test score requirements for all colleges can be found on the Requirements Grid.
Include Any Final Documentation and Review
Before you complete the application process, it's extremely important to review your materials. Above all else, make sure you've gone over the supplements requested by each college on your list. For example, some colleges may have asked for additional college essays or writing samples, letters of recommendation, and other items. Also review all of your information to make sure your answers are thorough and accurate.
Pay Your Application Fees
Some of your desired schools may charge application fees of $30-$90 each, while others may not charge any fees at all. The Common App system will let you know how much you owe in fees, and it will give you the opportunity to revise your college list if needed.
However, many schools waive application fees for students who can demonstrate financial need, have served in the military or other type of national service, or have earned academic honors. If you believe you qualify, check the box for a fee waiver on the Common App form. If you're not sure, check the Requirements Grid or contact the college admissions offices.
Submit Your Application
You've done it! Although you may need to submit one or two extra applications for schools that don't participate in the Common App, you have made it to one of the major milestones on your educational journey.
FAQs About the Common App
How Much Does the Common App Cost?
---
Using the Common App service is free, but you will have to pay the application fee required by each school. College application fees vary, usually ranging from $30-$60 for many smaller schools and going up to $90 for the most prestigious schools. However, most schools offer a fee waiver for students who meet certain criteria.
How Foes the Common App Work for Transfer Students?
---
Students who've completed some college coursework can use the Common App to apply to other schools. If you're a transfer student, you'll follow the same steps for creating an account profile, selecting schools, and submitting applications as shown above. Be sure to have your college transcripts handy so that you can provide some information on the coursework — and possibly degree — you've completed in the Academic History section.
Do I Have To Use the Common App?
---
You may not necessarily have to use the Common App, but some schools require applicants to submit their applications through this service. If this is the case with one or more of your desired schools, you will have to use the Common App.
What Are the Common App Essay Prompts?
---
Like most college application essay prompts, the Common App prompts are designed to create opportunities for students to reveal something about themselves — their character, personality, and goals. This year's prompts focus on lessons, beliefs, and accomplishments, which means they require some self-reflection. The Common App website provides a complete list of the current essay prompts, which will remain the same through 2023.
What Should I Include On My Common App?
---
As with all college applications, you should answer each question as thoroughly as possible. You'll need to provide detailed information about your academic and personal history, as well as information about your parents or guardians. There are also sections for your personal essays, letters of recommendation, and school selections.
Should You Use The Common App?
The Common App is a great tool that simplifies the college application process, so use it as much as you can. Just keep in mind that not all schools accept the Common App, so you may need to fill out a separate application for one or more of the dream schools on your list. Also consider using one of the other systems if they're preferred by some of your desired schools.
Related Articles
College Planning
These guides provide all the information you need about planning for college – from your applications through choosing the best program or school for your goals.
How Much Do College Applications Cost & How to Save
College applications are notoriously expensive — but there are plenty of ways to save.